On the future of live music: Q&A with music + marketing pro Dan Severs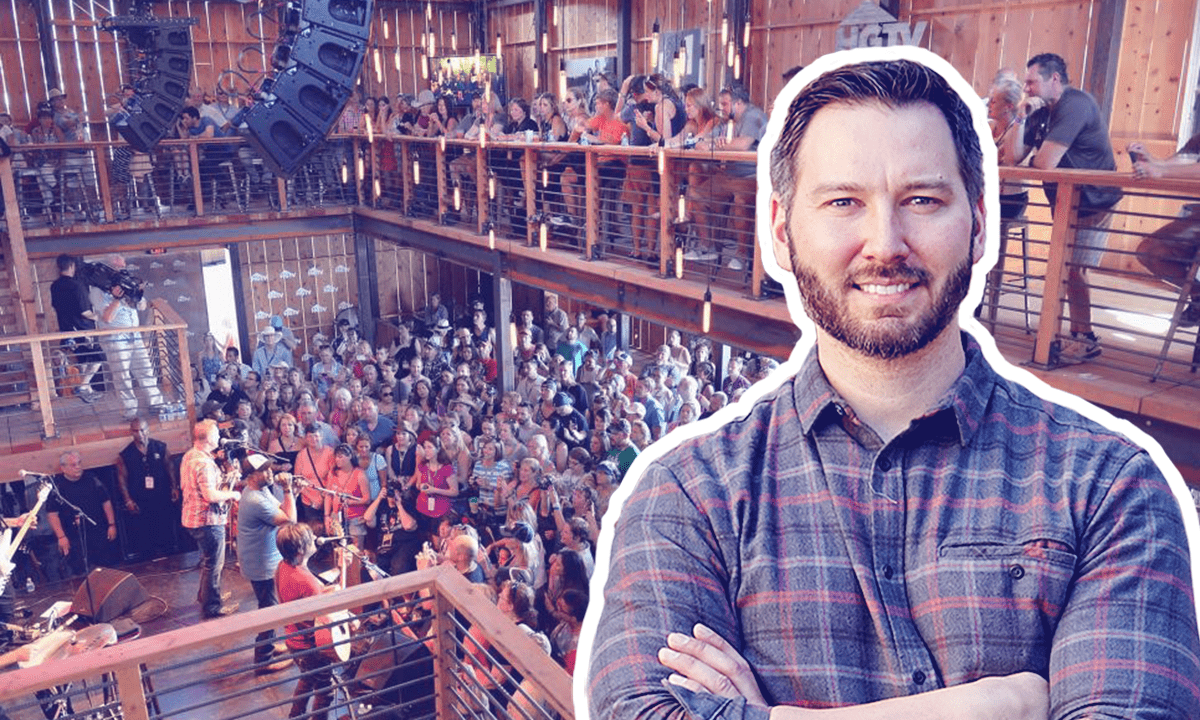 Nothing brings people together quite like music. For many of us, Dan Severs included, the familiarity of our favorite artists and the endorphin rush of discovering a new song helped us survive the last 18-plus months. We reminisced on social media about the last concert we attended before quarantine (Kim Petras), our favorite concert ever (Lucius at Music Hall of Williamsburg, 2014), and who we hoped to see next (Elton John).
Live music dials any experiential activation up to 11 — especially now. And no one knows how to integrate concerts into branded events quite like Dan, the president of Thunderdog Entertainment. Severs' music and marketing agency specializes in artist/brand partnerships, live events, talent procurement and strategy, and radio partnerships.
Before founding Thunderdog Entertainment, Severs spent 11 years as director of music initiatives at the experiential agency Pop2Life, where he spearheaded brand partnerships and high profile events with core clients including HGTV, CMA, AC Entertainment, Atlantis, AMC Networks and more. Prior stops on his resume include Warner Music Group and K-ROCK/NY.
With the success of last weekend's Austin City Limits on our minds (that Phoebe Bridgers incident aside), and a few big festivals still to come this year, XP Land sat down with Severs to talk about the state of events and festivals amid the pandemic, reminisce about his all time favorite music experience and get his (optimistic!) take on the future of live music.
Q. What are your thoughts on experiencing music performances virtually, whether on Fortnite or elsewhere?
That is a really tough question! Virtual events are a great way for people to experience music and connect with their favorite artists from time to time. It was also a great way for venues and artists to earn money while they were shuttered during the pandemic.
I personally don't spend a ton of time experiencing music this way. I just prefer the real thing. During the pandemic, I only consumed a handful of virtual music performances, which I happened to do via YouTube. In short, nothing replaces the real thing!
Q. What festival or event are you most looking forward to returning to?
I'm looking forward to getting back to Bonnaroo. It was the first big festival I ever attended as a fan and record label executive back in 2005, and they've been a customer for some time now. The next Bonnaroo will be their 20th anniversary and will be more than two years in the making. Covid forced Bonnaroo's postponement in 2020, and the 2021 rescheduled date was called off due to major tropical storms sweeping through the southeast only a few days before gates were set to open. We were so close this year!
Q. What was your favorite music festival experience of the past decade? Why?
Well, this is going to come across as biased because of my involvement in the experience, but I am going to go with the HGTV Lodge at CMA Music Festival. The Lodge had a wildly successful eight-year run at CMA Fest and was an amazing experience.
The Lodge was a beautiful structure that my previous company "popped up" in downtown Nashville during the festival. It was built in less than a week and wowed both artists and fans. The Lodge was a two-story, 60' x 40' barn that hosted performances and other special events. It was an intimate space with a capacity of fewer than 300 people and the only way in was to win. For these lucky fans, seeing their favorite artist at the Lodge was truly a once-in-a-lifetime experience and it created a powerful connection between them, the artists and HGTV.
I was responsible for the music programming and our team booked 25-30 artist performances each year. We would identify a few superstar artists to partner with on a broader scale. These partnerships included radio and social media promotions, flyaway opportunities and major promotion for HGTV programming initiatives. I'm proud to say we booked some of the biggest artists in the genre including Garth Brooks, Trisha Yearwood, Keith Urban, Dierks Bentley, Chris Stapleton, Zac Brown Band, Luke Combs and more. It was very special seeing an artist performing to 300 fans in the Lodge during the day and then again that night to 70,000 fans at Nissan Stadium.
One thing is for sure and that is that we are social beings. We need to keep moving forward with shared experiences.

Dan Severs
Q. What's been the biggest change in experiential planning as we make our way through the pandemic?
I think the ever-changing goalposts. I remember everyone thinking back in March/April 2020, that we'd be back to business later that summer. Remember, "two weeks to slow the spread?" Little did we know…
It's been really hard to predict what the state of things will be like months or even weeks into the future. That wreaked havoc on experiential planning because no one knew if it would be safe to hold in-person events or if their strategy should take a fully virtual approach.
One thing is for sure and that is that we are social beings. We need to keep moving forward with shared experiences. I'm hoping that, since there have been several months of concerts, festivals and sporting events occurring without much talk or evidence of them being "super spreaders," brands will feel confident planning in-person events and activities into 2022.
Q. How can event planners focus on creating Covid-safe experiences? And what's the best way to share those safety precautions with attendees?
The best you can do is follow current guidelines from health and safety experts. The best way to share those precautions with the public is through a combination of direct email to your ticket buyers, social media posts and on-site signage. Having a clear and robust Q&A section on your web page outlining health and safety measures as well as entry requirements is not only helpful for attendees but will also save event planners a ton of time answering questions in emails and DMs.
Q. What's your biggest prediction for festivals in 2022?
I'm optimistic. Hopefully, I can say this without jinxing an entire industry, but I see things moving back closer to normal. Festivals will continue their return and the experiences we have will be similar to what we've been accustomed to. That being said, the safeguards will remain in place to keep fans, employees and artists safe.
The festivals that returned in 2021 are doing exceptionally well. Bonnaroo sold out faster than it ever had before. Both Lollapalooza and Austin City Limits also sold out, which is a great sign as well. There's an eagerness and willingness from fans to participate in large-scale experiences and gatherings. That demand will still be pent-up next year.
Join us in XP Land. A community for experiential creatives and experience-makers, brand leaders and IP-owners, space stewards and venue visionaries — all of those in the business of epic gatherings and live, immersive storytelling.