Fall preview, part deux: Even more pumpkin-spiced XP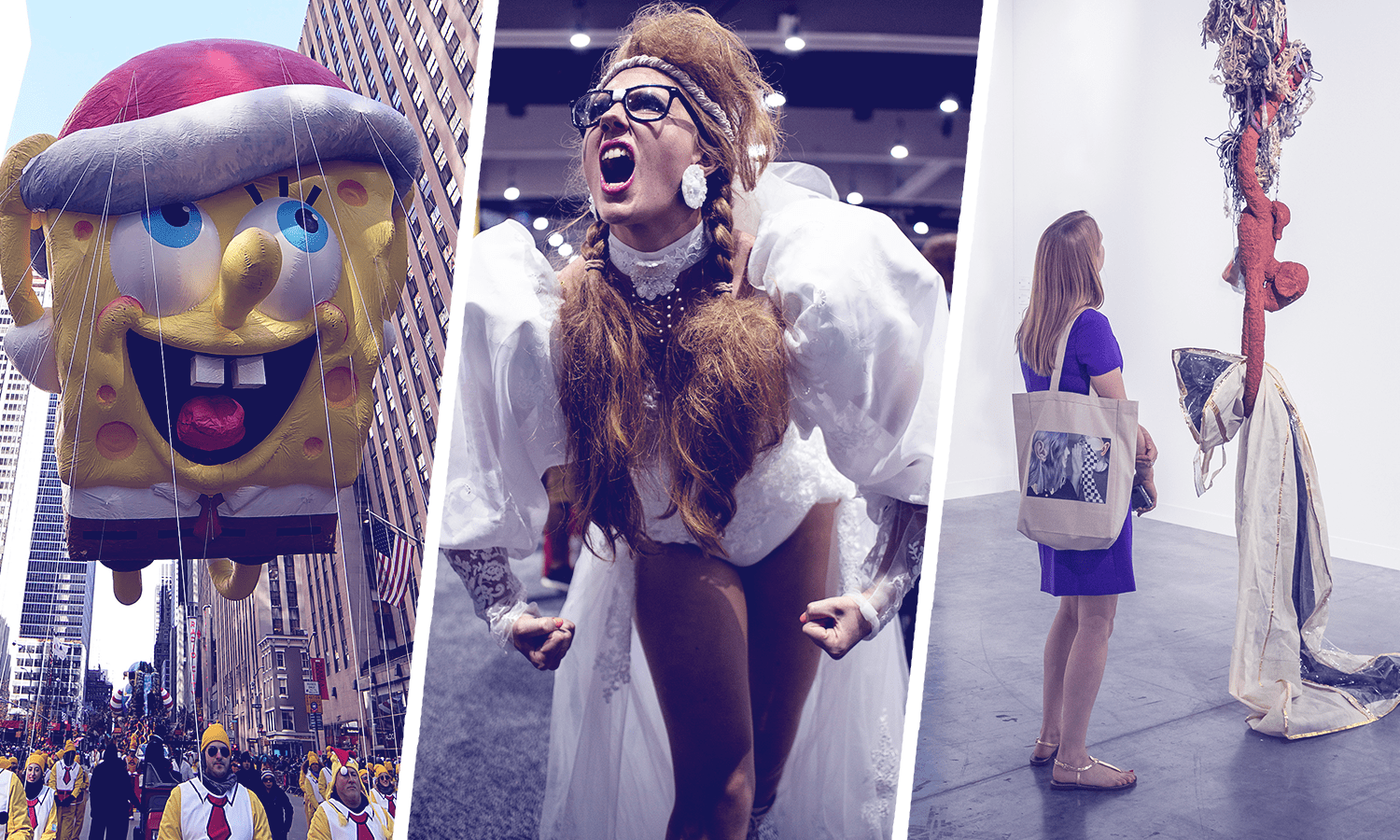 Ah, fall is here. Sweater weather. Pumpkin-spiced everything (yeah, it's a bit cheugy, but it's also yummy). Football. Back-to-school sales. And our personal favorite: The experience of stepping on satisfyingly crunchy leaves during your afternoon walk (results may vary, crunchy leaves not guaranteed). The days may be getting shorter, but there's still plenty of can't-miss XP coming soon to a city or screen near you.
Fall into some insights from quality XP this season with these projects:
The when: Oct. 26-28
The where: Virtual
XP highlights: Adobe MAX is back featuring all your faves, from actors (Henry Golding) and directors (Chloé Zhao) to artists (Young Thug) and makers (Casey Neistat). There's something for the artist in everyone. Most content is available live or on-demand on the website, but you'll need an Adobe ID to sign up for additional content like access to instructor files and networking. You can even check out the sessions from last year.
The what: Pop-Up Magazine (Pop-Up Magazine Productions)
The when: Nov. 12, 14, 16 & 18
The where: Oakland, LA, NYC & DC
XP highlights: Pop-Up Magazine — a magazine performed live — is coming back to the stage in November 2021 with performance dates on both coasts. Forget "Hot Girl Summer" — it's "Thank-God-Covid-Rates-Are-Down Fall." Pop-Up chose cities where the pandemic is on the ebb for its return to IRL, according to Adweek. Special guests include author, sexual assault survivor and rights advocate Chanel Miller, TV writer Cord Jefferson, author and essayist Ingrid Rojas Contreras and more for "a night of stories, music, art, and performance." Tickets will include one Botanist martini for the over 21 crowd.
The what: LuminoCity (LuminoCity Inc.)
The when: Nov. 12-Jan. 9
The where: Clark Botanic Garden, Long Island, NY
XP highlights: Bring the whole family and join Lumi and friends in an immersive winter wonderland of luminous sculptures and glowing light art installations. LuminoCity is back this year with the theme "Shine Again" and 12 famous social media animal influencers (yes, that is a thing) that will be replicated as light art sculpture. Timed entry tickets are available and masking is recommended at this outdoor event. Note that there is also a LuminoCity going up in Fairfax County, VA.
The when: Nov. 26-28
The where: San Diego Convention Center
XP highlights: After cancelling for 2020 and hosting a special Comic-Con@home virtual edition in July, Comic-Con will once again return to the storied halls of the San Diego Convention Center. This year's nerd extravaganza promises to be a somewhat scaled down affair with many guests, panels and exhibits still TBA. Tickets for the three-day event are available to all members of the public. Follow along at the official Comic-Con blog for updates. Full vaccination or a negative Covid test within 72 hours is required for attendance and masking will be strictly enforced for all attendees.
The when: Nov. 25
The where: Manhattan; watch live on NBC from 9am to noon
XP highlights: Put the turkey in the oven (please tell us you remembered to defrost it) and pull up to Macy's 95th annual Thanksgiving Day Parade. The festivities will be airing live from the streets of New York City with balloons, floats, marching bands and performances by Ballet Hispanico and Big Apple Circus, among others. The big musical acts are currently TBA, but at least this year's parade will allow in-person attendees, with Covid restrictions. Is that a three-story high Baby Yoda balloon? Yes, yes, it is.
The when: Dec. 2-4
The where: Miami Beach Convention Center, online
XP highlights: Last year's Art Basel Miami was cancelled due to Covid, but luckily it's back for 2021 with plenty to offer for art aficionados and dabblers alike. There's even an Art Kids program for children (and future art buyers) aged 4-12. The fair will offer online viewing rooms for those who can't make it to Miami IRL (you can check out OVR: Basel here). Covid protocols are fairly stringent and face coverings are required for all.
The what: LA3C (Penske Media Corporation)
The when: Dec. 2-4
The where: Los Angeles
XP highlights: Penske (publisher of Variety, Deadline and Rolling Stone) is throwing its own three-day festival to celebrate the City of Angels. According to Deadline, "LA3C, stands for Los Angeles (LA), the Capital of Creativity & Culture (3C)." Looks like most of the festival's programming is TBA, with no website yet in Google sight. Penske has tapped Juan Mora, formerly of Propeller, as CEO of LA3C. Is LA about to get its very own SXSW? Maybe. PMC just bought a 50 percent stake in that Texan XP staple.
PREVIOUS FALL XP
The what: The New Yorker Festival (Condé Nast)
The when: Oct. 4-10
The where: Brooklyn's Skyline Drive-In, online
XP highlights: Read our full preview here. This multi-day event went virtual in 2020 and returns this year with a mix of digital and IRL experiences, including a just-announced concert with Billie Eilish and her dreamy pop stylings. If Eilish isn't your particular ish, there's also Dave Grohl, Aimee Mann, a drive-in movie screening and thought-provoking panels about climate action, women cartoonists and race in America.
The when: Oct. 1-3 & 8-10
The where: Zilker Park, Austin, TX
XP highlights: Produced by the same people that brought you Lollapalooza, this year's Austin City Limits Music Festival is rolling full-steam ahead in early October. Billie Eilish, Erykah Badu, Bleachers and Phoebe Bridgers are just some of the artists playing over two weekends. Like Lolla, the fest requires attendees to show proof of vaccination or a negative Covid test (no word yet on any rules about masking). If you're headed to Austin, we hope you already have tickets — the event is sold out.
The what: Code 2021 (Vox Media)
The when: Sept. 27-29
The where: Beverly Hilton, Waldorf Astoria Beverly Hills
XP highlights: "Where Kara Swisher holds the power players of tech accountable." This annual conference brings together some of the biggest execs and entrepreneurs across industries for networking and in-depth conversations. Ari Emanuel, Chelsea Handler and Marc Benioff are among this year's speakers. The event is invitation only, but all are invited to apply. Attendees are required to provide valid proof of vaccination via Health Pass by CLEAR.
The what: Tony Awards (American Theatre Wing and The Broadway League)
The when: Sept. 26
The where: Winter Garden Theatre, NYC; Paramount+, CBS
XP highlights: It's been a rough year-and-a-half for Broadway but the show goes on at this year's 74th annual Tony Awards, hosted by Audra McDonald and Leslie Odom Jr. The show will give out awards for the 2019-2020 season, followed by a two-hour "Return to Broadway" concert featuring performances from "Jagged Little Pill," "Moulin Rouge! The Musical" and "Tina: The Tina Turner Musical." In an interesting turn of events, the bulk of the awards presentation will stream exclusively on Paramount+, while the concert and a few key awards will air on CBS. It's an odd (and confusing) choice to split the night between online streaming and network TV, but hopefully diehard fans will adapt.
The when: Sept. 25
The where: Lagos, London, Los Angeles, New York City, Paris, Rio de Janeiro, Seoul, Sydney; everywhere, virtually
XP highlights: Global Citizen Live is a 24-hour global affair spanning six continents with musical acts including BTS, Lizzo, My Morning Jacket, Metallica, Meek Mill and many, many more. If this veritable who's who of the music industry doesn't convince you, peep their mission to "defend the planet and defeat poverty." Viewers can watch live on YouTube and other online streaming services, or, if they're lucky enough to be in one of the host cities, get tickets through Ticketmaster.
The when: Sept. 24-Oct. 10
XP highlights: The annual autumn film festival is back this year with a larger footprint, expanding its showings from the Lincoln Center campus to Fort Greene's BAM, Harlem's Maysles Documentary Center, Westchester's Jacob Burns Film Center and more. "Taking the Festival to neighborhoods beyond the Upper West Side remains our goal," NYFF Director Eugene Hernandez said. The event is mostly in-person — last year's fest took the drive-in route — and includes free talks in addition to its mainstay screenings. Yes, proof of vax is a requirement.
The what: Dreamforce (by Salesforce)
The when: Sept. 21-23
The where: Streaming live on Salesforce+, in-person by invite only
XP highlights: Pros: Guest speakers include Will Smith, Jane Fonda, Aly Raisman, Soledad O'Brien and Hasan Minhaj among other luminaries. At over 100 hours of free live and in-demand content, there should be more than enough professional development for your average bear (or Kookaburra). Cons: You will need to sign-up for Salesforce+, Saleforce's proprietary streaming platform. Is it worth it to see Ted Lasso (Jason Sudeikis) himself in conversation? Maybe…
Join us in XP Land. A community for experiential creatives and experience-makers, brand leaders and IP-owners, space stewards and venue visionaries — all of those in the business of epic gatherings and live, immersive storytelling.