What the hell is artvertising (and how do we implement it in experiential?)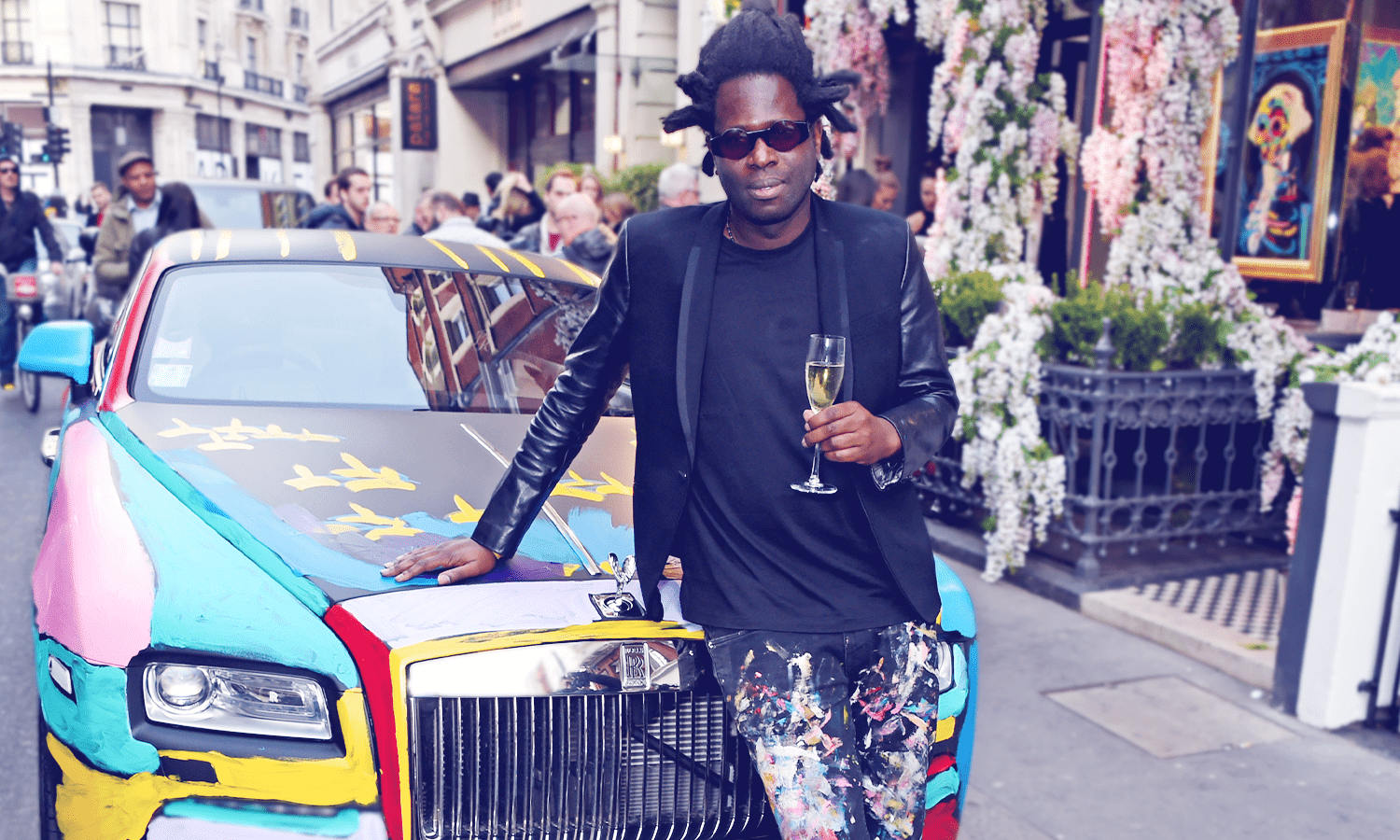 Marketers love silly naming conventions. Maybe it's the creative in them — that artistic force that says, why be straightforward, when we could flex our originality and confuse people at the same time. Sales and marketing alignment? Nah, let's call it smarketing. Displaying ads on streaming services like Hulu or YouTube? That's OTT, short for over-the-top (which still doesn't make sense TBH).
Artvertising is yet another word added to the marketing dictionary. The goal of this strategy is to persuade potential consumers to engage with a brand by utilizing art as advertising. This can be photography, digital development, packaging design, videography, illustrations and, yes, events and experiences.
When it comes to traditional artvertising, no brand does it better than Apple. Earlier this year, the tech company expanded its already popular "Shot on iPhone" campaign to highlight iPhone 13 Pro and Max Pro's macro photo capabilities. Ten winners from around the globe — including China, Hungary, India, Thailand, Spain, Italy and the US — had their photography featured in Apple ads.
Additionally, avid Googlers will be familiar with the search engine's ever-changing homepage doodles. To our surprise (and XP kudos), the campaign started when Google co-founders Larry Page and Sergey Brin were OOO attending Burning Man and marked their absence by adding the festival's stick figure to Google's corporate logo. Since then, doodles are regularly used to creatively celebrate notable events.
"Artists are able to see things that most people can't. We see through the illusion, so we're able to create illusion. We have a special energy within us." – Bradley Theodore, artist
But how does this work for our industry? While, of course, ROI and engagement are huge data points for marketers, experiential isn't as rigid as other types of advertising. With so many ways brands can implement artvertising in traditional and digital campaigns, how do we execute this strategy for IRL experiences?
Keep reading for prime examples of experiential artvertising, including execution details and killer quotes from some of our favorite XP Land artist interviews…
1) Invite an artist to create something at your event — live … and make it come to life, if you can
We're not talking about having custom portraits sketched at a wedding reception here. Invite an artist to create something live and in-person that either directly involves your brand or is simply inspired by your mission. Maybe it's one large piece, like a mural, that represents the overall event; or it could be individualized artwork tailored for each guest interaction, like bespoke, hand-typed poems to take home (a real service).
Murals can also bring artvertising to life. In fact, murals with experiential components have the opportunity to engage not only attendees, but the greater community when they become permanent installations. Consumers have a better chance of understanding, and relating to, an artist's style when it comes from a place of authenticity and local ties.
Who's doing it well?
Art Basel Miami – Shutterstock x Bradley Theodore: Last year's Art Basel Miami encapsulated all things live art. Acclaimed contemporary artist Bradley Theodore partnered with Shutterstock to create a live studio art project with six-foot-tall sculptures, in addition to Theodore's reimagined photographs from the Shutterstock Editorial collection.
Guests had the opportunity to immerse themselves in real time by painting over cultural and historical icons, including Whitney Houston, Steve Jobs, and Marilyn Monroe. And the experience allowed attendees to connect with the artist on a new level while reinforcing their appreciation for the artwork displayed.
"I didn't want to do the same old, same old. We grabbed the villa at the W Hotel, one of the best venues for that week. We wrapped the wall to create a garden, an environmental experience where attendees entered the world of Bradley Theodore and Shutterstock." – Bradley Theodore, artist
Guests were also granted access to an Instagram filter that transformed their posts into Bradley Theodore-style skull selfies. During the event, guests viewed art installations, live painting activations and became part of the art themselves.
Mural Campaign – Hydrow x Water.org: A recent mural activation in the heart of downtown Austin brought the community together to support the global nonprofit organization Water.org. Rowing machine company Hydrow and local artist Helena Martin came together to create a mural including a scannable QR code that triggered a donation to Hydrow's philanthropic partner. The mural was painted alongside the storefront of Allen's Boots, where donating participants were also entered into a drawing to win a pair of custom boots — a big deal in Texas!
"Murals and art installations can open the door to deep connections with consumers. When done well — with attention to a particular community's local culture — art provides a splashy, shareable, relatable experience and a momentum-building springboard for brand awareness," says David Seidler, CEO and co-founder of Muros.
2) Put your own custom spin on the immersive museum trend
There's something nostalgic about strolling through an art museum. Maybe it's a reminder of elementary school field trips or past vacations to new cities. But, museums have evolved beyond the familiar white-walled labyrinths. Many new museums are built on the concept of complete immersion and interaction, challenging our traditional definition of the experience.
Hello Van Gogh — and the two versions that lived in NYC last summer. "Van Gogh: The Immersive Experience" by Exhibition Hub, opened June 5, 2021 and "Immersive Van Gogh Exhibit New York" by Lighthouse Immersive and Maestro Immersive, followed close behind, opening June 10.
This form of artvertising can come to life through brand partnerships with the immersive space or even serve as a promotional opportunity for the space itself.
Who's doing it well?
Seattle NFT Museum: The world's first NFT museum is physically bringing the blockchain community together to highlight trending NFTs from around the world. The purpose of the museum is to recognize some of the most influential NFTs while educating collectors on blockchain and Web3 innovations. This experience emulates a traditional museum, but visitors can actually purchase some of the items on display.
Each piece is connected to a handy QR code that connects users to OpenSea, the NFT marketplace. The QR code feature is unique in that it transports the user from the physical space into the expansive digital world of NFTs. It keeps museumgoers on their toes and allows them to take a keepsake home from the experience.
SFMOMA x Adobe: SFMOMA and Adobe came together to create Self Composed, an interactive photo exhibit fueled by user-generated selfies. The installation quickly became popular as families and friends learned to navigate the intersection of art and technology via impromptu photos.
"I went to the SFMOMA with my two youngest kids. There was an interactive display where we looked up at this opaque panel and a camera took sequence photos. Basically, it was a really artistic, interactive photo booth…I love museums, but there was something about participating in the art that meant more to me." – Martin Grasser, Artist and founder of Studio Mococo.
3) Partner with an artist to build a lasting relationship (and pay them!)
The opportunities are endless when a brand and an artist decide to join forces. Both parties bring unique offerings to the table to create memorable collaborations. It's critical that artists are compensated for their work, because their time and talent matter — not only to your brand messaging and goals, but to their loyal fans as well.
In the words of distinguished artist Bradley Theodore, "The backbone of every company in our society is art. If you sell a digital service, artists designed your interface. If you sell a product, artists built it. Art is the backbone of our society, so when we support artists we support everyone."
Who's doing it well?
Pop-Tarts x NEON: Last month, Pop-Tarts collaborated with artists and creators at NEON — an ongoing digital content series that aims to increase the visibility of Black LGBTQ people — and created a special Pride Box to provide representation for Black LGBTQ communities. The talented black and queer illustrator and influencer Thaddeus Coates worked directly with Pop-Tarts to design the joyous artwork presented on the box, as well as the frosting on the pastry itself.
"Understanding that sometimes you can feel like you are the only one experiencing your current circumstances, especially when you're younger, the NEON team came together to conceptualize this project. It's so important for LGBTQ+ communities of color to see themselves this Pride season," says Major Nesby, NEON's Founder.
"For commercial artists working today on the internet, inevitably there are going to be brand partnerships…I'm always game for these sorts of partnerships, as long as they don't seek to flatten me out entirely. Whether we want to or not, every artist, every creator, every person today is aligning themselves with brands, because we are all relying on tech platforms to communicate anyway. Might as well get paid for it." – Adam J. Kurtz, artist and author
Whether you're inspired by the doodle on Google's homepage or the breathtaking mural down the street, creativity is all around us. Artvertising doesn't have to be limited to a billboard or digital banner — the best ads don't feel like marketing tools at all. In fact, art is meant to be experienced outside of our comfort zones and out in the world surrounded by other curious people.
Join us in XP Land. A community for experiential creatives and experience-makers, brand leaders and IP-owners, space stewards and venue visionaries — all of those in the business of epic gatherings and live, immersive storytelling.