Art Basel Miami? More like Art Basel Silicon Valley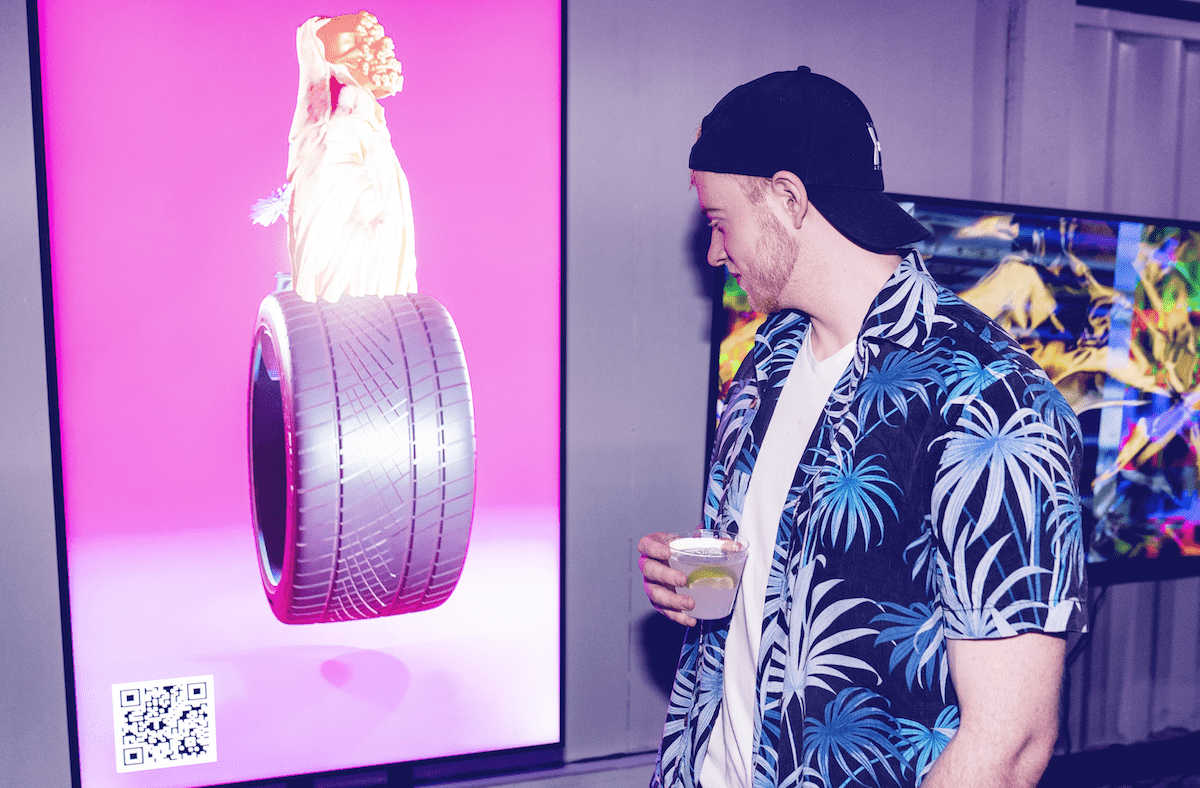 Last week's annual Art Basel Miami was a spectacle unlike any other art fair — because it's not really an art fair anymore. The week-long event celebrated the intersection of art, design, fashion and — especially notable this year — technology. Miami's growing startup scene was on full display. It felt more like we were navigating through the crowded streets of Austin headed to a crypto panel at SXSW than leisurely strolling through the galleries of Basel.
Like SXSW, Art Basel was infiltrated by Silicon Valley bros in their Allbirds sneakers and Patagonia vests. Everyone was there to co-mingle with other cutting-edge and creative industries. The blockchain and art communities are now permanently intertwined. NFTs felt less like a buzzword and more like the inevitable next generation of what Basel will (and already does) offer. But unlike the Bay or Austin, Miami caters to those looking to "party in the city where the heat is on all night, on the beach till the break of dawn." You know, Big Willie Style.
Art Basel felt notably expansive this year.
Perhaps because of the looming concern over the omicron variant and the desire for outdoor experiences. Collins Ave, the main stretch of shops, restaurants and galleries running along Miami Beach, was lined with private parties, art shows and brand activations. Public art spilled onto the beach itself. And downtown Miami's Wynwood neighborhood staked its claim as Art Basel's unaffiliated off-campus destination for edgier exhibitions.
But we weren't just down there to gawk. Members of the XP Land team worked alongside local artist Bradley Theodore in partnership with Shutterstock. Theodore built an experience in which iconic celebrity photos from the 20th century were transformed into vibrant new works of art — live. And even though our exhaustion from last week is fading, our enthusiasm (or distaste) for some of Basel's new XP hasn't. Read on for more on the experiences redefining Art Basel in 2021.
Machine Hallucinations: Coral
Refik Anadol creates dream-like, abstract, immersive experiences using data-driven machine learning algorithms. We had a lot to say about a similar experience he created for New York's ARTECHOUSE. While that art failed, Coral succeeded. The experience used AI to transform millions of images of coral into vibrant art. Everything was on a massive LED screen right on the sand, dazzling in front of the horizon day and night.
Dear Friends, Machine Hallucinations: Coral Dreams, the last exciting NFT collection of the year for our studio, will be on display as part of Art Basel Miami 2021 in collaboration with @AoristArt and @FaenaArt — Link https://t.co/Xyo1TYtEvb pic.twitter.com/HARFPSq6Aq

— Refik Anadol (@refikanadol) November 29, 2021
Human + Machine
Tezos' collab with Art Basel combined education with exhibition, delivering an interactive NFT gallery alongside a conversation series on technology and art. If you're looking for a serious crash course into why the f— NFTs aren't going away, the conversations are all available on-demand on Tezos' website.
🖼️ @Tezos has gained global acclaim as a platform of choice for artists looking to mint NFTs because of its energy-efficient design, passionate artist community and low transaction costs.

At @ArtBasel Miami Beach 2021, #Tezos and #NFT artists will be in the spotlight… pic.twitter.com/kiw6Qv0hyu

— Tezos (@tezos) November 9, 2021
Chanel does the drone show right
Drone shows are no longer cool just because they're drone shows. And Chanel showed how to wow a crowd while celebrating the 100th anniversary of their perfume brand, N5. They lit up the sky with more than 500 drones that sparkled like stars, choreographed to music with astral vibes right on the beach.
This is what dozens of drones look like returning to land following @CHANEL light show on Miami Beach pic.twitter.com/pwqEZRUUMF

— Joel Franco (@OfficialJoelF) December 2, 2021
Hall of Visions
Pilar Zeta's sculptural beach installation "Hall of Visions" featured a corridor leading to a giant egg. It was inspired by the "search for the ability to be present to manifest a future self." The sculpture itself wasn't auctioned, but it's NFT counterparts sold for as much as $45,000.
I'm so happy to announce the unveiling of 'Hall of Visions' on November 30 at 6pm 💙🥚💫

This work is a physical, immersive installation @faenart #ArtBasel

'Hall of Visions' will also live forever as a collection of NFTs with @AoristArt pic.twitter.com/wpcKDDE9YI

— Pilar Zeta (@pilar_zeta) November 19, 2021
Subscribe to the XP Land newsletter. Follow us on LinkedIn, Instagram, Facebook and Twitter.