Top 2022 holiday season events and experiences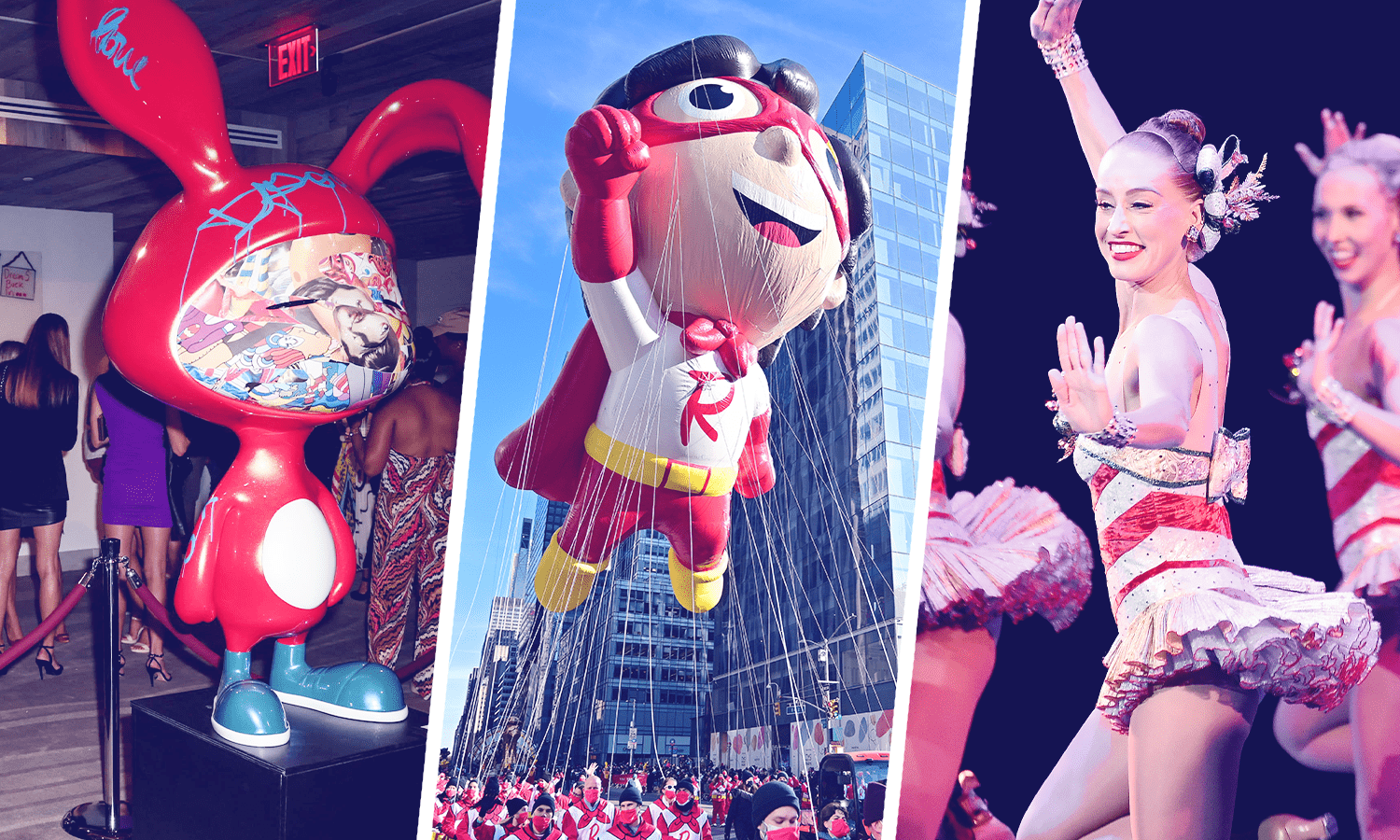 Holiday events don't have to be the same familiar players year after year. While we love a trip to the ballet to see The Nutcracker or (waiting in a two-hour line for) ice skating at Rockefeller Center, there are plenty of new and nontraditional experiences to not only get the family out of the house together, but inspire your inner experiential creator, too.
We grew up going to the mall to enter a rickety version of the North Pole across from a Dillard's and sit on a stranger's lap. Now, kids can instead explore a winter wonderland inspired by Disney's upcoming series The Santa Clauses, a continuation of the films starring Tim Allen. Instead of waiting in a long line by the food court in itchy tights, guests can walk through Santa's house, go to Mrs. Clause's candy bar, and have brunch (witch cocktails for mom and dad).
And that's just one example. XP Land has curated a list of the top 2022 holiday season events and experiences to keep your calendars, stockings and bellies full. We've got plenty of music, food, art, sports and more on the horizon to give us that experiential fix we all crave. Keep this tab open until the end of the year, because we'll be updating it until the clock strikes midnight on January 1, 2023.
What to expect: What's more festive than copious amounts of food and drink? Named Best General Food Festival in the 2019 USA Today Readers' Choice travel awards, the fest is ready to return for its 18th year. A perfect warm-up for Thanksgiving's main event just days later…
What makes this year different: Joining the always-popular Grand Tasting is the Grand Decant ultimate wine-tasting experience (because when you're in California, wine is always going to take center stage). The fest's Dinner with a Butcher experience and new Grand Fiesta incorporate educational tools with immersive dining experiences. Smart ticket tiers, including all-inclusive packages that feature hotel accommodations, make this sound (to us) like a Coachella-esque of wine and food festivals.
What to expect: You know the drill here. This three-hour parade (in its 98th year!) is held on the Upper West Side of Manhattan from 9am-12pm ET each Thanksgiving, ending outside Macy's Herald Square. It has aired nationally on NBC since 1953 — averaging 44 million views each year — with a volunteer workforce made up of Macy's employees and their friends and family.
What makes this year different: Well, this is about how you can make this year different. In our opinion, the real experience takes place on Thanksgiving eve in the streets around the American Museum of Natural History. Families hoping to avoid a 4am wake-up call for parade views can spend the afternoon watching the giant balloons being inflated — and get much closer to them, too.
3)

Radio City Stage Door Tour

: November 18, 2022 to January 2, 2023, New York, NY
What to expect: Radio City will always be one of our favorite venues in New York. And behind-the-scenes tours warm our experiential-loving hearts, as they teach civilians all about the ins and outs of event production. The Stage Door Tour explores the history and beauty of Radio City Music Hall, including its Art Deco masterpieces and secret apartment, The Roxy Suite.
What makes this year different: Combine the tour with a holiday season staple, The Christmas Spectacular Starring the Radio City Rockettes. If you take a tour within two hours of your showtime, you can enter Radio City Music Hall through the private tour entrance and remain inside before your show begins. And, if you happen to find yourself in Midtown at 5am, you might catch the show's live horses and camels, out for their morning stroll.
4)

Miami Art Week

: November 29 to December 5, 2022; Miami, FL
What to expect: Okay, okay, it's definitely an avant-garde holiday experience, but Miami Art Week — including Art Basel Miami Beach, Art Miami and Untitled Art — is always the week after Thanksgiving, so it counts. The annual art fair is the leading global platform connecting collectors, galleries and artists. Expect great weather, incredible food and enough parties and entertainment to put you in hibernation until 2023.
What makes this year different: Many XP industry pros are buzzing that Miami Art Week is the new SXSW (we chimed in on the discussion, obviously). While the art fairs themselves haven't changed their formulas, more and more brands activate in Miami — producing experiences, technology panels, parties and performances — and taking advantage of the city's large and engaged audience. We're predicting even more influence from the Silicon Valley elite as media outlets and household-name brands twist themselves into artistic pretzels to align with the cool kids in town.
What to expect: Kicking off on November 29th in Dallas, the annual tour will make stops in Los Angeles, Chicago, Detroit, New York, Boston, Philadelphia, Washington, Atlanta and Tampa before wrapping up in Miami on December 18th. Performers on this year's tour include Dua Lipa, Lizzo, Jack Harlow, Backstreet Boys, Sam Smith, Khalid and more. As concert prices continue to skyrocket, one-day fests like Jingle Ball are a great way to pack in multiple live performances for the (admittedly high) price of one.
What makes this year different: Fans can tune in to watch Jingle Ball live from Madison Square Garden on Friday, December 9th, via an exclusive livestream on the CW app. Then, the network will broadcast the event December 17th at 8pm ET. iHeartRadio is also keeping the tour's emphasis on the artists, with a rotating lineup based on location.
What to expect: The actor and comedian Matt Rogers, who has been performing his one-man show at New York City's Joe's Pub for years, is now taking his hilarious and delightful act on the road. Performing a mix of stand-up comedy and original holiday music, Rogers makes his case to become the next "Pop Prince of Christmas" (move over Mariah Carey)
What makes this year different: Rogers and his musical director, Henry Koperski, write their own original music for the show, updating it constantly to keep up with the culture. Rogers also co-hosts (with friend and SNL cast member Bowen Yang) the Las Culturistas podcast, where they interview guests about their formative pop culture moments and experiences.
(Dis)honorable mention…

SantaCon

, December 10, 2022, New York, NY
What to expect: This experience is not for the faint of heart (or liver). While most New Yorkers will tell you this annual bar crawl — where hundreds of college kids and young adults dress in Santa costumes and drunkenly terrorize the city — is chaos personified, it's just one of those experiences, like Mardi Gras or the Village Halloween Parade, that many feel must be experienced… once.
What makes this year different: Somehow, more Manhattan bars than ever have signed up for this damn crawl. Money talks, people! Look out for some highly creative interpretations of "Santa costume." And keep your wallet close — but your dignity closer.
Join us in XP Land. A community for experiential creatives and experience-makers, brand leaders and IP-owners, space stewards and venue visionaries — all of those in the business of epic gatherings and live, immersive storytelling.