The Best Experiential Stadiums in the World: Fall 2023 Edition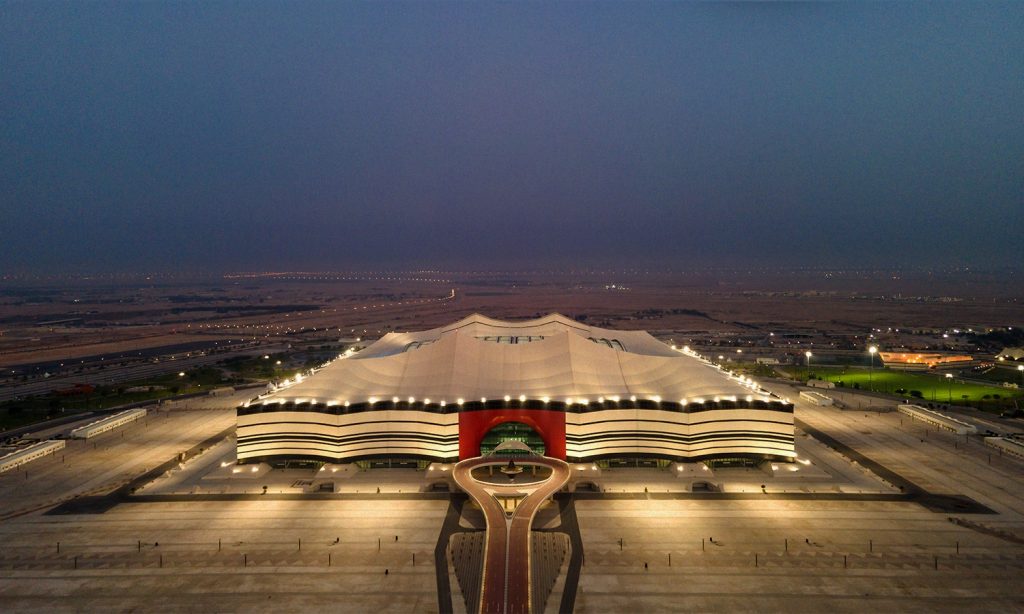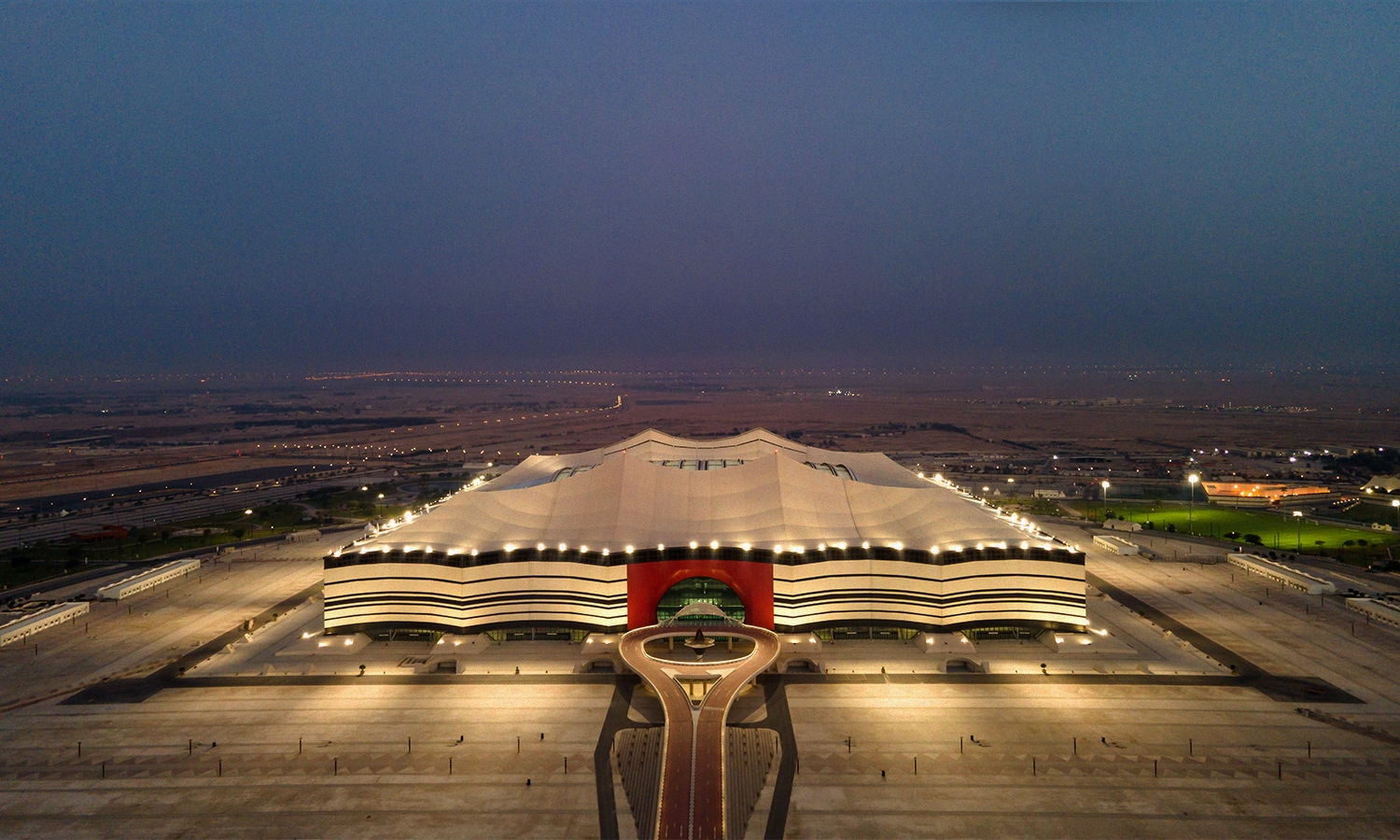 It's fall again, which means we're spoiled with sports options. Fans everywhere — and now Swifties, too — are busy supporting their beloved teams across all levels. With the amplification of stadium experiences (and prices), fans expect a whole lot more from a trip to the ballpark than a hot dog and a kiss cam. Spectators need to feel like their ticket is worth the cost with a clear return on investment.
As New York Islanders owner Jon Ledecky told CNBC, live sports are "competing against the 80-inch television in your living room." This may account for the estimated $10 billion pouring into new and upgraded stadium experiences between now and 2030. Taxpayers may not always love to hear it, but sports fans certainly should.
With this competition in mind, stadium designers aim to create new fan experiences to complement the main sporting event. Check out some of the newest and most innovative stadiums leading the pack. From best the food to the most integrated tech…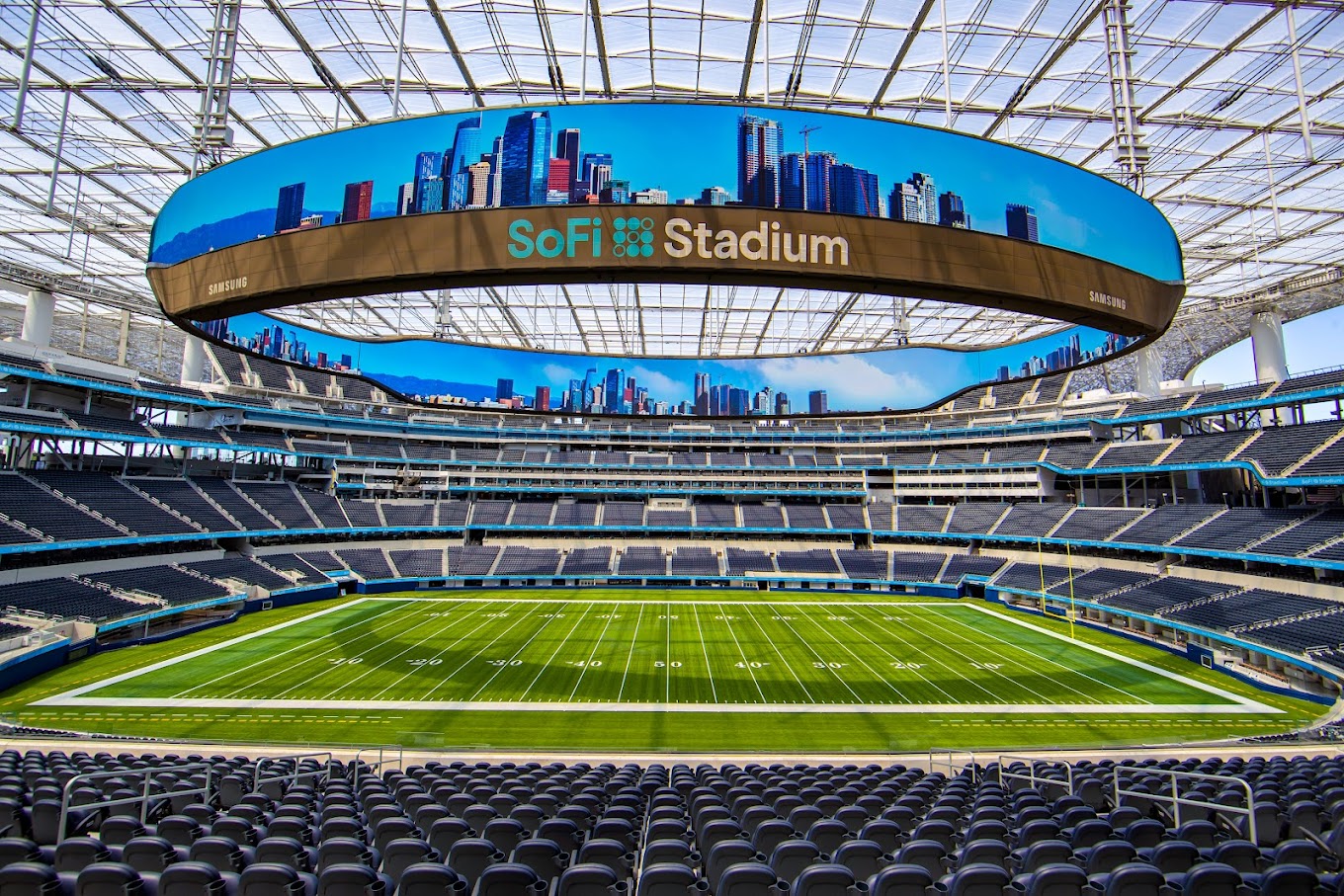 The $5.5-billion home of the Los Angeles Rams and Chargers (and the site of the 2022 Super Bowl) is in Inglewood, CA. The 3.1-million-square-foot facility, situated at the heart of live-work-play development Hollywood Park, can accommodate 70,000 fans on game day. And up to 100,000 for special events. In fact, it will host the Olympics Opening and Closing Ceremonies in 2028.
Within the stadium, there's everything from massive indoor-outdoor patios to a champagne bar (how very LA). The city's favorite chefs, Jon Shook and Vinny Dotolo of Jon & Vinny's fame, even curated field-level Bungalow Suites and an F&B program.
Other key features of the space include the 120-yard, double-sided video board — the league's largest — and an innovative open-air roof. Outfitted with an LED screen, the game can actually project externally, just in case you're flying overhead in your private jet and want to check the score.
This creates a detailed, virtual replica of the stadium and surrounding Hollywood Park. The facilities team can analyze data showing how visitors move throughout and utilize the space to optimize sustainability, predict maintenance issues and refine experience elements. SoFi's partnership with Google will implement a personal concierge app for venue wayfinding and parking.
Complaints? As the OC Register put it: "Love the place. Hate the parking."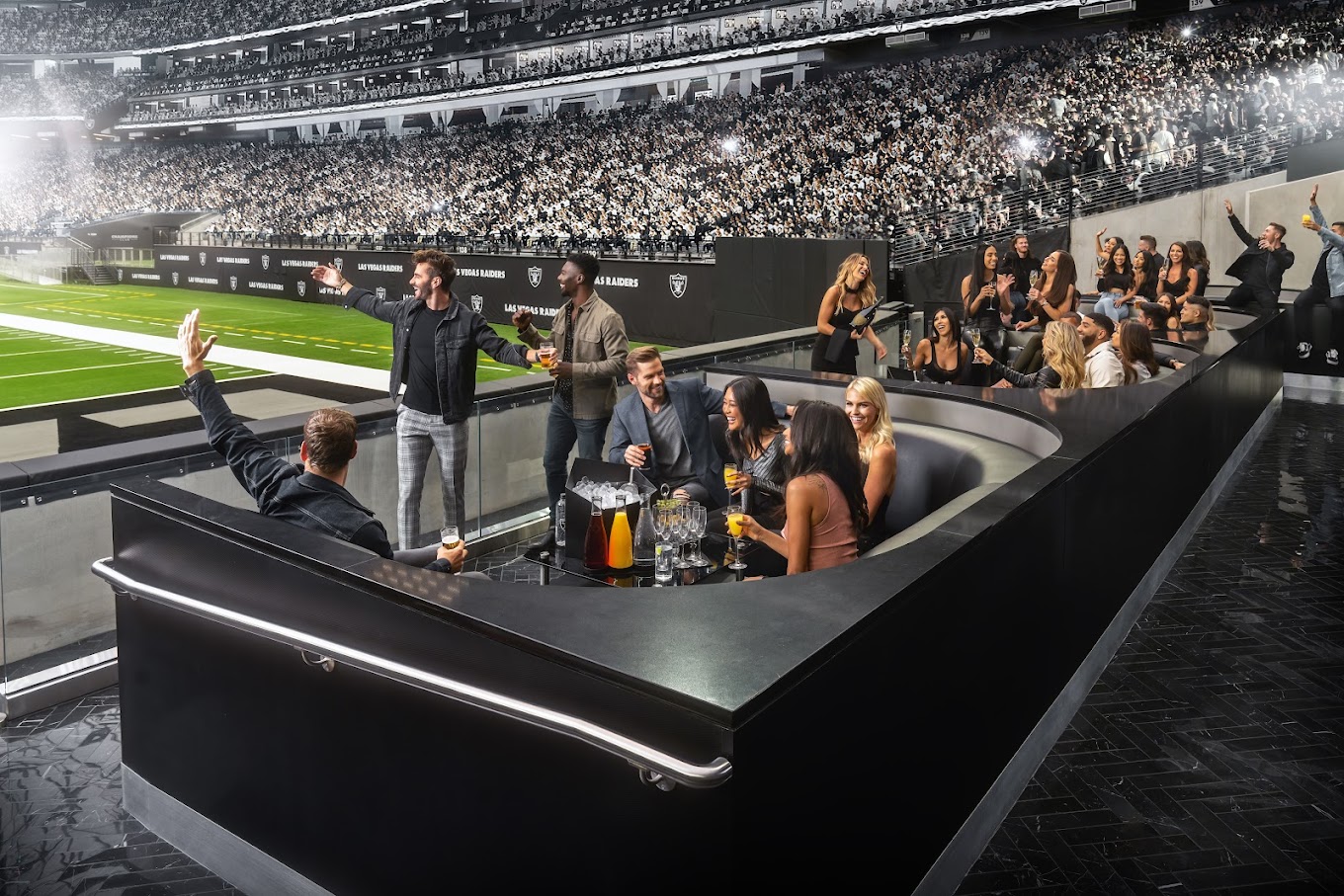 The $1.9-billion, 65,000-seat Allegiant Stadium, home of the Las Vegas Raiders, lives up to its price tag. The Raiders partnered with the culinary force behind restaurants like Michael Jordan's Steakhouse and the Barclays Center, to handle hospitality. They also tapped local restaurateurs including Mary Sue Milliken and Susan Feniger of Border Grill and Billy Richardson of the Cosmopolitan Las Vegas to feature menus across the venue. And, because it's not Las Vegas without a nightclub, the nearly 11,000-square-foot Wynn Field Club — complete with bottle service and guest DJs — sits at field level.
This includes high-speed wifi throughout the venue and interior and exterior Samsung video boards. More than 2,400 video screens communicate information about concessions and other service information. While this technology's impressive, it unfortunately isn't fail-proof. All of Allegiant's cashless payment systems went down during the 2021 WWE SummerSlam. The only other negatives seem to be traffic and parking, with some fans claiming it took over three hours to find a parking spot.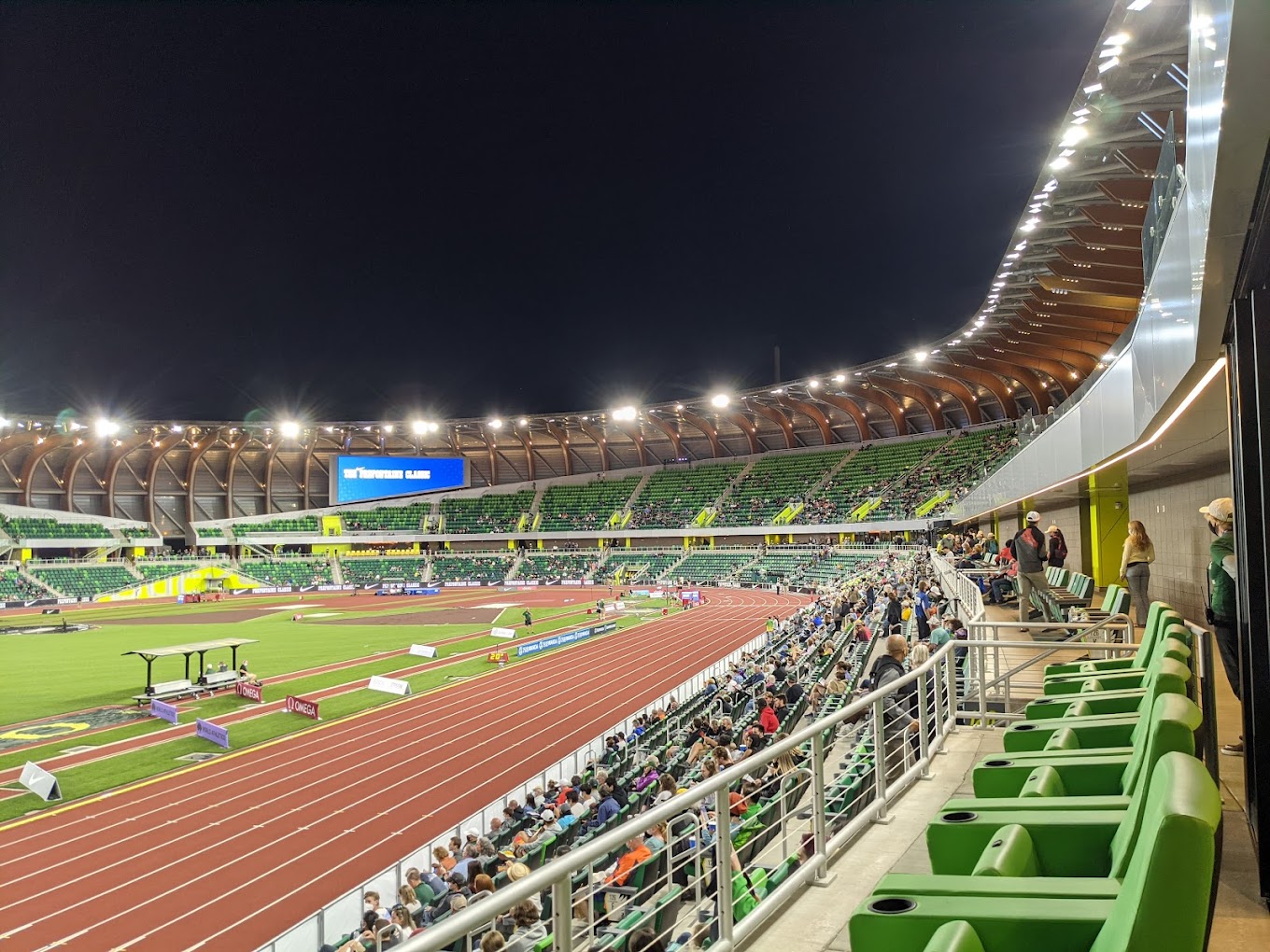 The new Hayward Field at the University of Oregon opened for the site's 100th anniversary in 2022 — doing TrackTown, USA proud. Funded to the tune of $200 million by Nike co-founder Phil Knight and 50 other private donors, the stadium's 12,650-cushioned seats all feature unobstructed sight lines. A unique bowl design ensures the majority of spectators are close to the finish line, too.
To celebrate Oregon's legendary track-and-field program, the venue also includes a 4,000-square-foot museum. It includes 250 images of athletes and moments in Oregon track history. A show-stopping, Olympic torch-shaped tower stands above the field that will light up green each time the Ducks win a championship. If history's any indication, the tower should be blazing fairly frequently…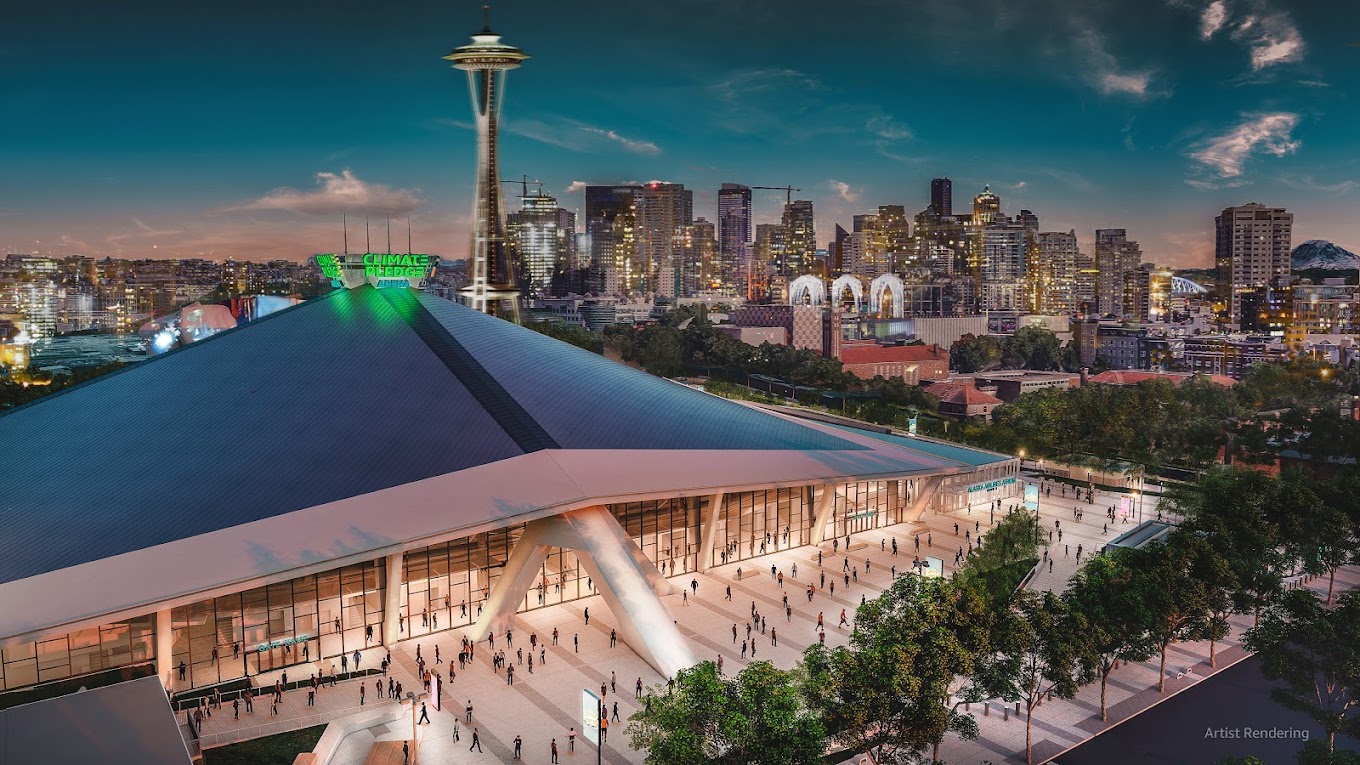 Open in October 2021, the billion-dollar Climate Pledge Arena became home to the NHL's eagerly awaited new team, the Seattle Kraken, and the WNBA's 2020 champions, the Seattle Storm. As the name implies, Climate Pledge Arena has committed to being the world's first zero-carbon arena. All fossil fuels have been eliminated from the venue. Amazon will purchase carbon offsets via The Nature Conservancy for all remaining emissions. Like those generated by fans traveling to the arena for events (which they estimate accounts for 40 percent of the venue's overall emissions).
The venue has been designed with sustainability in mind from top to bottom
Upon arrival, spectators can charge their electric vehicles in the underground parking garage or forgo their cars and utilize public transportation. The stadium even subsidizes transit costs for ticket holders. (Perhaps SoFi and Allegiant stadiums should take a cue…) Walking into the building, observant fans will notice the solar panels that are supplemented by off-site wind power. There are also real-time meters throughout the venue measuring resource consumption for waste, water and energy.
This environmental-friendliness extends to F&B, too. Managed by Delaware North, 75% of the food served in the venue is locally-sourced (from within a 300-mile radius) and based on seasonal availability. The arena and NHL Seattle are also working in collaboration with beverage partners to transition to all aluminum or biodegradable bottles by 2024. In the interim, all other single-use plastic is banned. The venue has no standard trash cans, using only compost and recycling options. Studies show that fans are receptive to environmental changes once implemented.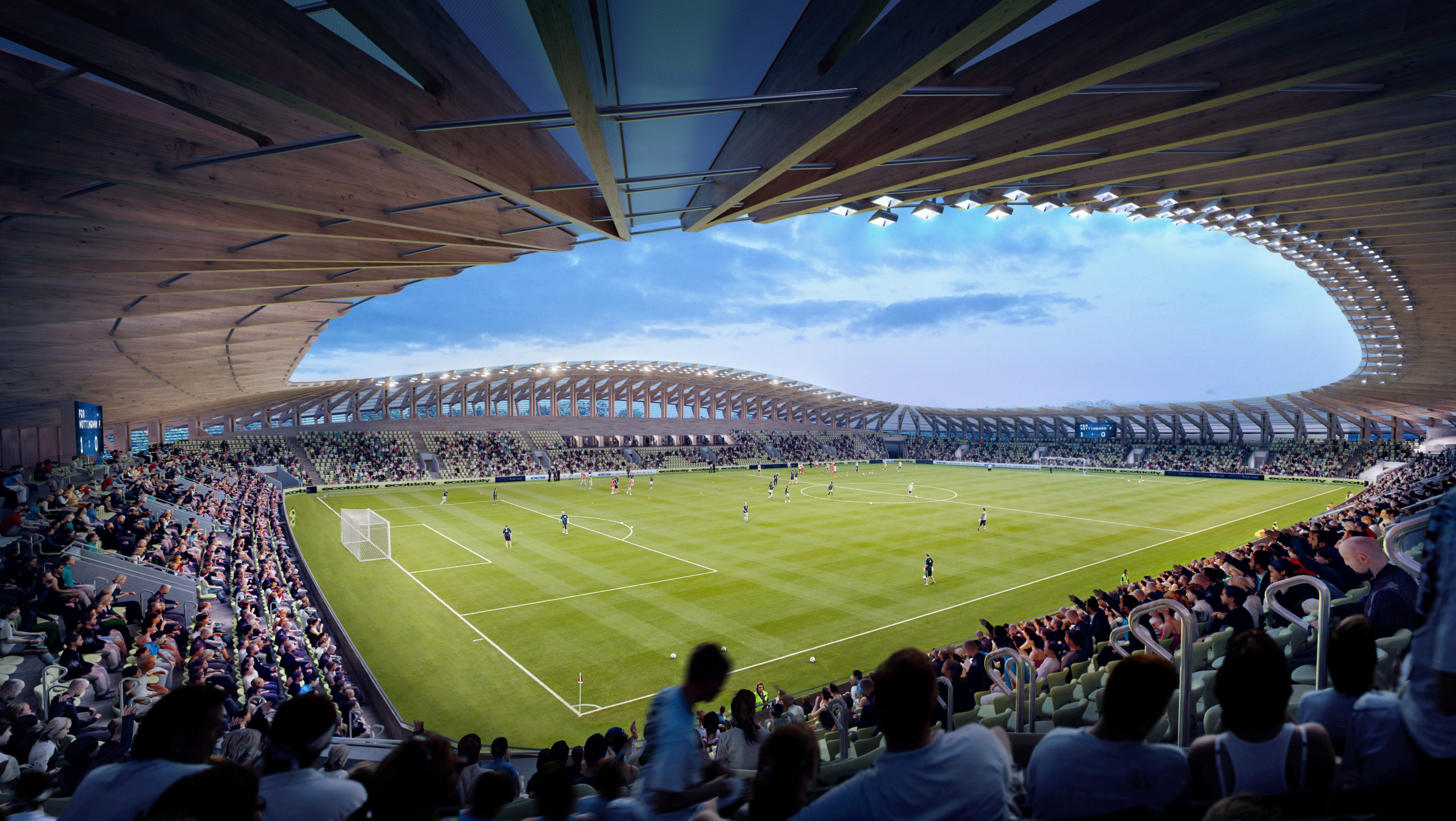 The Forest Green Rovers Soccer Club in the UK will soon call this first-ever all-timber, 5,000-seat stadium home. Designed by Zaha Hadid Architects, Eco Park will be 80% self-supplying in energy demands. Anticipated features include 40,000 square feet of office space, 20,000 square feet of industrial space, a 100-room hotel, a 70-bed care home, 1,700 parking spots and 500 new trees.
Eco Park plans to use only renewable energy generated by Ecotricity, the green energy supplier partially funding the project and owned by the chairman of FGR
A spokesman for DLA explains, "Eco-Park will create a regionally important cluster of like-minded companies from the zero-carbon economy and with the flagship Zaha Hadid designed Stadium as its centerpiece."
Additionally, Eco Park will set a precedent for future stadiums and clubs' commitment to sustainability. It marks an impressive feat of design that forces engagement with eco-consciousness. In another progressive move from the club, they recently appointed the first-ever female coach of a professional English football league team.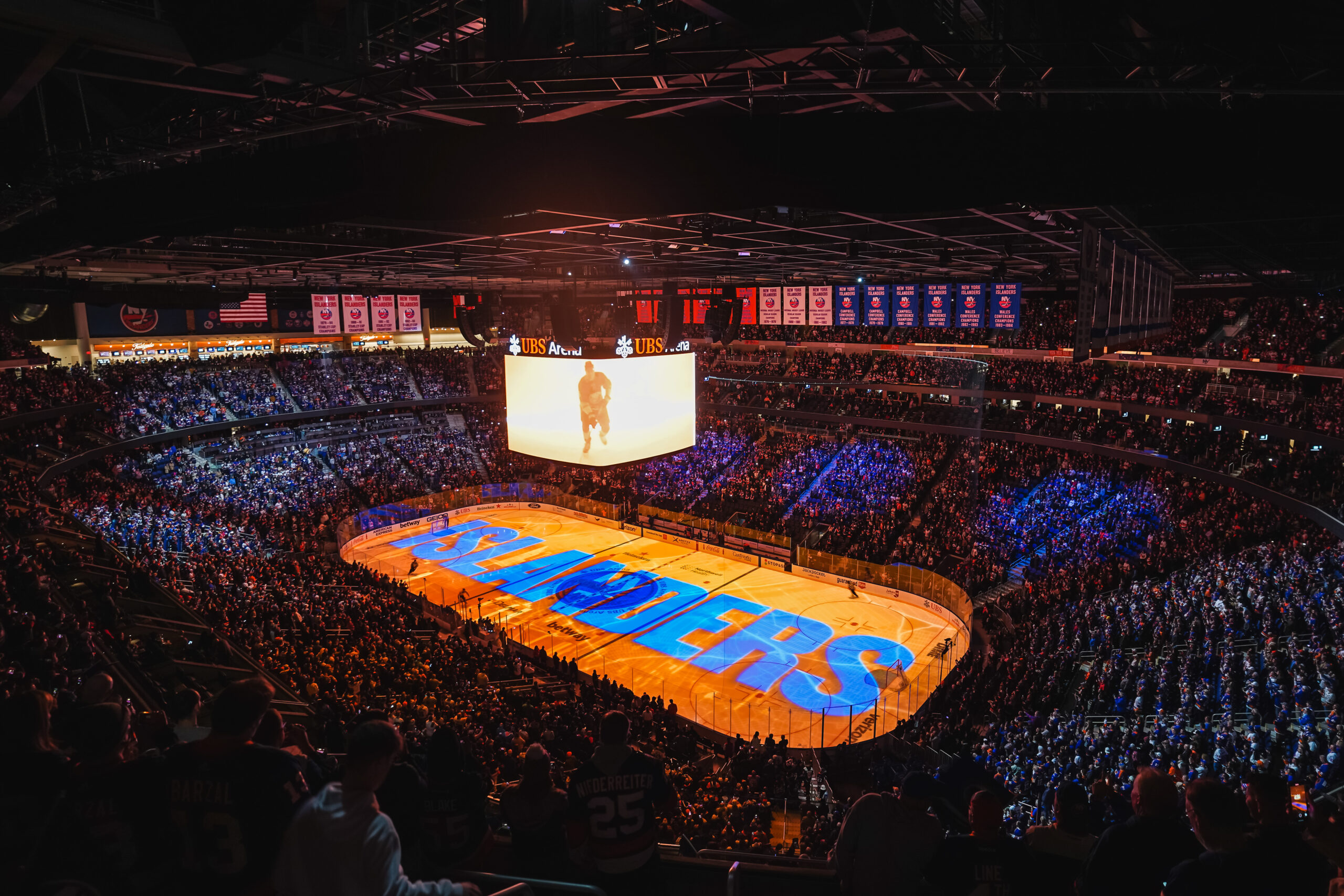 UBS Arena is the $1.5-billion home of the New York Islanders. It opened in November 2021 in Nassau County, NY. Islanders' co-owner Jon Ledecky describes Belmont Park as "a modern-day arena with amenities, but a throwback to the great arenas of the past." The 18,000-seater takes design inspiration from iconic New York landmarks like Grand Central Terminal, Central Park and the Park Avenue Armory.
The venue features fewer private suites (only 56) in favor of social clubs
The 11,000-square-foot Dime Club features high ceilings and gallery-style art exhibitions, as well as views of the on-ice action from the bar. And the Verizon Lounge, inspired by NYC's swankiest bars, even has on-ice seats. Psst, if you can find it, we hear there's also a speakeasy to discover — let us know if you stumble in.
Not only does UBS have the largest scoreboard in the state, it also has bespoke back-of-house setups for musical performances, designed with input from LiveNation. Like Climate Pledge Arena, UBS Arena solidified a deal with Verizon to be its exclusive 5G and wireless partner. Fun, and useful, key fact: UBS Arena has more restrooms per person than any other arena in Metro New York. Now that's an experience we all can benefit from.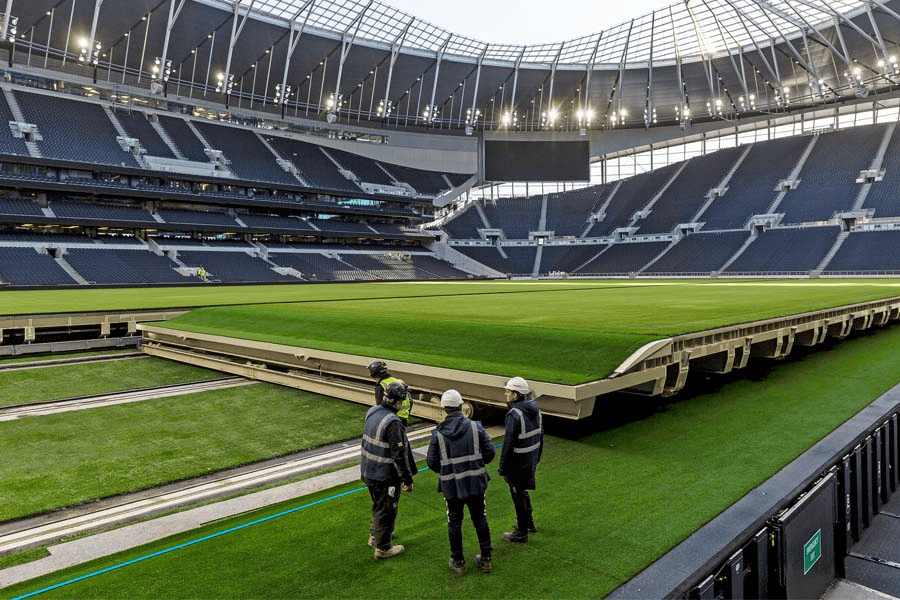 Transforming a stadium from presenting football to presenting American football, for a culturally diverse audience, is nothing if not an experiential feat. This story from the NY Daily News dives deep into how the NFL collaborated with Tottenham to build and manage the stadium. Tottenham is the first "to be purpose-built for the NFL outside of the US," according to stadium director Jon Babbs.
One major innovation that enables them to achieve the twice-per-year transformation from football to football? The grass for the soccer pitch retracts in three parts to reveal football-ready artificial turf below. The world's first dividing, retractable grass surface. And, unlike the European soccer match experience, NFL fans can bring their beer and other concessions back to their seats (because America).
With viewership continuing to grow for its London games and NFL commissioner Roger Goodell "musing about a four-team division in Europe," the soccer/football stadium experience is one to keep an eye on.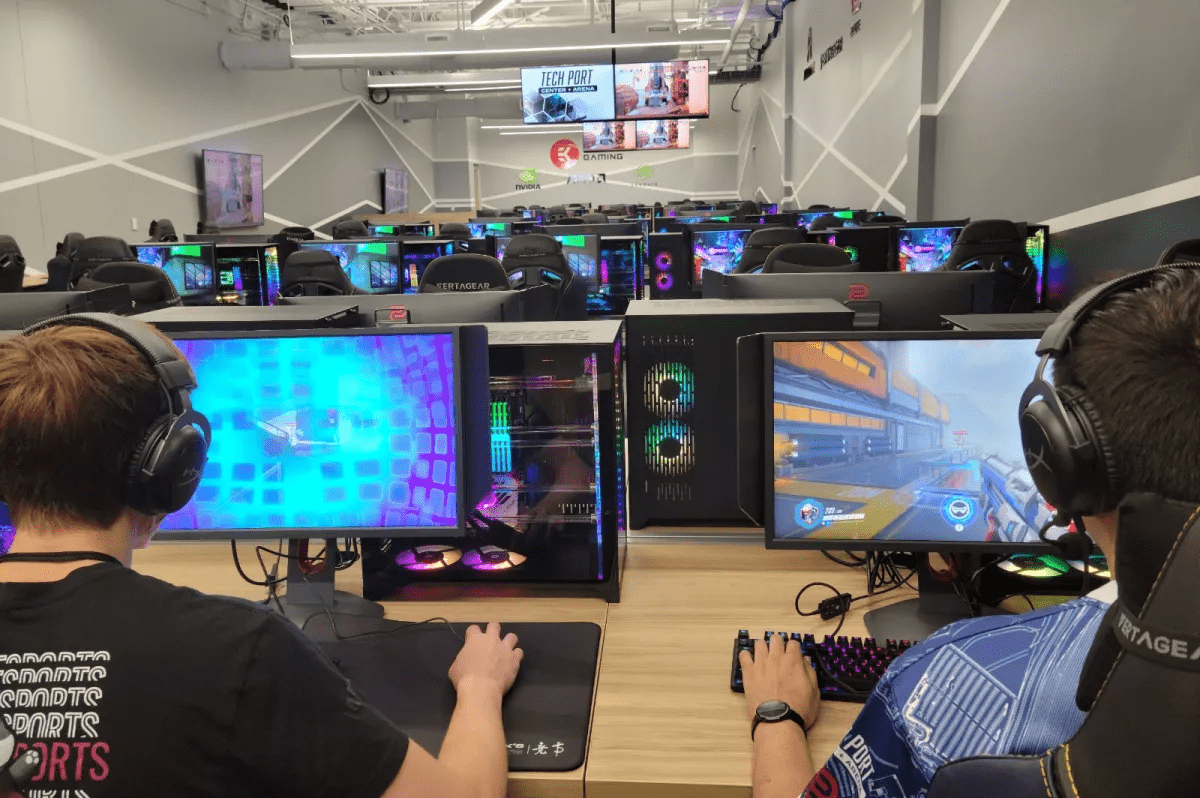 Opening in San Antonio, TX in May 2022, the space includes 130,000 square feet of technologically advanced entertainment catering to live esports. The Texas venue boasts a 60-by-20 foot LED wall and the world's largest array of musical Tesla coils (no relation to the electric car maker) for backup power. Evidently, "the sounds coming from the coils create also allow them to function as speakers. Think of it like lightning, but the thunder sounds like music."
The project's AV consultant, AJP, worked with a $5 million budget, setting a new industry standard for live esports viewing
If AV tech is your thing, check out this article by AV Network. Lots of juicy details on latency, 4mm LED screens and fiber optics. All the stuff you need to host serious gaming tournaments. What does it all add up to? A unique, state-of-the-art venue that can host the likes of the Smashing Pumpkins while also being home to the San Antonio Museum of Science and Technology. Not to mention a co-working space, food hall and bar.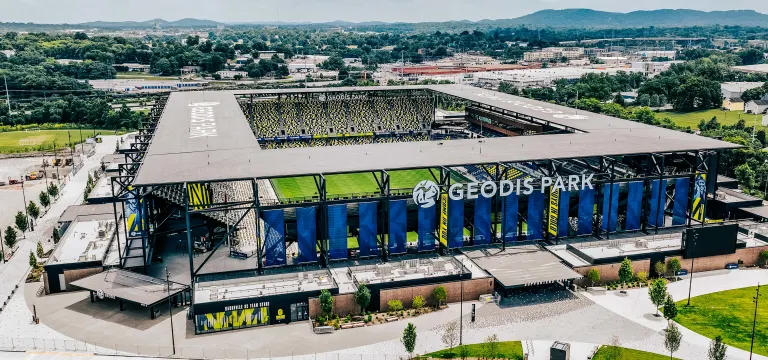 Geodis Park, home to Nashville Soccer Club (SC), debuted to a sold-out crowd in May 2022 in Nashville, TN. It's the largest soccer-specific stadium ever built in the US, with 30,000 seats. Beyond the newness of the stadium itself, Nashville SC is a recent addition to the area, established formally in the MLS in 2020. Architects played off of traditional Nashville design as a way to integrate the new stadium and team into the iconic Music City culture. Nashville SC owner John Ingram said, "I wanted something that looked like it belonged here."
The stadium's structure is made of exposed steel beams, a common material in Nashville architecture and an homage to the area's historic iron production. The steel beams are countered by brick bases around the stadium which reference local residential homes. There are even standing spectator zones with a separate entrance designed specifically for the most rambunctious fans.
Furthering Nashville's music background, the stadium even has themed box seating including a private "music-centric" area
When Nashville SC advanced to the 2023 Leagues Cup final, ticket sales skyrocketed for the 2024 season. 24,000 season passes sold out so fast that there's now a waitlist. In fact, Nashville has been among the most well-attended teams in Major League Soccer, selling out nine of 30 matches. For a stadium and team whose popularity was put into question, these numbers are a testament to the stadium design's Music City roots.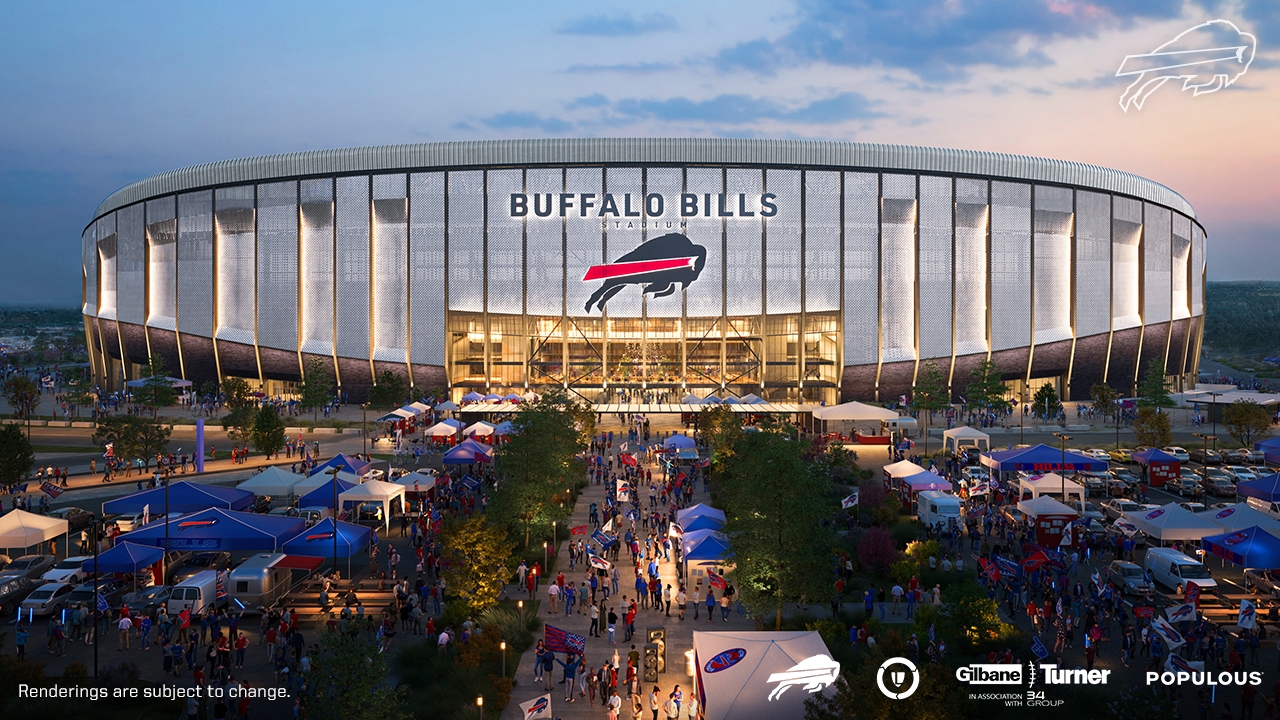 Ground broke on construction of the new home of the Buffalo Bills this June with the prospects of opening to the public for the 2026 NFL season. With over $600 million in contributions from New York State, the $1.4 billion project consists of a 62,000-seat capacity stadium and grounds. This is the largest contribution by a state in NFL history.
As Northeasterners know, Western New York is infamous for its harsh winters. Even the heat radiating off die-hard Bills fans has not been enough to keep the old stadium from freezing during past NFL seasons. To combat this, Populous, the design firm behind the project, is adding overhead radiant heating units around the stadium. Combined with a stacked seating layout that will retain more heat, fans can actually sit comfortably in late-season games. Additionally, to tackle aggressive winds, there will be a design causing "wind confusion," disbursing intense winds into softer, more gentle flows.
Join us in XP Land. A community for experiential creatives and experience-makers, brand leaders and IP-owners, space stewards and venue visionaries — all of those in the business of epic gatherings and live, immersive storytelling.