From Bored Apes to decoy Doggs: Inside the NFT.NYC zoo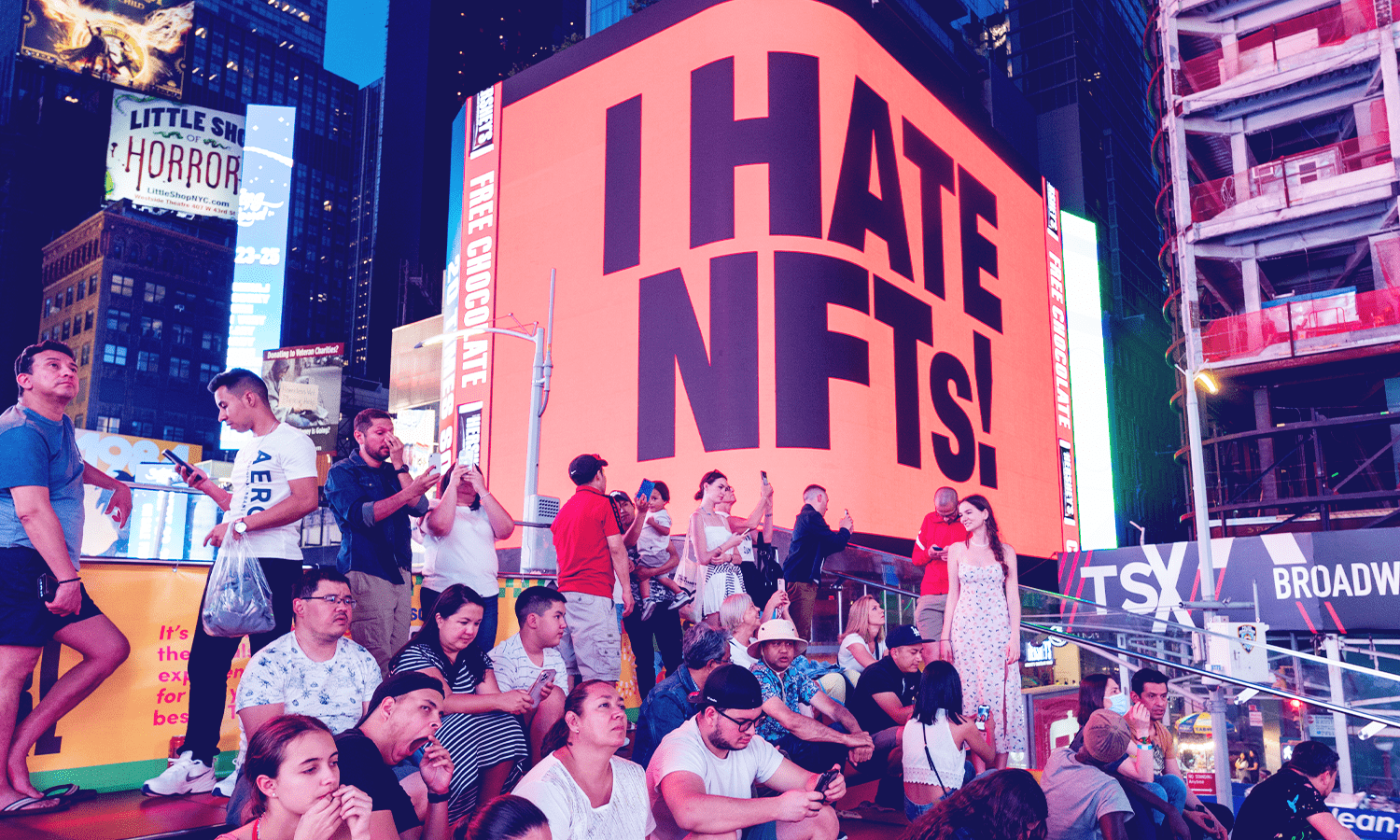 As an experiential creator and strategist, I often find it tough to attend an event and not think about how I would have executed it. From weddings and bar mitzvahs to conferences and music festivals — I'm in tune with what's going on behind the scenes.
Also as an experiential creator and strategist, I'm duty bound to attend conferences and trade shows to learn more about the industry, including any new tech or strategies taking off in the event world. And NFTs are a hot topic right now. For my work, I don't really care how much a cartoon rendering of a monkey costs on OpenSea, but I do want to learn about NFTs as ticketing, crowdfunding and fan-engagement opportunities.
Unfortunately, at NFT.NYC, the poor event production had greater staying power than the skills I'd hoped to learn. Here are five lessons all experiential pros can take from what went down this week in Times Square (including some awesome examples of events that are doing it right).
1) Don't depend on cheap gimmicks for press
Yes, sometimes experiential creators have to strategize fun and interesting ways to build hype around their event. I thought the gimmick at NFT.NYC was going to be the free NFT giveaways, but maybe after looking at the market, they realized they needed to go bigger.. Enter Snoop Dogg's body double, Doop Snogg. The rapper and blockchain enthusiast attended the event, but his lookalike wandering the streets of midtown Manhattan flanked by "security" certainly got more attention.
Instead, let the tech speak for itself: No event does this better than CES. The biggest technology brands in the world time their new product launches to release at the Consumer Electronics Show. News outlets clamor to break the story or secure first rights for these announcements. CES remains in the news for weeks after everyone has gone home.
Doop Snogg https://t.co/tLy3vAhmqn

— Snoop Dogg (@SnoopDogg) June 22, 2022
2) Don't triple your attendance without upgrading services
When I arrived at the conference to pick up my badge on Tuesday morning, the crowd inside the New York Marriott Marquis was chaotic. Booths spilled outside of the trade show floor into the hotel's hallways. I weaved through lines of hundreds of people waiting to snag free NFTs from various artists and Web3 brands. There were tech bros, NFT cosplayers and Smurfs, all heads down in their phones and shuffling like zombies.
15,000+ people attended this year, up from more than 5,000 in 2021. That's far too many people. This isn't the metaverse where everyone's avatars can crowd around a virtual hall while our actual human forms sit comfortably at home. The crowd made me feel invisible. No one welcomed me to the conference, directed me to the check-in booth or offered any assistance on how to navigate the next three days.
Instead, build a smaller, more manageable community: BizBash excels here — hosting regional conferences and trade shows around North America for event professionals. Even though Web3 crosses the globe, it's still important to connect with local industry folks who are available for IRL meet-ups. Why can't there be an NFT.LA, NFT.Miami or NFT.Singapore, too? Smaller, community-first events have an added air of exclusivity through their limited access. Plus, producers can rent more cost-effective spaces that are far easier for attendees to navigate.
3) Don't leave attendees lost and confused in Times Square
Wandering the hotel, I couldn't locate the registration desk and there was no working staff to help. Finally, I asked a bartender to point me in the right direction. "Back there somewhere," he said, pointing into the abyss. It turned out, the registration desk was tucked in a back corner inside a sponsored lounge (silly me!). The clearly overwhelmed staff was busy fixing broken printers while ignoring attendees in line. I was given a badge, but no lanyard; I'd have to assemble that myself.
Running back and forth between four locations across Times Square, I fought crowds both inside and outside the conference. Signs were sparse, and help from real, live human people was even harder to find. I was anxious and almost always late to the panels I had bookmarked. I can't imagine how much money it cost to rent the Marriott Marquis, Palladium, Edison Ballroom and Radio City Music Hall, but clearly the staffing budget was cut to accommodate.
Instead, put staffing needs high on the priority list: Take a note from Inbound, HubSpot's annual user conference. When I attended in 2019, friendly, well-informed working staff in bright t-shirts stood every 20-30 feet inside the Boston Convention and Exhibition Center. Each of them knew where the closest bathroom was, the best Uber pick-up spots, where to store luggage and, yes, how to find the registration desk. Staffing isn't something your attendees will notice, unless no one's around to help them.
Representing @CBCreepz #creepzinthewild #creepznyctakeover #ApeFest2022 #NFTNYC2022 pic.twitter.com/Cx8mucAsFB

— TaDaaScotty (@TaDaaScotty) June 23, 2022
4) Don't immediately throw the event schedule out the window
By Tuesday afternoon, it was clear that the posted run of show was merely a suggestion. Some talks started 15 minutes early, while others ran 20 minutes long. In fact, I almost missed a friend's interview because I showed up five minutes before the scheduled start time. Attendees were confused and frustrated sitting through panels that didn't apply to them and missing others they had planned to see.
Instead, stick to the script: If a talk ends early, then it's the MC's job to hit the stage and stretch — bring a speaker back out for an impromptu Q&A or give an audience member five minutes to shoot their shot by pitching the room. Moderators are in charge of timing their panels and should wrap it up when time starts to run long. However, sometimes the room is so engaged, you have to let it fly and cut a later talk for time. It happens on live TV all the time.
5) Don't let your panelists speak to an empty room
NFT.NYC certainly had it all. There was a bustling trade show floor, networking lunches, VIP lounges, concerts, a closing night pool party and… industry professionals speaking to almost-empty ballrooms. The schedule included hundreds of panels, fireside chats and keynotes, many lasting only 10-25 minutes. With such tight timelines and so many topics to cover in the NFT space (from art and museums to investment strategies and NFT: The Movie), these panels became waiting rooms more than educational opportunities.
I watched attendees treat one founder's talk like Grand Central Station. The barely-occupied space was filled with people chatting with their neighbors, typing emails, eating their bagged lunches and even taking Zoom calls (I wouldn't believe it either if I hadn't seen it myself). Even a Bored Apes' sponsored LCD Soundsystem concert was just another space with free wifi to check the current value of Dogecoin.
Instead, let a trade show be a trade show: Most attendees I spoke to were at the conference to network, promote their brands and learn about other Web3 technologies. So, why couldn't that be the focus, like at the Small Business Expo? Of course, even strictly networking events can benefit from powerful opening and closing keynotes from industry leaders, but unengaged audiences and embarrassed speakers don't benefit anyone in the room.
At apefest vibing to lcd soundsystem pic.twitter.com/FcNVAekglz

— jpegZoidberg (@BitcoinZoidberg) June 20, 2022
Couldn't attend NFT.NYC, but curious about how to apply this new technology to your events and experiences? The XP Land team is hard at work on our next report, The XP Land Field Guide to Experiential and NFTs. Subscribe to the XP Land newsletter to have the report delivered straight to your inbox.
Join us in XP Land. A community for experiential creatives and experience-makers, brand leaders and IP-owners, space stewards and venue visionaries — all of those in the business of epic gatherings and live, immersive storytelling.