The intersection of NFTs and XP: Part 1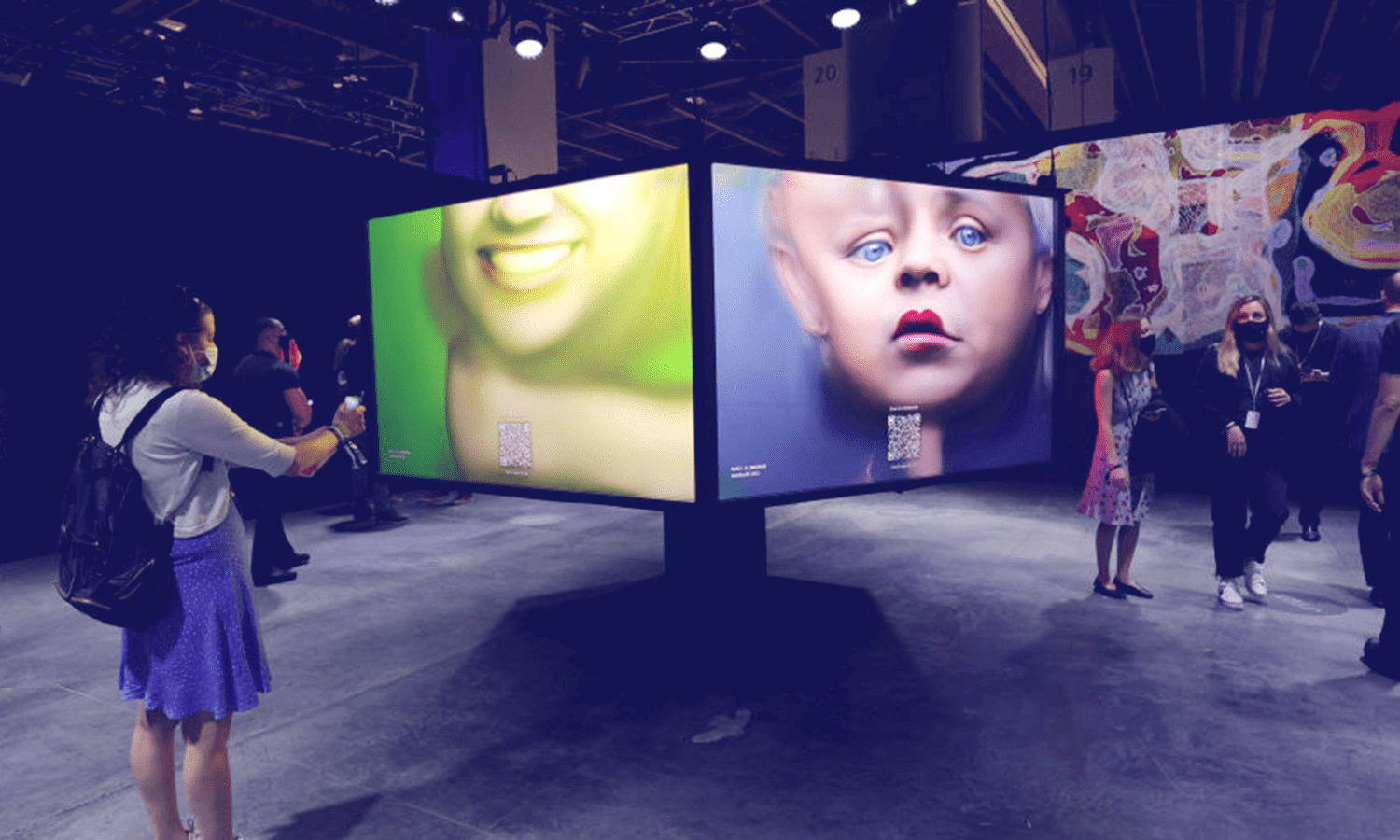 NFTs and XP go together like pizza and ranch— the combination sounds wacky, until you experience it for the first time.
Non-fungible tokens, or NFTs, are digital assets or collector's items (like rare baseball cards or Beanie Babies) that gain value over time due to scarcity. However, NFTs only exist digitally, on proof-of-work blockchains like Ethereum. When you buy an NFT, you don't purchase the image itself, but the token that points to the image or video. Embedded in this token is a pledge, "We swear, this is the only one that exists."
Step 1: Buy authentic Banksy art for $100K.

Step 2: Light it on fire.

Step 3: Mint the artwork as an NFT.

Step 4: Sell the NFT for ~ $380K.https://t.co/X2kCpgcBBu

— Nick Grous (@GrousARK) March 8, 2021
When we first thought about the intersection of NFTs and experiential, we pictured a bunch of tech bros yelling about their Bored Ape avatars over bottle service in the club. And while we're sure that scene is in fact playing out somewhere (probably at LIV Miami), the XP world has undeniably embraced NFTs in interesting ways across a variety of channels.
According to Rolling Stone, Kings of Leon recently became the first band to release music as an NFT with their album When You See Yourself. Reporter Vicente Marti writes,
Beyond a lifetime supply of Kings of Leon, how else are XP pros utilizing these digital assets for both virtual and IRL experiences?
EVENT TICKETING
NFTs make for incredibly secure virtual tickets, as their ownership is tied to the purchaser's virtual wallet on the blockchain. Literally no one can copy it, and there's no physical ticket to potentially lose or have stolen. NFT tickets are also scalp-proof. Roaming a stadium parking lot with a cardboard sign saying "Looking for Tickets" won't net you an Ethereum Blockchain-based ticket. The transactions are too sophisticated. The original vendor can make the NFT nontransferable or limit the resale price to the ticket's original price.
What's super cool for event attendees, though? NFTs can include any type of reward or prizes your team can come up with. Why not randomly add swag bonuses like free t-shirts and posters to certain tickets? Or take it a step further with backstage passes or after-party passes.
METAVERSE GAMIFICATION
According to Binance, "NFTs are capable of disrupting the traditional social network paradigm of user interaction, socialization, and transaction in the metaverse." We're already seeing real-world assets in the metaverse as the play-to-earn gaming model grows into a major 2022 cryptocurrency trend.
With NFTs, players can participate in in-game economies while having full ownership of their assets. Players' NFTs prove ownership and can be used to earn passive income. Moreover, players can freely trade or sell NFTs through an in-game or third-party marketplace.
Facebook and Instagram are reportedly working on a platform that will allow you to create, display, and sell NFTs.

This will become the standard over time.

The amount of user interest, economic value, and global impact is too large for large tech companies to ignore.

— Pomp 🌪 (@APompliano) January 20, 2022
TRADE SHOW GAMIFICATION
In this scenario, when entering a virtual event, attendees could be presented with virtual event gamification elements and tasks. We can see this working at live trade shows and conferences, too. For example, visit three activations, join that morning's general session, or network with 10 people. In exchange for completing these tasks, attendees could receive NFT rewards usable in the metaverse or even tokens with real-world monetary value, turning trade show attendees into full-on brand ambassadors.
EVENT CROWDFUNDING
Now let's say you're planning an event — we're thinking art and food festivals, concerts or even B2B experiences — and you could, theoretically, add another day to the schedule or activation to the lineup. If you sold NFT tickets that were fully refundable right up until the additional date or activation was confirmed, you could essentially crowdfund your XP. As soon as the artists, venue, vendors, and all were satisfied that the extra date would be profitable, you could announce that its officially on. Purchased tickets would be valid and no longer refundable.
ART SHOWS
Lastly, let's keep it simple: NFTs are art. Art shows display and sell art. The XP Land team experienced this first hand at Artechouse in NYC, where visitors could purchase NFTs from the artists featured. Before they sold out, anyway.
2021's Art Basel Miami buzzed with the buying and selling of NFTs. The German artist Mario Klingemann, aka Quasimondo, generated AI portraits of Art Basel attendees. Then, they used the blockchain to mint NFTs of their digital artwork. Media artist Kenny Schachter curated an exhibition dedicated to blockchain technologies called Breadcrumbs: Art in the Age of NFTism. The concept was taken a step further with an LED wall presenting an interactive gallery space located in the metaverse.
Are NFTs here to stay❓

— Art Basel (@ArtBasel) January 14, 2022
In part two of our deep dive, coming next week, we interview NFT expert, entrepreneur and chef Conor Hanlon. His latest project is an NFT-supported restaurant in NYC and we learn his predictions for the space.
Join us in XP Land. A community for experiential creatives and experience-makers, brand leaders and IP-owners, space stewards and venue visionaries — all of those in the business of epic gatherings and live, immersive storytelling.