The State of Wine and Food Festivals in a Covid World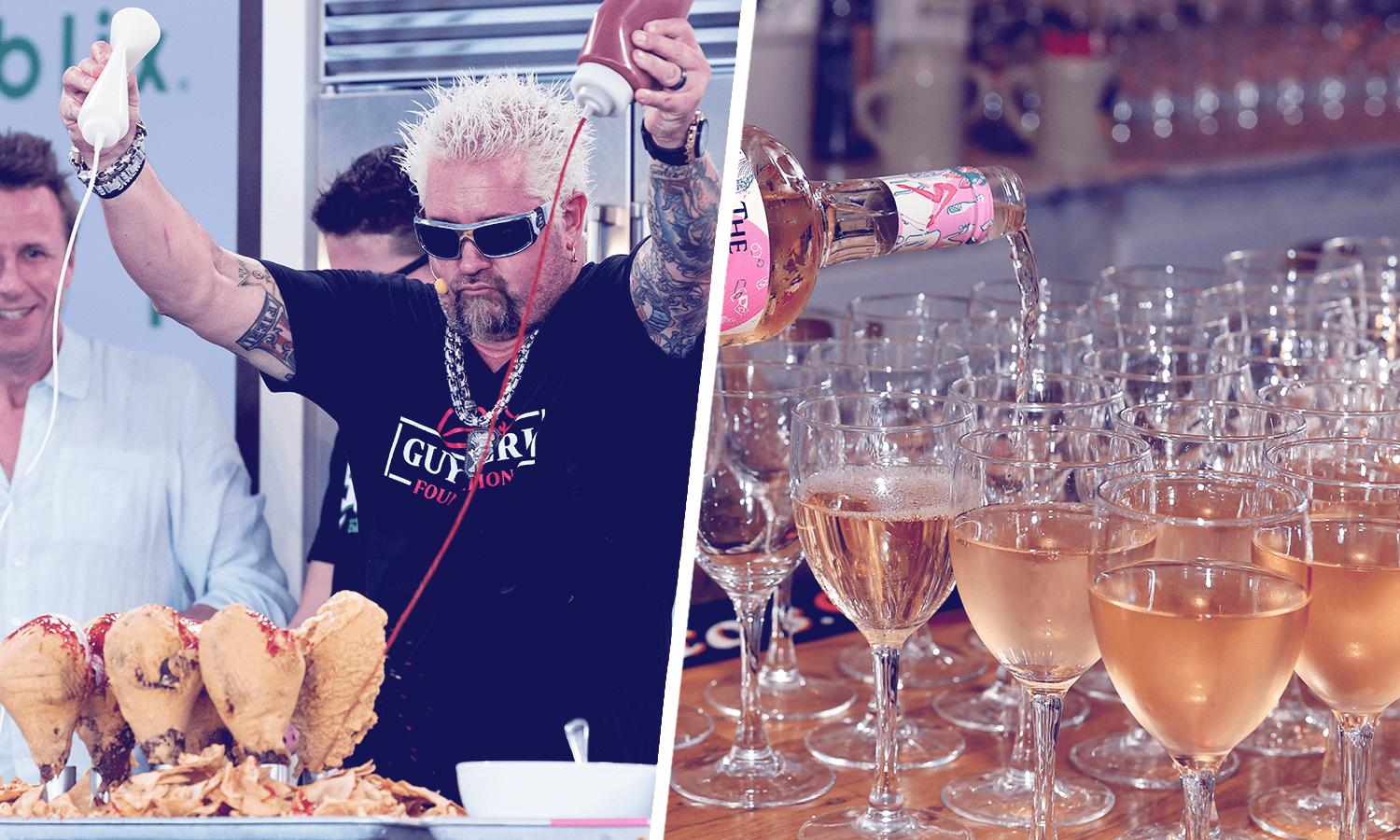 In the Before Times, some friends and I took the train up to Hudson, NY, for a long weekend in the mountains. Decked out in our finest Brooklyn Does Upstate autumnal attire, we kicked off the trip at a food festival and chili cook-off. In order to enter the festival, attendees were required to "buy a spoon" for around $25.
The absurdly expensive utensil was not only our ticket in, but would also be the singular spoon each of us used to taste all of the chili throughout the day. The memory of dipping my personal scoop into dozens of vats — alongside hundreds of other festival goers — sends a Covid-era chill down my spine.
Every type of event and experience was hit by the pandemic, but wine and food festivals were not only canceled, they were biohazards that couldn't be recreated virtually. While we cooked at home, ordered takeout and even had chefs make and plate gourmet dinners in our driveways (thanks, Wonder!), eating and drinking with others seemed like it would never happen again.
Yet, a little creativity and a lot of patience made the return of wine and food festivals possible. Today, the format has expanded and evolved for the health and safety of attendees. Here are some of the best changes to culinary experiences we've seen executed in our "new" Covid-era world.
Gourmet boxed meals
Since the pandemic began, we've seen traditional buffets and plated dinners replaced by boxed meals for even safer event service. But it's not just for charity dinners anymore. Food festivals have adopted boxed meal options as well, combining tasting options from a variety of vendors into individualized experiences.
By setting up multiple pick-up locations to limit congested lines, attendees can spend more time at the festival enjoying pre-selected food and beverage items and less time waiting to be served. While additional packaging can create additional waste, paper and glass containers can be recycled or even saved as keepsakes from the festival.
Touchless tickets
From hyper-local fests like The Grand Rapids International Wine, Beer and Food Festival to the larger and better known Food & Wine Classic in Aspen, one thing remains consistently true: the less guests and staff have to physically interact, the safer it is for everyone on site. And the latest touchless technology used at these fests goes far beyond the QR code.
"The user simply scans their code, and the pourer behind the booth deducts the number of credits they have purchased," explained Stew Buchanan, CEO of EventsPass, in conversation with Wood TV in Grand Rapids, MI. "The touchless component, in today's world, is absolutely essential."
Additionally, these tools allow festival goers to pay it forward with any money remaining on their tickets. When leaving the event, attendees can scan their tickets and donate what's left to local charities or organizations that have partnered with the festival.
Covid-detecting beagles
More than 90,000 people attended the Food Network & Cooking Channel South Beach Wine & Food Festival in February of this year. The fest implemented typical pandemic restrictions, including mask wearing, reduced capacity on site and digital health screenings. But one safety precaution was not only effective — it was adorable.
Bioscent, Inc. brought COVID-detecting beagles Buddy, Rosie, Cupid, and Noel to South Beach to sniff out and tag any festival goers that may have been positive for Covid. When the goodest doggos found a scent, that attendee was asked to undergo a rapid Covid test. If the test came back positive, they were not granted admission to the festival, but their ticket price was credited for 2023's SOBEWFF.
Data, data, and more data
Covid forced us to confront a lot of event practices that were no longer serving us. We reimagined everything from boring, drawn-out awards shows to predictable and stuffy charity dinners. With so many types of IRL experiences at risk, food and wine festival producers had to prove their worth not only to attendees but also to the communities they serve.
The Charleston Wine + Food Festival publicized their 2022 annual report to vendors, sponsors, and even attendees, demonstrating how the festival benefits the city. This year's report found that the 2022 event had an economic impact of $26,593,971 on the Charleston area.
On-site child care
Disneyland recently surveyed visitors about food and beverage quality, healthy menu options and bookable experiences at the annual Food & Wine Festival at Disney California Adventure.
One question stood out, though: asking visitors to rate their interest in adding a daycare option to the festival.
With on-site childcare, parents can really unwind and enjoy the experience. Plus, food and wine festivals aren't as interesting for our underage entourage — especially when there are roller coasters to ride and Disney characters to meet. Daycare allows everyone in the family to enjoy a day designated for their age groups and interests.
And one festival whose comeback we're still waiting for?
After two years, Oktoberfest. Germany, just dropped its nationwide mask mandate for indoor shops last month. In September, the internationally celebrated beer festival will return to Munich for the first time since 2019, when 6.3 million revelers collectively drank 7.3 million liters of beer.
The last time the festival was canceled was for the outbreak of World War II. And war is still on the mind of Munich's mayor, Dieter Reiter. The German public news site DW reported that Reiter worried about the appropriateness of bringing back the celebration in the midst of the war in Ukraine. He ultimately decided that the event served as proof that people from around the globe could still come together peacefully.
Oktoberfest, which celebrated its official bicentennial in 2010, has been canceled 26 times in its history, according to DW, mostly due to war. Yet Covid isn't the first health concern to leave the kegs untapped, as the event has been canceled twice from cholera outbreaks.
Here are some other fests on our radar for the summer:
Subscribe to the XP Land newsletter. Follow us on LinkedIn, Instagram, Facebook and Twitter.