The Magic of the Minor Leagues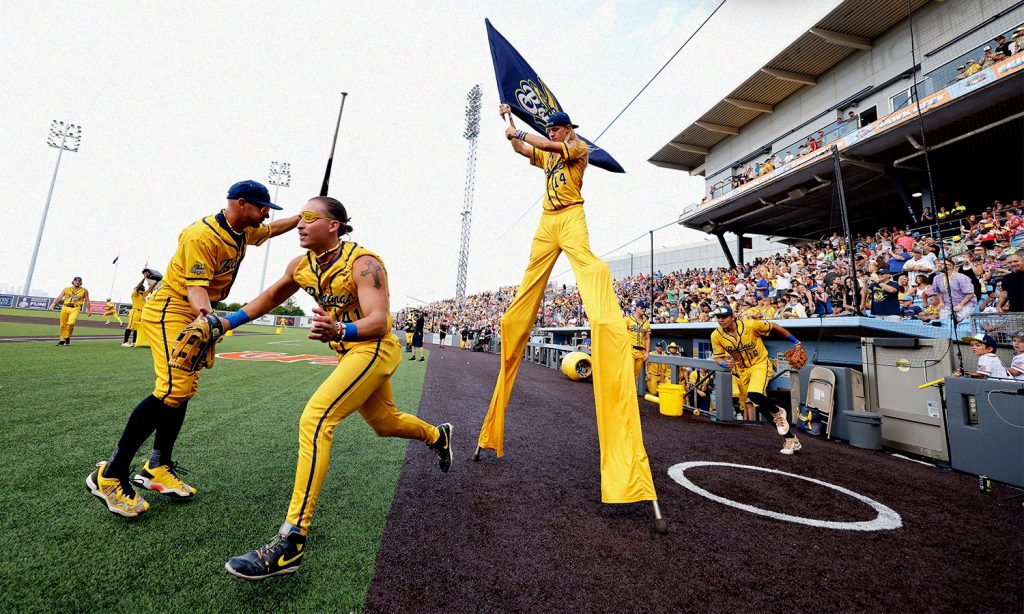 Major League Baseball gets all the attention. Sure, there are World Series games on the line, but with the average ticket to an MLB game going for $35 (and that's before $18 beers, $10 hotdogs and $30 merch to look the part), where do we go when we want something a little more experiential than mascot races (some of them on the video screen) or kiss cams (which, because of Covid and consent, some have been replaced by things like the hand-sanitizer cam!?) But trust us. Don't sleep on minor league games.
First, let the cuckoo team names draw you in (because, again, merch): the Albuquerque Isotopes, the El Paso Chihuahuas, the Erie Seawolves, the Lehigh Valley IronPigs, the Rancho Cucamonga Quakes, the Pensacola Blue Wahoos and the Richmond Flying Squirrels, to name a few. Then, stay for the cheap(er) prices and not-so-strictly-monitored-by-MLB experiences.
Without the big-name players to draw fans, minor-league teams depend on experiential creativity to get butts in seats (or pools… keep reading). And stadiums have only gotten more creative in the age of social media, which has them competing not only with their nearest MLB stadium, but with each other, too. Check out six of XP Land's favorite minor league baseball experiences, from an on-field Airbnb to TikTok fame.
Location: Pensacola, FL
Stadium: Blue Wahoos Stadium
Affiliation: Miami Marlins
Stadium capacity: 5,000
Coolest features: The smallest stadium in AA baseball; Ocean views
Standout XP: The only baseball stadium available on Airbnb
Living out every Little Leaguer's fantasy, for $1,500 per night, guests can rent out the ballpark and have full access to the clubhouse, a huge bedroom with 10 beds, the batting cage and the field itself. Seriously, here's the Airbnb listing:
"Want to hit with your friends in our batting cage? Be our guest! Want to play catch on the field at 11:30pm? Be our guest! Want to take batting practice while having a couple of cold ones with the boys? Be our guest! Want to take down your siblings in ping pong and video games in the clubhouse? Be our guest! Want to enjoy breakfast at home plate? Be our guest!"
Location: Charleston, SC
Stadium: Riley Park
Affiliation: Tampa Bay Rays
Stadium capacity: 6,000
Coolest features: Scenic views of the Ashley River and The Citadel; Bark in the Park nights (with a name like RiverDogs, this is a must).
Standout XP: A lowcountry food crawl
Riley Park offers one of the widest assortments of food in minor league baseball. The concessions menu contains several uniquely Charleston items, like the Coastal Shrimp Burger and the Homewrecker — a hot dog with slaw, pimento cheese, pickles, okra and BBQ sauce. Earlier this year, the RiverDogs launched their own food truck, so fans across South Carolina can enjoy their park favorites all year long. SAM
According to Joshua Shea, the RiverDogs' Vice President of Food & Beverage, "Having a food truck is exciting, and so is the ability to bring our food out into the community instead of having to wait for baseball season." Plus, the team is co-owned by actor and Charleston resident Bill Murray, who also serves as the RiverDogs' "director of fun."
Location: Savannah, GA
Stadium: Grayson Stadium
Affiliation: Coastal Plain League (CPL): A summer baseball league featuring college players recruited from throughout the US.
Stadium capacity: 4,000
Coolest features: Scenic location lined with historic oak trees; Large party deck; Upcoming ESPN+ documentary series, Bananaland
Standout XP: Making baseball fun (and social)
A trip to Grayson Stadium is a series of spectacles — and with the team slogan "We make baseball fun," it's designed to be. Bananas fans come to watch owner Jesse Cole ham it up in a bright yellow tuxedo. To see performances by the senior citizen dance squad Banana-Nanas and the dad-bod cheerleading squad the Man-Nanas. And to witness ballplayers bust a move and perform acrobatic stunts for TikTok.
The team's TikTok grew from just 100 followers at the start of summer 2020 to over 100,000 by the end of that year. Today they have nearly 3 million followers. Every week the entertainment, marketing and video teams meet to brainstorm new ideas. And each social media platform has its own niche. The best plays are posted on Twitter, while TikTok content targets the Gen Z audience. This TikTok influence encourages people to get in on the act, and then post to their own social (the holy grail of XP).
Location: Summerlin, NV
Stadium: Las Vegas Ballpark
Affiliation: Oakland A's
Stadium capacity: 10,000
Coolest features: Mesh seats to combat the desert heat; Tons of celebrity chef sightings (promoting their restaurants on the Strip); 22 suites
Standout XP: Swimming in center field with 50 friends
We need to work on the name, Desert Ford Dealers Pool, but the experience is pure Vegas. With the typical minor league game lasting an average of 2 hours, 39 minutes, guests have to find creative ways to cool off. And Aviator fans willing to drop $2,000 on a game can rent out an entire pool deck (food and drinks are extra). The pool, located just beyond the center field fence, measures just 3.6 feet at its deepest, but the space can accommodate up to 50 people. From the city that created daytime-pool-party culture, we would expect nothing less.
Location: Coney Island, NY
Stadium: Maimonides Park
Affiliation: New York Mets
Stadium capacity: 7,000
Coolest features: Ocean views; Game themes like Seinfeld Tribute Night, SpongeBob SquarePants Day and Brooklyn Basics Night (celebrating all things fall, so basic)
Standout XP: Location, location, location
Smack dab in the middle of the boardwalk, a Cyclones game can be just one experience during a full day in Coney Island. The entire place is an attraction. Spend the afternoon riding the team's namesake roller-coaster and taking a walk in the sand before visiting Luna Park and the New York Aquarium (don't forget to stuff your face at Nathan's, too). Then, close it out with a ball game and a fireworks show.
Bonus: If you can, attend a Wednesday game for the park's World Record Wednesdays. Each week, the Cyclones try to set a new World Record like "most people turning their shirt inside out simultaneously" or "largest air drum ensemble."
Location: Lehigh Valley, PA
Stadium: Coca-Cola Park
Affiliation: Philadelphia Phillies
Stadium capacity: 10,000
Coolest features: Kids' zones featuring games like speed pitching and slides; a fan base that has earned the title "Best Fans in Minor League Baseball" (not really a feature, but definitely worth a shoutout).
Standout XP: The commitment to a theme
So, what the hell is an IronPig? Well, Pennsylvania produces a lot of the US's steel with raw iron ore — and the melted iron is called "pig iron" because, according to the team's website, it's poured into molds that "resemble a row of piglets." The theme keeps the park's activities cohesive, and it's remarkable how many pig (and bacon) puns they've incorporated (almost as remarkable as the news that Coca-Cola Park needs $9.5M renovation to meet MLB mandates after opening in 2008… yikes).
The team's two mascots are the pigs FeRROUS and FeFe (the symbol for iron on the periodic table is Fe), and the game program is called Pork Illustrated. Eatery names include Trough, Hog Heaven and Pig Stop. The hog-shaped receptacle where fans can make donations to the team's charity is called the IronPiggy Bank. And yes, you'll even find some signage written in Pig Latin.
Join us in XP Land. A community for experiential creatives and experience-makers, brand leaders and IP-owners, space stewards and venue visionaries — all of those in the business of epic gatherings and live, immersive storytelling.