Welcome to the Live Music Renaissance (Now Pay Up)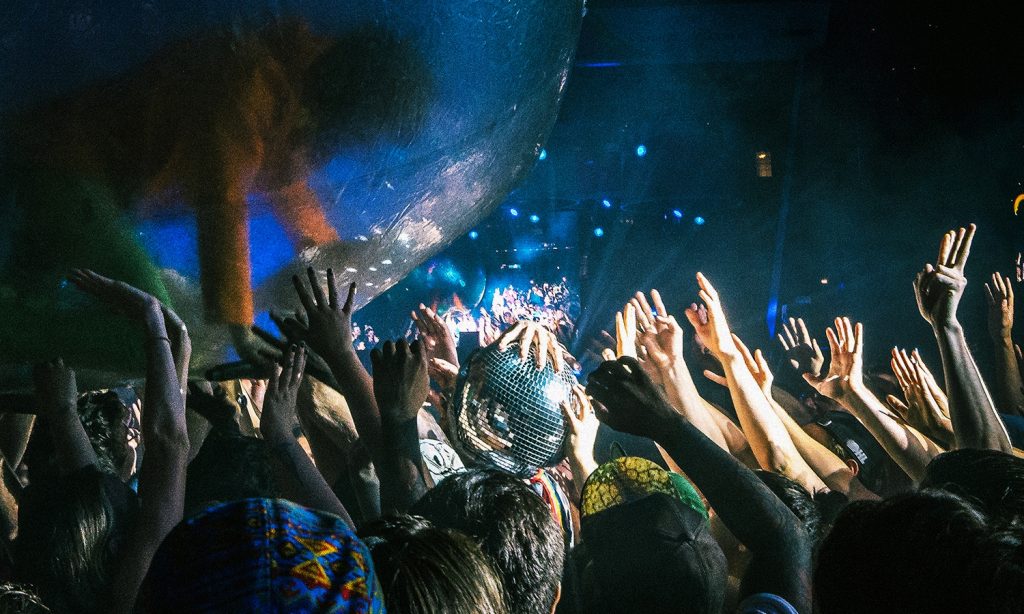 This past summer, everyone you know either posted Aperol Spritz pics from Europe or meticulously curated outfit pics from their idol's concert (not that Idol, please). They return with a sun-kissed glow from the Amalfi Coast or an XXXXL t-shirt from the two-hour wait in the merch line. (Those of us who consider ourselves "experiential revenge travelers" opt for both.) While a Mediterranean getaway is a classic summer experience, the stadium concert boom is a new phenomenon.
According to a report by Morgan Stanley, spending on Beyoncé's Renaissance Tour, Swift's Eras Tour, and movie tickets for the summer's hit films Barbie and Oppenheimer, (Barbenhiemer, but you knew that), is expected to add about $8.5 billion to the economy in Q3 of 2023, with Beyoncé and Swift's tours making up two-thirds of that amount. Records might be breaking so quickly because prices are skyrocketing (more on that below), but concerts are a few hours of euphoria where we get to sing, dance and transport ourselves from the stresses of life, no matter the cost.
Concerts are, quite literally, good for your health:
While the need to make vast pandemic-era generalizations continues to lessen (bless), it's true that fans couldn't go to concerts for years. So when Beyoncé, Swift, Bruce Springsteen, Blink-182, Harry Styles, Ed Sheeran, et al., announced their summer 2023 tours, people were ready to pay whatever the cost. Plus, the artists, who have been itching to get back out there, are shooting for the moon with really big, experiential tours, both in terms of each gig's magnitude and the tour's breadth, reach and duration.
And then, Lady Luck entered the scene.
With all that hype came presale sign-ups, ticket lotteries, and stalled sales. "There's currently two economic classes in the country," comedian Jared Fried joked on TikTok. "There are Eras Tour attendees, and then there's peasants. Taking a picture at a football stadium is the same thing as taking a picture on a private jet."
Ticketmaster, the official platform for Swift's and Beyoncé's world tours and a notoriously hated company, is on track for the biggest year of live music in its history. In Q1 alone, the site sold 145 million tickets, up 30% from last year, according to a spokesperson. Yet Morning Consult data shows that 37% of adults say they've attended fewer concerts in the past year, with the most popular reason being the high cost of tickets.
What's causing the price hikes?
Consider increased demand, inflation's impact on labor and fuel, and touring companies need to make up for lost revenue — from both two years of silence and the secondary market's impact on pricing. When a ticket is scalped or resold for a higher price on a site like StubHub, the original ticket vendor and artist don't actually see the cash. Musicians have been charging prices closer to what the market will bear and capturing more of the till, thus helping to cover the rising costs of touring.
"If a fan is willing to spend $400 on StubHub and the tour is selling those tickets for $100, that's a pretty big gap there," Jay Moss, Wasserman Music's senior vice president, told The Wall Street Journal. "The industry is trying to right the ship and get ticket prices more in line with natural supply and demand."
We couldn't help but wonder, did the summer of status concerts inadvertently trigger an increase in demand for virtual shows? We've dived into the Metaverse before, and while artists can add more tour dates, there will always be fans who are priced out. Our free advice? Producers should at least go for the recording. Bey and Tay already know the power of a Netflix special… And Ms. Swift's upcoming Taylor Swift The Eras Tour concert film broke an all-time record for single-day AMC advance ticket sales ($26 million) and became Fandango's best first-day ticket seller of the year so far. The film will only be in theaters from Oct. 13 to Nov. 5.
While the Wall Street Journal has declared 2023, "the year of the $1,000 concert ticket," there's no sign of a slowdown before we hit the new year.
As some music fans count their pennies and make the financially responsible decision to catch the movie instead, others are taking on second jobs to afford access to their favorite artists. Money management site Moneywise even wrote 4 ways to take the sting out of seeing Springsteen or Swift, offering strategies for consumers who refuse to miss out.
Taylor Swift's tour will continue through 2024 and Olivia Rodrigo is also hitting the road. Though not yet confirmed, rumors abound that Weezer, Cardi B, Selena Gomez, Shania Twain, Green Day and please, please, please NSYNC, will also be touring — and you better believe there won't be an empty seat in the house.
Join us in XP Land. A community for experiential creatives and experience-makers, brand leaders and IP-owners, space stewards and venue visionaries — all of those in the business of epic gatherings and live, immersive storytelling.