High Seas and Higher Demands: Post-COVID Cruising Culture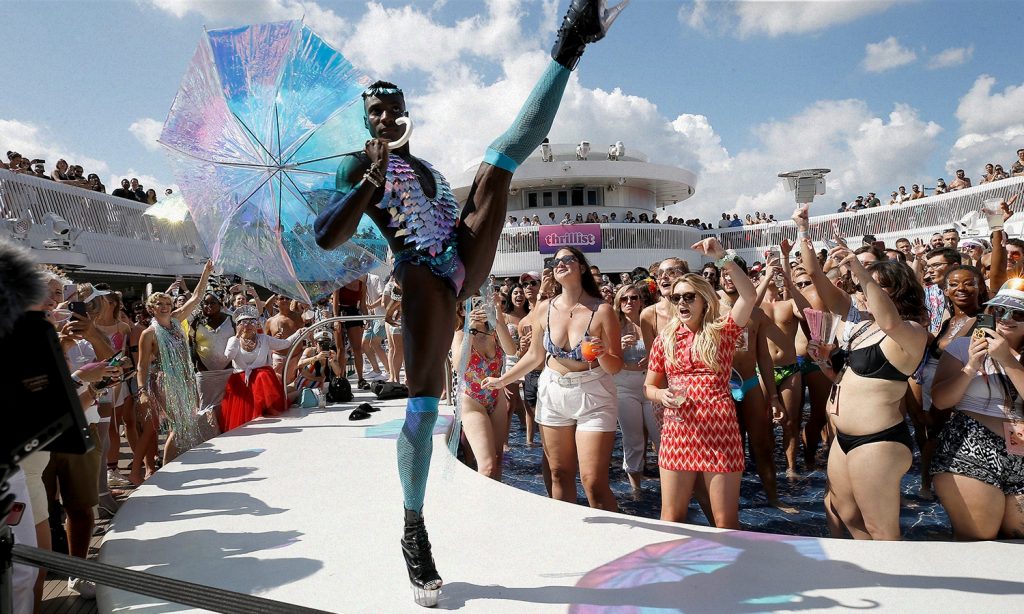 The first rule of cruising culture, I learned last week, is that you always talk about cruising culture. It was all anyone would ask on Virgin Voyages' Scarlet Lady — my first cruise since I boarded a rickety Carnival ship to various Señor Frog locations across the Caribbean for senior Spring Break '07. What was your last cruise? When's your next cruise? What was your favorite cruise? I don't know, guys, I'm new here.
Before the pandemic, my good friend and fellow Brooklynite Shadi Jurdi started buzzing about the soon-to-launch Virgin Voyages cruise line. From the busy world of Richard Branson, Virgin was supposed to have its inaugural sail in April 2020. But of course, it was postponed for more than a year. Virgin heavily promotes its status as an adult-only (21+) cruise line, with two ships in the fleet and two more coming in 2023. Its terminal at the Port of Miami is appropriately named Terminal V.
I had zero interest in boarding a floating casino filled with strangers before the world shut down. But, by the beginning of this year, the trip didn't sound so bad anymore.
I just wanted to go anywhere.
Compared to the cruise industry's experience of 2020, mine was a cakewalk. The first quarter saw 54 infected ships with 2,592 ill crew members and passengers around the world. At least 65 people died onboard cruises with the world watching. Seriously, there was even an HBO documentary. Ships stopped sailing at the end of March, as cruise lines sent home crew and passengers.
To add insult to injury, the industry was booming before the pandemic. All ship information is available three years in advance, including future locations, itineraries, rates, and even onboard menus available. Additionally:
The industry's average annual growth rate between 2009-2019 was 5.4%, which is higher than land-based tourism (4.9%) over the same time period.
There are more than 50 cruise lines with 250 active ships across the world.
The three largest lines — Carnival Corporation, Royal Caribbean Cruises and Norwegian Cruise Line — were responsible for $34.2 billion in revenue in 2018.
Then the pandemic changed, well, everything.
Suddenly, there were no vacations at all, not even the cruises I turned my nose up at in 2019. When travel slowly returned in 2021, the cruise industry offered all sorts of enticing deals and discounts — there was a lot of bad press to combat and even more marketing dollars spent to let consumers know that, Hey, we're not traveling germ factories! Anymore! Desperate to sip piña coladas and overlook crystal clear waters with my phone on airplane mode, I said, what the hell, let's go on a cruise.
Boarding the Scarlet Lady, I was nervous. Of course, I love new experiences, but my fear of hating #cruiselife or feeling ill the whole time (or both!) formed an anxiety bubble in my stomach. I quickly learned that it was nothing a few cocktails couldn't suppress.
From Miami to Key West to Bimini and back to Miami again, I felt like an anthropologist at sea. Observing the cruisers in their natural habitat, I saw clearly that they knew tricks and inner workings of cruise culture I had yet to experience. As part of a new cruise line, this ship had many Virgin, er, virgins on board, but many lines have a cadre of loyalists who vacation with them year after year.
In general, most repeat passengers form a bond with a cruise line because of the crew.
They get attached to their cabin staff, cruise director and bartenders and look forward to being remembered by name when they return. The biggest lines all have loyalty programs that earn regulars everything from cabin upgrades to free cruises.
With nothing but ocean surrounding them and their guests, cruise staff are under intense pressure to curate an incredible experience. After all, guests can't simply leave if they aren't enjoying themselves. Here are a few of my most notable takeaways from five days at sea, with suggestions on how to improve not only a cruise but all sorts of events and experiences.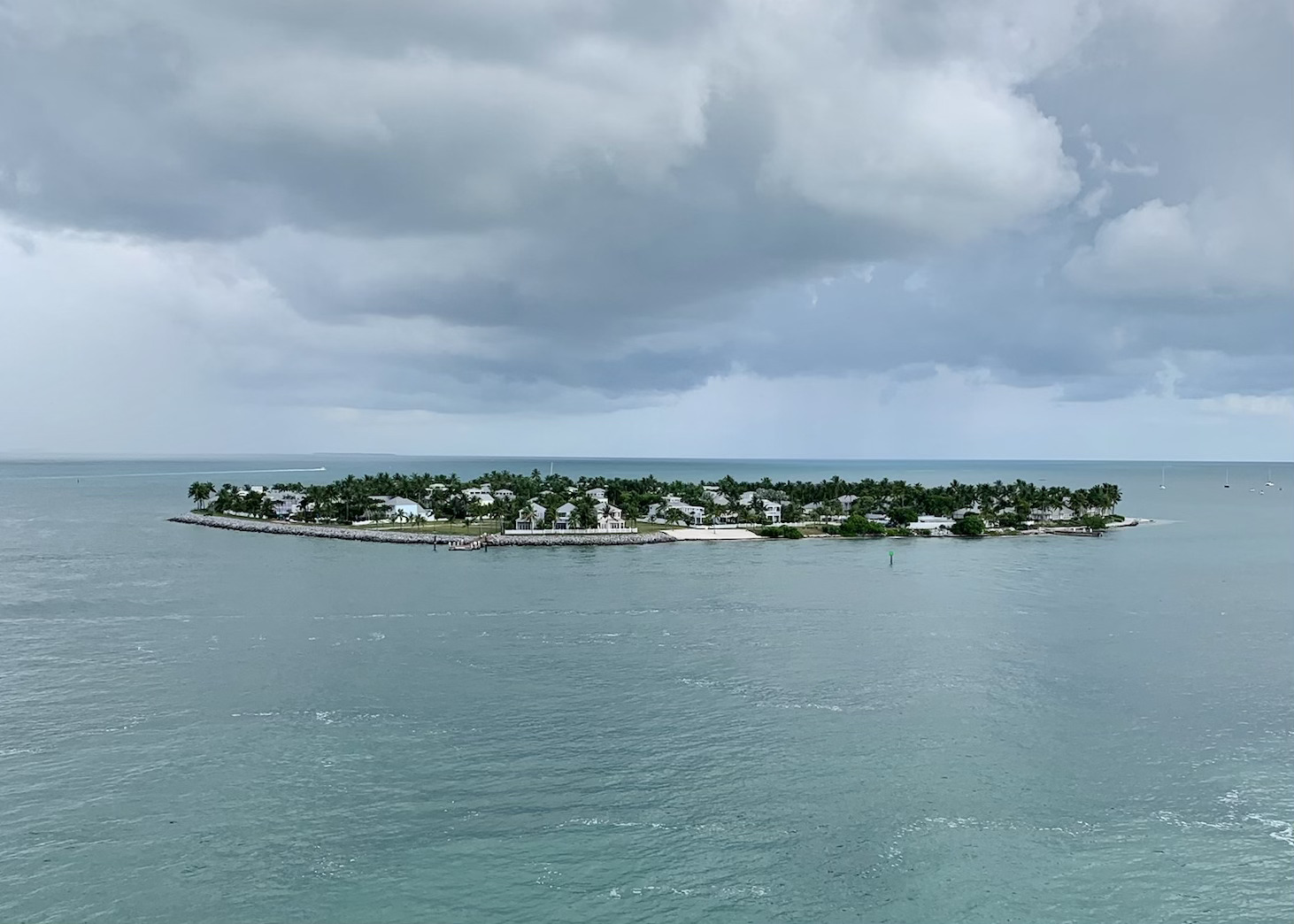 Cruisers expect perfection
In all experiential industries, the expectations are high, but I'd never experienced perfection as the baseline before I stepped aboard the Scarlet Lady. Overall, the experience delivered. We had incredible meals like homemade pasta at Extra Virgin, Korean barbecue and soju at Gunbae, and four, yes four, desserts after a steak dinner at The Wake. There was also a beachside cabana overlooking the clear-blue Caribbean waters of Bimini and a wildly relaxing afternoon at the spa.
Yet, when a problem arose, everyone heard about it. Shadi compared the ship to high school; with about 1,200 people on board, it was actually smaller than my 1,600-student public school in suburban Atlanta. When almost all of the records in the Rockstar Suites (which come equipped with record players and a selection of LPs) turned out to be scratched, the gossip spread like wildfire. Then rumors began to circulate about which restaurants should be skipped, and we watched as they sat empty during dinner rush.
Takeaway
While it's common to want to spill the details of every activation, some information is best kept secret. By not revealing all of your experience's tricks, you create less opportunity for guests to nitpick the end result. And, given the choice between presenting a thoughtful yet damaged add-on (like the record players) versus removing that element entirely, go with the latter. Yes, you might be sad that the clever little detail is gone. But at the end of the day, no records are better than scratched records.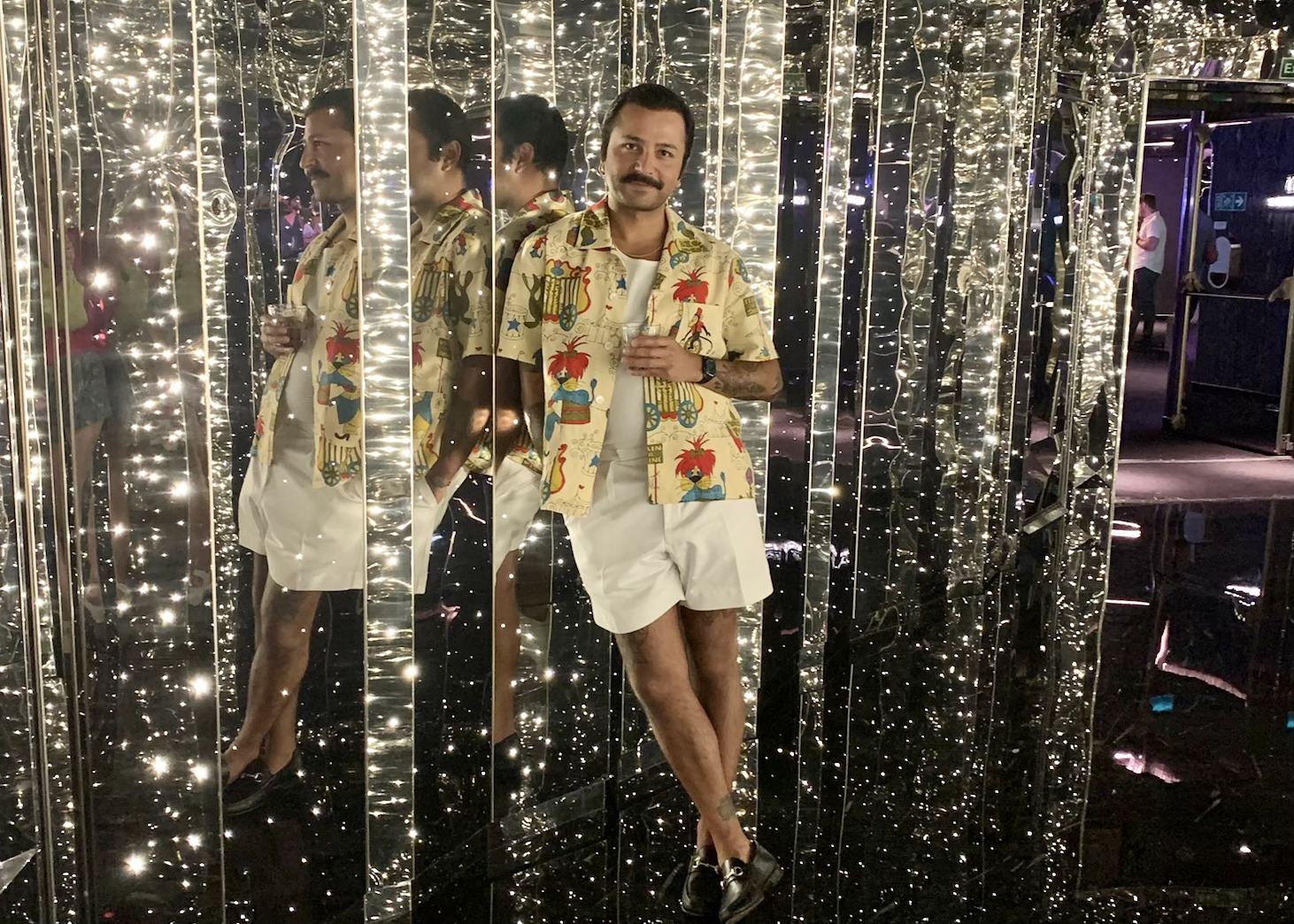 Mo' tech, mo' problems
To call Scarlet Lady's tech "clunky" would be the understatement of the year. Given that this was my first cruise since the Bush administration, I had never dealt with managing my entire vacation through an app — and it seemed like Virgin hadn't, either.
After booking the trip in April, Shadi and I were immediately prompted to download the Virgin Voyages app, which would serve as our command center. All reservations and bookings including restaurants, spa services, fitness classes, excursions, entertainment and room service were managed through the app. However, most reservations couldn't be made until we were aboard the ship, so the first hour was a mad dash to book as much as possible, fighting other guests for cabanas and spin classes.
You can imagine our frustration when the entire ship's restaurant reservations were wiped clean the first night, and then again the following night, when the POS system failed and guests waited upwards of an hour for their meals to arrive. 
Takeaway
Have a clear backup plan, both internally and externally, when technology goes awry… because it will. Then, decide whether the problem is big enough to warrant sharing details with your guests. Sometimes, issues can be solved quickly and quietly, but the canceled reservations and offline POS system require clear and honest communication.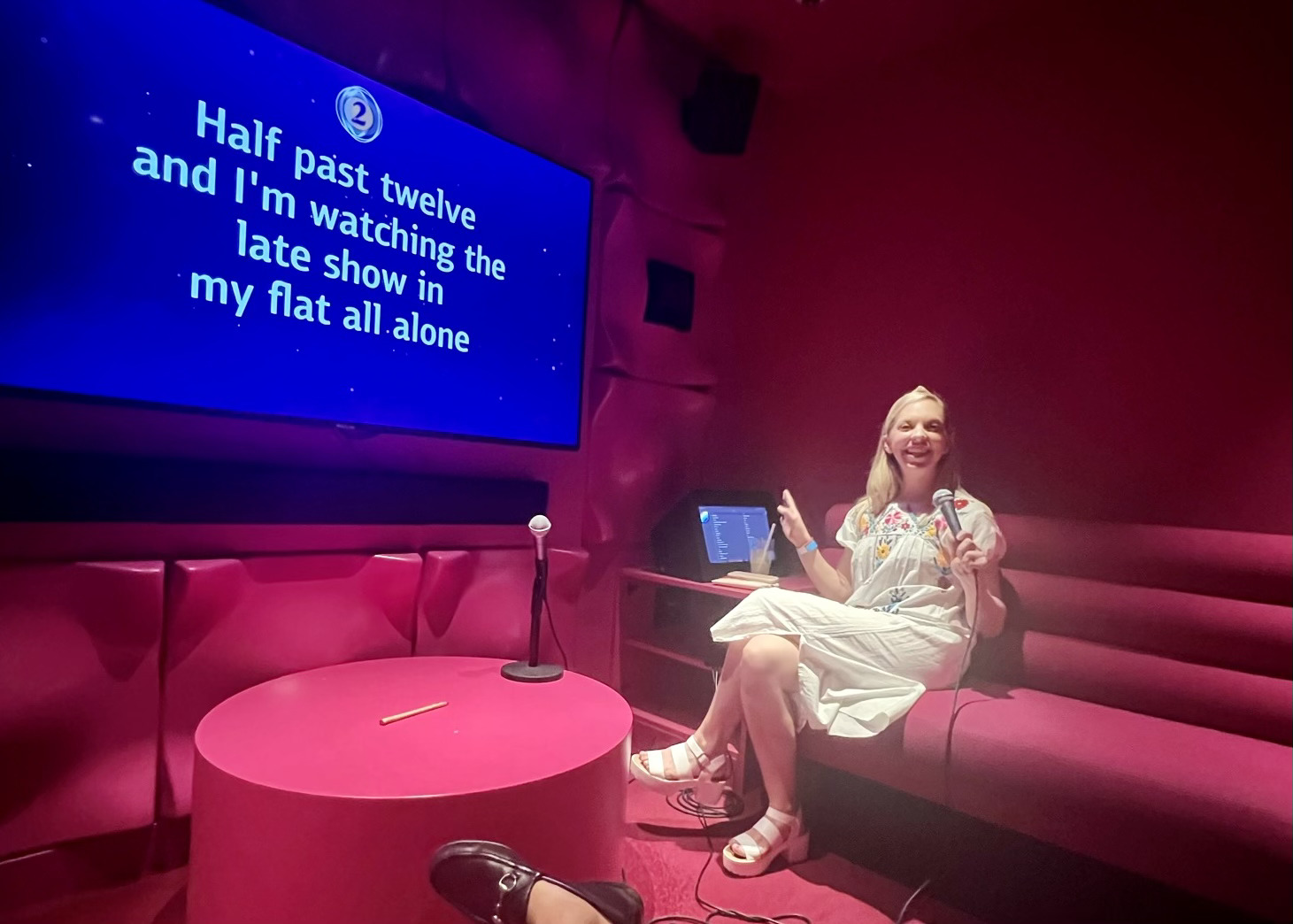 Food is king, but entertainment is queen
I've already brought up food quite a bit because, even with tech issues, everything tasted amazing. In fact, regular cruisers cite food quality as their number one priority when choosing a line to be loyal to. But entertainment is a close second. Besides the whole sailing-through-the-ocean element, extensive entertainment is what sets cruises apart from beachside resorts.
The Scarlet Lady featured many familiar NYC staples. Never Sleep Alone is a participatory show featuring the relationship therapist Dr. Alex Shiller. A frequent headliner at Joe's Pub, Dr. A has long been an East Village celebrity, combining cabaret-style performances with lessons on flirting, consent and sex. "Scarlet Night" is a full-ship activation and collaboration with the producer behind "Sleep No More," "Queen of the Night," and "The Donkey Show," Randy Weiner. The onboard club, The Manor, was packed every night, as well. And yes, don't worry — they made space for a karaoke lounge, too.
Takeaway
Many guests chose a cruise vacation over other options for the entertainment factor. I loved this component because it was never a headache deciding what to do each night. There were themes, expectations, and plans already in motion. Any time you can remove decision-making from your guests' agenda and tell them where to go, you give them a break from their everyday responsibilities.
The Scarlet Lady introduced me to so many lovely people and even added a new tattoo to my collection — a sailor's knot. 
Join us in XP Land. A community for experiential creatives and experience-makers, brand leaders and IP-owners, space stewards and venue visionaries — all of those in the business of epic gatherings and live, immersive storytelling.