Winning the experiential lottery: A casual tennis fan hits the US Open for the first time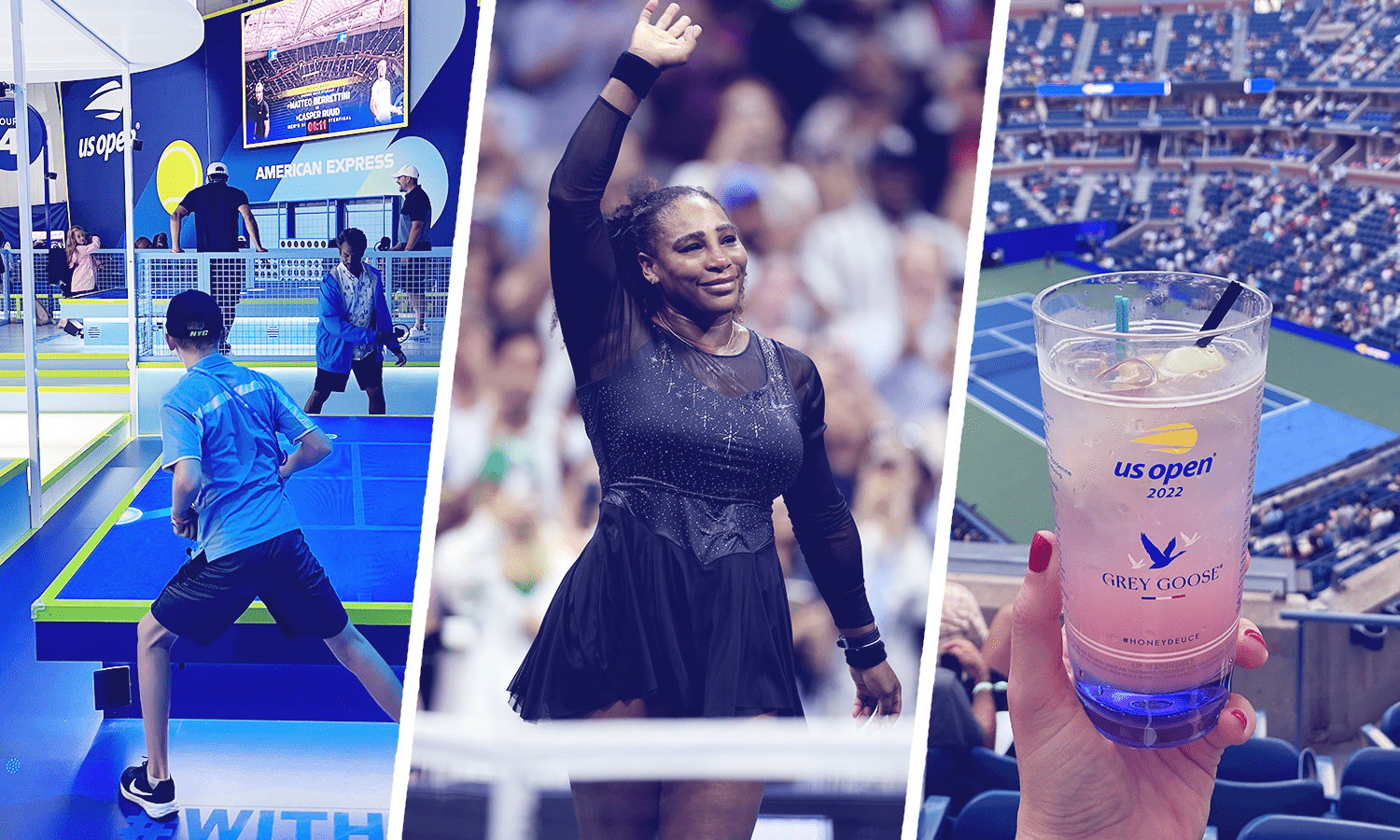 I've never been to a tennis match before, let alone the US Open. As a native New Jerseyan turned New Yorker who hopped back across the Hudson to adore New York from a stone's throw away, going to the US Open felt like something I should experience. The Grand Slam tournament takes place every year at the Billie Jean King National Tennis Center in Flushing, Queens—a venue I've ignored a few times, tbh, on my way to its across-the-street neighbor, Citi Field.
For those of you who may not be clued into "sports," there was some big news announced prior to this US Open. Serena Williams, aka the greatest of all time (we'll unpack this more in a bit, I promise), announced her retirement. I took a gamble on buying the winning ticket to see her, and guess what? I won! SPOILER ALERT: So did Serena.
How did I score a ticket to see Serena's last US Open (and tournament in general) before her retirement? Let's start at the beginning.
Tickets for the US Open went on sale the week of June 6, months before the draw of the players was announced. To be clear, without knowing the draw, there's no way to know the date and time that each player will have their match. Without knowing the schedule, as a consumer, you're buying a ticket and hoping you get to see whoever it is you want to see play. I wanted to see Serena play; how could I make sure that happened?!
Ultimately, I had to make choices based on three factors:
An assigned seat at Arthur Ashe Stadium or a first-come, first-served grounds pass to any court? Understanding that I was certainly not the only one who wanted to see Serena, it was logical to think that she'd play on the main court with the largest capacity for fans. This meant buying an assigned seat inside of Arthur Ashe Stadium.
Daytime or evening? Again understanding that many people wanted to see Serena, I figured she'd be slated for the evening, during prime time on ESPN.
Monday, August 29 or Tuesday, August 30? The most uncertain of the three factors to consider. Would Serena play on the first night of the tournament or the second?
I decided to buy an assigned-seat ticket to Arthur Ashe, in the evening on Monday, August 29 – the first night of the tournament. It felt like this strategy would give me the best odds. When the draw and schedule were announced, my strategy proved to be successful. Serena was scheduled to play at 7pm ET on Monday, August 29, 2022 at Arthur Ashe Stadium. After winning the experiential lottery, it was time for the real XP to begin…
1) Battle of the banks
Getting there was surprisingly quick and simple. When I stepped off the LIRR, I landed right in front of the Tennis Center grounds. It quickly became evident that a massive amount of sponsorship funding was behind the event.
Specifically, Chase and American Express went the extra mile to make sure their presence was felt. Among the biggest boasts were the separate lounges that both Chase and American Express offered to their cardholders. Chase also promoted free charging stations, and American Express offered a complimentary bag check.
Who did it better? In a head-to-head, I'd say Amex won the battle of the banks with their wearable, branded radio earpieces, which they give away each year and broadcast directly to the ears of their cardholders. Also, their Fan Experience space included kid and adult friendly games like Air Tennis (with responsive technologies, players face off against an AI opponent and compete using only their hands) and cardholder VIP areas.
Why is this helpful? Because the grounds are vast, and you cannot be in two places at once. The radio earpieces enabled fans to stay tuned into matches they weren't able to attend and hear expert commentary while watching live. And with branding on both the earpiece and the lanyard, Amex secured two valuable pieces of real estate from their cardholders – heads and necks!
2) Star-studded seats
If you haven't caught the whiff of luxury yet, allow me to mention all of the celebrities in attendance at Ashe on the first night of the Open. To kick off the match, legendary film director Spike Lee initiated the coin toss that would decide which player would serve first. After that, during every break in play, the jumbotron was graced with two seconds of a famous face. From Queen Latifah to Gladys Knight, Rebel Wilson to Katie Couric, Bella Hadid to Anna Wintour – the crowd was flush with fame (like Bill Clinton chatting with Dr. Ruth).
3) (Marco) Polo Ralph Lauren
The banks weren't the only brands that put up some serious dollars to ensure they were top of mind for everyone in attendance. There were Cadillac logos bookending each side of the net, a Rolex clock displaying the runtime of each match, and Polo Ralph Lauren uniforms proudly sported by every ball crew member, as they have been for years.
You could feel the luxury pulsating through the stadium. Polo Ralph Lauren also returned with their signature store, selling exclusive US Open apparel — from $60 t-shirts to $100 fanny packs — right in the heart of the grounds.
And of course, if you were an American Express cardholder, you could get $20 off a purchase of $100 or more at the Polo store, so long as you used your Amex. Ah, the sweet smell of brand synergy.
4) The G.O.A.T.
The crowd was packed with fans and sparkling with stars — all of whom were ready to see the brightest star of them all, Serena Williams. Serena leaned into her stardom, sporting an outfit that glistened with sparkles (and actual diamonds), from her hair down to her shoes. Her entire outfit was crafted with intention by Nike — are we surprised? One does not become the greatest of all time accidentally. With 23 Grand Slam wins, Serena is one of the greatest tennis players, and athletes, of all time.
5) The Honey Deuce, love(d by) all
One of the longest lines I saw wasn't the entrance, nor was it to buy a $100 fanny pack. It was to get the official drink of the US Open, the Honey Deuce. The Honey Deuce consists of 4 ingredients — Grey Goose® vodka, lemonade, Chambord®, and honeydew melon balls. The three honeydew balls are skewered on a toothpick and gracefully placed on top of the drink to resemble tennis balls.
These cocktails are pretty. And they're also pretty pricey. Served on ice at every alcohol-providing vendor on the grounds, you can score one in a branded plastic highball glass for $22 + tip (tip your bartenders, folks)!
If you have the discipline, patience and maybe an Amex radio earpiece, you can stand in line at the official Grey Goose® bar — the only place you can purchase a frozen Honey Deuce for the same bargain price.
There are four Grand Slam tennis tournaments every year, played in London, Paris, Melbourne, and New York. Guess which one is known for having the most expressive crowds? Leave it to New York to consistently show up brazen. It felt fitting for Serena to play what could have been the last match of her career with the support of 23,000 New Yorkers.
I felt the gravity of the match, and my own role in the crowd, when I arrived at my seat to find a prop. Every seat was equipped with a colored cardboard rectangle, which would ultimately line up to display a message to Serena at the end of the match. Win or lose, she would go out supported by her fans and recognized as one of the greatest, if not the greatest.
We all now know how the first-round US Open match ended…
Serena Williams defeated Danka Kovinic in two sets. To cap off the win, Serena performed her signature thank-you move for the crowd, #TwirlForSerena. All 23,000 fans responded by holding up their designated colored piece of cardboard, and the message "We <3 Serena" was proudly displayed inside Arthur Ashe Stadium. The evening of greatness ended with Gayle King introducing a tribute video to Serena, narrated by none other than Oprah Winfrey. What a world.
Join us in XP Land. A community for experiential creatives and experience-makers, brand leaders and IP-owners, space stewards and venue visionaries — all of those in the business of epic gatherings and live, immersive storytelling.