These new sports stadiums get the "W" for fan experience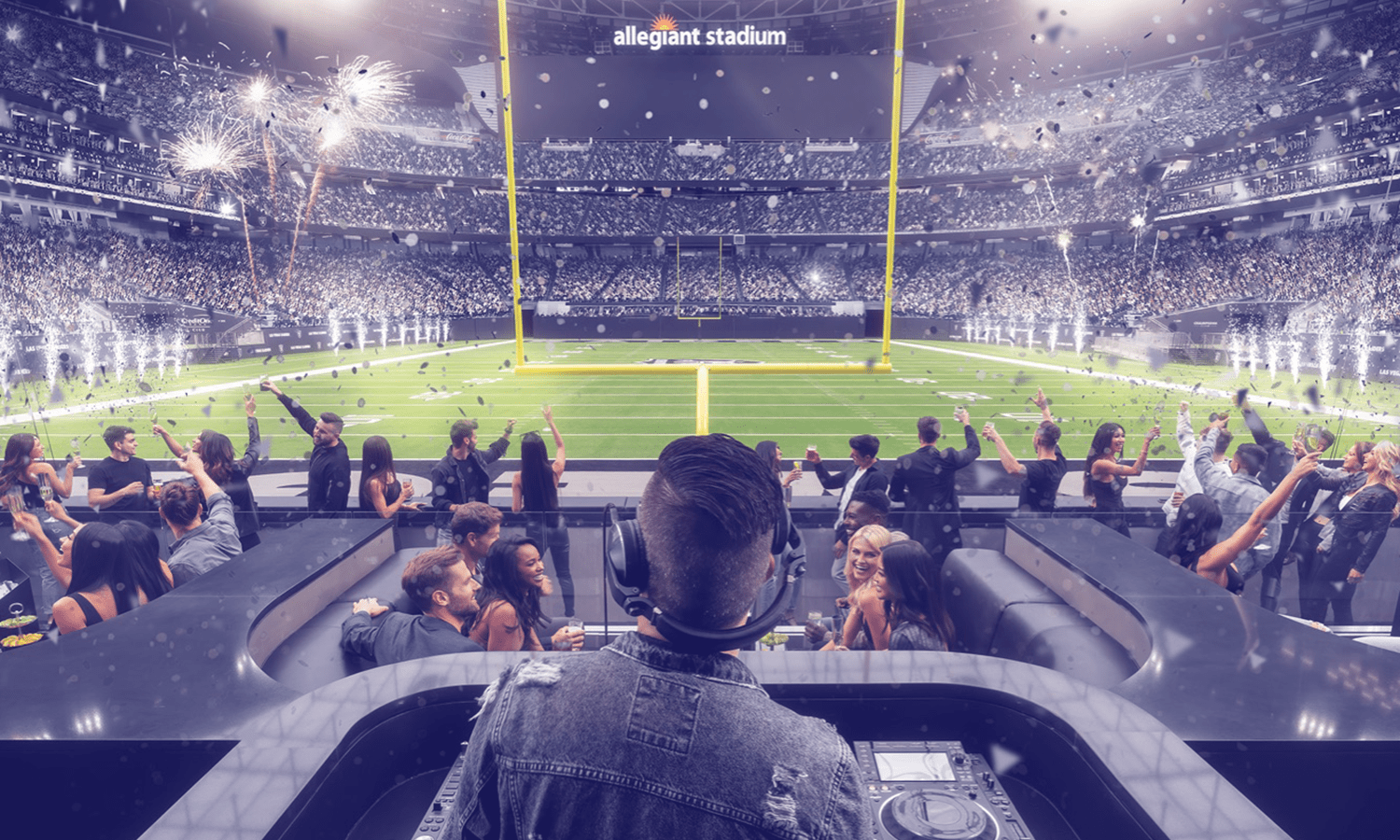 It's August, which means sports fans everywhere are gearing up to support their beloved teams across pro football, basketball and the collegiate level. Fans are breathlessly preparing for the (fingers crossed) return to IRL experiences.
Capacity restrictions and mask mandates aside, franchise managers know that today's fans expect a whole lot more from a trip to the stadium than a hot dog and a kiss cam. Spectators need to feel like their ticket price was worth it, so that the return on their (increasingly pricey) investment delivers.
To meet that demand, there is a slate of new, state-of-the-art venues opening this year for their first seasons (or, in some cases, first seasons with spectators). They aim to create a whole new fan experience to complement the main sporting event. Here, we've rounded up the stadiums that are leading the pack on XP, from best the food to the most integrated tech.
SoFi Stadium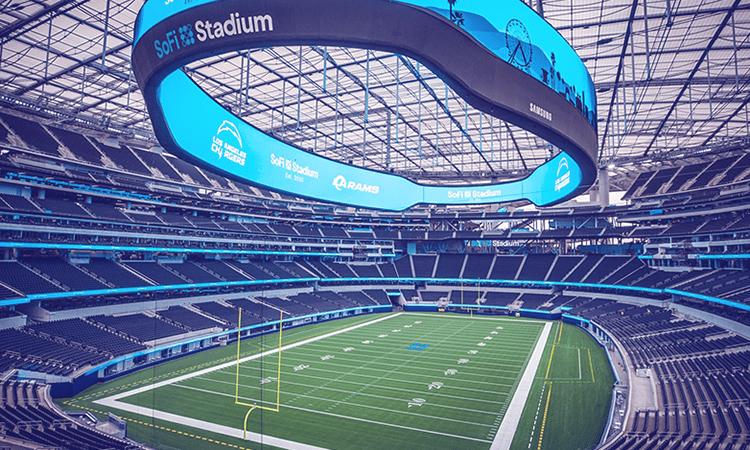 The $5.5-billion home of the Los Angeles Rams and Los Angeles Chargers (and site of the 2022 Super Bowl) is in Inglewood, California. The 3.1-million-square-foot facility, situated at the heart of live-work-play development Hollywood Park, can accommodate 70,000 fans for a game and up to 100,000 for special events. In fact, it will host the Olympics Opening and Closing Ceremonies in 2028.
Within the stadium, fans will discover massive indoor-outdoor patios and a champagne bar. Field-level Bungalow Suites and an F&B program was curated in partnership with LA's favorite chefs, Jon Shook and Vinny Dotolo of Jon & Vinny's fame.
Other key features of the space include the 120-yard, double-sided video board — the league's largest — and an innovative open-air roof. The roof is outfitted with an LED screen that can actually project the game externally. Just in case, you know, you're passing overhead in your private jet and want to check the score.
This creates a detailed, virtual replica of the stadium and surrounding Hollywood Park. The facilities team can also gather and analyze vast amounts of data on how visitors move throughout and utilize the space. This is all in an effort to optimize sustainability, predict maintenance issues and refine other fan experience elements. SoFi's partnership with Google will implement a personal concierge app. This app will help venue wayfinding, parking and more. The partnership also locks in YouTube as the official video streaming partner for both the Rams and the Chargers.
Complaints? As the OC Register put it: "Love the place. Hate the parking."
Allegiant Stadium
The $1.9-billion, 65,000-seat Allegiant Stadium, home of the Las Vegas Raiders, appears to live up to its price tag and size. Fans and special guests gave rave reviews after enjoying the venue for the first time earlier this month.
The Raiders partnered with Levy, the culinary force behind restaurants like Michael Jordan's Steakhouse and the Barclays Center, to handle hospitality. They tapped local restaurateurs including Mary Sue Milliken and Susan Feniger of Border Grill and Billy Richardson of the Cosmopolitan Las Vegas to feature on menus across the venue. And, because it wouldn't be Las Vegas without a nightclub, the nearly 11,000-square-foot Wynn Field Club — complete with bottle service and guest DJ appearances — is located at field level.
Including high-speed wifi throughout the venue and interior and exterior Samsung videoboards. Those boards feature a 275-foot LED screen on the exterior to fit in with the lights of the Strip. More than 2,400 video screens communicate information about concessions and other service information. While this technology is impressive, it unfortunately isn't fail-proof. All of Allegiant's cashless payment systems went down during the recent WWE SummerSlam.
The only other negatives we've heard thus far are traffic and parking, with some even claiming it took over three hours to find a parking spot. The ease of getting to and from a big event can be a deciding factor for a fan.
Hayward Field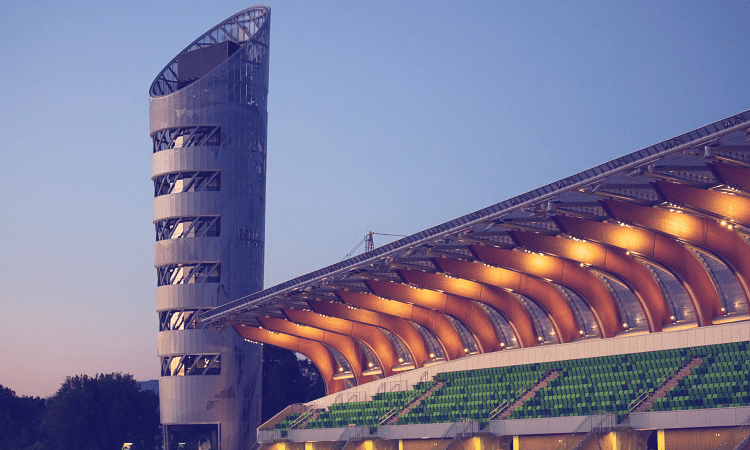 The new Hayward Field is located at the University of Oregon and was revealed in time for the site's 100th anniversary. Doing TrackTown, USA proud!
Funded to the tune of $200 million by Nike co-founder Phil Knight and 50 other private donors, the stadium's 12,650-cushioned seats all feature unobstructed sight lines. And a unique bowl design ensures the majority of spectators are close to the finish line.
To celebrate the history of Oregon's track-and-field program, the venue also includes a 4,000-square-foot museum. It includes 250 images of significant athletes and moments in Oregon track history. A show-stopping, Olympic torch-shaped tower stands above the field, too. It will be lit up in green each time the Ducks win a championship. If history is any indication, the tower should be blazing green fairly frequently…
Climate Pledge Arena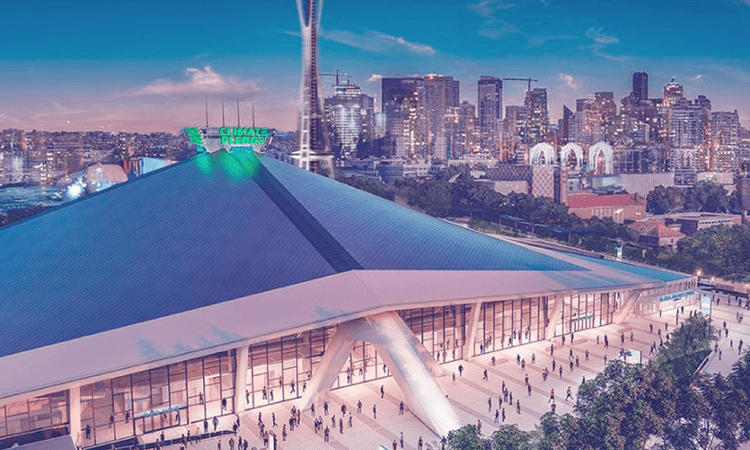 Set to open this October, the billion-dollar Climate Pledge Arena will be home to the NHL's eagerly awaited new team, the Seattle Kraken, and the WNBA's 2020 champions, the Seattle Storm. As the name implies, Climate Pledge Arena has committed to being the world's first zero-carbon arena. All fossil fuels have been eliminated from the venue. Amazon will purchase carbon offsets via The Nature Conservancy for all remaining emissions. Like those generated by fans traveling to the arena for events (which they estimate accounts for 40 percent of the venue's overall emissions).
The venue has been designed with sustainability in mind from top to bottom.
Upon arrival, spectators can charge their electric vehicle in the underground parking garage. Climate Pledge is also encouraging fans to forgo their cars and utilize public transportation to reach the arena. It's even subsidizing transit costs for ticket holders. Perhaps SoFi and Allegiant stadiums should take a cue? Walking into the building, observant fans will notice the solar panels covering the roof, which are supplemented by off-site wind power. And guests will encounter real-time meters throughout the venue measuring resource consumption for waste, water, energy and other resources.
This environmental-friendliness extends to F&B, of course. Managed by Delaware North, 75 percent of food served in the venue will be sourced locally (from within a 300-mile radius) and based on seasonal availability. The arena and NHL Seattle are also working in collaboration with beverage partners to transition to all aluminum or biodegradable bottles by 2024. In the interim, all other single-use plastic is banned. The venue will also have no standard trash cans, using only compost and recycling options.
Studies have shown that fans are receptive to environmental changes once implemented. Climate Pledge is certainly setting the new sustainability record to beat moving forward.
UBS Arena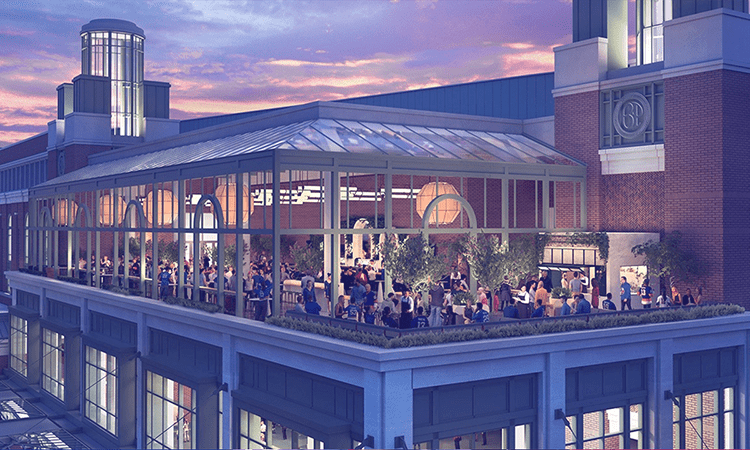 UBS Arena is the $1.5-billion new home of the New York Islanders. It's on track to open this November at Belmont Park in Nassau County, New York.
Described by Islanders' co-owner Jon Ledecky as "a modern-day arena with amenities, but a throwback to the great arenas of the past." UBS Arena will feature 18,000 seats and take design inspiration from iconic New York landmarks like Grand Central Terminal, Central Park and the Park Avenue Armory. The arena's bowl design will be the "steepest that modern codes allow" to create a sense of intimacy and amplify the acoustics.
The venue will feature fewer private suites (only 56) in favor of social clubs.
The 11,000-square-foot Dime Club features high ceilings and gallery-style art exhibitions, as well as views of the on-ice action from the bar. The Verizon Lounge, inspired by NYC's swankiest bars, features on-ice seats. And the UBS Club features glass walls overlooking the players' tunnel. Psst, if you can find it, we hear there's also a "secret bar" to discover — let us know if you stumble in.
In addition to the social clubs, concessions will include grab-and-go options with Amazon's "Just Walk Out" sensor technology.
Also on the technology front, UBS Arena will feature the largest scoreboard in the state. Plus, bespoke back-of-house setups for musical performances, designed with input from LiveNation. Like Climate Pledge Arena, UBS has solidified a deal with Verizon to be its exclusive 5G and wireless partner. Verizon will provide high-speed bandwidth, an original Arena app, and new public safety, concessions and crowd management solutions.
Fun, and useful, key fact: UBS Arena will have more restrooms per person than any other arena in Metro New York. Now that's an experience we all can benefit from.
Takeaways
As we said, today's sports fans need much more than just a good match-up to justify the costs of attending IRL games. The good news is that teams and their home cities are investing in venues and fan experience.
Key trends across the nation seem to be more bespoke and localized food offerings presented in more social settings. More impressive technology, wifi-enabled experiences and a strategic approach to overall bowl design bring fans closer to the action. Personally, we love to see how Climate Pledge Arena is leading the charge on greenifying sports XP. We hope to find more venues following suit in the months and years to come. May the best teams win!
Join us in XP Land. A community for experiential creatives and experience-makers, brand leaders and IP-owners, space stewards and venue visionaries — all of those in the business of epic gatherings and live, immersive storytelling.