The US Open is back, but is still oh-so #2021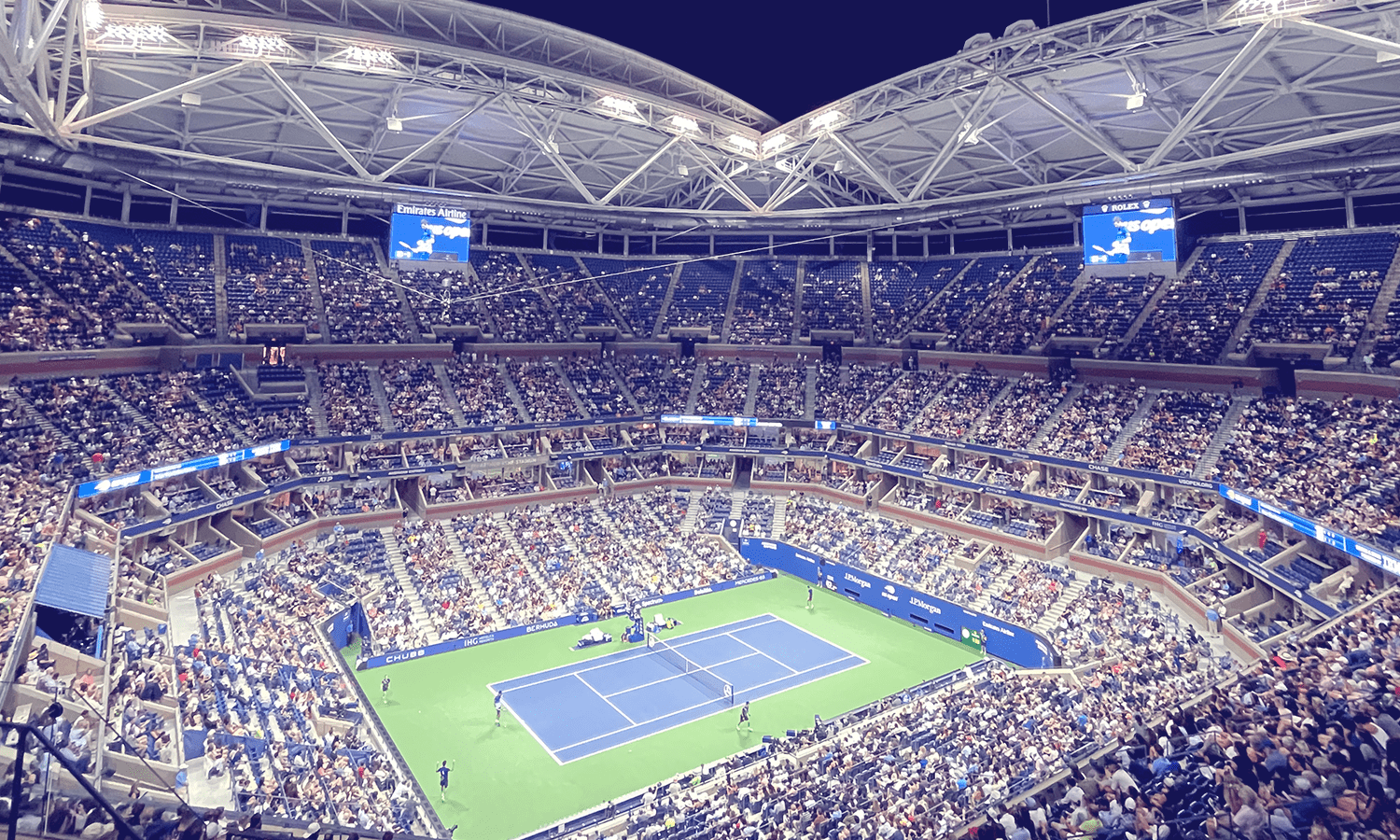 The US Open served up a full experience this year, allowing 100 percent audience capacity and tennis, food and fun galore. Given that the 2020 event took place sans fans, attendees were more than happy to take full advantage of the opportunities presented this year. 
Once inside, the energy at the USTA Billie Jean King National Tennis Center was akin to the exhilaration you feel walking around Disney World, but actually making it to that point proved to be quite the challenge: The first day saw 53,783 people, with many of the day-session attendees waiting up to two hours to enter the campus, thanks largely to the vax mandates rolled out just days earlier. 
We all thoroughly enjoyed a few days of lively tennis with fresh new faces (a few complaints about 8-minute bathroom breaks notwithstanding) but we'd be remiss — and, missing a large part of the point — if we didn't discuss the fancy (overpriced) food, loads of branded apparel to buy with your American Express or Chase cards and, of course, the ubiquitous branded "lounges."
After spending the better part of 18 months in virtual captivity, it all felt splendid!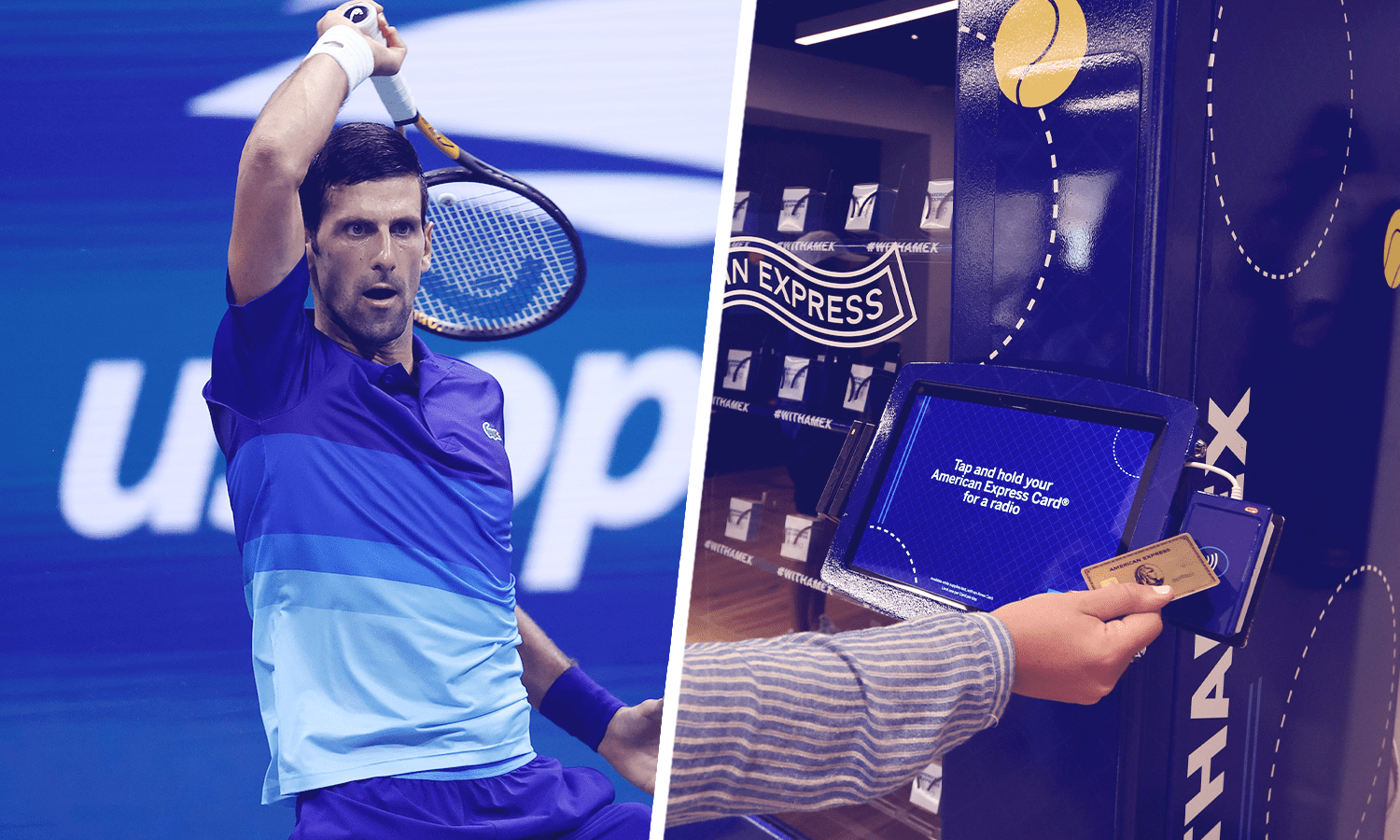 Splendid, that is, until a nasty lady named Ida rolled into town on Sept. 1 and guests at Louis Armstrong stadium were forced to break out their umbrellas despite a closed roof, because #2021. Regardless, fans stayed until 1 a.m. when the matches concluded (only to find subways flooded and train lines disabled, because #2021).
More drama followed a few days later when Naomi Osaka lost to rising 18-year-old Canadian star, Leylah Fernandez, in a more temperamental fashion than is her usual style. Now, Osaka is taking a break from tennis. And, we can all relate — that's why some of us are quitting our jobs #GreatResignation and/or now taking Lexapro 😁.
Okay, enough with the play-by-play of #2021: From an XP standpoint, why is the US Open such a powerful experience? And what can we all take away from it as we design our own events?
WHY IT WORKS
First and foremost, it's great tennis. And when you have a great editorial product at the core of your event, you always win.  
Next, it's actually much more than tennis. Sure, it's a sporting event, but it's an upscale sporting event that doubles as a foodie's paradise. So how do you ensure that you are catering to your audience? By literally catering to your audience. This year, chefs Alex Guarnaschelli and Josh Capon arrived — opening Fare by Alex Guarnaschelli and Flyfish @ Oyster Bar by Josh Capon and Conor Hanlon.  While you're strolling from match to match, you can find anything you could possibly want to eat and drink: tacos, poké, barbecue, Eataly, Ben & Jerry's… Champagne, vodka, rosé…
Next, it takes place over a couple of weeks, meaning that the activation that you worked so hard to build can be seen by thousands and thousands of people over many days, rather than mere hundreds followed by a depressing load-out a few hours later.
You can both attract the one-and-done folks who just want to see what the buzz is about, and the diehards who come back again and again.
Since it's mostly outdoors and vax-mandated, it's a great Covid-era activity.
It's broadcast on ESPN, so you also have the at-home viewers who have different ways to interact with your brand.
There's downtime before, during and after the matches, allowing plenty of time to play Wii tennis; practice your serve with Sloane Stephens on a green screen while checking out the newest Mercedes hybrid; or, better yet, watch Stephens in action IRL on the practice courts.
Your brand can solve a problem for attendees, like AmEx's free headset — which features play-by-play announcers calling each match — or free parking for anyone arriving in a Mercedes.
It's a slow time of year — late August — where not very much is going on, so it offers great opportunity for buzz, which is why we're talking incessantly about 8-minute bathroom breaks.
You'll be hard-pressed to reach a more affluent, dual-audience crowd with your branding message. 
Since the event goes on for weeks, there's an opportunity to create adjacent events in other locations — like Wilson's pop up 25th anniversary museum in Soho, in addition to their on-site store at Flushing Meadows.
For those viewing from home, the US Open launched a new "Virtual Grounds Tour" as well as "Fantasy Tennis" and "Million-Dollar Bracket" sponsored (on top of lots of other stuff at the Open) by IBM. 
We love it when a brand takes a stand (or a knee). It's no surprise that the organization that gave rise to the Billie Jean King Tennis Center and Arthur Ashe Stadium is behind several powerful Be Open initiatives as they continue to advocate for change. The Open Canvas art exhibition from underrepresented artists caught our eye when we were at the Open. (Here's what we bid on via CharityBuzz.)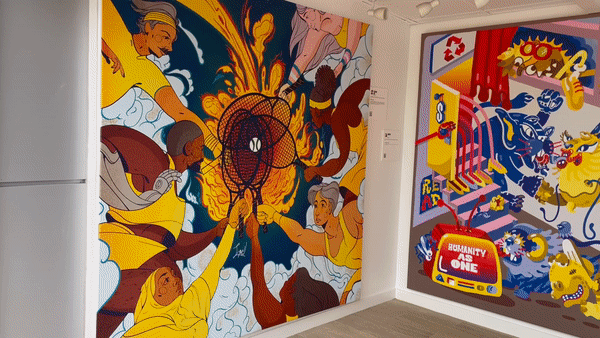 WHAT WE'D LIKE TO SEE
There were many, many, many lounges — Chase, Centurion by Amex, Mercedes, Emirates. SNOOZE. Come on people. Let's be better than a lounge, please.
A few cool moments for the 'gram were created, but many were just large oversize banners. Let's step up the creativity here. (We would have loved to see the Open Canvas artists mentioned above create murals throughout the entire space, for example…)
Can't we test drive a Mercedes on-site? Seems like there should be room in the parking lot, no?
More dessert options than just Ben & Jerry's, which always has a ridiculous line. Levain bakery, where are you!?
The Open continues until Sept. 12, so there's still a chance to see what all the fuss and food and, oh yes, tennis, is all about.
Join us in XP Land. A community for experiential creatives and experience-makers, brand leaders and IP-owners, space stewards and venue visionaries — all of those in the business of epic gatherings and live, immersive storytelling.