Sticking It to the Man for 75 Years: The Best and Worst of My First Edinburgh Fringe Festival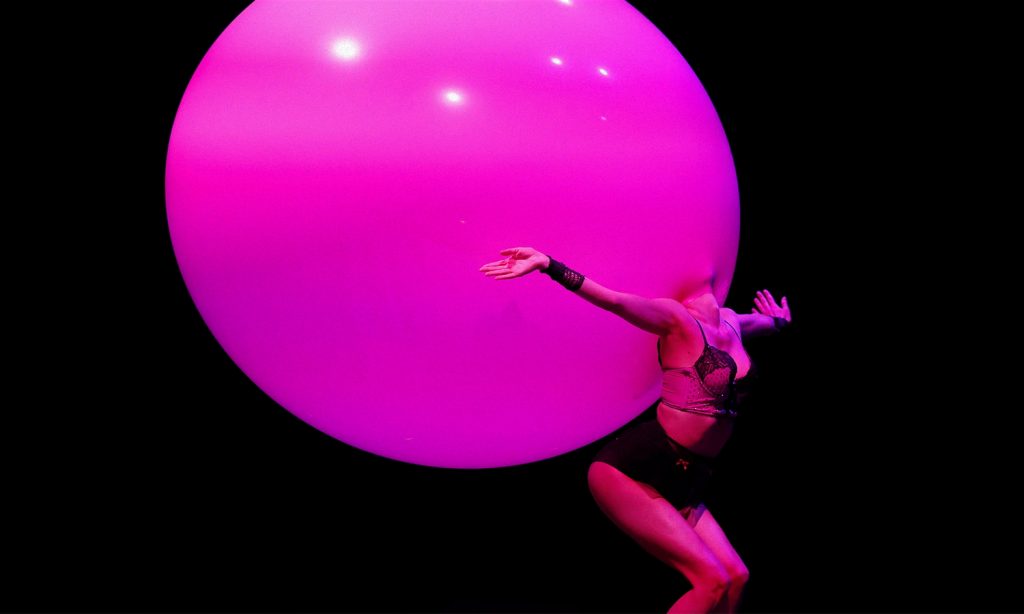 On a stage in Scotland's capital city, a Cockney-accented actress playing a parody version of Ariel from The Little Mermaid stands next to a statue of Prince Eric with one *large* difference from the film (yeah, it's exactly what you think).
This is just a taste of the hilarious and inventive fare you can discover at the Edinburgh Fringe Festival — home to tens of thousands of comedy, theater, drag, circus, revue, and experimental shows. Celebrating its 75th anniversary this year, the festival began as a way for eight theater groups who weren't invited to participate in the 1947 Edinburgh International Festival to stick it to the man. Since then, misfits, unknowns and future giants alike have been welcomed on Fringe's many stages. And many a famous actor and comedians once appeared fresh-faced there, including Emma Thompson and Robin Williams.
In 2019, Fringe was the third most visited event in the world, behind the Olympics and the World Cup — welcoming over half a billion audience members, performers and media. Performers came from 63 countries to do their thing at more than 300 venues across the city. Anyone who pays a registration fee can host a show, preserving an egalitarian atmosphere. Shows go on at almost all hours. Hundreds of street performers (clowns, guitarists, bagpipers and knife jugglers) perform across the city. 
Of course, Covid crashed the party in 2020, and Fringe was canceled that year. Followed by a much smaller festival in 2021. 
But the crowds have come roaring back for 2022 — and I was among them.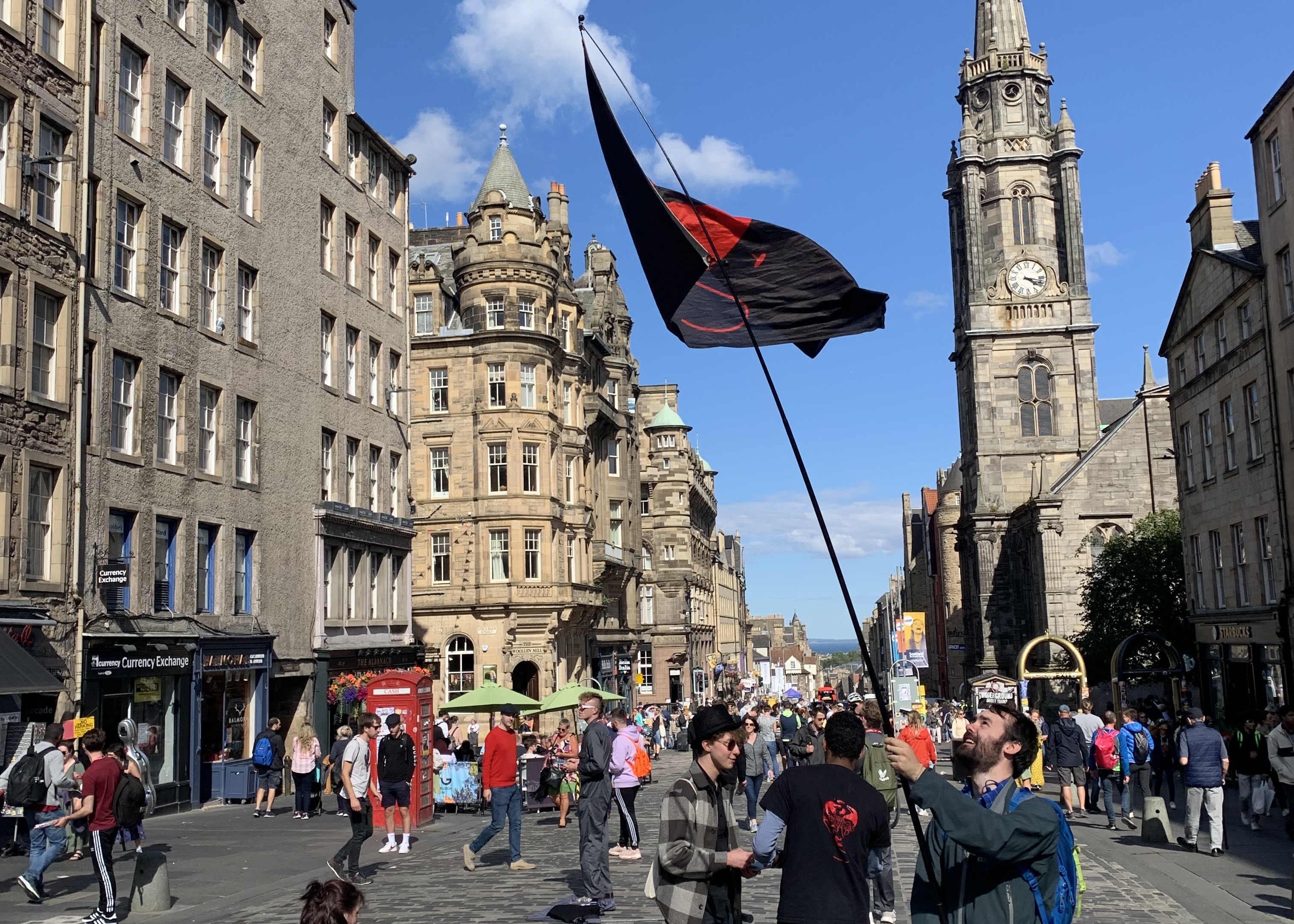 I didn't know what to expect for my first Fringe, especially with my mother in tow. We arrived in Edinburgh via London on August 3, a couple of days before the festival's official start; it runs through August 29 this year. We spent the next day exploring Edinburgh Castle and walking the Royal Mile, a classic European street lined with shops hawking Scottish tartans and whisky (with no "e," according to the Scots).
The streets were packed with festivalgoers — already swelling far past Edinburgh's population of 530,000 — and with performers pushing flyers, trying to convince my mother and me to come see their shows. One towering drag queen won us over, and Drag Queens vs. Zombies (starring Kate Butch and Crudi Dench) was one of the funniest shows we saw that week.
Most Fringe acts have to take to the streets this way, since no one has ever heard of them. Those with an advertising budget, a following, or both can sell out easily. Comedian Daniel Sloss's name seemed to be everywhere. I bought us tickets for Alan Cumming's show Burn, a meditation on the life of famed Scottish poet Robert Burns that played to a packed house in Edinburgh's fanciest venue, the King's Theater. The show ran for an hour — a typical length for the festival — but the tickets, at £30 each, were twice as expensive as your average Fringe show.
We ended up seeing ten shows in three days (phew!), most of which had little to no budget.
The show I mentioned with the member-loving Ariel — Unfortunate, the untold musical story of Ursula the sea witch — was our favorite of all. The costumes were grand, including Ursula's giant tentacles spilling from her black leather gown, and there were intricate puppets playing characters like the evil eels (a cucumber stood in for a sea cucumber), plus three live musicians. We died when Prince Eric referred to Ariel as Areola, then Aragog (the spider from Harry Potter).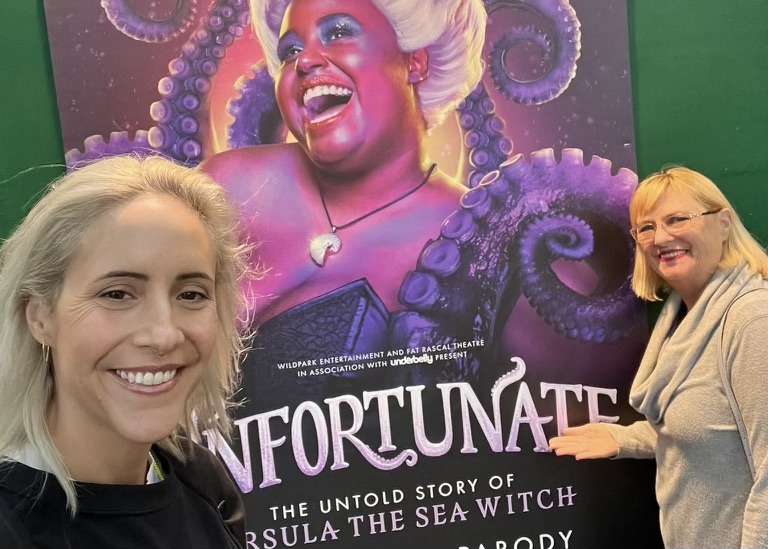 I also enjoyed a full production of Sondheim's Company, performed with a live seven-person band and 14 actors — all about 18 years old. (I, too, wanted to cry when our young Bobby shed a single fat tear during his rendition of "Being Alive.") We were thrilled by a spooky immersive audio performance of Seance, where 20 audience members sit around a narrow table in a pitch-black room, individual headphones on, listening to a dark seance gone wrong.
Don't know where to start at Fringe? 
You can find plenty of interesting shows from posters and flyers on the streets, but perhaps start with your interests, genres or performers you love.
I searched "Broadway" and that took me to a showtunes revue and Company. I went to see comedian Mary Beth Barone's show Silly Little Girl because I knew her from New York — I'd suggest checking out Catherine Cohen, Bianca del Rio, and Patti Harrison's Fringe shows. My mom loves British history, so she took us to see a comedy show hosted by an angsty teenage version of Bloody Mary, which was quite good.
Fiona Jones, a 25-year Edinburgh resident and avid Fringe-goer, says she takes a more impulsive approach to selecting shows. "Definitely get the Fringe booklet [that lists all the shows], and come to the Underbelly [venue] to pick up leaflets and have a look," Jones says. "Go down the High Street; they always have shows on during the day, a little snippet of something, so that might give you a taste. And be open to anything, really!" Jones' twentysomething son, who grew up attending Fringe, noted that this year's festival seemed close in crowd numbers to 2019, if still a bit smaller.
Molly Windust, a 23-year-old performer in the sketch comedy show Mudfish: Might as Well, quit her job in London to perform at Fringe for the first time — with just three day's notice. She and her co-performer have been passing out flyers every day, but they've performed to nearly empty rooms so far.
"Sketch comedy is a bit stupid, and you have to suspend your disbelief and be a bit insane," Windust says. "Fringe really lets you do that. So we both just really wanted to come.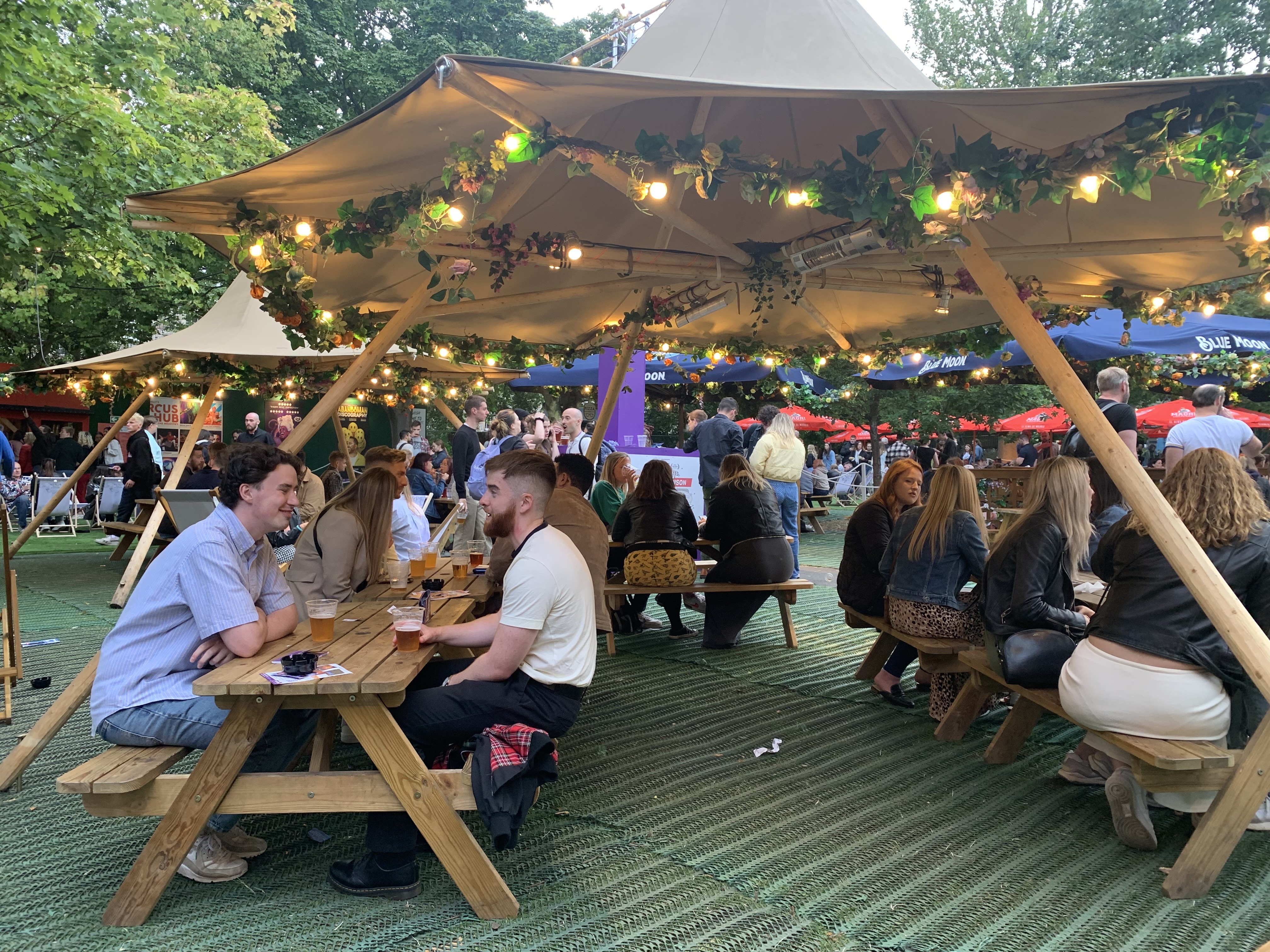 Food and drink play a big part in the entertainment value of Fringe. 
Most venues had a plethora of options, with full bars and food ranging from gyros to pizza to inventive frites creations. And, of course, there's a pub in every direction you look.
My mom, Jan Anthony, just loved her first Fringe experience. "So many artists, so many shows, so much excitement and fun," she raved. She also loved how readily available wine was and recommended that the city make drinking on the street legal for the month of August.
Mom's least favorite parts of the festival? The venue "environments" — aka a lot of hot and uncomfortable black-box rooms. 
These rooms reminded me of the 72-hour improv festivals put on by the Upright Citizens Brigade, where for many years I attended shows till 6am in underground theaters…but, alas, I was younger then. Plus, some of the venues in Edinburgh were hard to find. (To that point, how is there not an official Fringe app?)
As for Covid, no one bothered much with safety protocols. Venues didn't require masks and very few people wore them — so few that I got called out (twice) by comedians for wearing mine at shows. So travel and attend Fringe at your own risk.
My Fringe advice? 
Pick one venue and see available shows there all day if you can 
Choose a hotel as close to your preferred venue as possible.
Beware that Fringe adds a surcharge of £1-2 for every show order up to £5, whether online or in person (you can buy day-of shows at the box offices scattered around venues), so it's best to buy as many shows as possible at once
Keep in mind there are many free and pay-what-you-wish shows
Pick some shows that seem right up your alley, but don't miss some weird ones, too
For our second-to-last Fringe show, we attended a circus performance called Runners. It was advertised that the performers would run almost a marathon on a treadmill during the course of the show. The four acrobats, hailing from Italy, Germany, and other countries, told personal stories that felt deeply honest before tackling intense physical skills on a 20' by 8' treadmill, including turning 360 degrees inside a giant iron hoop. 
At the end of the show, their bodies tired from 50 minutes of athletic feats, the performers took off running on the treadmill as the producer announced faster and faster speeds. "4…5…6…" Runners dropped out as the numbers inched higher. "8…9…10!" Finally, just one woman was left, running ten miles an hour, with the entire audience on their feet cheering. My mother leaned over to me and whispered, "That's exactly how fast life goes."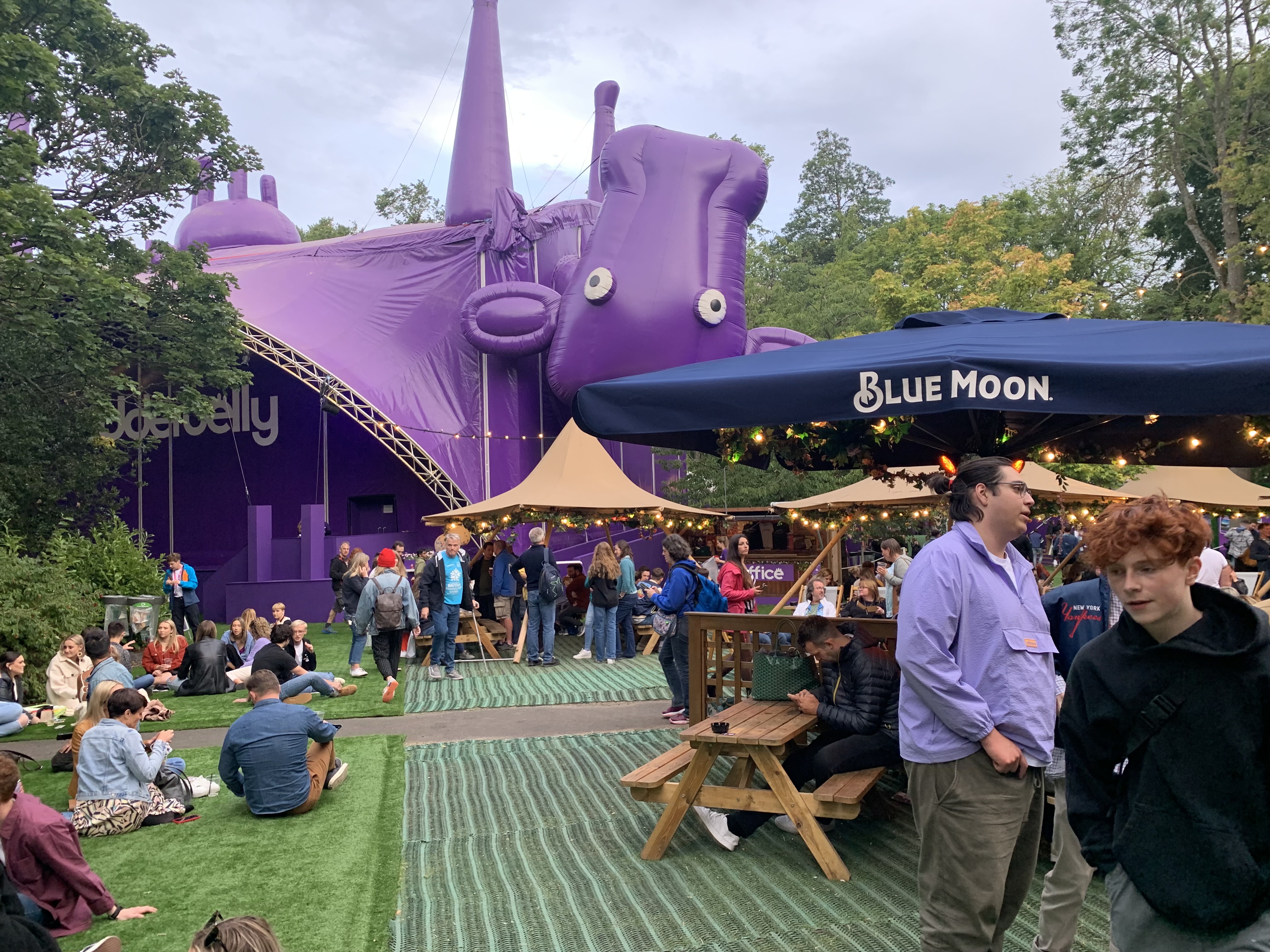 Join us in XP Land. A community for experiential creatives and experience-makers, brand leaders and IP-owners, space stewards and venue visionaries — all of those in the business of epic gatherings and live, immersive storytelling.