Pull up a chair: Your guide to virtual table networking platforms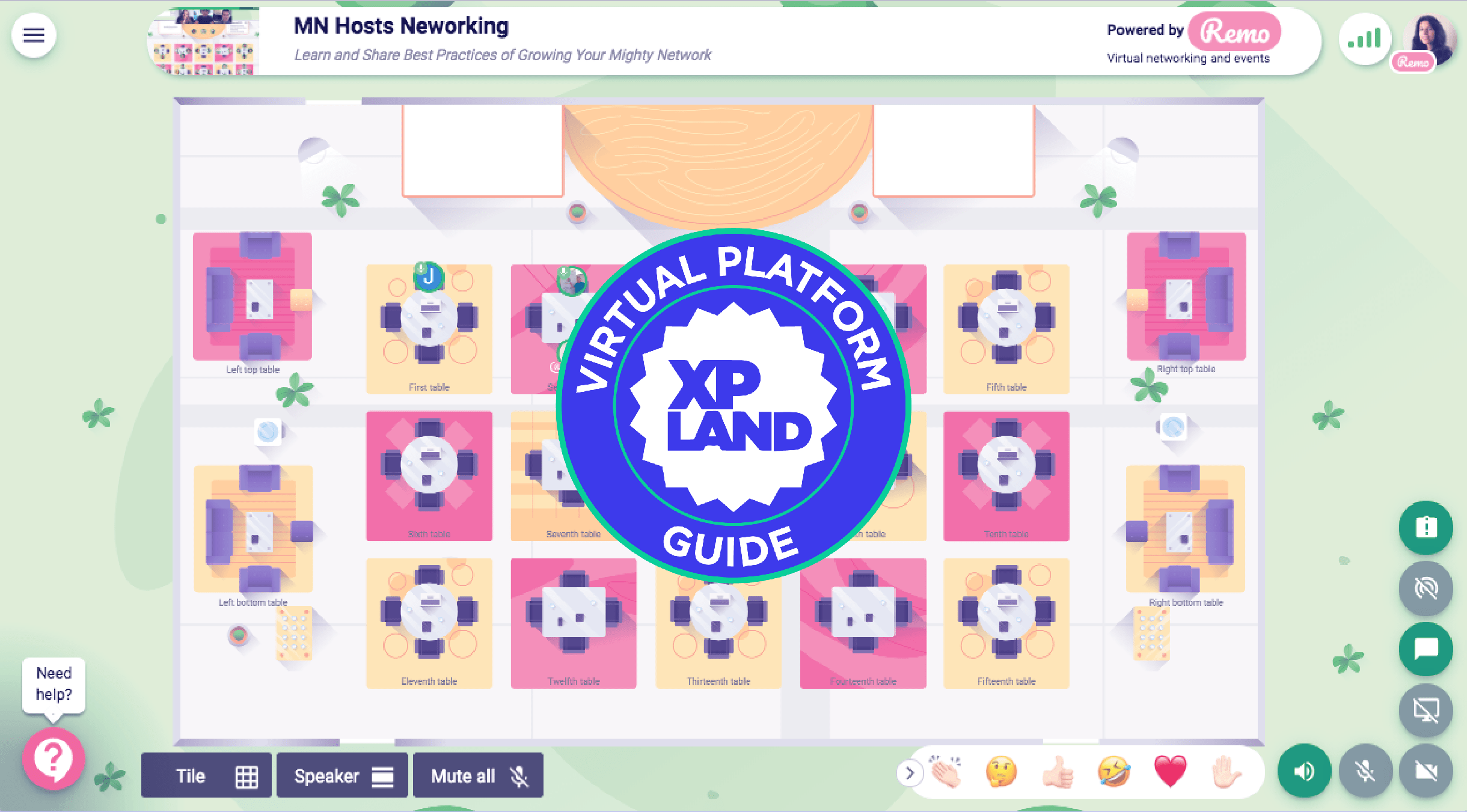 It's challenging to recreate the organic atmosphere of a bustling cocktail party or high-powered networking event in virtual spaces. Scheduling 1-on-1 video meetings with other attendees is taxing, and virtual "speed networking" often lands you in awkward conversations, counting down the minutes until you can X out of the "room."
A handful of platforms have identified this need for a more comfortable online networking format and come up with a solution: Virtual tables that allow attendees to float between small conversations as they please. These types of platforms are most often used for fundraising galas, virtual cocktail parties and casual networking events. It's a bit hard to wrap your head around the concept, but once you've played around with a couple of the platforms outlined below, you'll get a feel for how to use them to create the right virtual experiences for your audiences.
Remo, for example, allows organizers to build out a custom-designed floor plan where they can set up the tables and chairs to match a branded background design. Clicking on an empty chair moves your profile icon to that chair, and you pop into a group video chat with the other members at the table. Compared to 1-on-1 conversations, these group conversations have a sense of flow that makes it a lot less awkward to join or leave.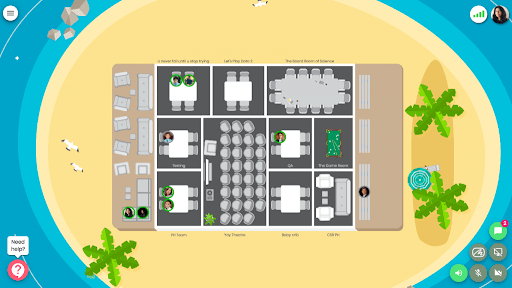 Both Remo and Airmeet, another platform focused on table-based networking, allow organizers to set themes for tables, providing conversation starters and offering some guidance for first-time visitors. Airmeet doesn't have the same level of floor plan customization that Remo does, but tables can also be labeled with icons or topics to break the ice in a conversation with strangers. Airmeet has the added benefit of a wide range of tools for sponsors and multi-track events, making it more appropriate than Remo for large-scale virtual conferences.
However, navigating virtual floor plans doesn't come easy to everyone (yet!), and some users may actually feel most comfortable in a format more similar to Zoom. Rally is an excellent choice for anyone looking for plain-and-simple networking events, using "tables" that are essentially just breakout rooms. One of the coolest features Rally offers — and the most reminiscent of in-person events — is the ability to hear ambient noise from other tables, creating the feeling of a lively space outside of the conversation at your table.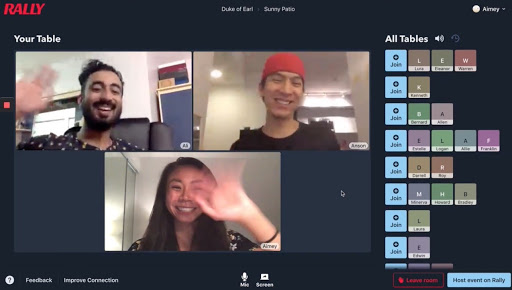 We recommend table networking for anyone looking to simulate a casual and conversational event or offer a low-commitment networking space at a large conference. Following is a breakdown of the most prominent table networking platforms along with their respective strengths and weaknesses.
Remo
If you're looking for casual networking in a fully-customizable environment, Remo offers fantastic bang for your buck with event packages coming in under $1000. It's networking-forward so you wouldn't be able to host a full-fledged conference here, but it's great for table-based video chats and allows for some limited sponsor options. The platform looks like you're on the floor of a building, where you can bounce between tables and use elevator buttons to visit new floors with new attendees. There is also a limited, but functional, stage for presentations that spans all of the floors. Remo is frequently used as the networking component nestled within a full conference platform.
Pros: Easy to navigate, minimal registration requirements, sponsor integrations are smooth, full customization, built-in ticketing, integrates with other platforms
Cons: Limited presentation tools and customization for sponsors, some clunkiness for large events (1000+)
Price/pricing model: Monthly plans starting at $360/mo for a 200-person event, with the option to do a 1-off event
---
Airmeet
Airmeet expanded last year from a casual table networking platform to a feature-rich conference platform, while keeping the legacy option available under the name Airmeet Business. Airmeet Business is similar to Remo, with an emphasis on table networking and the option to host a presentation for groups. Airmeet Enterprise steps things up with presentation tracks, a sponsor expo and reception spaces, in addition to the table networking. These conference features put Airmeet Enterprise on par with other advanced platforms like Hopin and Hubilo. Airmeet's goal is to meet the needs of casual networking events on a budget and larger conferences alike; the only real downside to the platform is the limited number of customization options for the virtual environment. It's worth noting that Airmeet has recently been adding more design options but still falls behind the more customizable large scale platforms like Intrado and Swapcard.
Pros: Nice default styles, strong support team, best table networking in a large conference platform, feature-packed platform
Cons: Limited customization features and tools to design landing pages
Price/pricing model: The absolute basic platform is free up to 100 participants. Monthly plans for Airmeet Business start at $249/mo for a 200-person event, and Airmeet Enterprise pricing requires a meeting with their team to determine what additional features are included in the cost, which is significantly higher than Airmeet Business
---
Rally
This simple table-based networking platform is the easiest way to facilitate conversations in small groups for a cocktail party or a networking event. The price point is low, but the most attendees that Rally can handle at a single event is only 50 people. Attendees join "tables" (which are really just video breakout rooms) to video chat together in an environment free of embellishments, making the platform easy to use. Rally's defining feature is the inclusion of ambient noise coming from other tables in your room, which gives everything a more lively feel. Notably, the ambient noise volume can be controlled or even completely turned off. Rally can host speakers on a stage, but the limited features and event capacity don't make it workable for a conference or large event. If you're looking for user-friendly table conversations for a small event, Rally is a great pick for a low price.
Pros: Ambient noise adds a nice touch, inexpensive, easy to set up and run, straightforward attendee controls
Cons: Not great for large presentations, limited visual customization tools, lacks sponsor features and conference features, very small
Price/pricing model: Free for a room of tables with up to 12 guests. The largest plan only handles up to 50 participants and is $99/mo
Join us in XP Land. A community for experiential creatives and experience-makers, brand leaders and IP-owners, space stewards and venue visionaries — all of those in the business of epic gatherings and live, immersive storytelling.