Bad Vibes and Forced Surprises at the 2022 Oscars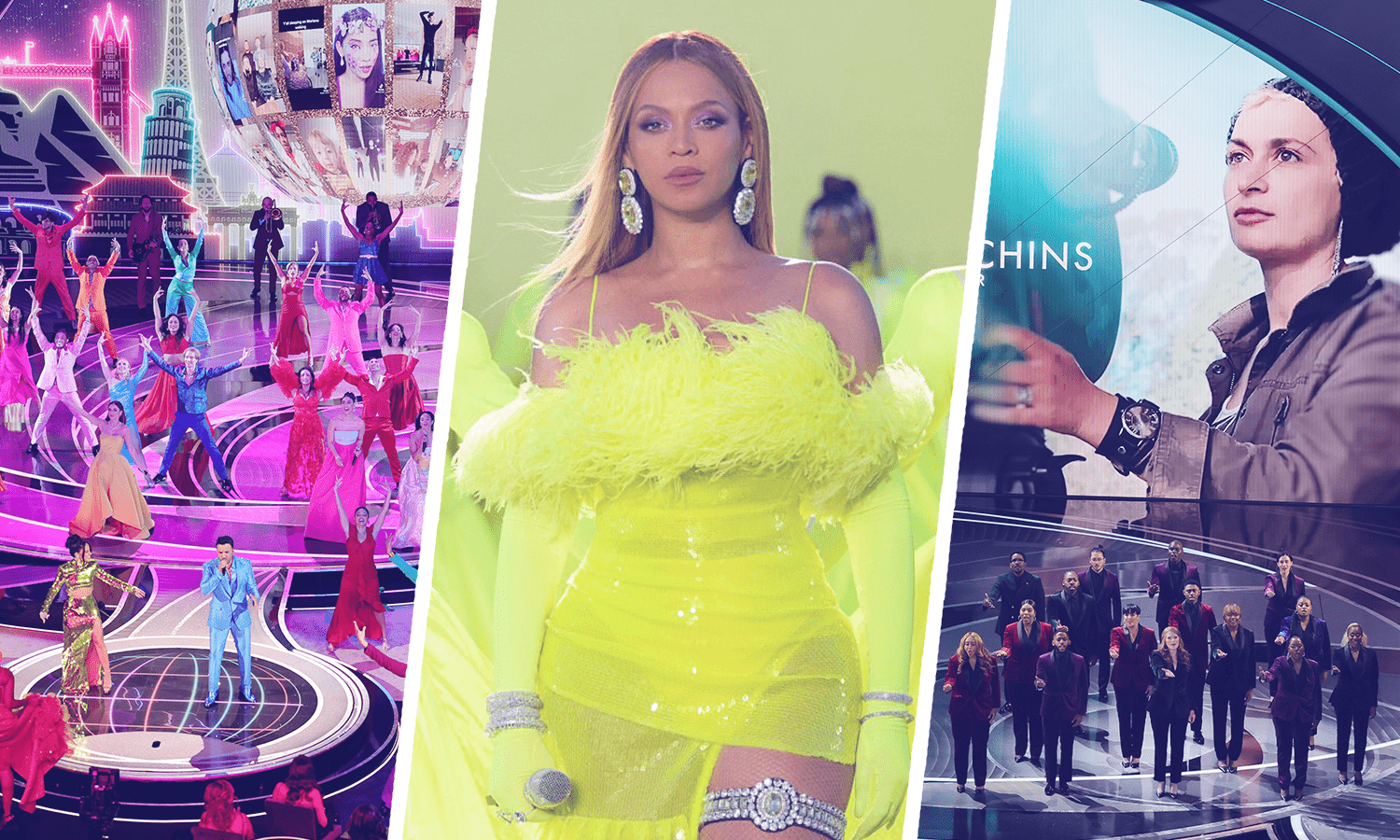 I was excited for the 94th Academy Awards on Sunday night — another relic from the Before Times reemerging from its Covid slumber. I curled up on the couch in my stained high school lacrosse hoodie to judge gorgeous clothes that cost more than my first car. To cringe at the scripted banter between presenters. And to celebrate all of the movies I didn't see.
Don't worry, XP Land won't dignify a certain display of toxic behavior on stage with another hot take. We won't even link to it! However, even without that singular moment, the whole show was a little… uncomfortable. I felt like I was watching an SNL skit mocking the Oscars instead of the Oscars itself. And I'm not the only one whose hopefulness was burned.
According to The Hollywood Reporter, "Sunday's show finished well ahead of the final numbers from last year's scaled-down ceremony, which had all-time lows of 10.4 million viewers and a 2.12 rating in the 18-49 demographic. The Oscars improved by 60 percent in total viewers and 77 percent among adults 18-49."
But don't get too excited. This year's Oscars will go down as the second-least-watched since Nielsen began tracking total viewers in the 1970s. Prior to last year, the audience had never fallen below 20 million viewers. The broadcast hit its peak in 1998, when 55.2 million viewers tuned in to watch Titanic sweep the awards, and has struggled to retain cultural relevance since. Even before the pandemic, awards shows have been — correctly — criticized for being too white, too long, too political and too boring.
It's extra disappointing because experiential professionals know how much time and money ($42.9 million, to be exact) goes into an event at such a scale. In fact, according to NPR:
It requires 30 days to load, set up, rehearse and strike the show.
14 miles of fiber optic cable were used to support the broadcast infrastructure.
There was a 32-foot-wide elevator on stage that descended 50 feet into the basement to assist in changing scenery.
The set was embedded with almost a mile of custom LED tape and covered in 3,500 yards of pleated fabric.
There were more than 3,000 linear feet of red carpet created in custom "Academy Red."
It takes 600 person-hours to install and remove the carpet, which is entirely cleaned the morning of the show.
This year, the vibe was off.
Look, I don't turn on the Academy Awards for a lesson in humility. Insensitive or not, I want to watch hot, rich celebrities flaunt their wealth and success. But the Golden Globes-esque lounge format was out of place in the Dolby Theater's grand ballroom. And the socially distanced setup really hurt the acoustics, making the hosts and presenters sound like they were using an outdated version of Zoom.
Early Covid throwback DJ D-Nice could have been a cool element during transitions and set changes — if they had allowed his music to shine. But for the dulcet tones of easy listening, why not just use the traditional orchestra? Also, what was with the completely new set toward the end of the broadcast? It felt like when the bride puts on a second dress for the reception. You're the bride, girl, everyone's already looking at you.
They've put tables in the front, a taste of last year. They're trying to get everyone to sit down for the 4 pm show. pic.twitter.com/smXn47Wmrg

— Anne Thompson (@akstanwyck) March 27, 2022
There was also messy drama beyond *that* messy drama. In a break from tradition, eight awards were presented before the 5pm PT broadcast even began. Film editing, makeup and hairstyling, production design, original score, and sound, as well as the three short-film categories — were presented by Dune co-stars Josh Brolin and Jason Momoa off-camera.
But then, for some of these awards, nominees were announced on the live telecast, only to awkwardly cut to the winner on stage. Did we time travel? Or were we just subjected to hurried edits? And, of course, even without giving the craft categories their flowers, the broadcast still ran 40 minutes long.
So the vibe may have been off, but the desperation was on and stacked with moments packaged as memes. From DJ Khaled hype-manning the hosts to Megan Thee Stallion crashing the cast of Encanto's performance of "We Don't Talk About Bruno," there were too many forced surprises designed simply for the response, not the experience. Hey, if no one saw these movies, at least there are lots of celebrities to look at!
As the night went on (and on and on), the off-balance mashups continued. Why was the James Bond segment introduced by Tony Hawk, Kelly Slater and Shaun White? Did I accidentally switch channels to the Espys? Then, The Godfather's 50th anniversary hip-hop remix (introduced by Diddy) felt like a very deliberate response to the "Oscars so white" discourse from 2018. Attempting to freshen up a five-decade-old Italian mafia movie by incorporating modern Black culture does not solve the problem of underrepresented POC creatives.
But the Oscars weren't all bad.
Hosts Amy Schumer, Regina Hall and Wanda Sykes were, overall, a fun trio throughout the night. And, as Schumer put it, "This year the academy hired three women to host because it's cheaper than hiring one man. It's fun, right?" It was clear they were up there working and poor Schumer had to get strapped in for the Spider Man bit.
It was a divisive segment, but I enjoyed the more uplifting spirit of this year's In Memoriam. What often feels like a somber place-filler became a celebration of life with the addition of a gospel choir and celebs eulogizing friends and colleagues who passed away in the last year. And don't get me started on the puppy to honor our girl Betty White.
A meeting backstage at the 94th Annual Academy Awards on Sunday led to John Travolta's son taking home the dog that was used as part of a tribute to Betty White during the show's "In Memoriam" segment. https://t.co/DZcwbMHviQ

— FOX23 (@FOX23) March 30, 2022
Coming from the advertising world, I'd be remiss not to mention the creative ads featured throughout the broadcast. Snap aired its first-ever Oscars TV spot, honoring the Deaf and hard-of-hearing communities. Inspired by CODA, the ad shows people using Snapchat's augmented-reality Lenses to learn American Sign Language.
ABC also made sure it was a good night for big daddy Disney. The multinational entertainment and media conglomerate that owns the network — plus Hulu, Marvel, Pixar, and more — took over the pre-show red carpet and dominated ads throughout the broadcast. A very expensive attempt to distract viewers from their fumbling response to Florida's "Don't Say Gay Bill."
When Chris Evans segued into a promotional clip from his upcoming Toy Story spinoff, Lightyear, and BTS appeared in a video featuring Disney and Pixar musicals, it was unclear what was pure entertainment and what was just another ad. I'd be more inclined to compliment Disney on its creativity if it weren't for the homophobia.
Of course, Beyoncé makes everything better. The queen wore tennis ball green with a fleet of dancers, singers, and musicians performing live (?) on a public court in Compton. A much-needed sense of grandeur was stirred up as she performed her nominated song, "Be Alive," from King Richard. This was the Hollywood opulence I was looking for all night. Too bad it came at the very beginning of the broadcast and never returned. (Until they cut away to Queen Bey sitting at her seat late in the broadcast, proving that it really is a long drive from Compton to Hollywood & Highland — or a short helicopter ride.)
Beyoncé decided to grace them with her presence. So benevolent.

— roxane gay (@rgay) March 28, 2022
Experiential lessons from the 2022 Oscars
This year, fans were able to vote for their favorite movie on Twitter and selected Netflix's zombie action adventure Army of the Dead. Second place went to Camila Cabello's notorious flop, Cinderella. While the Oscars Fan Favorite experiment felt more like bored bros trolling the awards than the at-home-audience-engagement-experience it was intended to be, there could still be opportunity there.
Perhaps the Academy could host a contest for movie fans to really vote as an Academy member? Vote in a fan-favorite nominee in each category? Or vote on a new category altogether? The Oscars must find a way to meet people where they are and engage them all year round, not just one Sunday per year. The Academy Museum of Motion Pictures opened last year; how can it be an even better interactive hub for film buffs or celeb fashion stans like me?
As with the Great Resignation and the shift to work from home, maybe Covid has permanently disrupted old-school awards shows. "The slap" certainly disrupted this show and continues to make headlines days later. Not many are talking about the first win for a male, deaf actor; first streaming service to win best film; or first back-to-back wins by female directors. It's time for a new way to honor these milestones. No dumb jokes or thoughtless violence necessary.
Join us in XP Land. A community for experiential creatives and experience-makers, brand leaders and IP-owners, space stewards and venue visionaries — all of those in the business of epic gatherings and live, immersive storytelling.