New York's immersive Banksy exhibit: Innovative or gimmicky?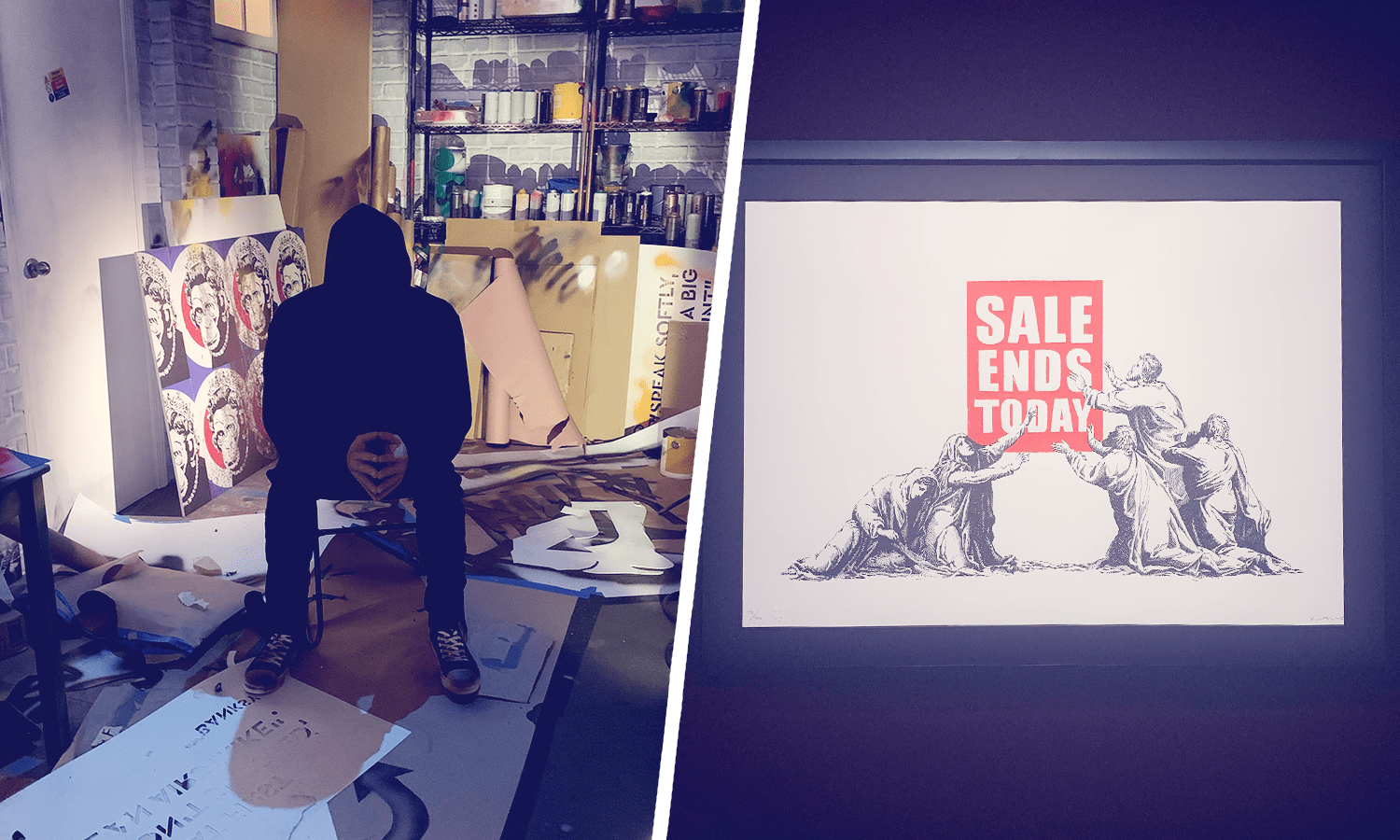 The immersive "Banksy: Genius or Vandal?" exhibit launched in Brussels, Belgium, in the spring, following the international success of the "Immersive Van Gogh" (and later its rival "Van Gogh: The Immersive Experience"). Now Banksy's snuck its way to the US, with temporary pop-up locations in Los Angeles and New York. Over the course of 2021, Dali, Monet and Picasso also had exhibits launch in their honor as the immersive artist pop-up craze spreads across the globe.
Van Gogh's 19th century works entered the public domain decades ago, which allowed his paintings to be adapted into animated immersive projections and VR experiences without authorization from the artist's estate. On the other hand, "Banksy: Genius or Vandal" suitably declared itself "unauthorized" and never received permission from the still-anonymous artist.
If Banksy had made an appearance, he would almost certainly be underwhelmed.
The pop-up is a rough-around-the-edges, 45-minute self-paced museum environment, with two immersive components ripped straight from the Van Gogh experiences: a 360-degree projection room and a VR video. These immersive elements weren't necessarily the highlights, but they did — in a sense — distinguish the experience from being just another pop-up museum.
Different rooms divided Banksy's art thematically and chronologically, with photographs of some of the most famous works and small pieces of art on loan from collectors. The depth of information was fascinating and did an excellent job covering Banksy's story, despite the placard copy and curation feeling a bit lackluster compared to an actual museum.
The irony of the whole experience was that "Banksy: Genius or Vandal" is exactly what Banksy would despise: an unsanctioned for-profit consumer experience. The anti-consumerism and anti-gallery icon would certainly not be a proponent, and it went so far beyond Banksy's ethos that being "unauthorized" is (potentially) a wink to the artist. The same way "Exit Through The Gift Shop" — also the title of the 2010 street art documentary directed by Banksy — is maybe-satirically painted on the wall directing visitors to the exhibit's sparse merch window.
What we loved
Great information and flow. The exhibit had a surprising depth of information on Banksy and his mysterious history. The flow through different areas made sense: introducing visitors to the artist, presenting Banksy's work in adapted 360-degree panoramas, taking visitors through the artist's history and finally delivering a climactic VR ending.
The immersive components. There wasn't anything particularly novel about the Banksy exhibit that hadn't already been done (notably better) in the Van Gogh experiences, but the immersive components set "Banksy: Genius or Vandal" apart from what would have simply been a pop-up museum dedicated to the artist.
Multi-format experience. Between visuals, audio guides, projections, video, sculptures and VR, the experience implemented an excellent variety of formats… Our thoughts on how some of those could have been done better are below.
What we would love to see
More immersive elements. Previous immersive art experiences succeeded by breaking the mold, but this one played it safe by sticking to the mold. What if there had been undercover actors discreetly changing components of the exhibit? Could they have implemented an interactive element where guests could contribute their own graffiti to a wall, only to have it inevitably covered up by a future artist? What about gamified interactive elements, like chasing Banksy through the VR streets of London?
Get experts on the case. Not all immersive art exhibits require museum-level curation. The Van Gogh experiences were notably not museums and let the projection visuals tell the entire story. "Banksy: Genius or Vandal" relied heavily on written information to tell Banksy's story and the writing caliber was below that of a museum curator.
Better audio experiences. If you're creating an audio tour, make it user-friendly. Small rooms of the exhibit have audio guide tracks up to eight minutes long, most of which regurgitates information posted in the space. Audio should add new details in an interesting format, rather than being an afterthought.
Make the experience match the artist. As previously mentioned, the experience was "unauthorized" for a good reason: it was contrary to everything Banksy stands for. That was funny in its own ironic way, but it's certainly possible to create an experience that actually honors Banksy. Textured walls, outdoor spaces and a sense of discovery would be good places to start. Dropping the consumerism and leaving the exhibit open to vandalism would have been much edgier and truer-to-form.
Immersive art exploring new genres. Banksy wasn't a rehashing of the "19th/20th century art reimagined" concept, which was something to applaud. As the immersive artist exhibit trend continues, we hope to see more unique and modern artists explored. Both Jen Stark and Pipilotti Rist have hit the mark with their (authorized and self-curated) exhibits. In the future, we hope that exhibits honoring individual artists can match the caliber — on a smaller scale — of destination attractions like Meow Wolf and Superblue.
Subscribe to the XP Land newsletter. Follow us on LinkedIn, Instagram, Facebook and Twitter.