MLB's 'Field of Dreams' game: Is this Hybrid Heaven?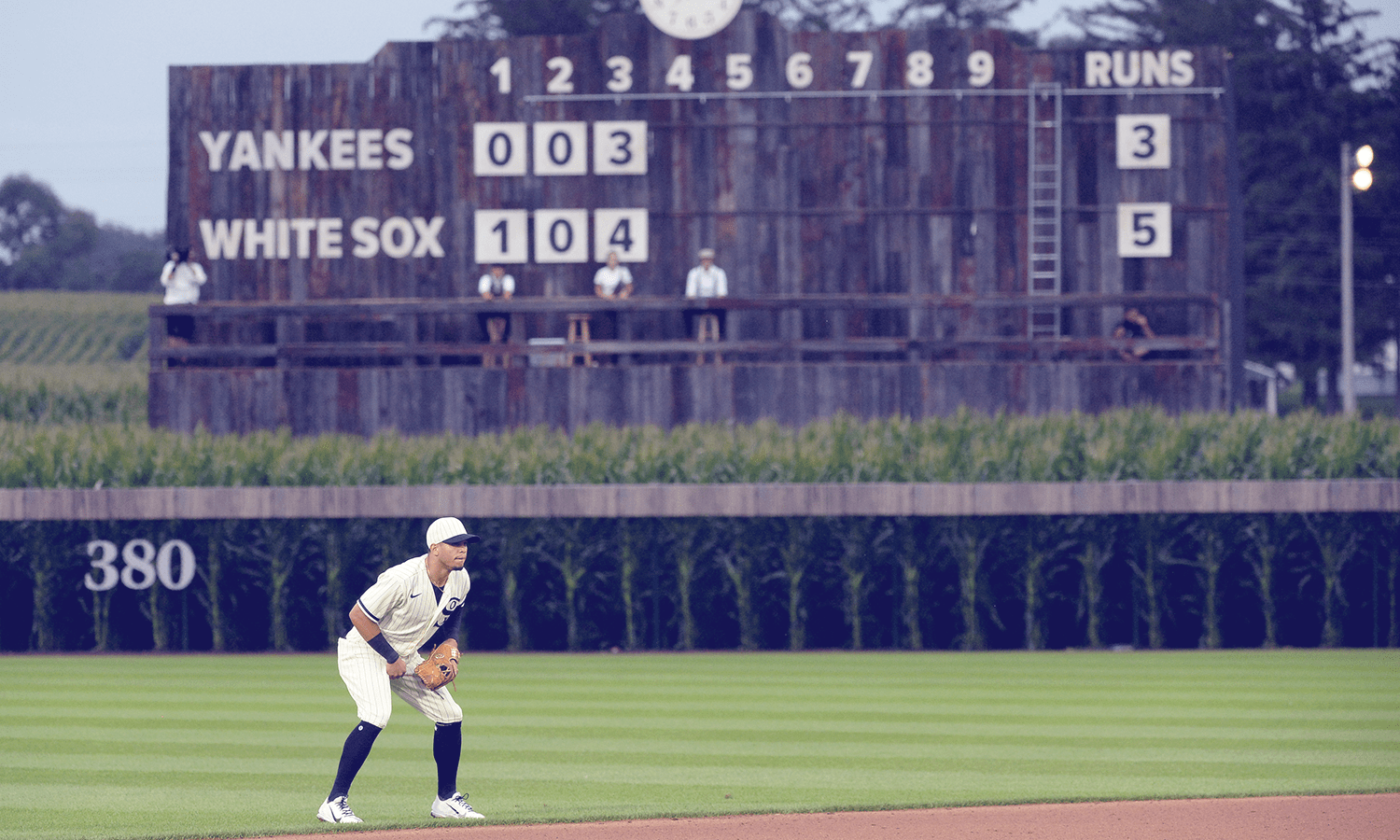 Finally, the first truly great hybrid event of the pandemic
THE WHAT
To celebrate the 30th anniversary of the release of "Field of Dreams" (you know, Kevin Costner, Amy Madigan, James Earl Jones, Ray Liotta, "If you build it …," you know the rest) — MLB announced plans in 2019 to build a park in Dyersville, Iowa, where the movie filmed. After a one year pandemic delay, the game finally took place Aug. 12, 2021. Many called it corny — it did take place in a cornfield, so we expected that. But we didn't expect it to be the best hybrid event we have experienced.
THE XP TEAM
According to MLB.com: "Since 1989, the Lansing Family Farm, which was used in the movie, has been a popular tourist attraction, now known as the 'Field of Dreams Movie Site.' In 2011, the field was purchased by Denise Stillman and a group of investors with the goal of preserving the Field of Dreams and creating a special place for baseball fans, tournament players and families. Stillman partnered with MLB in 2015 [with her company, Go the Distance], which has now culminated in this special game." 
THE AUDIENCE
Who says baseball is dead? Who says TV is dead? This made-for-TV event was created for baseball lovers, movie lovers — basically anyone with a heart and/or a soul. And the dream game majorly paid off for MLB and for FOX. According to USA Today: "The game, with its Hollywood ending and its setting within America's heartland, was the most-watched regular season MLB game in 16 years, with 5.9 million viewers across FOX and FOX Deportes."
Oh, and don't forget the 8,000 fortunate (and affluent) fans who got to see the game IRL. Tickets, with a face value from $375 to $425, were sold to fans in Iowa, as well as lottery-winning White Sox season ticket holders. But on the secondary market, tickets were going for an average of $1,400.
THE FEEDBACK
"That was as special and breathtaking a setting for a baseball game that I can ever remember… When we walked out through the cornfields and saw the stadium, just the perfection of the night, with Kevin Costner standing out there in short center field, that's a moment I'll remember for the rest of my life." — Yankees' Manager Aaron Boone in the New York Times
"The Field of Dreams game was more than unbelievable. It was perfect." — Randy Peterson writing for the the Des Moines Register
"It's nuanced, and it's with love, you can see it… I think 'Field of Dreams,' all the way through, from the movie to this moment, has had the benefit of people who are very careful." — Kevin Costner in the New York Times
THE HOME RUN
It was a full-on love-fest from nearly every media outlet, even beyond sports. And from an XP standpoint, we thought it was hybrid perfection, built for both the fans there IRL and the fans at home, but — importantly — built differently for each, and with a very thoughtful approach that began with how each audience would want to experience the game.
For the IRL folks:
There was a pathway to the park among the cornfields and the adjacent ball field from the movie was a spot to play catch. There was also a replica of the movie house, a watch party in town square and an old-fashioned scoreboard with score keepers in old-timey outfits. The event even sold hot dogs wrapped in apple pie, compliments of Guy Fieri and Chevrolet.
For those of us at home:
We watched a cinematic close-up of Costner in his signature khakis and crisp white shirt, coming out of the cornfields, accompanied by the moving musical score from the film. He was soon joined by the real life Yankees and White Sox from amongst the corn. Throughout the game, at-home viewers were treated to interviews with Costner, clips from the movie and factoids about the game. And the camera angles caught the excitement of not just fans, but players, coaches and announcers, too.
You know you nailed it when your on-field talent is as excited about being there as your paying ticket-holders. David Ortiz was dressed in a sweater vest and pageboy cap, à la the movie's character Thomas Mann, played by James Earl Jones.
THE CLOSER
The whole experience was one of those magical moments where life felt like a movie and actually exceeded expectations. And, it was helped along by a glorious sunset and a walk-off home run by Tim Anderson that gave the White Sox a dramatic win. It could not have been scripted better. We find that when you are careful, as Kevin Costner puts it, the universe conspires in your favor. And that's what happened in Iowa last week, at a much needed time for all of us.
As you know, one of our favorite rules of XP is, "always leave 'em wanting more." Nicely done, MLB. We do want more. And, this just in: Next year's Field of Dreams has been announced between the Chicago Cubs and the Cincinnati Reds. Thanks to all the recent hype, "Field of Dreams" will be coming to a TV screen near you (no word on a release date, sadly).
Subscribe to the XP Land newsletter. Follow us on LinkedIn, Instagram, Facebook and Twitter.