It's Giving Weekend 1: My First Coachella Music Festival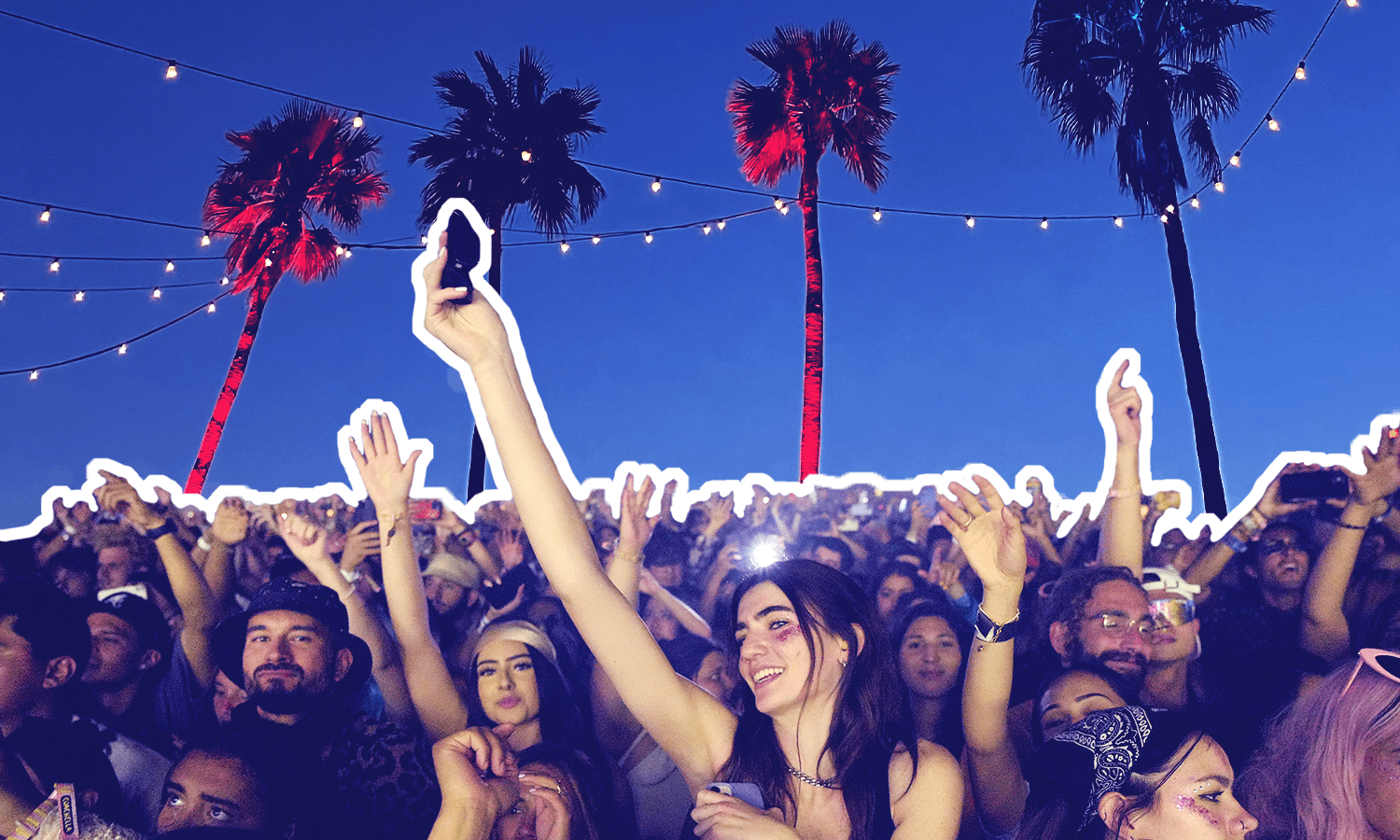 Well, what happened at Coachella certainly didn't stay at Coachella. I attended my inaugural Coachella Valley Music and Arts Festival last weekend and experienced the welcomed return of festival culture first-hand.
The truth is, I never imagined myself on the grounds of the Empire Polo Club. Maybe it was the camping that turned me off. Or the Indio dust storms, so thick that they obscured the surrounding mountains and are still giving me respiratory issues. ("It's not Covid! Just Coachella.") Or maybe it was the social media game — attendees competing to prove who had the best outfits, the coolest friends and the most fun. But there are no winners in the Valley. Everyone leaves tired and dirty. Especially if Revolve has any say in it…
Nevertheless, the 2022 lineup was stacked (Harry Styles, Billie Eilish, The Weeknd, Megan Thee Stallion…) and my friends from college wanted to go. At the very least, it would be a weekend in Palm Springs and the chance to hear live music again. Plus, maybe I'd see Vanessa Hudgens, the queen of the desert herself, strut her dusty catwalk IRL.
Please note: I did not, nor will I ever, camp.
Apparently, there is, in fact, a difference between Weekend 1 and Weekend 2 — at least according to the Coachella veterans. The first weekend is, traditionally, packed with more celebrities and media coverage than it's second weekend sister. News outlets clamor to break stories on surprise performances, celeb gossip, and style stories. By Weekend 2, the tone has been set. Vets often consider Weekend 2 the more "authentic" version of Coachella, harking back to the early 2000s when the focus was solely on the music.
In preparation for the festival, I made sure to bring all the essentials. Sunglasses were a must, along with chapstick, hand sanitizer, and a bandana. The desert wind picked up in the evenings, and to my surprise, it got cold. So cold that I waited in line for two hours just for a sweatshirt (though, to be fair, I wanted the merch as a trophy for enduring the weekend).  
Sunday's heat wave finally met my expectations for the weather everyone talked about, not to mention the dust. By the end of the weekend, I could feel the dirt infiltrating my lungs with every breath. If you didn't have a bandana and sunglasses walking out of the festival, you should just go straight to the doctor.
My first impression of Coachella was no different from any other festival I have experienced, if you add in the ferris wheel and colorful spectra immersive art installation you see in all the photos. In terms of the venue layout, it's just as you would expect. The stages are separated by beer gardens, water filling stations, real restrooms (with flushable toilets!) and lemonade stands with fresh-squeezed magic. @Coachella, drop the recipe!
It's been three years since the last Coachella — or any festival, really — so people were eager to put on their glitter and see Harry Styles glitter, too. Shoutout to Shania Twain for that surprise visit. Man, I do feel like a woman now.
It also felt like a world pre-Covid. Goldenvoice, the LA-based concert promoter that puts on the show, required no proof of vaccination to attend, nor were masks required, or even seriously encouraged, on the grounds. Time will tell whether I just returned from a superspreader event.
One extra safety measure Coachella did take, thankfully, was crowd safety. In the wake of November's Astroworld tragedy — which presumably lost Travis Scott his Coachella headlining gig — everyone was on high alert. According to the Los Angeles Times,
"Artists including Eilish and Arcade Fire's Win Butler interrupted performances throughout the weekend to direct concert staff toward people who appeared to be in trouble; security guards handed out free water bottles to thirsty fans on numerous occasions. No major medical emergencies appear to have gone down."
But why is Coachella the festival that everyone talks about?
The surprises onstage: Coachella is known to keep audiences on their toes. When the lineup is released, it gives only a glimpse into the plethora of artists you will see. This year, Disclosure cozied up to Khalid, while Daniel Caesar shared some stage time with Justin Bieber. And the jaw-dropping pairings like Harry and Shania. Let's just say, you really get what you pay for.
The celebrity sightings: As you may have seen on Instagram and TikTok this week, Coachella is basically the Met Gala 2.0 (with some additional teen influencers sprinkled in). The odds of running into a celebrity at Coachella are higher than Snoop Dogg onstage with Anitta. I myself saw ex-Bachelor Colton Underwood and his new beau moments after arriving on Friday afternoon.
The exclusivity factor: With fame and fortune come VIP perks and… limited capacity. This year's Revolve Festival was compared to Fyre Festival after a transportation mishap left influencers stranded, dehydrated and no longer feeling important. Luckily, there's no time like Weekend 2 for a Weekend 1 redemption.
The brand activations that don't suck: While attendees come for the music, they spend a good deal of their time in various lounges or brand experiences organized to promote the festival's sponsors. Some are pretty cheesy, but they fit the tone of the experience (even the potatoes):
All in all, my first Coachella was a success. Nothing beats live music with good friends, greasy food, and a shower upon arriving home. I think it's safe to say that the festival is a bucket- list item, but do I feel compelled to return every year? Not unless I can skip the merch line.
Subscribe to the XP Land newsletter. Follow us on LinkedIn, Instagram, Facebook and Twitter.