You had to be there: Our favorite (and least favorite) XP from Pop-Up Magazine's night in Brooklyn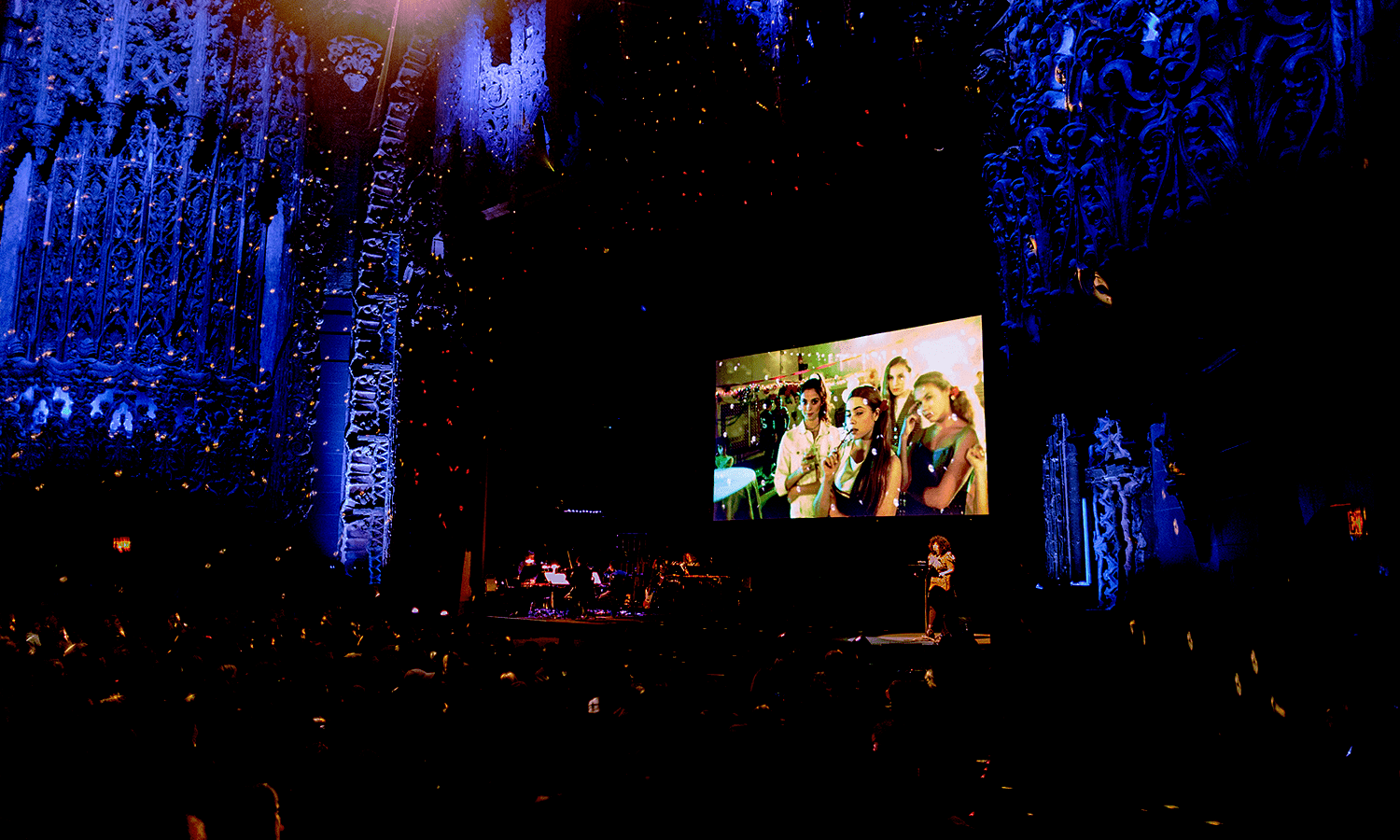 The program said it would be "a night filled with dark skies, whisper networks, hip shaking, bluffing, inheritance, freestyling, lingering looks and more." A collection of loose phrases that meant as little to me then as they do to you now, but this is what makes Pop-Up Magazine so special.
As Covid restrictions loosen (and my own bout last month subsiding), my to-do list grows longer. There are old museums and restaurants I need to go back to and new shops and nightlife I must experience immediately. I'm booked and blessed in the protective shield of my post-Covid antibodies. At least for the next few months).
High on my list was Pop-Up Magazine — a magazine performed live. The shows feature never-before-seen (or heard) stories, performed on stage by writers, radio producers, photographers, filmmakers, and musicians. The events are not livestreamed or recorded for later viewing. You, quite literally, had to be there.
Dragging my dear friend, visual journalist Louie Rendon, along for the ride, we set out for BAM (that's the Brooklyn Academy of Music for the uninitiated). If there's one thing Louie and I love to do together, it's riff on bad writing, so we are the worst people to have in any audience. And, of course, as an experiential pro, I'm not one to let any screw-up slide. Let's get the bad news out of the way first: keep reading to discover my least favorite parts of the evening (with details on what they should have done instead), as well as some of the best experiential details.
The not-so-good XP
A (VERY) DELAYED START TIME
As a type-A personality and bossy oldest daughter, I don't like to be late. The day before the show, I received an email from Pop-Up with some last-minute details (which of course I loved, so they do get bonus points for soothing anxious attendees). The email stated that guests should arrive no later than 6:45pm for the 7pm start time.. Of course, I timed out the trains and told Louie he'de better be there at a quarter till, or else! Cut to 7:40pm, and we were still scrolling Twitter in our seats, house lights up, waiting for the show to start (and now hungry, too).
Instead… Communicate with your audience. I wasn't mad that the show was behind schedule, but I was frustrated that no one acknowledged it. Experience makers don't have to defend themselves or even share what's going on behind the scenes — just state that yes, there is a delay, and we will be starting as soon as we can. The silence left me triple-checking my email to confirm that I'd read the time right.
INTERRUPTIVE "WORDS FROM OUR SPONSOR"
One of the biggest critiques I've heard about Pop-Up Magazine over the years is about the advertisements. And you may be wondering how a live event can have live ads. A few times throughout the night, in between storytellers, our host for the evening would hit the stage to introduce "a word from our sponsors" — followed by an ad running on the screen behind her. The walk out to announce each sponsor only made their presence more noticeable and their quippy videos more disruptive.
Instead… Your attendees don't want to see or hear from sponsors, but your sponsors literally pay for access to your audience. So how do you please both parties? It's a delicate balancing act, but the more your sponsors are embedded in the programming, the better. Pop-Up did have some good sponsorship moments in there, too. Dr. C Nicole Mason's presentation on behalf of the Institute for Women's Policy Research was so personal and heartfelt, I wouldn't have known it wasn't an organic segment. More of this, fewer WNYC programming trailers, please.
TECH INCONSISTENCIES
While I loved (loved!) how mixed media was woven throughout each story, it wasn't just the topics that provided an element of surprise. Some videos included captions, while others did not. Some audio was too loud; at other times it was too quiet. As an audience member, I found this a little irritating. It defied my expectation that audio and visual support would be inconsistent throughout the evening.
Instead… Keep Calm and Be Thorough. (That's the saying, right?) Yes, in the final days and hours leading up to live day, creators and producers are scrambling to collect the necessary media and screen cards. Videos are emailed in the wrong format and photos in the wrong dimensions. It's chaos, and sometimes it's easier just to say (click here, though NSFW). Attendees may not notice consistencies — like streamlined and legible captions on every video segment — but they will certainly notice when the presentation is off.
The good XP
ABSOLUTELY FABULOUS SPEAKERS
What is a stage show without wildly talented artists on that stage? As Louie said on our way to dinner afterward, "There wasn't a stinker in the bunch." While we each had our favorites, there wasn't a single segment I didn't get lost in. Everyone was fabulous. And by fabulous, I don't mean perfect. Notecards went missing, words were stumbled over, and a live demo of the new board game created by Tracy Clayton, Aight, Bet, ended in an early blowout.
I cried watching home movies of filmmaker Adrian L. Burrell's grandmother during her final years as the family matriarch during his segment, "Mama's Babies." I was confronted with my own biases as philosophy professor and journalist Chloe Cooper Jones detailed her life with a rare congenital condition, constantly hearing whispers of "Don't stare." Fabulous means authentic, believable and passionate. I can't imagine anyone else telling those stories as well as each speaker did that night.
SMART USE OF MIXED MEDIA
Sometimes, creators and event producers are so pressed to incorporate technology into their programming that the result seems forced. Not here. The mixed media was simple, and supported each narrative to immerse the audience into the story. Kicking off the night, for example, illustrator and writer Kristen Radtke's animated drawings brought to life the power of gossip as a bonding and social tool.
Then, as journalist Brooke Jarvis detailed the spectacular firefly light show in Great Smoky Mountains National Park, the theater twinkled as though we'd been dropped into a Tennessee forest. All the while, a live band was tucked away in a back corner of the stage. The stories themselves were the stars, with each additional element existing purely to enhance the scene.
SURPRISE AND DELIGHT
It's an industry cliché, but the phrase exists for a reason. With segment titles like "Tell Me Everything," "Full Sideburns," "The Boogie" and "Aight, Bet," I had no idea what each would bring. Who would have guessed that "Full Sideburns" chronicled writer Elena Passarello's quest to enter an Elvis impersonator contest, or that "The Boogie" recounted photographer Oscar Castillo's time in a Venezuelan prison where the inmates are in charge?
Every Pop-Up Magazine show is a once-in-a-lifetime experience. I've been to two now — the first all the way back in 2018 — and each was such a distinct evening. The only similarity was that they both took place in a New York City theater. There are so few happy surprises left in the world; how could I not give myself permission to sit back and get swept up in seven emotional, hilarious, devastating and enlightening stories?
Storytelling takes us out of our own experiences and into another person's world. There are countless ways to get creative with speaking events, but Pop-Up Magazine proves that the simplest formula — incredible storytelling plus passionate speakers — is strong enough to stand on its own.
Join us in XP Land. A community for experiential creatives and experience-makers, brand leaders and IP-owners, space stewards and venue visionaries — all of those in the business of epic gatherings and live, immersive storytelling.