What in the XP ever happened to…: Learning from Pokémon Go, HQ Trivia and more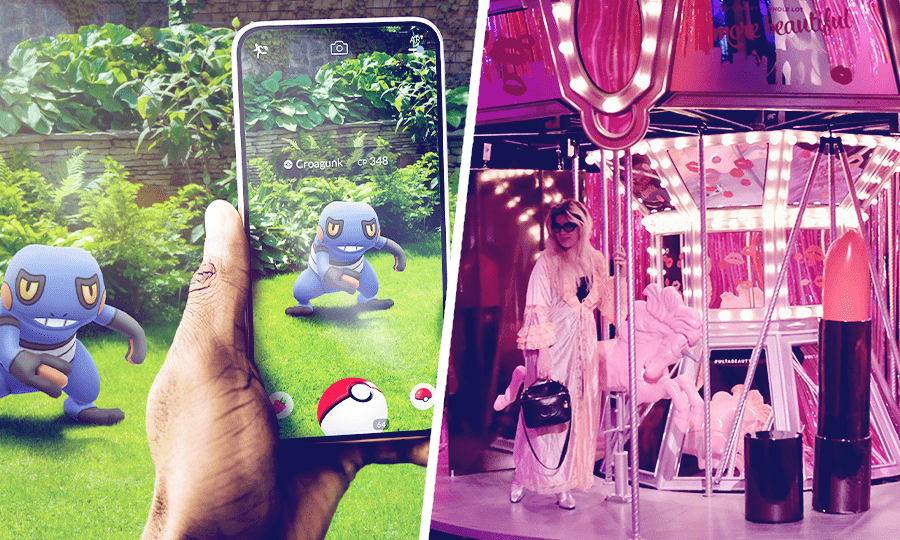 What's the ​​"My Sharona" of the experiential industry? Or "Ice Ice Baby?" or "Stacy's Mom?" That one activation or experience that was everywhere and then, just like that, it was gone. As the XP Land team gears up for Q4 wrap-ups and 2022 planning, we're reflecting on how far events and experiences have come, not only this year, but over the last decade.
Unsurprisingly, almost every moment on our list (except a couple very special outliers) either requires, or is enhanced by, technology. Maybe the tiny overlord in our pocket is the reason XP is evolving so quickly — with constant exposure, consumers get bored easily and are forever on the lookout for the next cool experience.
We've found it fascinating to look back on some of the XP that saw a huge spike in popularity before entering the dreaded "background noise" category — join us on the journey and check out our favorites below:
Immersive theater
Though the concept dates all the way back to the 19th century, modern immersive theater was founded in London by Felix Barrett in 2000, the creative mind behind, Punchdrunk. Small groups of free-roaming audiences directly engage with actors in detailed theatrical spaces, pulling theater-goers right into the scenes of the show (and right out of their comfort zones). In 2015, there were dozens of immersive opportunities for the curious and the brave, including Queen of the Night, Sleep No More and And Then She Fell.
Where are they now? After numerous New York productions closed in rapid succession, plus some pretty serious allegations of abuse and misconduct, immersive theater took an extended break from the experiential scene. And then, you know, Covid… But now, with Punchdrunk announcing The Burnt City in London and Sleep No More's return to NYC, we could see a historic comeback to the genre.
Our XP takeaway: It's not often that consumers put their phones down and focus on the moment. When immersing your audience into another world, amping up behind-the-scenes technology, ironically, engages them enough to put their own tech away and get lost for a couple hours.
Pokémon Go
Peaked: 2016
Where did it come from? It was the summer of 2016. Barack Obama was president and everyone was outside catching Pokémon. It was a simpler time. The AR gaming app used GPS on smartphones to "locate, capture, train and battle" virtual Pokémon that appeared to be out in the real world. Nostalgic adults engaged to rediscover a game many loved as children, while younger generations discovered the Pokémon world for the first time. There was also an almost-stampede in Central Park.
Where is it now? While the gamer-curious moved on quickly, Pokémon die-hards are still out there, fighting to catch 'em all. Last year was the game's most profitable year yet.
Our XP takeaway: Novelty wears out quickly for non-devotees, so always plan a follow-up act for the masses.
Take me back to Summer 2016 when I first downloaded Pokémon go.

— Lexus Bree (@Lexbree) May 17, 2020
HQ Trivia
Peaked: 2017
Where did it come from? First released in 2017 (and developed by Vine creators Rus Yusupov and Colin Kroll), the trivia app had us all stop whatever we were doing twice a day to play live trivia games to win (but really split) prize money. Players had 10 seconds to answer multiple-choice questions that become much harder each round. HQ generated millions in revenue through brand partnerships and in-app purchases — and worked with Nike, Google and NBC.
Where is it now? Well, a lot happened. There was a drunken finale, empty bank accounts and claims of a comeback. Luckily, inquiring minds at The Ringer made a podcast about it.
Our XP takeaway: Trends that come in hard and fast often burn out quickly. Leave your audience wanting just a little bit more. But stay active on social channels to let them know you haven't suddenly closed amidst a financial scandal (seriously, listen to the podcast, it's a wild ride).
"Some Good News"
Peaked: 2020
Where did it come from? During its run on YouTube, actor John Krasinski self-financed and produced weekly episodes of "Some Good News" (SGN to insiders). The series was designed to spread, as its title indicates, some good news to viewers stuck at home amid the pandemic. In just two months, the YouTube channel had 2.56 million subscribers, with some episodes receiving as many as 17 million views.
Where is it now? Like so many cool ideas before it, SGN went corporate. ViacomCBS bought the webseries in May 2020. Rumor has it, the show is continuing production and will stream new episodes on Paramount+, with Krasinski as executive producer.
Our XP takeaway: Authenticity is everything. While, of course, the goal is always to grow and add more financial backing, do everything with your original audience and mission in mind.
Immersive exhibits
Peaked: 2017
Where did they come from? Conceptually similar to immersive theater, exhibits came on the scene just as quickly. The immersive-and-Instagrammable-funhouse trend began in 2016 with Refinery29's 29Rooms. That year, the publisher tied their series of (29) branded installations to New York Fashion Week, with rooms conceptualized by brands like Disney, Ford and Michael Kors. Interestingly, from 29Room's brand extension exhibit came non-branded (and highly specific) interpretations of the theme like The Museum of Happiness, The Museum of Ice Cream, Rose Mansion and Color Factory.
Where are they now? They've evolved into immersive art exhibitions. Thanks to the social distancing requirements, we can't hold hands and jump in a ballpit of sprinkles anymore. Traveling exhibits like Van Gogh: The Immersive Experience and Banksy: Genius or Vandal? drop attendees into the minds of these celebrated artists, while also maintaining six-feet of space between guests.
Our XP takeaway: If you're jumping in on a successful trend, it's already too late. Brainstorm how your creative team can evolve an experience, not copy it.
Social media challenges
Peaked: 2013
Where'd they come from? Back when Facebook was king and Instagram was rising through the royal ranks, users challenged each other to everything from the odd (planking) and silly (Harlem Shake) to the creative ("In My Feelings") and inspiring (ALS Ice Bucket Challenge, which raised over $115M worldwide).
Where are they now? TikTok. And they're coming hard and fast. Many of today's challenges, primarily promoted by Gen-Z creators, are not for the faint of heart.
Our XP takeaway: Everyone wants to feel a part of something bigger, even if it means lying flat as a board on a park bench for the 'gram. How can your experience or activation involve attendees so they feel both included and proud?
Netflix Party
Peaked: 2020
Where did it come from? As we all quarantined in early 2020 (for a wee bit longer than the original two week-plan), both seeing friends and going to the movies became impossible. Thanks to a Google Chrome extension called Netflix Party, groups could get together virtually and watch their favorite Netflix titles on their computers at the same time. The extension also came with a chat room to share reactions and generally mock each other.
Where is it now? Now called Teleparty, the tool has evolved to synchronize video playback and add group chats to Netflix, Disney+, Hulu and HBOMax.
Our XP takeaway: Some experiences exist in a very specific time to solve for a very specific need. And that's okay! Thank you for your service, Netflix Party.
What else should go on the list? And what in the XP will happen next? Tweet us at @xpland_news to share your favorite experiential activations of yore.
Join us in XP Land. A community for experiential creatives and experience-makers, brand leaders and IP-owners, space stewards and venue visionaries — all of those in the business of epic gatherings and live, immersive storytelling.