I want to be a(n immersive experience) producer: Q&A with the Museum of Broadway's co-founders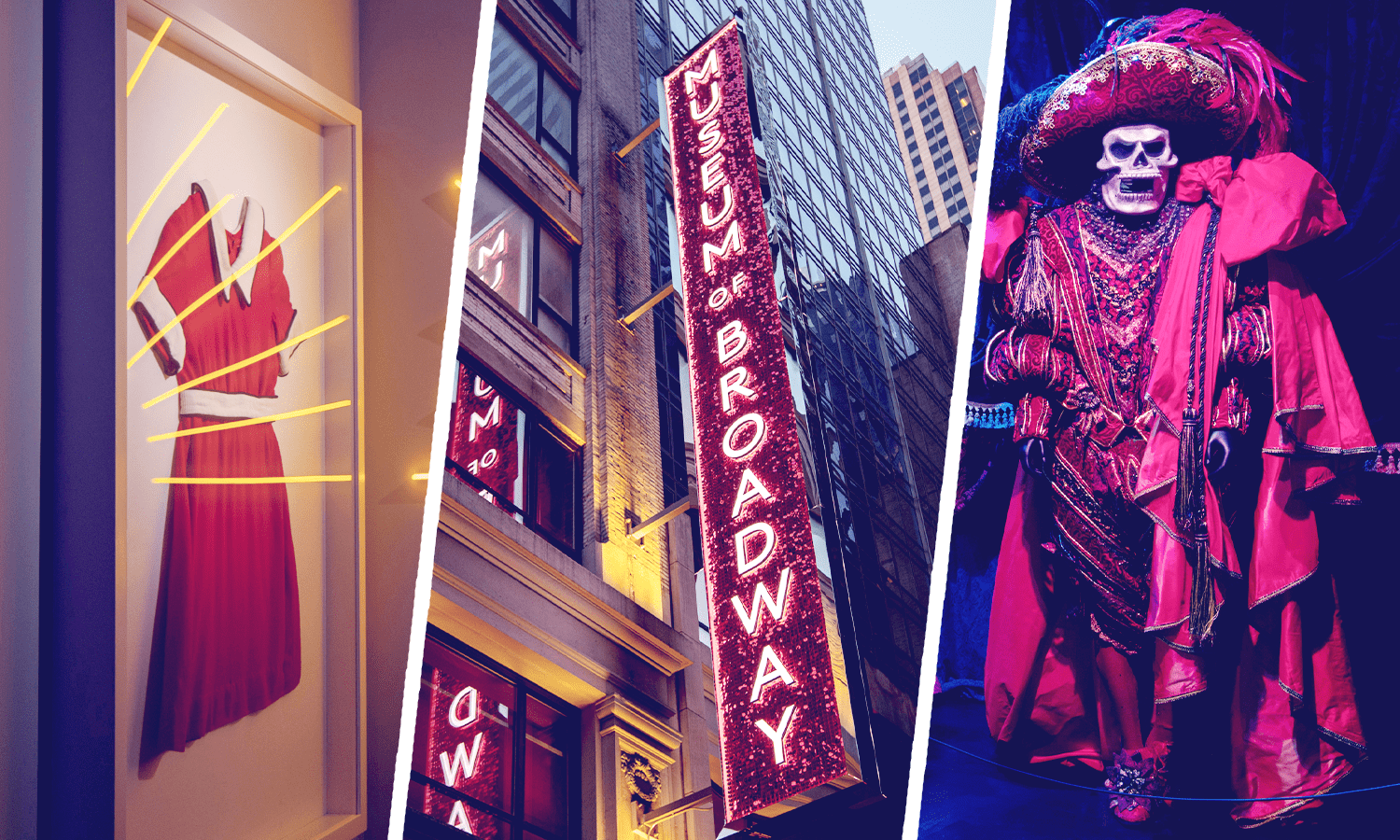 A few weeks back, two friends and I — all self-described Broadway babies — spent a Sunday evening at The Museum of Broadway in Times Square. We thought we'd walk around the space for an hour or less, then grab dinner at Midtown's finest dining establishment… Olive Garden. Hours later, we emerged, armed with an obnoxious amount of newly acquired theater knowledge. (Special shout-out to the docent in the Ziegfeld Follies room, who shared how most of the gorgeous costumes and props on display were found dusty and deserted inside the New Amsterdam Theatre when Disney bought it in 1992.)
As we uncovered history through projection-mapped videos, visual art, immersive experiences and back-of-house sets, it was clear why Broadway is the #2 reason tourists come to NYC (after shopping). Before the Museum of Broadway opened its doors in November 2022, there had never been a museum or space to properly honor Broadway as an international brand and a tentpole of American culture. Founders Julie Boardman, a Tony Award–winning Broadway producer and founder of Boardman Productions, and Diane Nicoletti, founder of the award-winning Rubik Marketing, decided to change that.
I sat down with Boardman and Nicoletti to discuss their 20+ year friendship, blending the educational with the experiential and why artistic collaboration is everything.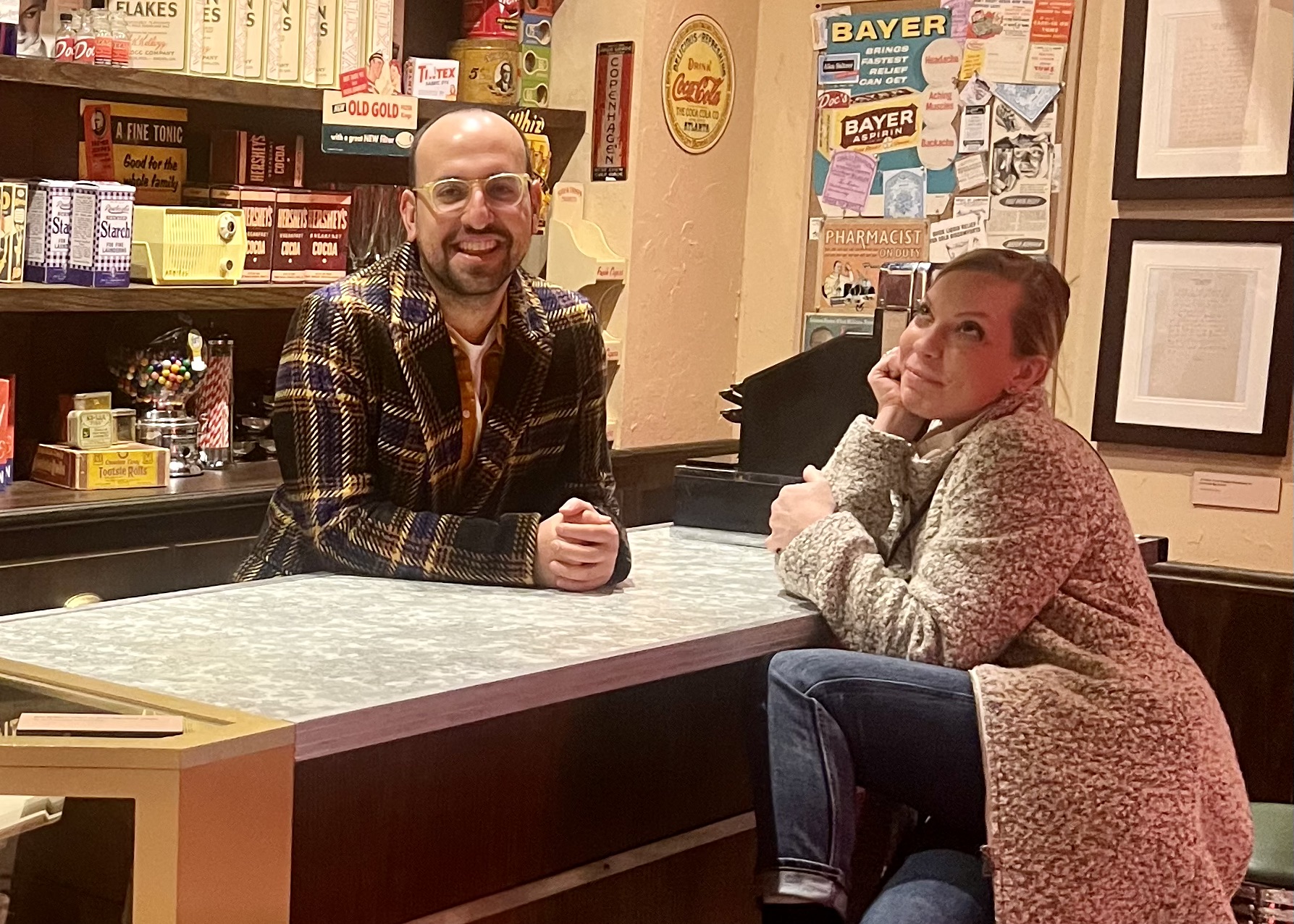 Samantha Stallard: I read that you two met at USC in 2002, then each migrated to New York to work in the agency world — Julie focused on staffing, Diane on events. How did your interest in live events and experiential develop?
Diane Nicoletti: Oh, that's a great question. I always talk about how the Kentucky Derby Museum was the first interactive museum I visited. You got to pretend you were a jockey, and there was trivia — it just was really fun. And it was the first time I experienced entertainment mixed with education in that type of environment.
But I've always loved live events. Even in high school, I was always involved in the musical productions and putting on our dances and graduation, so it was ingrained in me. Being head of marketing for MKG Productions was the first time I worked at an agency that was all experiential, and it helped me understand how to implement experiences as a marketing tactic for brands. I was like, "You know what? I could probably do this myself!" And I started my own agency from there.
Julie Boardman: I kind of fell into it a bit more, I suppose. I was living the actor life in New York City, and I ended up meeting this guy who told me I'd be a great brand ambassador. I was like, "I don't know what that is." He invited me to work with Evian at the US Open, which was really my introduction to the event world. From there, I started my own staffing company, hiring my Broadway actor friends so they could pay their rent in between shows and still go after their dreams. Diane and I saw the way consumers interact with different brands, which helped shape and inform us.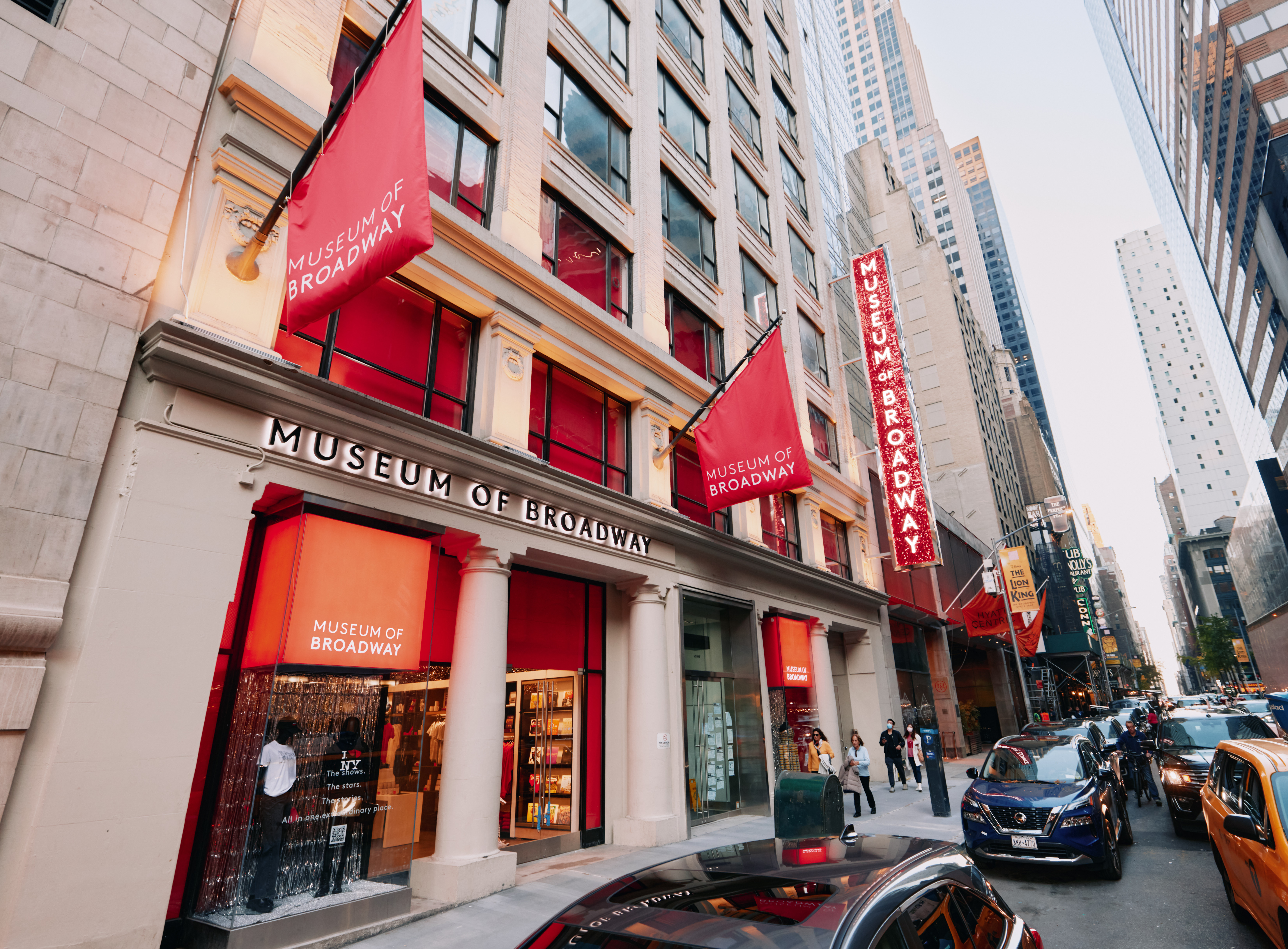 SS: What was the original idea for the Museum of Broadway, and how much did it evolve?
DN: It didn't stray terribly far from when we first whiteboarded and brainstormed five years ago. It just continually improved from the conversations we had with artists and people within the Broadway community. We knew we needed to be historically accurate, as opposed to just picking fan favorites, and have our own curatorial team highlight the shows that push the form forward or bring in new audiences.
The museum's anchor was the timeline — starting from the first documented performance in 1732, all the way to present day, highlighting different shows as exhibits along the way. And we knew we wanted the exhibits to be immersive and spotlight the behind-the-scenes roles of a Broadway show. Most people, even serious Broadway attendees, don't ever get to see the ins and outs of what it takes to produce live theater.
And then, we just thought the history of how the theater district came to be was really interesting. Because Broadway really began in Manhattan's financial district, then migrated north to Times Square. Broadway and New York have a synonymous nature — it's the second most popular reason people come to New York, so mixing the city'shistory in felt important. Once we had the foundation of our story, we could play with the experiential. We wanted to make sure there was video, but we had to do it in a fun and interesting way.
JB: The process wasn't overnight; it took us some time to figure out. Because again, there is so much history. Do you arrange by theater owner? By show? What's the best way? And it took us a while to get there, but we're really happy with where it landed. We're both millennial female entrepreneurs who view the world in certain ways, so the idea of highlighting trailblazers was just really exciting.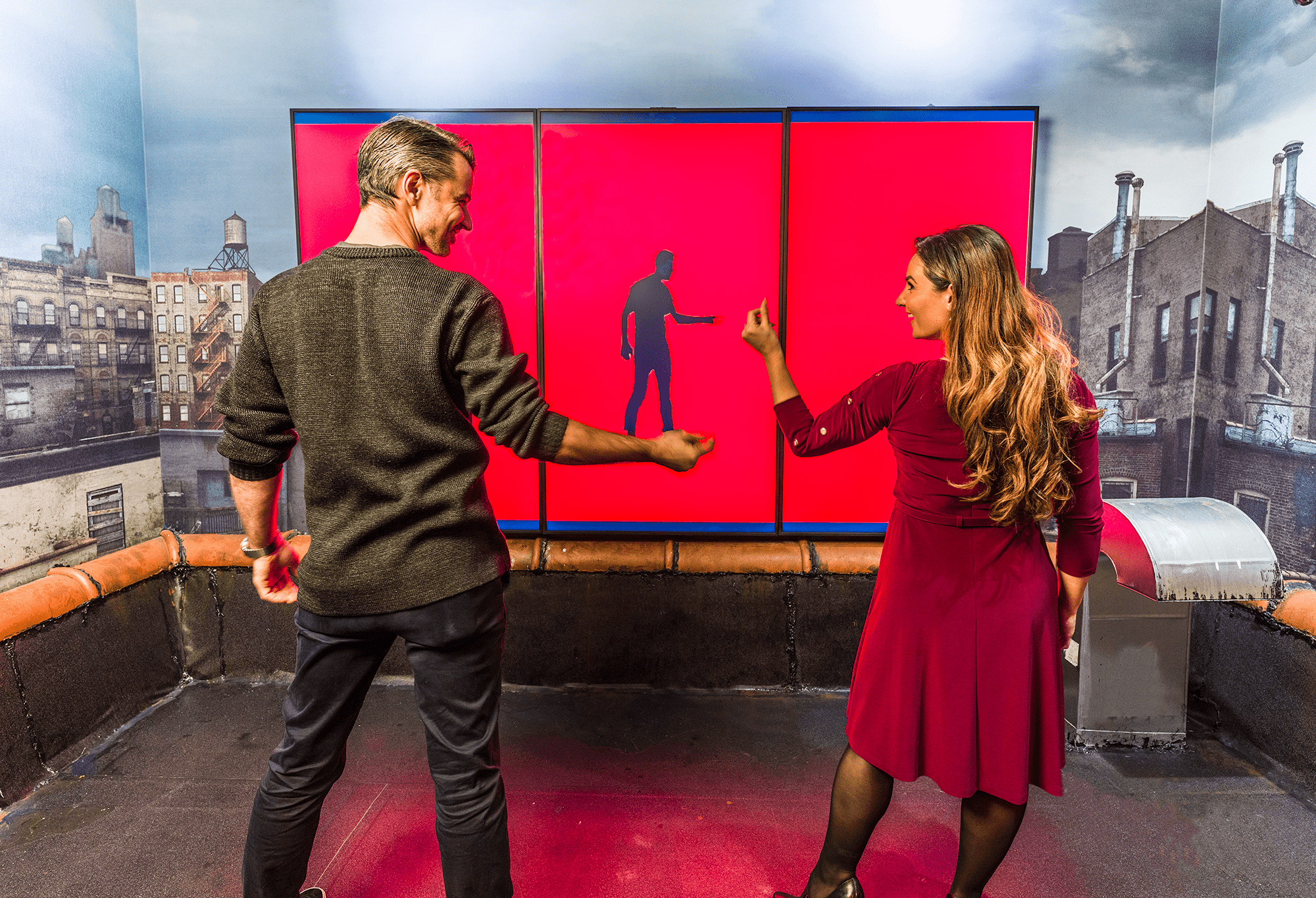 SS: How is the museum funded?
JB: By people from within the Broadway industry, as well as supporters of the arts.
SS: When you were still brainstorming the Museum of Broadway — creating the focus, creating the flow — where did you each stand up and say, "I feel really comfortable taking on this aspect of the project" and where did you decide to outsource and bring in other people?
DN: When we first started, we identified the need for a construction team — and that didn't just mean a general contractor. I had worked with Square Design on a number of projects before and really trusted them, so we brought them on early to help us with the fabrication, which is always a critical partnership. We needed the support of a curatorial team, too. From a design standpoint, I do think it's important to have that in-house, versus outsourcing. It's important to me to have more design control.
My best advice is, don't be nervous about artist collaborations. Creative agencies often bring in artists to create ads or a new look and feel, and that's the approach we took with the museum. Each room is like a thread, but all with a unique look and feel. Not only because they're different shows, but also because they're designed by different artists. And that keeps people interested as they go along.
Broadway is such a global brand, so we wanted the art to reflect that and bring in fine artists, contemporary artists and different mediums. Many are based outside of New York — the artist for Hair lives in Australia, the artist for A Chorus Line lives in England. For Show Boat, we found a paper artist who heightened the experience with AR. We have some Broadway scenic designers as well. For West Side Story, the choreography was so important, and we wanted to make sure we captured that with an experience for guests. And there are so many different exhibits before guests even get to the making-of section, but it always comes back to storytelling.
We also needed a really good printing partner. We went with Duggal and New York Print Partners. Duggal was really collaborative with us in finding different textures and printing methods. Not everything was done on vinyl — some was done on wallpaper, some was die cut on metal or translucent vinyl. We tested a lot of different materials, which is also really interesting for big projects. New York Print Partners was fast and furious and helped us with captions to make the whole project come together. Whenever you're doing an event, or a museum in our case, you need that team collaboration.
SS: What was the last incredible experience you each attended, and what made it so special?
DN: I actually think going outside of events is where I find stronger inspiration — like an experience in fashion, on Broadway, a film or a concert rather than at an "event."
We just did a partnership with the Brooklyn Nets, where we had an exhibit around Black History Month and The Wiz in their concourse, to support their halftime special dedicated to Broadway. Crossover IRL experiences help people open their eyes to new experiences. So to me, this IRL experience of the Brooklyn Nets game, with dancers at halftime performing songs from Dreamgirls and The Wiz, was so entertaining. Having the stage be a basketball court felt super original.
SS: This year, the Oscars spent a significant amount of airtime plugging the Academy Museum in LA. Are there any parallels between these museum experiences? Could we see the same kind of collaborative effort between the Museum of Broadway and the Tonys in June?
JB: We definitely want to honor the Broadway industry, and of course the Tony Awards are a large part of that. References to the Tonys are included throughout the Museum, and we even have a huge Tony in our lobby. The American Theatre Wing and The Broadway League, the organizations who put on the Tonys, have been great partners to the Museum thus far, and we hope the partnership will continue to grow and evolve.
SS: Can you share details of any upcoming exhibitions or activations at the museum?
DN: We just added several new artifacts from recently closed shows and updated some elements of the Making of a Broadway Show exhibit in early March. Our special exhibit, The American Theatre as seen by Hirschfeld, was recently extended, too. I just want to highlight what a collaborative effort the Museum of Broadway has been throughout the entire journey. Some of the best experiential events I've produced include multiple types of people and talents. I also want to thank all of our wonderful collaborators. All of their names are on a dedicated credit wall within the Museum of Broadway. For future special exhibit news and to stay up to date on what's new at the Museum of Broadway, please follow @museumofbroadway on social platforms.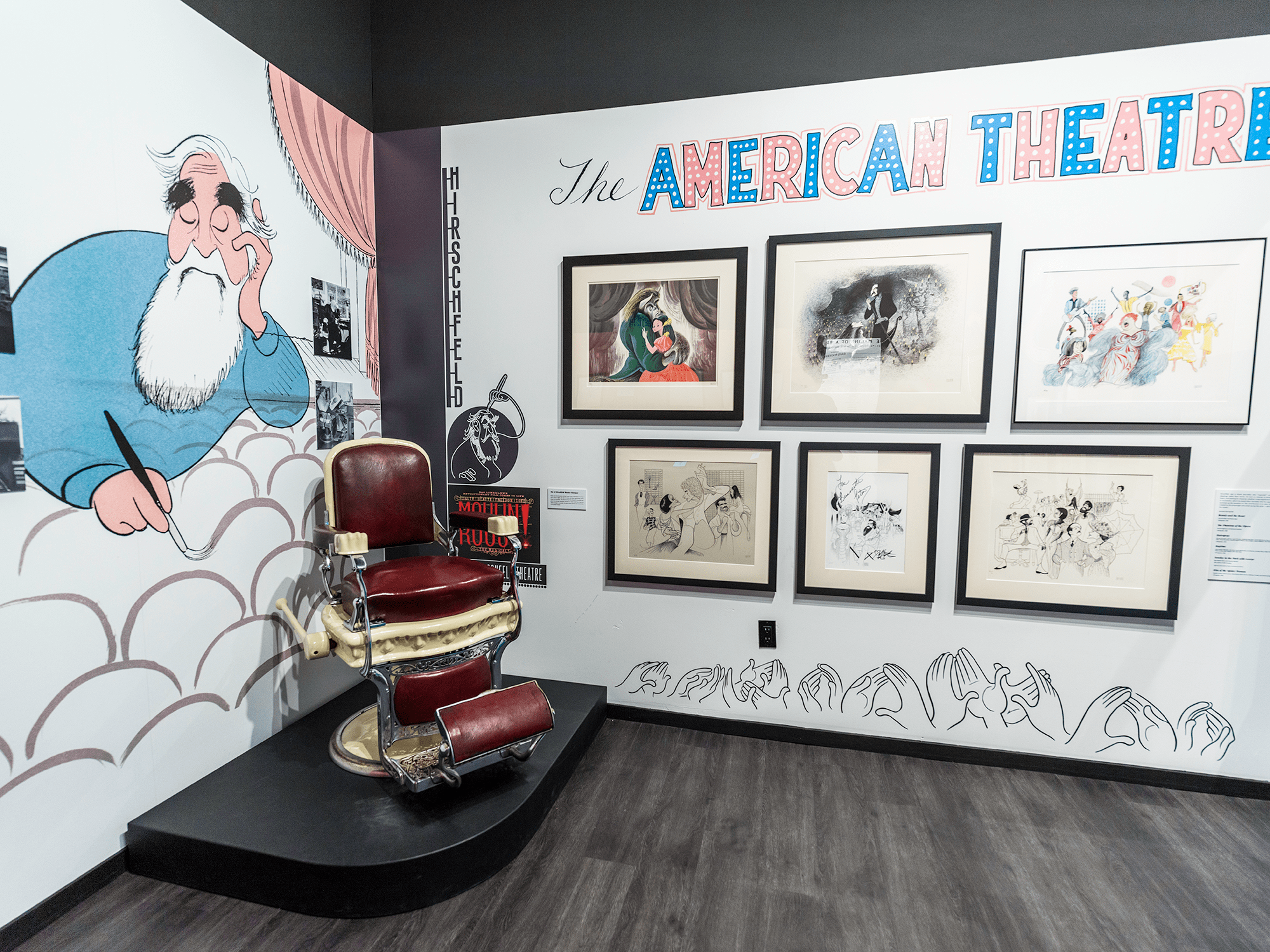 Join us in XP Land. A community for experiential creatives and experience-makers, brand leaders and IP-owners, space stewards and venue visionaries — all of those in the business of epic gatherings and live, immersive storytelling.