But Is it Art? Immersive Experiences Aim for Selfies with Substance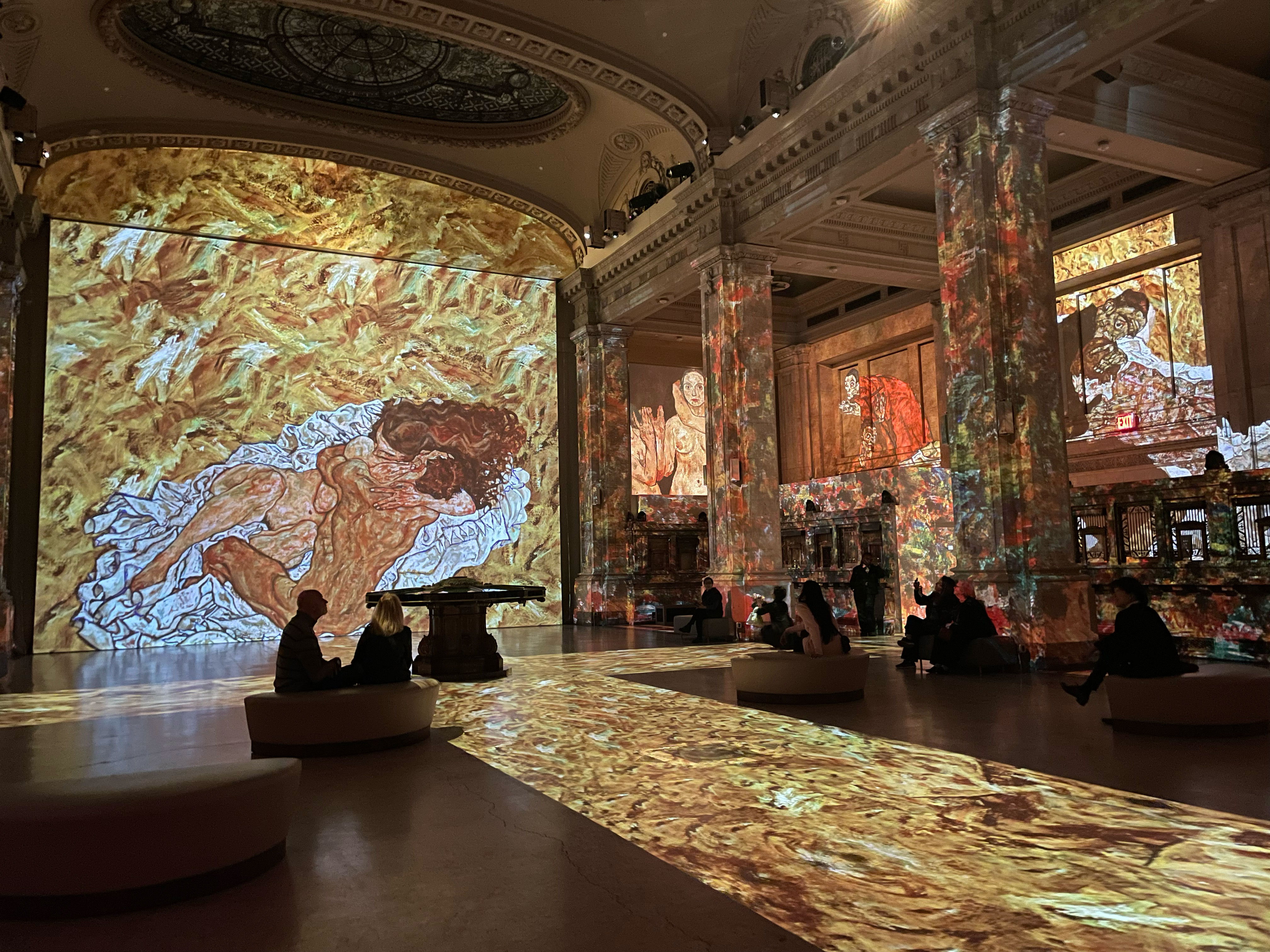 Pictures of friends in alleged "museums" dedicated to pizza, color, and, uh, a certain number of rooms have been plaguing my Instagram feed for years. The pandemic flattened some experiences (RIP, Rose Mansion), while others have trudged on (I see you Candytopia), but the real story of post-pandemic immersive experiences is decidedly higher brow: have you heard of art?
Immersive art experiences in some form have been around since at least 2008, but thanks to everyone's favorite pandemic-era Parisian, production companies have been mining the depths of the public domain for artists with even a trace of a built-in audience for their technology-fueled fantasias.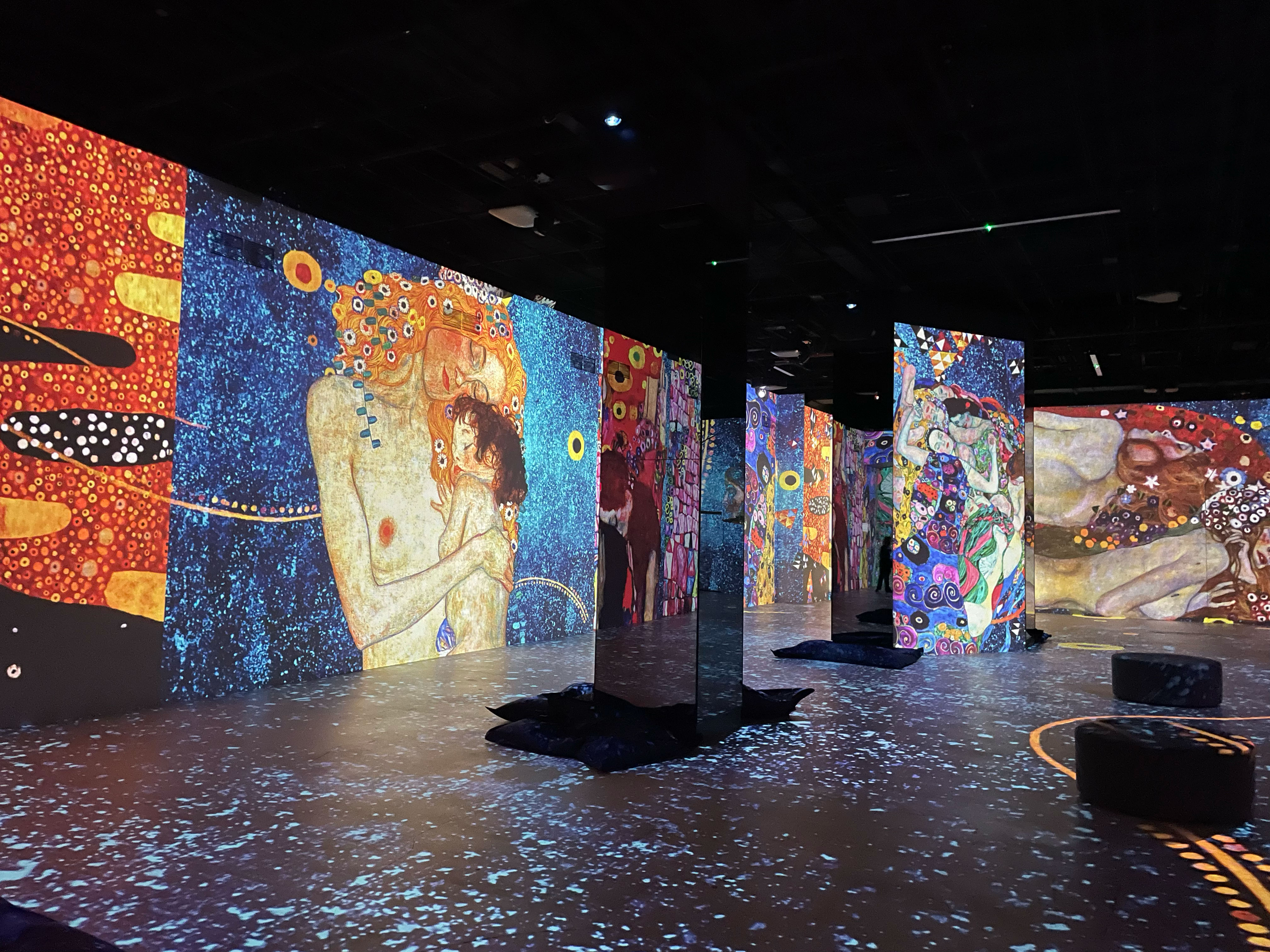 Immersive Van Gogh, the digital art goliath and its numerous knockoffs (there are at least five independent productions on tour right now), are certainly the most well-known, but experiences that reimagine beloved pieces of art into pixelated paradises run the gamut from Monet to Picasso, Dalí and beyond. Producers for Immersive Van Gogh estimate ticket sales for their multiple productions have ballooned to over $250 million, which might explain the glut of shows now being produced by competing companies.
Not quite content farms and certainly not quite museums, these immersive art experiences are, at minimum, a feast for the eyes.
It's hard to not be amazed by the clever tricks of light and the familiarity of distinct and beautiful art. They are an amalgamation of the best of both worlds, new pseudo-intellectual pit stops that will surely produce the perfect picture to make someone swipe right. Why take a selfie in a ball pit when you can snap one with your favorite independent woman artist, Frida Kahlo? "Look," these experiences say, "I am worldly, I love art!"
The question of whether these experiences pass artistic muster is hard to answer. "Sensuous selfie backdrops come well before intellectual engagement here," pooh-poohed the New York Times in a savage review of the various immersive Van Gogh offerings when they dotted Manhattan in 2021. Would the great artists of our time have enjoyed seeing their most famous works projected onto the side of a hollowed-out mall for consumption? They're dead, and their work is out of copyright, so it doesn't matter.
Audience members, however, need to find value in the experience. So what's the value in paying to watch what some are calling a glorified screensaver? Can an Insta-ready experience that reanimates the corpse of an IP in the public domain really be substantive?
I decided to see for myself.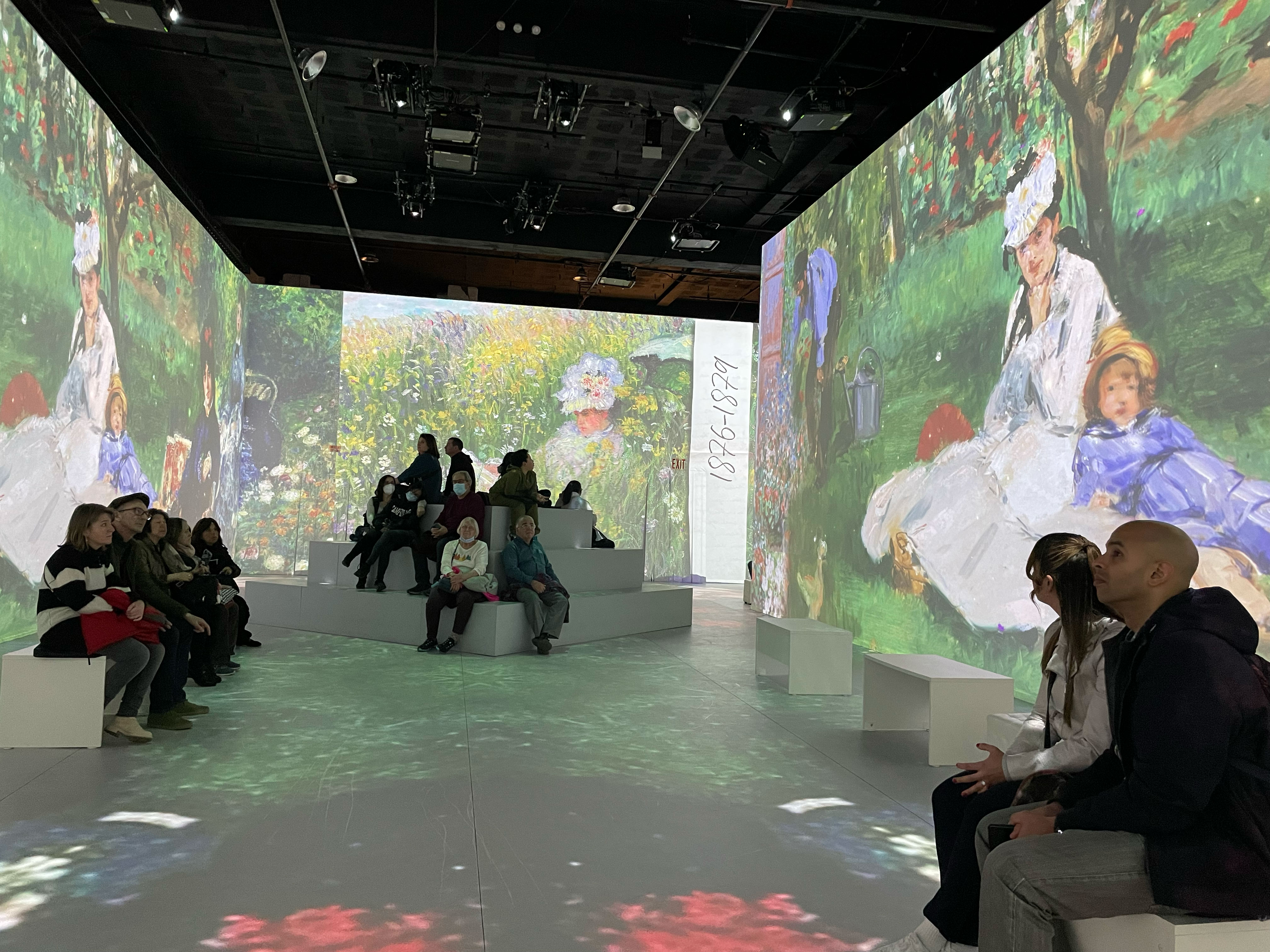 When I saw an ad for Monet's Garden, which promised the chance to "explore his studio," I was intrigued. I'm not immune to the allure of social media; I'm a millennial. I do want to learn about Monet. I do want to take cute pictures. "Today, you don't get to inform your visitors without entertaining them," Dr. Nepomuk Schessl, the producer of Monet's Garden, told The Daily Beast. The man was speaking my language! The experience is a collaboration between two Swiss "creative labs," one of which also has its own Kahlo and Klimt shows currently on display in Europe.
The Trump Building next door was the first red flag. The mall escalators inside the repurposed Seamen's Bank Building, ferrying me into the exhibit, were the second. "Welcome to my studio!" a poster of Claude Monet said at the landing. As I looked around at the fake grass and cheap prints on easels, ready for me to scan with my phone, I knew that the poster was lying and Dr. Schessl was full of it. This wasn't an artist's studio: this was capitalism with a beret on, pretending to be interesting while it took my money.
Around every corner, lack of careful thought made me question the decision-making of the producers. Monet famously was inspired by the natural world, yet the entire experience is typified by artifice. "Oh," I thought. "They bought some projectors and made a Michael's run." Beyond the fake grass, the "studio" (er, garden?) is filled with fake flowers and greenery that would look at home at the step and repeat of a club trying to be chic. Even the air I was breathing had been tinged with artificial scents to evoke Monet's precious floral muses.
I bet the producers were proud of themselves when they found a solution for recreating the pond in Monet's garden (the inspiration for his famous Water Lilies series) requiring neither water nor lilies: Folks can draw their own lilies and upload them into the "digital pond" underneath a bridge that could easily be a set for a high school production of The Sound of Music. There were a few technologically interesting moments, including a wall of paint that follows you as you walk by, but they seemed tenuously connected to Monet at best.
Though the looped film area — where graphics and paintings whoosh all around you set to music and narration — was a highlight, the rooms dedicated to tracking Monet's career felt like amateur hour. I don't know who was in charge of copy-and-pasting from Wikipedia, but the numerous papered-over copy errors on the walls undermined the entire production's legitimacy.
The closest thing to a museum-going experience at Monet's Garden was exiting through the gift shop, where they hawked themed umbrellas, puzzles, and other cheaply produced/overpriced souvenirs no one wants — or as I lovingly call them, "Future Garage Sale Items."
The greatest sin of Monet's Garden is that the experience fails the art.
I can't even tell if the producers of this show admire Monet, beyond the money they're able to make off of him and his work. I coughed up $43 for admission, and yet somehow the entire affair felt cheap.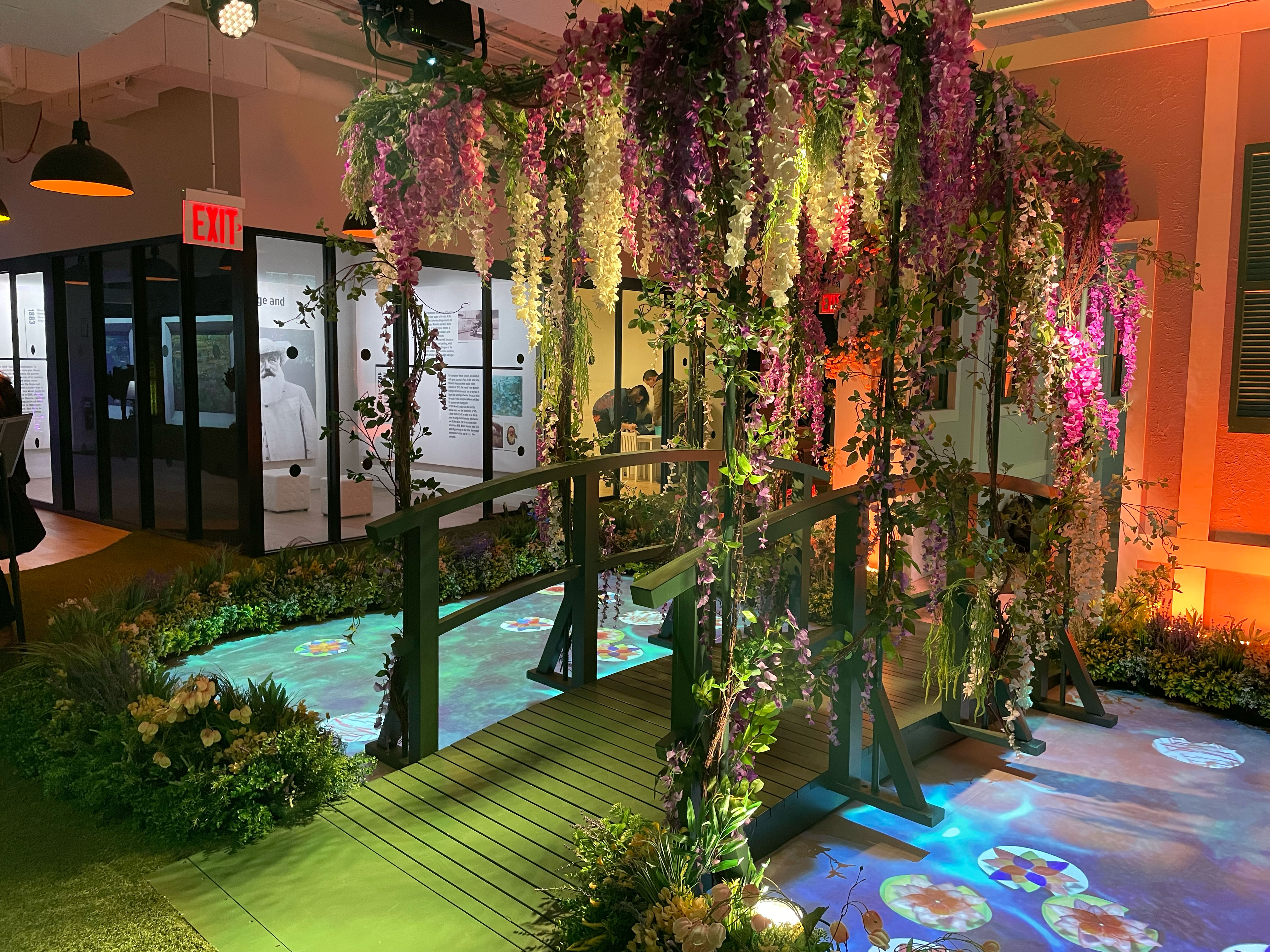 Over at Hall des Lumières, which bills itself as New York's first permanent digital art center, another historic artist, Gustav Klimt, is the centerpiece of the immersive experience. Entitled "Gold in Motion," the production immediately feels more intentional and thoughtful than Monet's Garden.
Creative director Gianfranco Iannuzzi told Afar magazine that he spent almost six years looking for the perfect space for Hall des Lumières, the brainchild of French-based Culturespaces. The Emigrant Industrial Savings Bank not only reflects the era of Kilmt's artwork but was also renovated and remodeled to make the space itself a part of the art and experience, unlike other shows that rely on blank white walls for their projections. "It is very important for me it's just not a square that you put an image [on]—that is too easy," Iannuzzi says. "It's up to me to adapt my work to the space. And this space is very strong."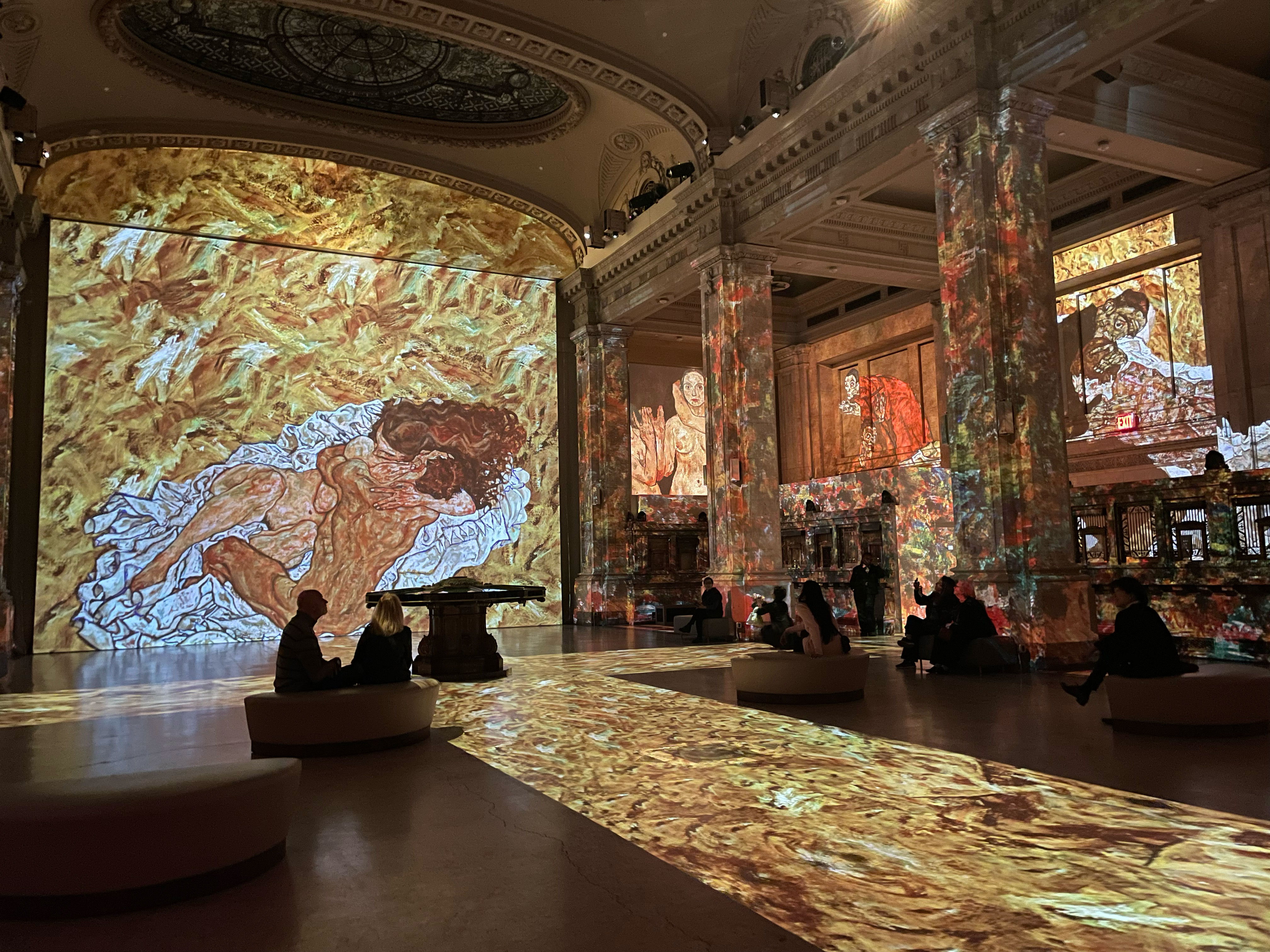 The effect is stunning. Dramatic color and music envelop the historic architecture, creating a multidisciplinary art experience that echoes Klimt's tenets of championing "total art," or the co-mingling and unification of various artistic disciplines, including painting and architecture.
It's also worth noting that "Gold in Motion" isn't the only show guests can see with their $40-ish ticket to Hall des Lumières. Trippy visuals from Austrian painter Friedensreich Hundertwasser and a pulse-pounding dance piece entitled "5 Movements" are included in the experience. Both are incredible works of art that engage with technology and space in ways that feel natural to Klimt's artistic vision.
QR codes that reveal hokey Instagram filters do make an appearance at "Gold in Motion," but luckily the producers were clever enough to shove them all into a small separate room in a corner, away from the main exhibit.
It's not the technology that makes "Gold in Motion" more effective than "Monet's Garden"; rather, it's the thoughtfulness and investment in the art itself that elevate the experience.
"Gold in Motion" makes sense artistically, while "Monet's Garden" actively repels its own existence.
I plopped down on one of the bean bags provided in the Hall des Lumières and let my mind melt as the art and music washed over me for a good 45 minutes, not once concerned about whether I was learning something or if I'd get a cute selfie.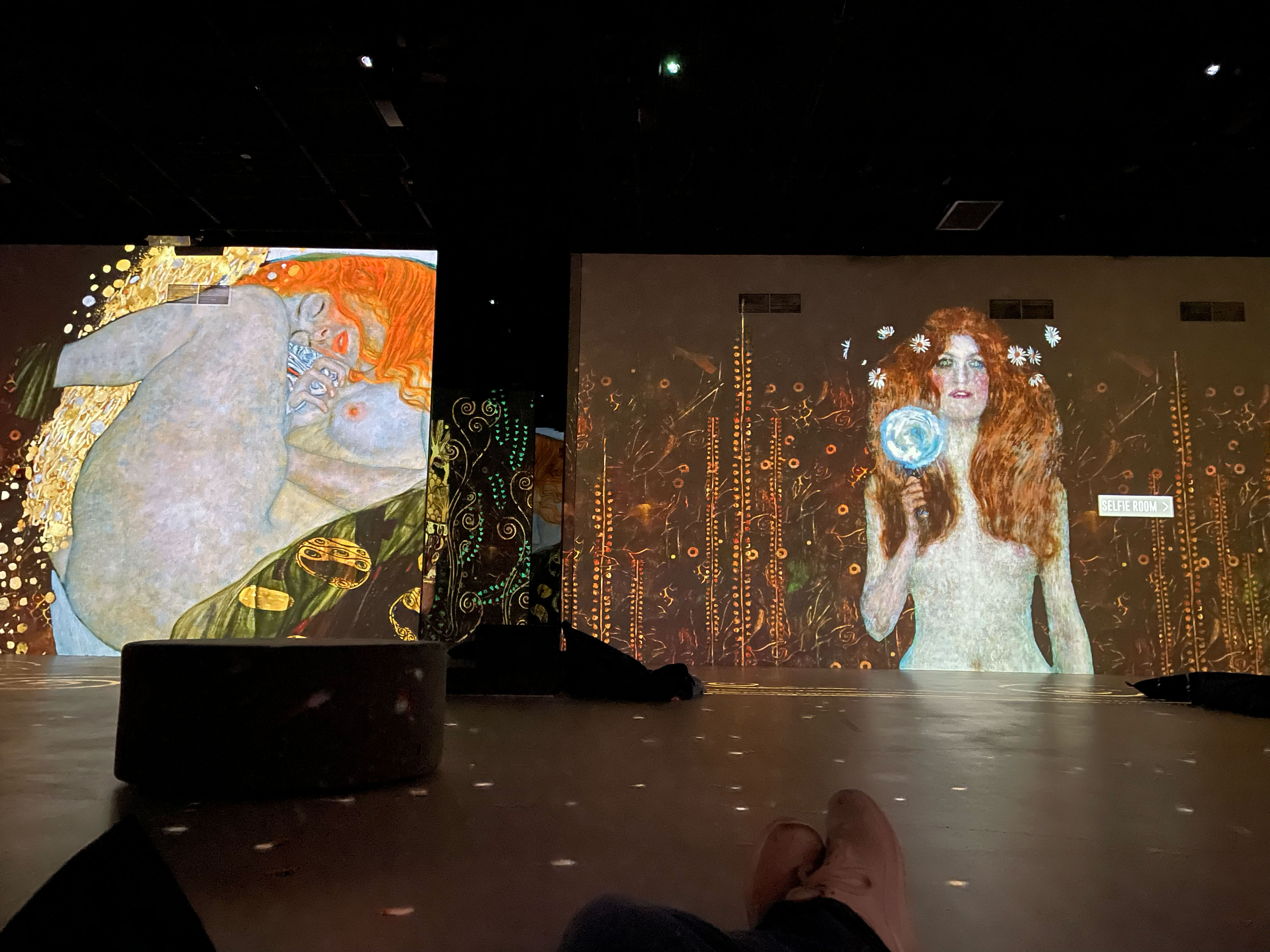 It's clear immersive art experiences are en vogue right now and not going anywhere soon. Even "real" museums have tapped digital artists to create new experiences for their spaces. After extending its run earlier this year, the Asian Art Museum finally closed their popular teamLab: Continuity exhibit, where guests affected the art by interacting with digital projections. And you can't go anywhere these days without seeing a Refik Anadol installation. From Davos to Seoul and back again, Anadol's art screens have become commercial crazes, if critical curios. "It's like looking at a half-million-dollar screensaver," said Jerry Saltz in his New York magazine review of the MoMA's very own new Anadol. So if TikTokers are saying it and legit art critics are saying it, how do we make immersive art experiences better than screensavers?
First, stop relying on technology alone. That means investing in the space in a meaningful way that delivers what you're selling. For "Frida Kahlo, the Life of an Icon," which came and went through NYC over the winter and is currently on tour, that has meant art installations, costume displays, and even live music and dance all working together with the technology to deliver a full experience.
Second, keep the artist's vision central to the experience. Anything that makes fine art accessible to the masses is a plus in our book, but it has to make sense. If Monet cared about light and nature, take the experience outside! Or how about a greenhouse experience? Whatever the answer, every production decision should be thoughtful and in service of the art, or at the very least not in direct conflict with it.
Whether it's highbrow, lowbrow or somewhere in between, the marriage of historical fine art and immersive experiences is an exciting space with lots of room to grow.
Is it capitalism? Is it content? Is it art? Yes.
Join us in XP Land. A community for experiential creatives and experience-makers, brand leaders and IP-owners, space stewards and venue visionaries — all of those in the business of epic gatherings and live, immersive storytelling.