In defense of the Met Gala's frivolity (even this year)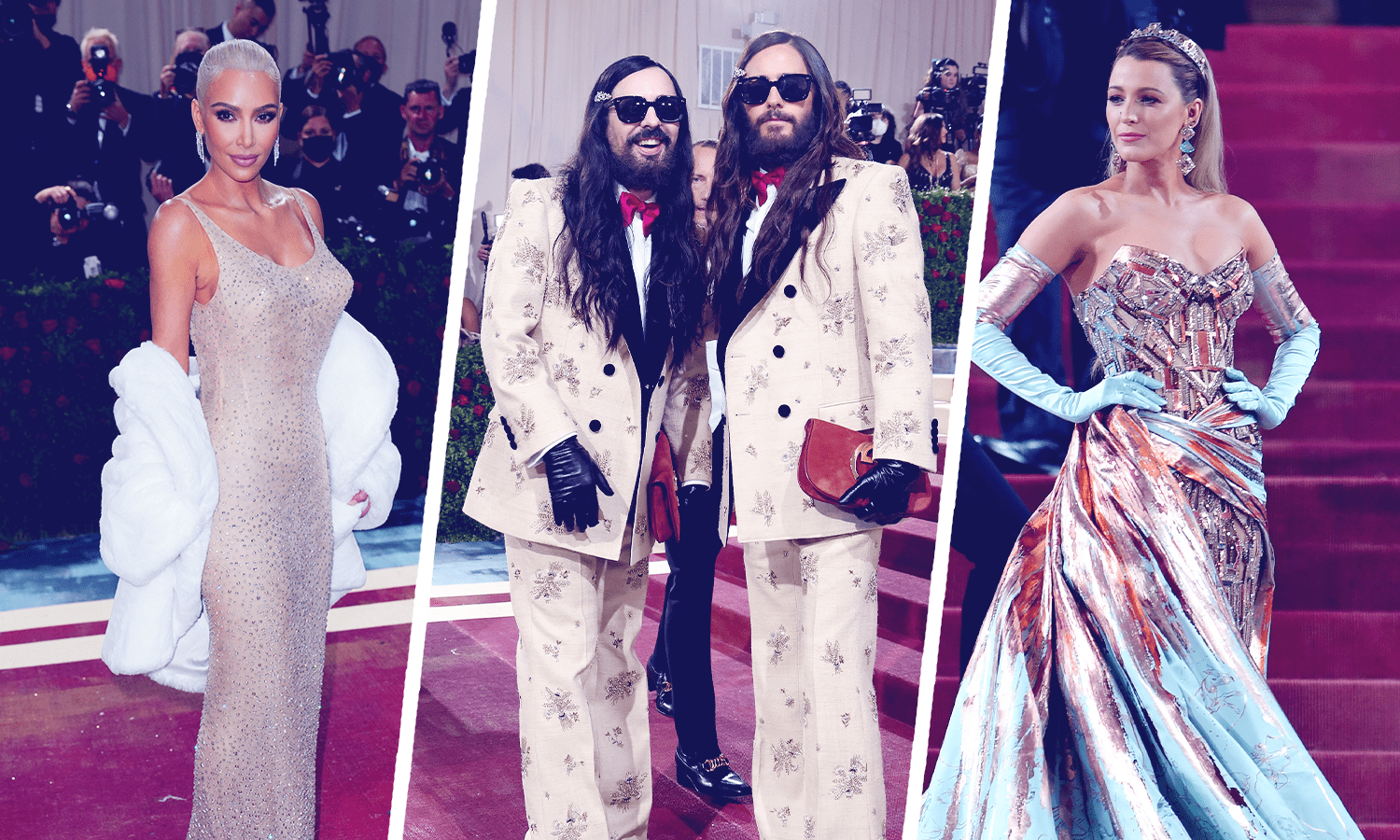 We all got a jarring dose of reality on the first Monday in May, while we were just trying to lose ourselves in photos and videos of gorgeous celebrities in kooky outfits. I won't get into the leaked SCOTUS draft opinion (or my opinion on the opinion, but I'll let you wager a guess), but the timing hurt. It was a shocking jolt back to Earth, complete with a hard realization that while we were all happily distracted by shimmering dresses and multiplying Jared Letos, the "real world" marched on — in the wrong direction.
The Met Gala is frivolous. It's silly. Some might even say it's a pointless celebration of wealth and excess, but is it truly meaningless? No, because as tough as it is to be a living, breathing human in 2022, we need frivolous and silly outlets to keep us from spiraling into hopelessness. There is fun still to be had in this messed-up world of ours, and, dammit, we all need it. Bad.
There's nothing wrong with loving the Met Gala (even this year). No justifications needed. But, if you find yourself searching for some, here are a few reasons why the annual Costume Institute Gala is an important cultural moment:
It supports the arts (and the artists)
The Anna Wintour Costume Institute, home to the largest collection of fashion in the world, is the only department at the Metropolitan Museum of Art that has to fund its operations. To attend the event, tickets start at $30,000 per person, while entire tables range from $275,000 to $500,000. The money from ticket sales is donated to the Costume Institute.
After walking the red carpet, guests get a first look at the year's exhibition before gathering for dinner, drinks and live performances. This year, Kacey Musgraves and Lenny Kravitz hit the stage inside the Met.
The gala isn't really about looking "nice." The world's most beautiful people are encouraged to experiment and go bold when choosing what to wear. This means it's playtime for the fashion industry, too. Designers are encouraged to lean into haute couture styling, personally interpret that year's theme, and show off their signature skills.
"It's the only red carpet where directional fashion has a place, as opposed to other red carpets, which are about finding something flattering," said Harper's Bazaar and Elle group fashion director Avril Mair, in an interview with Harper's Bazaar.
Overpaid or not, famous actresses, models, musicians and designers are artists. Each one of them is up there on that red carpet, staring down hundreds of camera flashes as part of their hustle. They're promoting movies, albums and ready-to-wear lines. When the normies, like us, lose interest in their personal brand, the paychecks dry up. Yes, there's a secret party inside where social media (and smoking) are banned, but that's their reward after marching those stairs for us.
It's not the met gala without some bathroom and group photos #MetGala #MetGala2022 pic.twitter.com/otsMH9r9kh

— sofia (@SOFIssticated) May 3, 2022
It unites us in a collective moment
Like Thanksgiving or the Super Bowl, the Met Gala is a uniquely American event. While shockingly not centered around food, it does unite us in another great American pastime — judging. Everyone knows what they like and don't like aesthetically, even if there's no understanding of why. This is coming from a woman who has watched Say Yes to the Dress with her baseball-loving, beer-drinking father on more than one occasion. (He hates tulle, but doesn't mind lace.)
Watching the red carpet also allows overworked, overstimulated, exhausted and burned-out fans to turn their brains off, if only for an hour or two. It's wrong to assume that only content that is hard or complicated is good for us. It's a form of cultural elitism that makes us believe that anything elusive, tricky or esoteric must be better. Reader, it's not.
I won't pretend that scorching our eyeballs with the glowing blue light of E!'s red carpet coverage provides the same relaxation as, say, meditating, but it can help recharge our brains. The news (obviously) can have the opposite effect, according to studies from Social Psychology and Personality Science. Uncertainty about what will happen next can trigger our body's fight-or-flight response, spiking stress hormones like serotonin. Watching celebrities walk a red carpet is such low stakes, the worst thing that could happen would be for Jason Derulo to fall down the stairs.
me waiting to judge the met gala looks pic.twitter.com/mBUezCDTYA

— that's so haute (@thatssohaute) May 1, 2022
It's filled with nuance (if you search for it)
More than beautiful gowns, the Met Gala is soaked in cultural commentary. And it all starts with the theme. ​​The Gilded Age, the inspiration for this year, refers to the era during the late 1800s when American innovation was booming. One could say the Vanderbilts and Rockefellers were the Kardashians and Hadids of their day. (A bit of a stretch, but come along with me here…)
2022's theme especially played into the opulence of the era with gala invitations giving specific instructions that the event was "white tie," the even more formal counterpart to black tie. Given this historical context, the Met Gala theme feels extremely out of touch. Especially considering inflation is at a 40-year high, gas prices have soared and US GDP has shrunk for the first time since 2020.
i'm still not over how ill-advised & tone deaf it is for the met gala to have chosen the gilded age of all things for their theme. yes, there will be awesome fashion. no, that doesn't balance out the queasy

— Katie Stebbins (@_katiestebbins_) May 2, 2022
In response, actor Riz Ahmed attended the event in an undone work coat, a white tank top and chunky rubber boots. He looked, to some, like he "didn't understand the assignment," as Twitter loves to proclaim. But that was the point. As Ahmed explained to Vogue, his outfit was meant as a tribute to the laborers of the era. "This is an homage to the immigrant workers who kept the Gilded Age going," he said on the red carpet.
There was even more discussion about Kim Kardashian, who was honored with the final entrance of the evening on the arm of her partner Pete Davidson. Kim tippy-toed the carpet wearing Marilyn Monroe's famous "Happy Birthday, Mr. President" nude dress.
The occasion, the reality star, and the infamous dress represented the Met Gala's past, present and future. Once barred from the event, Kim is now its queen, embodying influence and fame — today's currency of success. As in the first Gilded Age, the well-bred and well-connected must accept this shift or be left out of the conversation entirely.
This level of immersion for the viewers is the nature of what we do as experiential creators. Our job is to remove guests from their real lives, filled with their everyday worries, stressors, and pain. We want them to put everything aside for a few days, or even a few hours, to let go of control and trust the path we're taking them down. Or the flight of stairs we're taking them up.
It was a gut punch to learn that women's rights in this country are about to be rolled back 50 years, just as I was just trying to watch Blake Lively's dress reveal, gorgeously simulating the oxidation of Lady Liberty. (The irony is not lost!) So now the fight begins: I'll donate and march; I'll call my representatives in Congress, shouting until my voice is gone. But like every changemaker, I'll need my moments of rest and rejuvenation, too. And that can take many forms — including judging beautiful people in crazy dresses.
i just think that there should be SOME kind of penalty instituted for being invited to the met gala yet completely missing the theme

— karen han (@karenyhan) May 2, 2022
Join us in XP Land. A community for experiential creatives and experience-makers, brand leaders and IP-owners, space stewards and venue visionaries — all of those in the business of epic gatherings and live, immersive storytelling.