Ones to watch (and laugh at), compliments of Vulture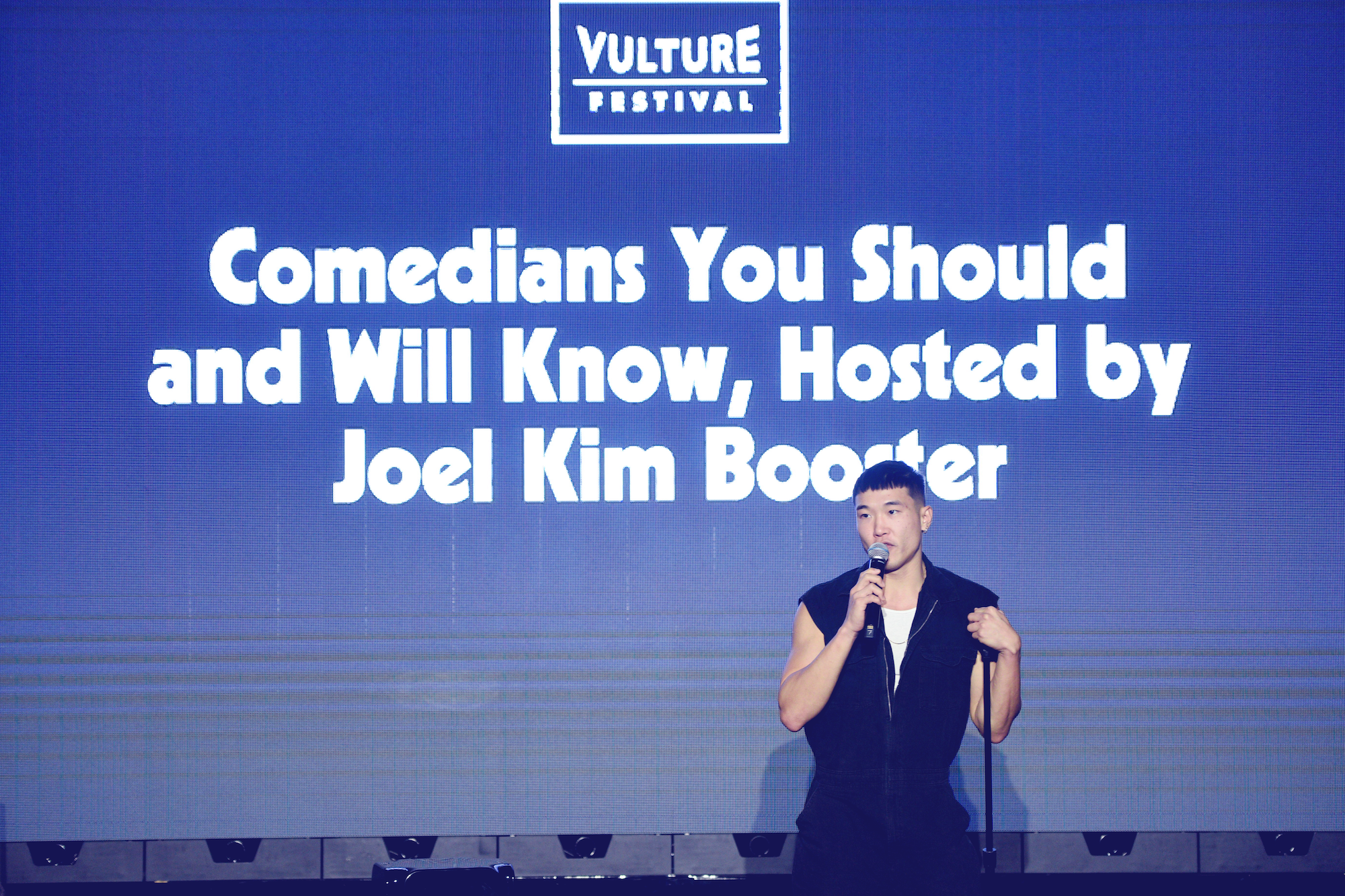 If you don't want your relationship roasted on a spit for hundreds of strangers, don't sit in the front row of a stand-up show. Unsuspecting couples learned that the hard way at last weekend's Vulture Festival in Los Angeles when comedian Joel Kim Booster poked fun at heteronormativity ("Is your relationship open or closed?") and many taboos during Comedians You Should and Will Know.
Booster, a comedian you do know (and love), hosted the showcase of up-and-coming talent featured on Vulture's annual list. The event was a reminder that a new comedy star could strike the scene at any moment at a fest that's known for skyrocketing talent quickly. Past success stories include breakout comedians like SNL's golden-child Bowen Yang, who hosted a live episode of his podcast, "Las Culturistas," with co-host Matt Rogers in 2018, and Megan Stalter, whose characters have earned her an impressive Instagram following and even a role in Kasey Musgrave's "Star-Crossed: The Film." 
After going virtual in 2020, this year's fest, at the Roosevelt Hotel off Hollywood Boulevard, seemed to return to pre-pandemic attendance levels, albeit with each event at an outdoor stage and rigorous masking in place for all attendees.
Vulture Festival is famous within the industry as the place for talent spotting. Not only do the scouts and producers in the audience get firsthand access to those rising in the ranks, but former household names return to the stage for nostalgic reunions and comebacks. And, if we've learned anything since the pandemic, it's the power of nostalgia to get people's attention. Talks and showcases last weekend included, A 3rd Rock From the Sun Reunion, The Winkler Method: A Henry Winkler Acting Class and Mira Sorvino Watches Romy and Michele's High School Reunion With Us.
For producers looking for emerging talent, "Comedians You Should and Will Know" (which, as Booster pointed out, sounds like a threat) is a can't-miss annual event.
Check out some of the most buzzed about performers from the Vulture Festival 2021 stand-up showcase and why you should, and will, book them for your next XP activation:
Why you should know her: Dominated the room, er, outdoor space, even as she refused to tell jokes. Anti-comedy FTW.
Why you will know her: She's staffed on season five of the "That's So Raven" reboot (ding, ding, ding more nostalgia). Follow her on Twitter and check out her monthly show Icons Only.
Why you should know him: NSFW jokes about long distance dating. Something, something sports.
Why you will know him: Officially accepting sponsorships, but only from Kohl's®. Expect great things™. Check out his upcoming guest appearance on Yeah, But Still.
Why you should know her: Humble genius. Skewers white American saviorism in Vietnam war movies. Talks sh*t about white people.
Why you will know her: She will probably get cancelled on TikTok soon. Follow for more!
Why you should know her: Starred in Shiva Baby. Famous with moms at the grocery store for Call Your Mother.
Why you will know her: The energy of this tweet. Indie thirst trap.
was jogging by a couple and they smiled at me and I smiled back and then when I looped back around they jogged after me and I was like ohhh they're fans of my indie film and then they propositioned me for a three way

— Rachel Sennott (@Rachel_Sennott) October 31, 2021
Other highlights from the festival included 'Insecure': The Pre-union with Issa Rae and Yvonne Orji and A '3rd Rock From the Sun' Reunion. The 3rd Rock reunion was a parade of delights with surprise guest appearances from Wayne Newton and Jane Curtain. Perhaps the vibe was best summed up by this selfie from Henry Winkler and Jojo Siwa: fresh favorites and industry veterans sharing the red carpet and the stage.
Subscribe to the XP Land newsletter. Follow us on LinkedIn, Instagram, Facebook and Twitter.