XP expert predictions for 2022 🔮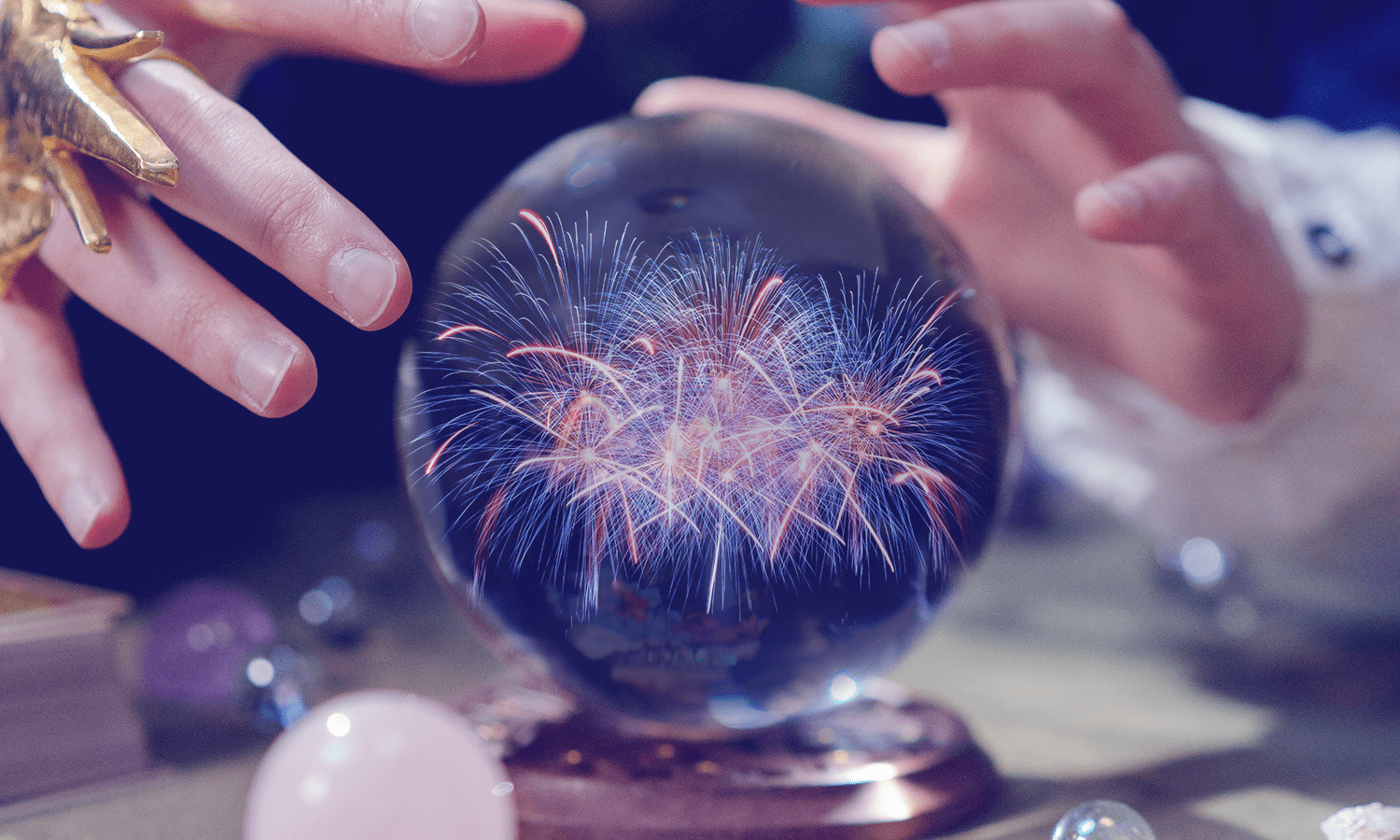 If necessity is the mother of invention, then 2022 is ripe with experiential opportunity. No other industry unites such diversely creative professionals together for a common cause: To make life just a little more exciting.
Experiential pros are cautiously (maybe nauseously?) optimistic about 2022. The past two years taught us to fully explore and embrace technology to keep pace with ever-changing consumer demands. And yes, while hybrid events are here to stay, Zoom fatigue is real and we're all jonesing to fire up our Instagram Stories and live IRL again. Safely.
Marketers, producers, creators and artists are about to embark on an interesting experiential journey. Event producers are tasked with conceptualizing activations for the socially curious, yet still understandably nervous. Next year's XP must foster catharsis and excitement, while simultaneously adhering to constantly evolving local health mandates.
Whether you're planning next year's event budgets or ready to launch your own [insert music festival, immersive exhibit, or brand event here], check out 2022's experiential predictions from some of the bravest and most successful visionaries in the business.
🔮 Greater consideration of virtual audiences will be a necessity
We're really beating a dead horse here, but the hybrid event model isn't going anywhere. Even with strong vaccination rates and the return of travel, fans and consumers will always have reason to engage in an experience virtually. This is a gift, so treat it as such. Virtual audiences expand your event's footprint and impact.
What the pros are saying:
"There is little doubt that the trend moving forward will be hybrid events and experiential will play a huge part in successful adoption. The hybrid experience will need to cater to all audiences in a viewer-friendly way so that the live and virtual audience are on the same level. Consider the amount of planning for the attendee journey you put into a live event experience and apply the same thought and care to your virtual attendees. Event platforms and UX will play a huge role in this over the next year." —Victoria Neeson; CEO, Dreamtek
"The maturation of the virtual and hybrid ecosystem will define the next year. Heading into 2020, virtual 'add-ons' to physical activations and events were not a new concept, but their volume and importance in the experiential toolkit was accelerated five years. It's not dissimilar from how the work-from-home trend is now becoming the norm (depending on who you ask). The natural evolution that will follow is a year of brands adjusting to creating experiences that are natively hybrid by design. Rather than tacking on a virtual component as an afterthought, strategists will be advising event storylines that are equally as rich from home on your phone as they are IRL." —A.J. Veleta; AR experience-maker
How to apply this to your 2022 events:
Allow sufficient transition times between events and/or sessions — staring into a screen's blue light can often be far more exhausting than being onsite. Give your virtual attendees the time to walk away and give their eyes a break.
Offer plenty of opportunities for engagement among your virtual attendees. Whether that's as elaborate as creating custom avatars or as simple as sharing their Instagram handles, ensure everyone has the chance to connect with their community. Even after the event concludes, there's potential for participants to keep connecting. Keep your virtual platform live for a week or so after you've wrapped.
XP Land resources:
🔮 New frontiers for artistic collaboration will emerge
While traditional museums talk about closures and mergers, immersive exhibits and art installations are investing hundreds of millions of dollars into the future of experiential. Not only do these spaces allow for safe reentry into the world of events, they also offer engaged audiences for artists and creatives. Additionally, expect more creativity in design and valuable artistic partnerships thanks to the growing universe of crypto payments and NFTs.
What the pros are saying:
"Moving away from the ephemeral in order to get closer to permanence. So a lot more interior design, land art and architecture looped into the experiential grab bag." —Nico Fonseca; artist and experience-maker
"NFTs will become a really big business, particularly in experiential realms where the cult of personality, fandom and collectibles intersect. They will provide new ways for individuals and idols to engage, extending engagements into new dimensions. We will see new unicorns pop and lock up huge pools of inventory, but we'll also see individual stars creating and controlling their own NFTs as a new lucrative revenue stream. NFTs will go from a niche market to big institutional businesses very quickly." —Julian Lion Boxenbaum; XP designer
How to apply this to your 2022 events:
Time to hop aboard the blockchain. We know! We're sorry! The future is coming and NFTs are ideal for controlling access to assets like websites and events, including product releases. For example, $RAC, a social token issued by recording artist RAC, grants token owners access to a private Discord group and gives them early access to merch drops. Partner with an already successful NFT influencer or take the leap and create your own in-house. DIY crypto!
Embrace influencers. You might read this as, "hire a TikTok kid to hawk merch online," but that's not the only type of influencer partnerships available for events. Embrace an artist and put their work center stage. Check out Superblue's interactive art experiences for inspiration. The company has worked with compelling artists such as James Turrell, Random International, Nick Cave, Es Devlin, Drift and teamLab.
XP Land resources:
🔮 The "return to normal" will bring a newfound optimism
Once the first events and festivals trickled in over the spring, the recovery of (almost) the entire ecosystem evolved quickly from there. We're seeing the number of events and event attendance reaching, and potentially surpassing, pre-pandemic levels from 2019. There's a hunger for community that's not slowing down.
What the pros are saying:
"I'm optimistic. Hopefully, I can say this without jinxing an entire industry, but I see things moving back closer to normal. Festivals will continue their return and the experiences we have will be similar to what we've been accustomed to. That being said, the safeguards will remain in place to keep fans, employees and artists safe. There's an eagerness and willingness from fans to participate in large-scale experiences and gatherings. That demand will still be pent-up next year." —Dan Severs; President, Thunderdog Entertainment
And what do I think? Oh, I'm so happy you asked…
Based on trends from Gov Ball, the US Open and NYFW, I'm anticipating a lot of brands diving in on event sponsorship next year. And it's a smart move, too. In 2019, consumers would often collectively roll their eyes when far too many brands added their names to successful events (thinking back to Vidcons past and cringing). But now, consumers are thrilled to be out living again and it feels like there's been a reset on our acceptance of branded activations. A concert sponsored by Old Navy? I'll be there! An art installation from the creators behind Bumble? Makes sense to me!
How to apply this to your 2022 events:
Balance optimism with realism. We encourage brands and event producers to continue honoring the flexible cancellation policies of the last couple of years. While more people are vaccinated and are comfortable meeting in large groups again, honoring the no-questions-asked cancellations of the Covid-era builds trust, and long term loyalty, with consumers.
Balance over-the-top offerings with simple options, too. While some people are ready to hop on a cruise ship and sail around the Pacific with their favorite K-pop group (not a real thing, just a hope and a prayer for the future), others aren't ready to venture so far yet. We're going to see a lot of back to basics events like movie screenings and music festivals garner just as much excitement.
XP Land resources:
Join us in XP Land. A community for experiential creatives and experience-makers, brand leaders and IP-owners, space stewards and venue visionaries — all of those in the business of epic gatherings and live, immersive storytelling.