The best mobile event apps for on-the-go virtual and hybrid XP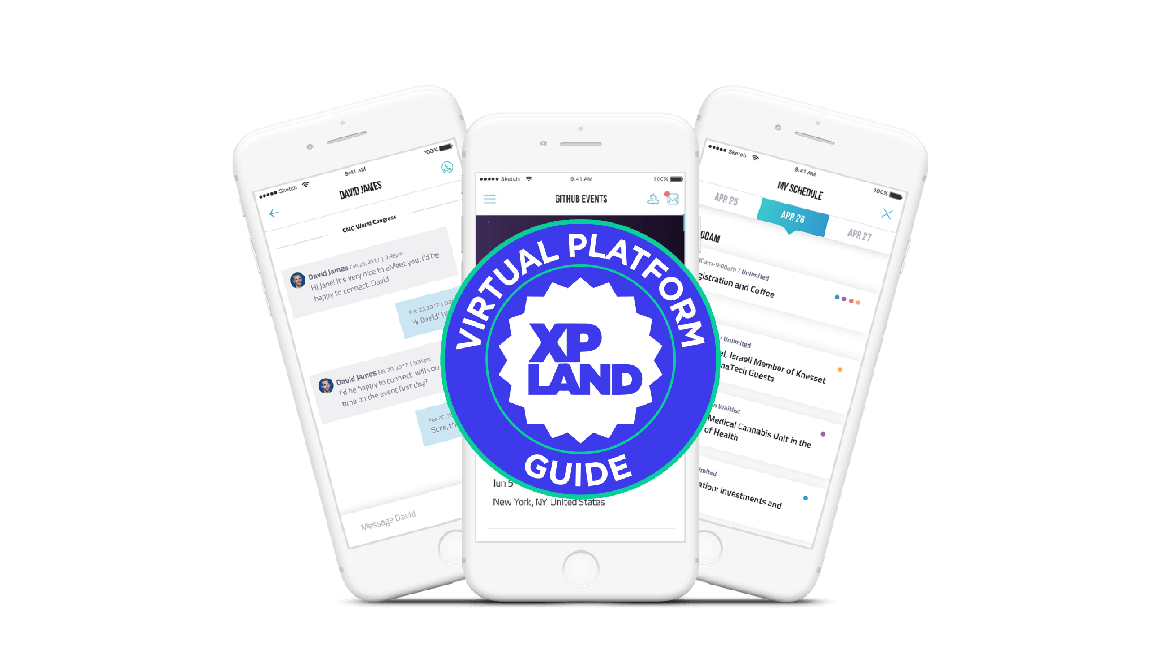 Aaaand here we are again — fall events that went all-in on in-person gatherings are suddenly faced with tough decisions as the Delta variant surges. You know what that means, right? Right. Hybrid is the only way to go.
For those of you saying, "Wait, you're bringing hybrid back?," we have news: Hybrid never left. (Yes, in this scenario we are Prince and you are JT and "hybrid" is "sexy.") Virtual platforms are here to stay as tools that offer flexibility for producers, allowing them to dial down in-person components and dial up virtual components as necessary, AKA, build solid hybrid experiences.
More than half of web traffic is mobile (so says Google), so the fact that so many virtual platforms are desktop-specific is basically anachronistic. Mobile event apps are a key part of the hybrid future, offering advantages beyond just their accessibility:
They serve both virtual and in-person attendees with the same product
They easily connect virtual and in-person attendees in video conversations
The notifications are much more familiar to smartphone users than the desktop versions
Not every event needs an app. Some platforms come with a passable mobile option that may suffice if only a very small percentage of your audience is on mobile. However, if you're taking your event hybrid or have an audience with a large number of mobile users, you'll need a platform with a mobile experience comparable to the desktop experience.
Here's our breakdown of the best in the mobile event app world.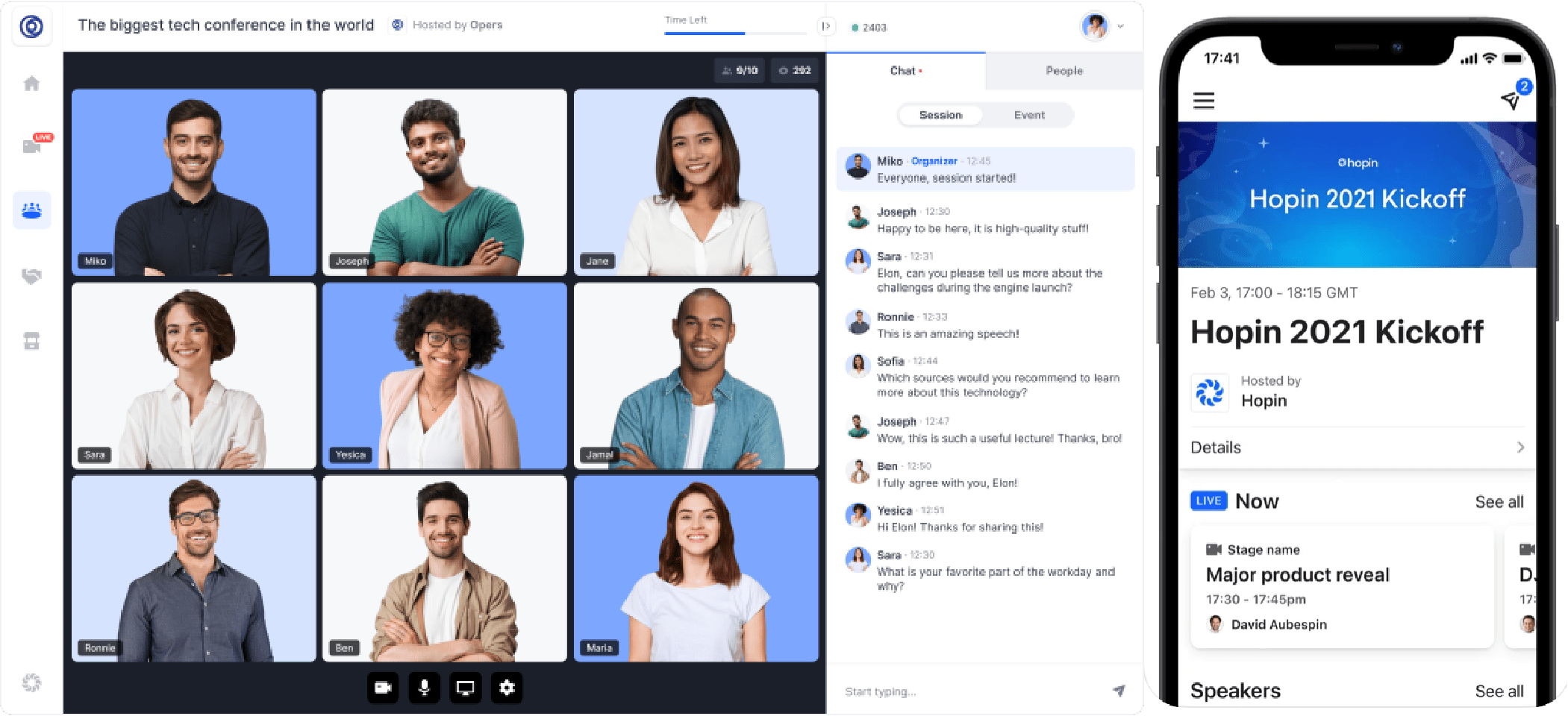 Hopin
One of the biggest names in event platforms is only getting bigger. As of August 2021, the 2-year-old startup was valued at a whopping $7.75 billion — yes, with a "B" — and expanded their suite of built-in services by acquiring Streamyard (video streaming tools), Boomset (on-site hybrid tech), Attendify (improved marketing reach) and Topi (mobile app design). What you get is a tool-packed platform that's still very easy to navigate.
While the high praise it gets is largely deserved, Hopin is not a perfect platform for all events. There are very few visual customization options and some breakout sessions have fixed capacities due to tech limitations. Note that the platform emphasizes its powerful video networking tools, which are not a critical (or even desirable) component for some events. But, its seamless video is impressive on both desktop and mobile — both have superbly clean interfaces. Regardless of which device you're on, you're fully connected to all of the other event attendees for top-notch networking experiences on Hopin.
Pros: Video streaming tools, user-generated breakout video chats, lots of sponsor tools, beautiful app, easy to use as an organizer and attendee, price is excellent for small events
Cons: Live breakout sessions with multiple speakers on video are limited to 750 viewers, relatively few customization options
Price/pricing model: Free for events up to 100 attendees lasting less than 2 hours; a 200-person event starts at $149 (which includes the $99/mo fee for their starter package)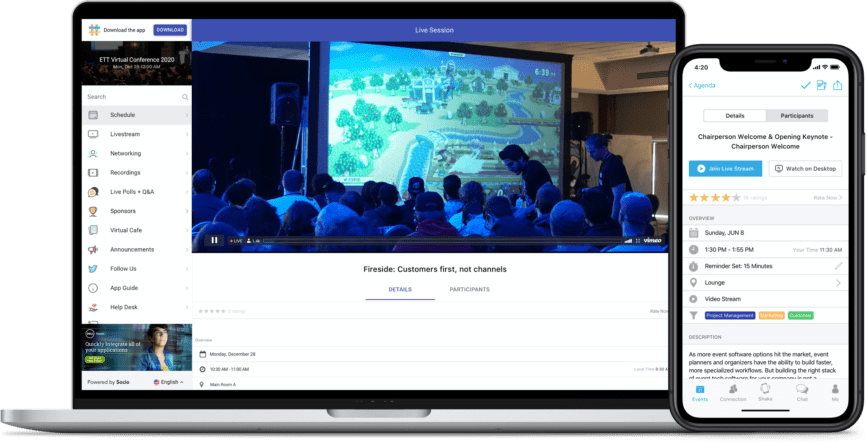 Socio
Socio seems to have it all, checking almost all of the boxes for available tools and event modules. The catch is that it doesn't stand out for any particular purpose, other than its superb mobile option. Organizers have a variety of drag-and-drop tools that they can incorporate into the event platform as they build the mobile version and desktop versions side-by-side. One unique tool that is pretty cool is the "virtual handshake," where live attendees can trade business cards or discover new people simply by shaking their phone at a live event. The gamification option also assigns point values to handshakes to encourage networking. Socio is a match for any virtual or hybrid event looking to have an app with customizable modules for a reasonable price as compared to the competition.
Pros: Simultaneously build the mobile and desktop platforms, multi-language support, gamified networking experience
Cons: Some of its tools are weak by comparison or are exclusive to in-person events
Price/pricing model: An event for 200 people will run $4k-$6.5k depending on whether or not registration and streaming are included in the package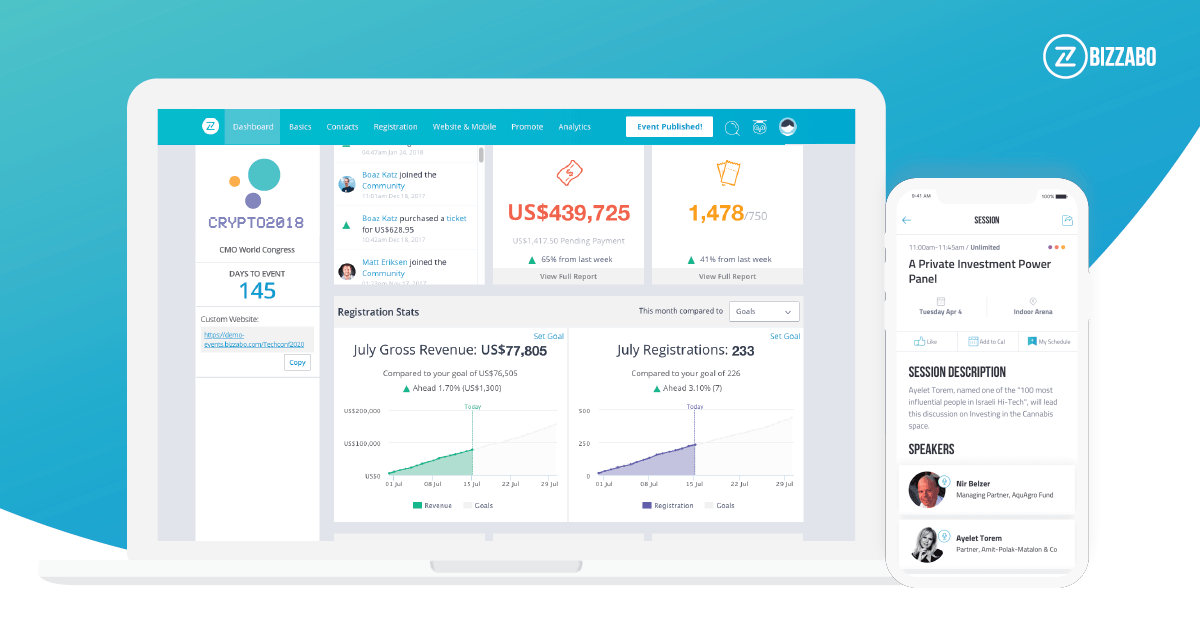 Bizzabo
If you want a lot of visual customizations for both the desktop and mobile experiences, Bizzabo is the way to go. The platform allows organizers to customize an event app and desktop site to feel completely on-brand, and the building process is made simple with Bizzabo's tools. After starting out as an app to compliment live experiences, the company evolved the product into a full-fledged event platform in 2020. This means that the video streaming and networking tools are quite basic compared to similar platforms, but the analytics and in-person event tools are superior. Bizzabo is by far the best option for a white-labeled mobile app and a strong contender in the visual customizations space on desktop as well. It's not the best option if your event is prioritizing virtual networking, where it falls short of other platforms.
Pros: High degree of desktop customization, fully white-labeled event apps, specializes in advanced analytics, extended suite of event services for hybrid
Cons: Limited virtual networking options
Price/pricing model: Bizzabo offers a year-long pricing model for agencies that covers all event needs for $35k, which can be scaled down for individual events
Join us in XP Land. A community for experiential creatives and experience-makers, brand leaders and IP-owners, space stewards and venue visionaries — all of those in the business of epic gatherings and live, immersive storytelling.