Creative risk and the science of socializing: Q&A with experiential thought leaders Louisa St. Pierre and Sam Bompas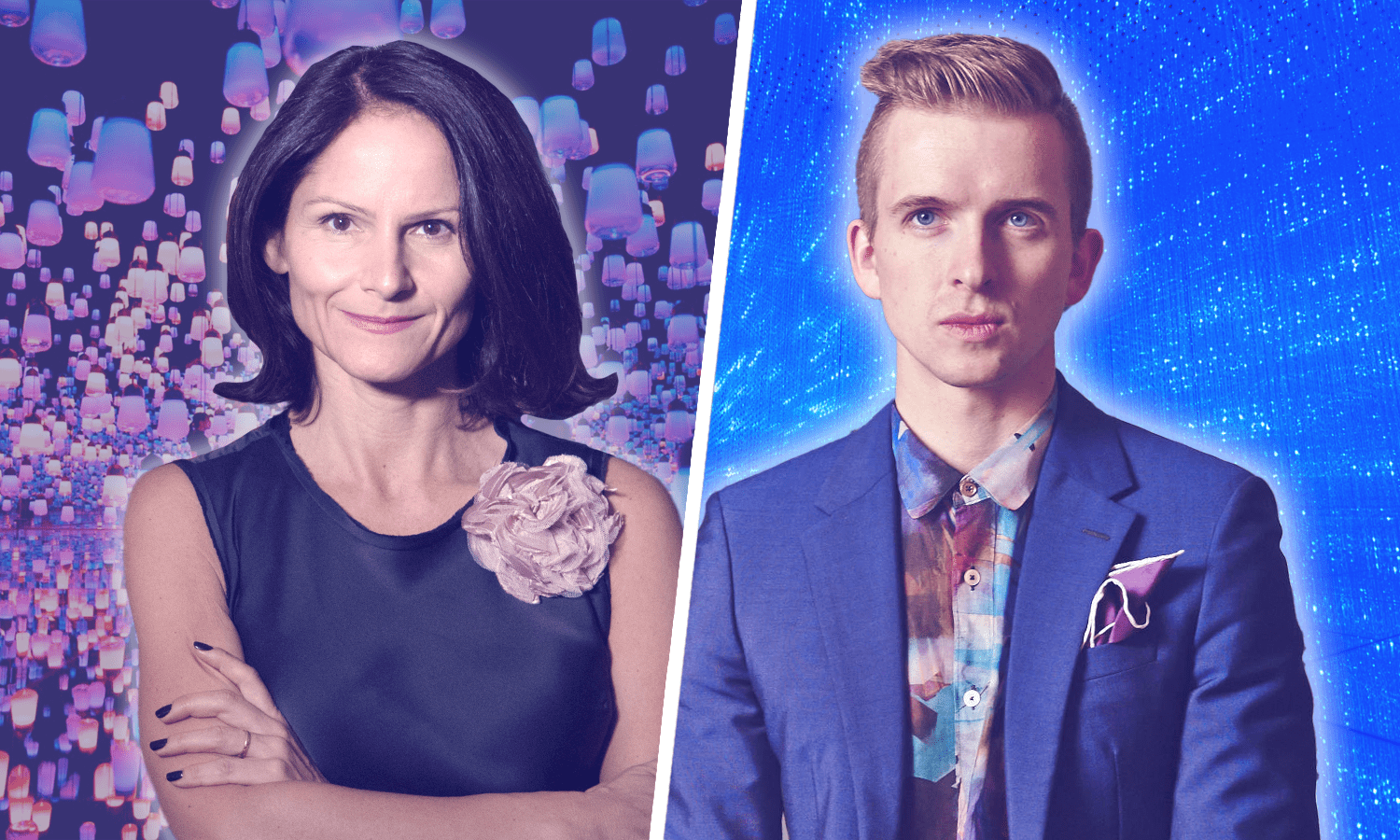 Louisa St. Pierre, Global Director of Art, Design & Experiential for MA+World Group, and Sam Bompas, Director at Bompas & Parr Studio Ltd., practice the kind of banter that calls to mind a Nora Ephron comedy. Whether they're building each other up or charmingly disagreeing, theirs is the kind of friendship that can only develop through years of collaborating on experiential projects — a special punch bowl of creativity, problem-solving, and exceedingly odd hours.
I had the chance to meet these two lovely Brits recently over Zoom. Louisa was mere blocks away from me in her gorgeous Brooklyn home, while Sam hid in a quiet conference room at Bompas & Parr Studio in London, as the rest of his studio-mates celebrated a shoot wrap. The three of us discussed what makes interesting work, how the pandemic forced XP thought leaders to innovate (and quickly) and why digital experiences will never replace real-life ones.
Samantha Stallard: I want to hear about both of your backgrounds and how you got involved in this industry.
Louisa St. Pierre: I'm an artist myself, but I have always represented and worked alongside other creatives and artists. That's really my passion. I like connecting dots and people in myriad ways. What seems to be emerging, in reaction to the pandemic, is that your wallet becomes your social passport. In spite of Omicron, we've seen a huge uptick in live experiential events, because people like people.
I met Sam Bompas many years ago. I had a tour of his wonderful studio and was captivated by his strategic, creative approach to experiential and everything that surrounds it. Handing over to Sam.
Sam Bompas: I'm pretty intimidated. Louisa is one of the most hardworking people I've ever met, which explains why she's able to make it all happen. Her—and my— entire focus is trying to do things that delight people, and there are many ways to do that. You go in hoping that the work initially delights you, then the people around you, your friends and family, and then a much wider audience.
P.T. Barnum once said, "Every crowd has a silver lining." As long as we make work that's interesting for the people who show up, we don't need to think about the commercial side of it. That will look after itself.
SS: How do you walk the line with creative risk?
SB: Louisa and I might have different answers on this, but I suspect both of them come down to the same thing. I don't think it matters what brand you are speaking to. Ultimately, the person making the decision is that: a person. And when you're able to demonstrate the personal care, thought, energy and excitement you've put into any idea, there's nothing more compelling.
LSP: Sam's right, I will answer that slightly differently, because sometimes I package solutions and creatives to see what resonates with the clients. I see a bit more risk taking because the stakes are higher in a Covid world. I was in a conversation recently about the future of retail. What's that going to look like? There's going to be an entertainment component, for sure.
That's where Bompas & Parr is so strong. For Westfield, they created a lake you had to row across and a waterfall you had to go under to reach a secret grotto where semi-naked mermen served you drinks and food. There was all sorts of programming surrounding it. Sorry, I've probably just butchered that idea! It's much more elevated. It was a huge success and really increased foot traffic, because what could be more daft and magnificent than mermen? I'm so over mermaids.
SS: There's going to be a celebration of theater.
LSP: I don't know that this notion of the post-pandemic 'roaring '20s' is quite the reality, but I'd like to think so. I do love a flapper dress. And I'm definitely seeing a bit more risk.
​​
SB: We still need joy, with props, to help us socialize once again. I mean, my conversational ability, and my ability to host and perform hospitality, is through the floor. Give people the tools to be effervescent — be it corporate entertainment, an important date, a night off from the kids — and they can rediscover their own brilliance.
LSP: We did a really simple event for the University of Arts London alum. They normally do panel discussions, which are great, because who doesn't want to hear what all of these geniuses think and what they've gone on to do? But we wanted to do something physical and interactive. So the British artist Pat Vale did a pop-up exhibition and hosted a life-drawing class with an opera singer as the model. She could really strike a pose.
She was singing and bantering with him, and we had these two groups of creative people who haven't necessarily drawn with real tools in years. It was such a fun experience, because most people there had had life drawing as part of their education, and some of the conversation was, "Wow, I really have forgotten how to draw," or, "I feel like I'm expressing myself in a way that I never have." And those reactions have been informed by 15 years of corporate experience or doing something else.
People want to dig in and make stuff, to get past that social awkwardness that can come about from being confined at home for months on end.
SB: The rule at events used to be that something needs to happen every 20 minutes. Now I think it's, something needs to happen every five to 15 minutes. You want to get a lifetime of experience into one night, because you're only going out one night. And it's exciting to discover people that you know in your gut are awesome, and then work with them immediately before everyone else realizes it.
SS: What advice would you give the artists and creatives navigating these partnerships for the first time?
LSP: Do your research, come with questions, and really listen. Perhaps give them a little nugget of an idea and see what can unravel. A bit of empathy comes in quite handy, too. It's a fundamental pillar of collaboration.
SB: I'm mentoring someone who's just fantastic, Charlotte Barry. It started because she emailed and called all the time; she was quite determined about what she wanted, which was really some guidance. She said, "Look, can I just come and sit in your studio and use your library?"
Then we had a chat and started getting to know each other. Normally I wouldn't take on anyone just to mentor, because I've got a whole studio full of people with careers I'm dedicated to fostering. But it's really interesting to hear opinions and insights from other sources. Charlotte's very considerate and energetic. She listens, and she does really interesting work.
LSP: Make yourself useful. This applies at whatever stage of a career you're in. I love that Anthony Burrill poster, "Work Hard and Be Nice to People." It's fundamental to doing good business. Experiential, like everything that involves creative people, is such a relationship business. It should be fun.
There are always challenges along the way, but problem solving builds teamwork. When there are disagreements — especially creatively, because people can feel so passionate about their vision — I don't think that's bad, because you can sharpen each other. As long as you come with a spirit of empathy, you can consider the other person's perspective. It'd be boring if there weren't problems. We'd all be smug and bored.
SS: What's something experiential that started during the pandemic that you couldn't live without now?
LSP: The first thing that pops into my mind is how prevalent Zoom and other video conferences are. We did a webinar series with people who wouldn't normally show up, because they could do it from their homes. So we had Sir Paul Smith, Jason Wu, and this amazing South African designer, Thebe Magugu.
There was a sort of humility in the willingness of these people to do the video conferences. They wanted to stay connected. And there was a real camaraderie, as well. I used to do phone conference calls all the time. I don't think I've done one for six months, because everybody just hops on Zoom.
SB: I'm wholeheartedly into real-life stuff. We obviously do lots of digital, but ultimately we're an agency that deals with the lower senses. The lower senses don't work well over digital. They don't translate. I can't send you a smell now.
There are a lot of industries that have changed dramatically, and there are plenty of exciting opportunities in the digital domain. I've been on many digital panel discussions, but you may have noticed that they've dropped off because attendance slowed. Maybe I've talked myself out of some work, but from my deathbed, I know how I want to have spent my time: around the table with some friends, with a beer and some good jokes.
This interview has been very lightly edited for length and clarity.
Join us in XP Land. A community for experiential creatives and experience-makers, brand leaders and IP-owners, space stewards and venue visionaries — all of those in the business of epic gatherings and live, immersive storytelling.