Sponsored by me to sell me: Authentic brand alignment with artist and author Adam J. Kurtz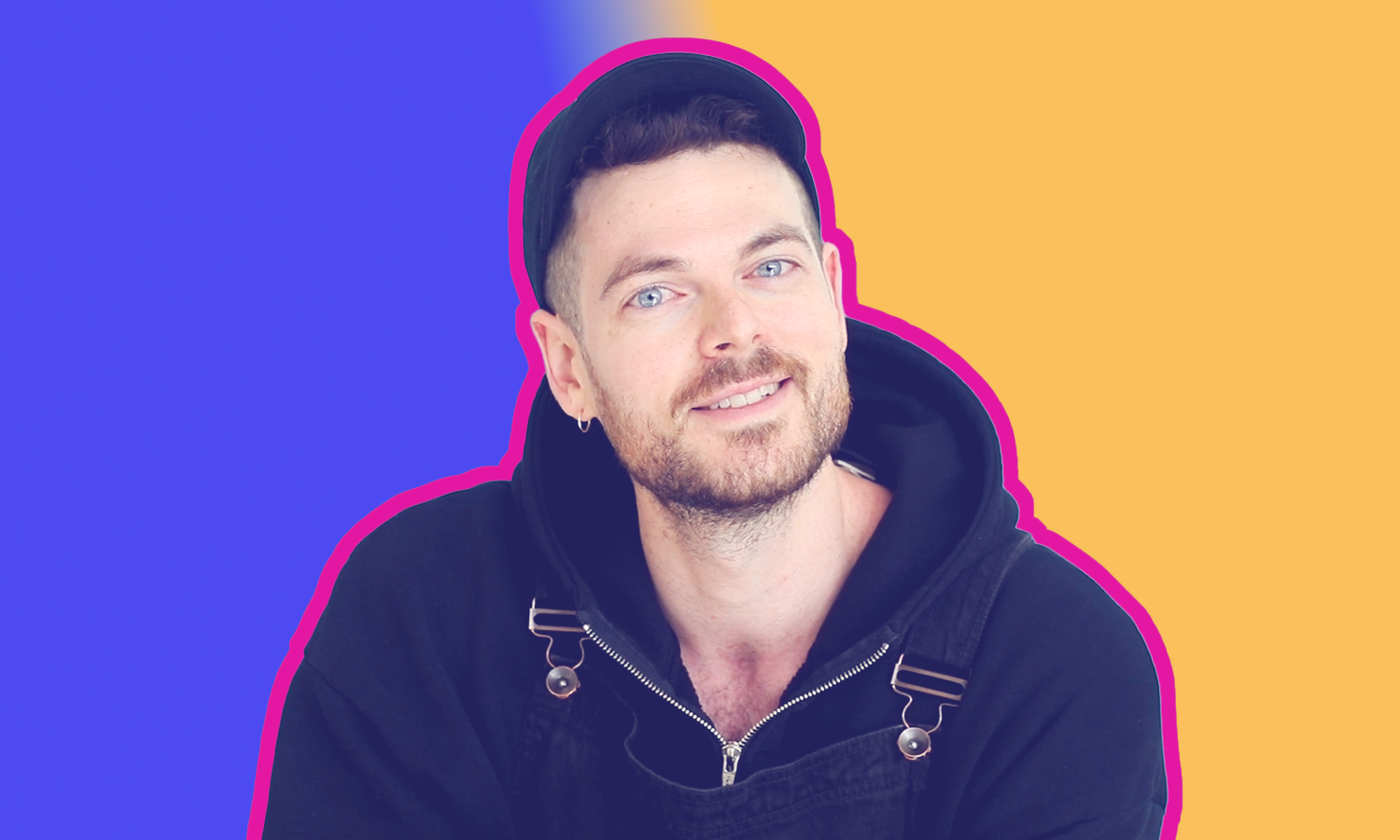 For multi-hyphenate artist Adam J. Kurtz, brand partnerships are part of what it means to be a modern working artist. And he approaches working with brands with the same joy and dedication he brings to making his own books, stickers, pins, and many other creations packed with candor and whimsy. (His best-known keychain hangs off the key rings of millennials everywhere.)
Kurtz runs his own online shop, Adam JK; is the best-selling author of four books that have been translated into many languages (the newest of which, You Are Here (For Now), was released in October); and is a passionate public speaker. He has created tote bags for Microsoft, given the keynote speech at Adobe's digital conference, and imagined artwork with the Mailchimp team to march in the Atlanta Pride parade.
Kurtz—who moved to Honolulu from Brooklyn during the pandemic—talked to us about how to leverage your skills and embrace your personality to authentically align with brands. And he shared his best advice for experiential event planners (it involves good lighting).
Jillian Anthony (JA): Tell me about the different partnerships you've done with brands and how those came about.
Adam J. Kurtz (AJK): For commercial artists working today on the internet, inevitably there are going to be brand partnerships. And as an artist and author who also does public speaking and has a product line, there are a lot of different points of alignment I can have with brands. For example, I spoke at a Shopify conference for their enterprise clients, and I made the tote bag for a Microsoft industry event. I had an ambassadorship with Adobe where I did a year's worth of digital content and interviews and social posts culminating in an online keynote for a digital conference, and a collaborative merchandise item that we distributed to thousands of online customers. There's also being in campaign videos—me as myself, being a featured artist in a campaign for L'Oréal.
I'm always game for these sorts of partnerships, as long as they don't seek to flatten me out entirely. Whether we want to or not, every artist, every creator, every person today is aligning themselves with brands, because we are all relying on tech platforms to communicate anyway. Might as well get paid for it.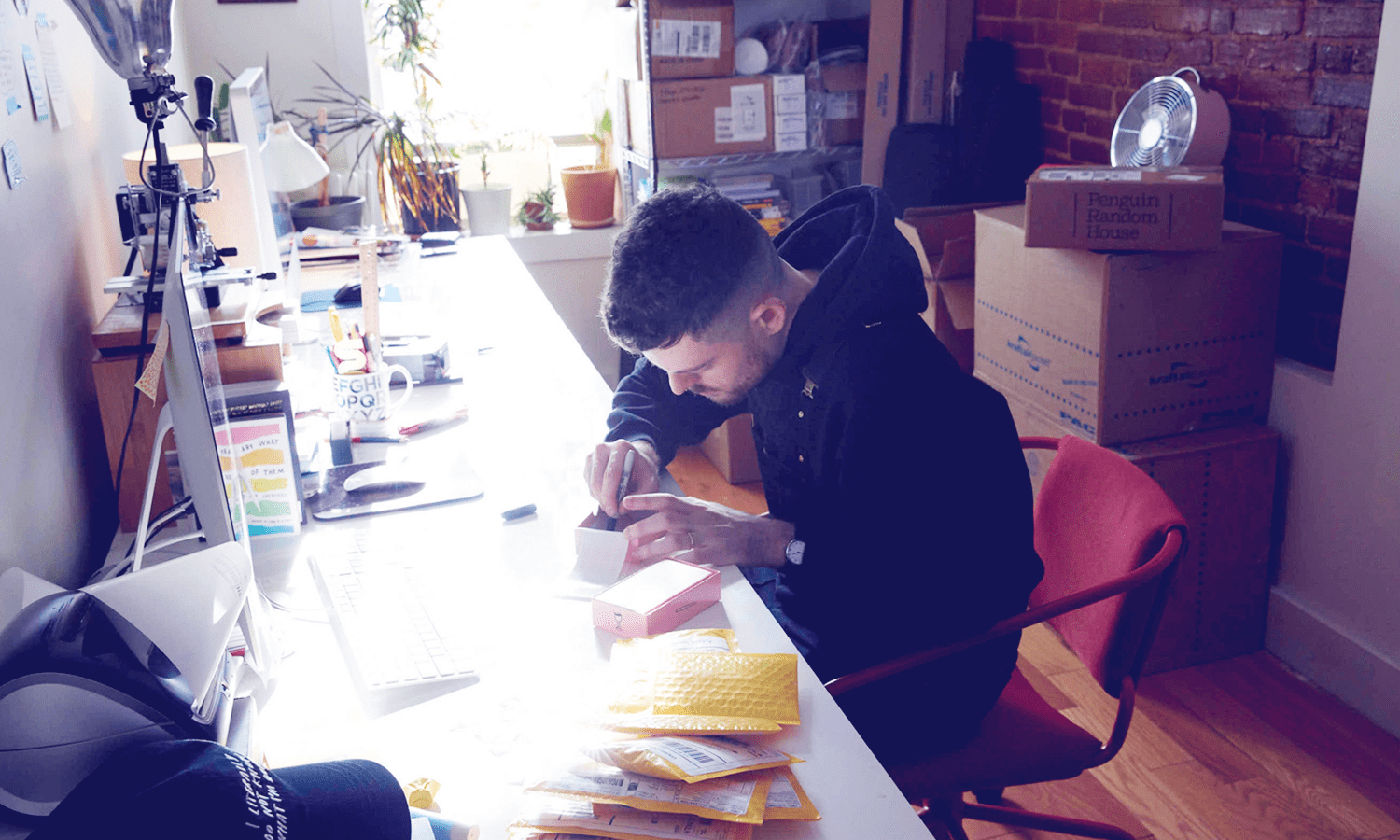 JA: Your book tour [for your newest book, You Are Here (For Now)] was very different from a traditional book tour because of COVID. You had your incredible podcast with all these different artists. What was different about making the podcast from doing promotional events before this?
AJK: I had never done a podcast before and I didn't really know what to expect. I had incredible guests—New York Times bestselling authors, award-winning actresses, Grammy Award-winning singer-songwriters. I had some wonderful partners and did some really great stuff to amplify all of it, but the podcast itself actually ran ad-free. You know, I'm saying ad-free, but actually, it was an ad for my book. It was a book tour podcast. And so sometimes it's like, well, I am an ad as well.
Sometimes we talk about ads and advertisers and sponsors like it's a dirty word, but every artist is selling something. A book is a product and I'm a product. I literally sell products. My name is a registered trademark. My podcast was sponsored by me to sell me.
I had a lot of fun trying to subvert the whole idea of, what is a book tour? Also, what is a book? Because my book is not really a normal book either. I'm not a normal author or graphic designer or advertising creative. I've never really fit 100% in any of the contexts that I've existed in professionally, and for a long time that hurt. I wanted to fit in and be respected and cool. And finally, I was like, You don't and you can't and you won't, and no one needs you to. You are, in fact, an awkward gay Jewish weirdo, just as you always have been.
This book is me finally saying, "It is what it is." And that has led to some very cool brand partnerships, because the people that work with me are the people that say, "We see you, and that's actually what we want to tap into."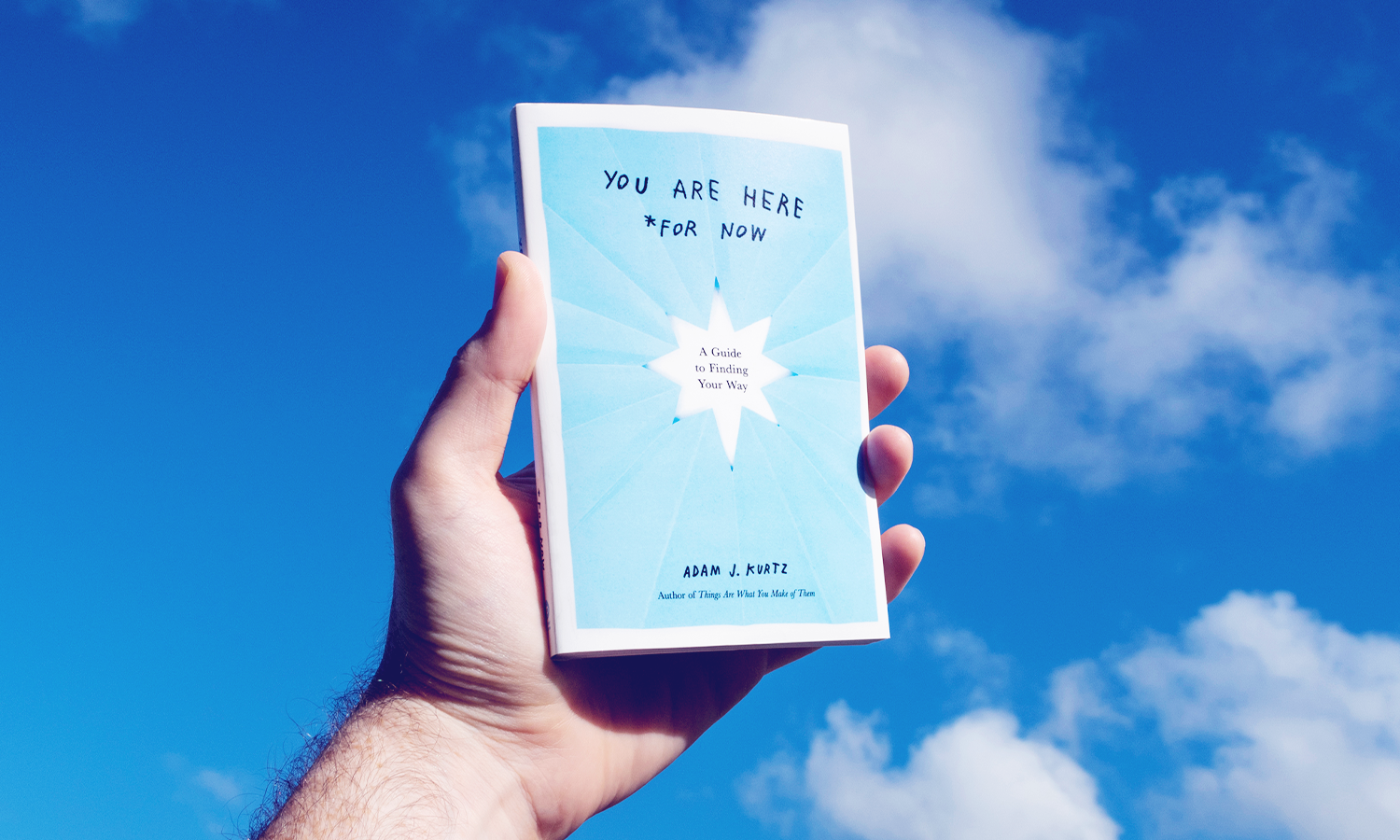 JA: Since you are in so many different niches, how do you balance work that you have to do for your brand and shop versus your personal artwork?
AJK: I've really never figured out the secret sauce on balance. And I don't know if I will ever get there or if I'm destined to be a little bit of an erratic person.
I'm using the word erratic, which is sort of unkind—other people might call that serendipitous or exciting or creative. But I would say just know what your limits and boundaries are. I do an annual agenda project which I've been self-publishing for 12 years. This was a project that initially got me my first book deal with Penguin; it continues to sell year after year and has many devoted users. And this year, I'm way behind on my own schedule. And I'm just like, you know what, that's just gonna be what it is. And the fans of this thing, they're still going to get it; they're just going to be a little more patient. It's going to be fine.
JA: Your self-assuredness in making that choice only comes from so many years of doing this and failing and succeeding. And you've probably had the same journey as far as charging brands. Do you have any advice for other artists on how to think about that?
AJK: I am at a point in my career now where I represent more than just a follower account or X number of likes on a post. And so when a brand in the creative space approaches me about a partnership, they're not just asking for an Instagram post. They're also tapping into a creator who is an international best seller, a best-selling author in the creativity space, a popular keynote speaker at creativity conferences, someone who navigates both mainstream and independent self-publishing of books and products. I tick a lot of different boxes. It's about the big picture of who you are, what you have to offer, what the story is, and what specific value you're offering.
Put a deck together. I love when a brand comes to me with an email—it tells me that they've done more than just see my follower count. And I think brands appreciate when I hit them with a little one-sheet of, here's my metrics, here's my demographic data, here are some of the brands I've worked with. This isn't something that I'm doing begrudgingly. I recognize that this is part of being a working artist today. And I'm going to approach this with the same care and attention and passion I bring to my work, because if I'm going to do it, I want to do a good job.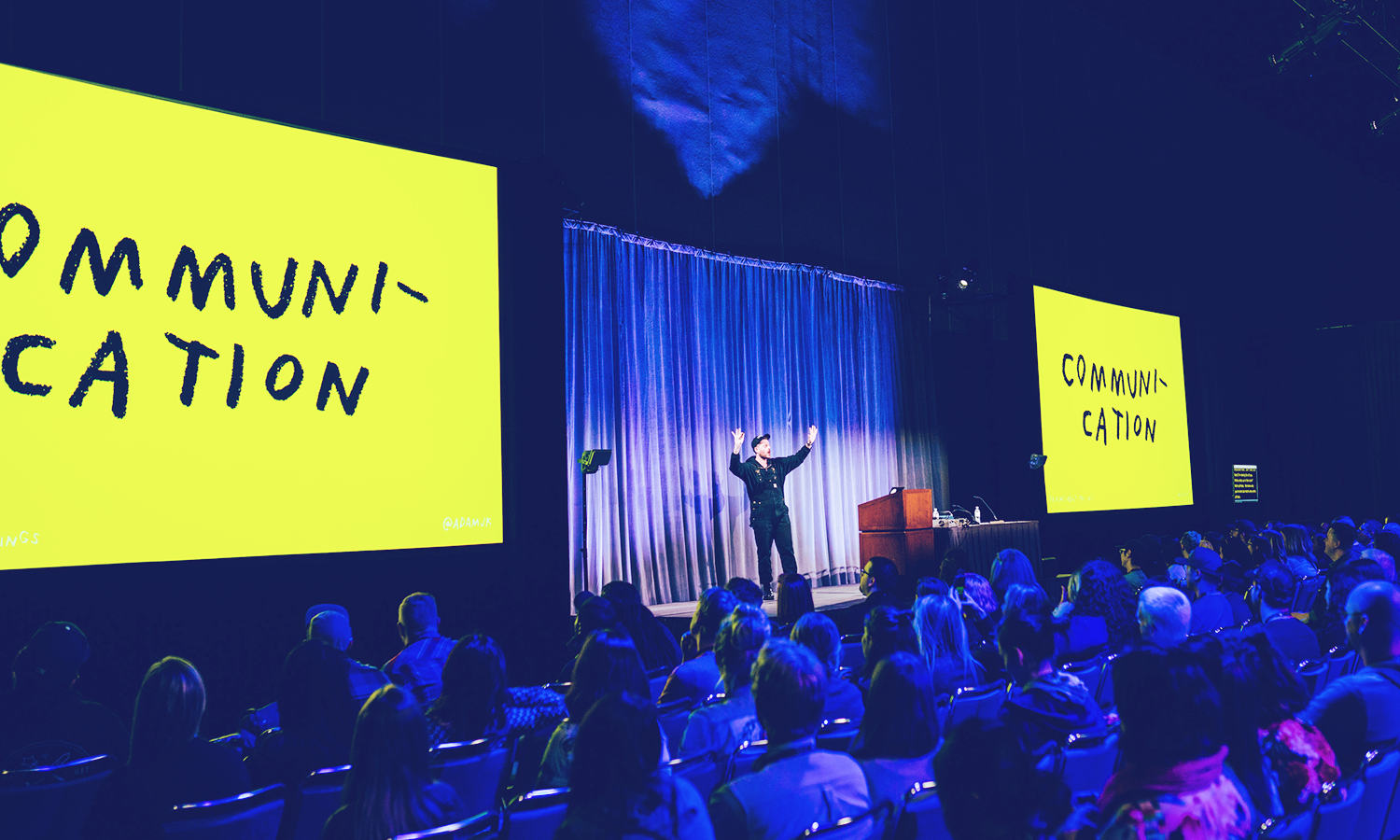 JA: Tell me about the partnerships you've done for Pride.
AJK: I partnered with Mailchimp in 2019, and I designed their parade ephemera for Atlanta Pride. I designed a series of illustrations for these eight-foot rainbow-shaped balloons that they marched down the street. And we made thousands of pins that we distributed, as well as pronoun stickers. We did pencil sets for kids, because a lot of families bring kids to Pride. Mailchimp brought me down to Atlanta to meet with their queer employee resource group. First, I gave a talk, and I met with the group and learned more about what they really wanted to see from their private offering. And then I came back with my husband to actually march in the parade. It was a really cool partnership, and I absolutely loved working on it.
And the reason I got this partnership is because I had posted an Instagram story many months earlier that was like, Hey brands, I'm gay, hire me for something. And I tagged Mailchimp in there and someone saw it and ran it up the flagpole.
JA: What was the last event you went to that you really loved?
AJK: The last experiential event I went to was my own, which was very cool for me. I had an art show for my book. I worked with a local artists' bookstore here [in Honolulu] and did an installation of work on the walls and hanging from the ceiling. And we did a photo moment in the store windows and then a neon work that was visible from the street that lit up at night. We did a series of events in the space.
I've been to all kinds of these experiential things, and I have to say that my favorite ones are the ones that have good food and the space to actually eat it. And let's be real, at most of these events, it's about what it photographs like. Like, I need to tell you: You're going to spend all this money on a photo setup, and then you have some ugly overhead spotlight on it and the photos look like shit. Save your money. If you want really beautiful photos from your event and you want people to take beautiful selfies, it's got to be a daytime event with natural light.
And if that's not happening, then just make it so that the take-home swag is really good. If the swag is really good, I'll Instagram that. I'll tag this shit. We all know how the sausage is made. I'm a blue checkmark. I get it.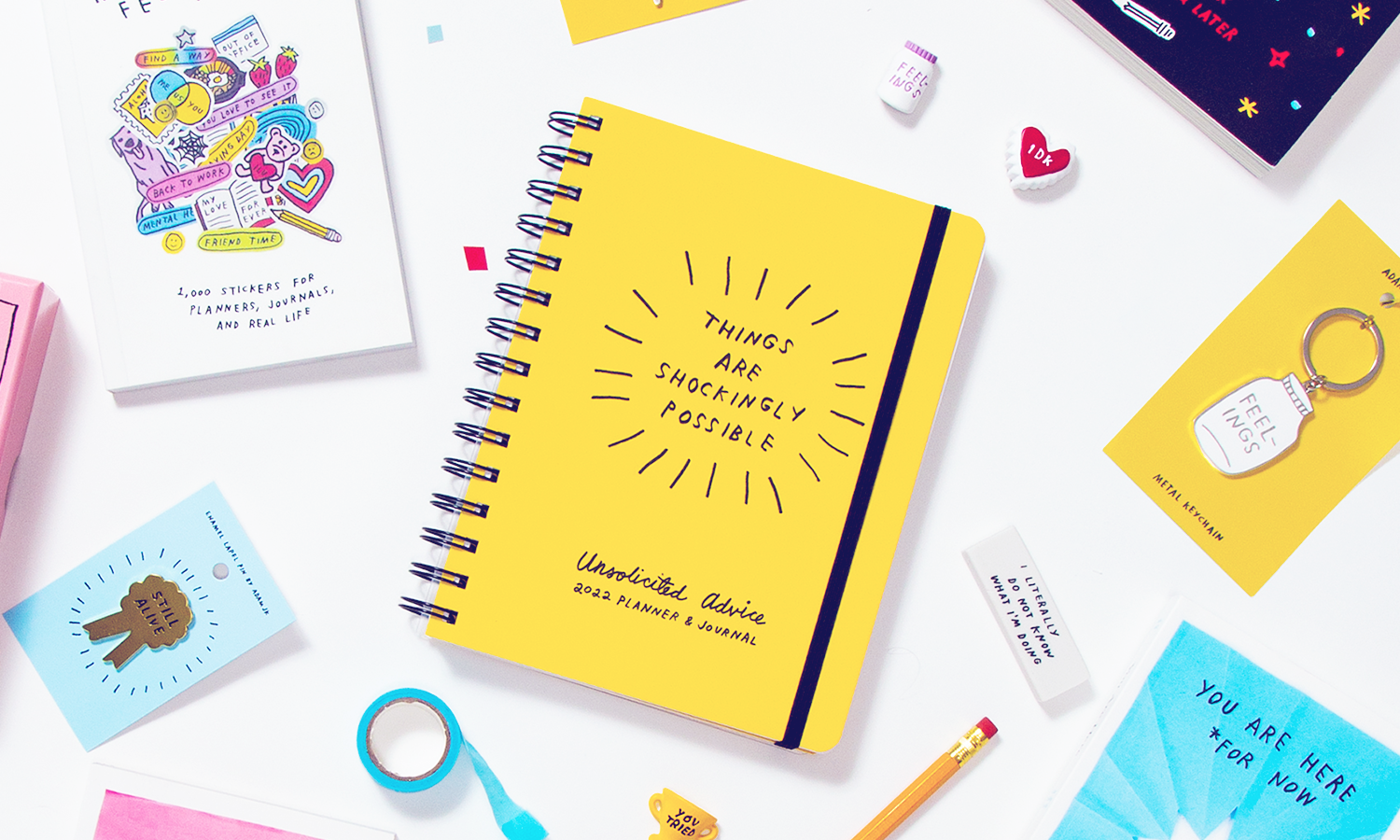 Join us in XP Land. A community for experiential creatives and experience-makers, brand leaders and IP-owners, space stewards and venue visionaries — all of those in the business of epic gatherings and live, immersive storytelling.