Advertising Week speaker perspective: Onsite jitters, offsite oversights and key takeaways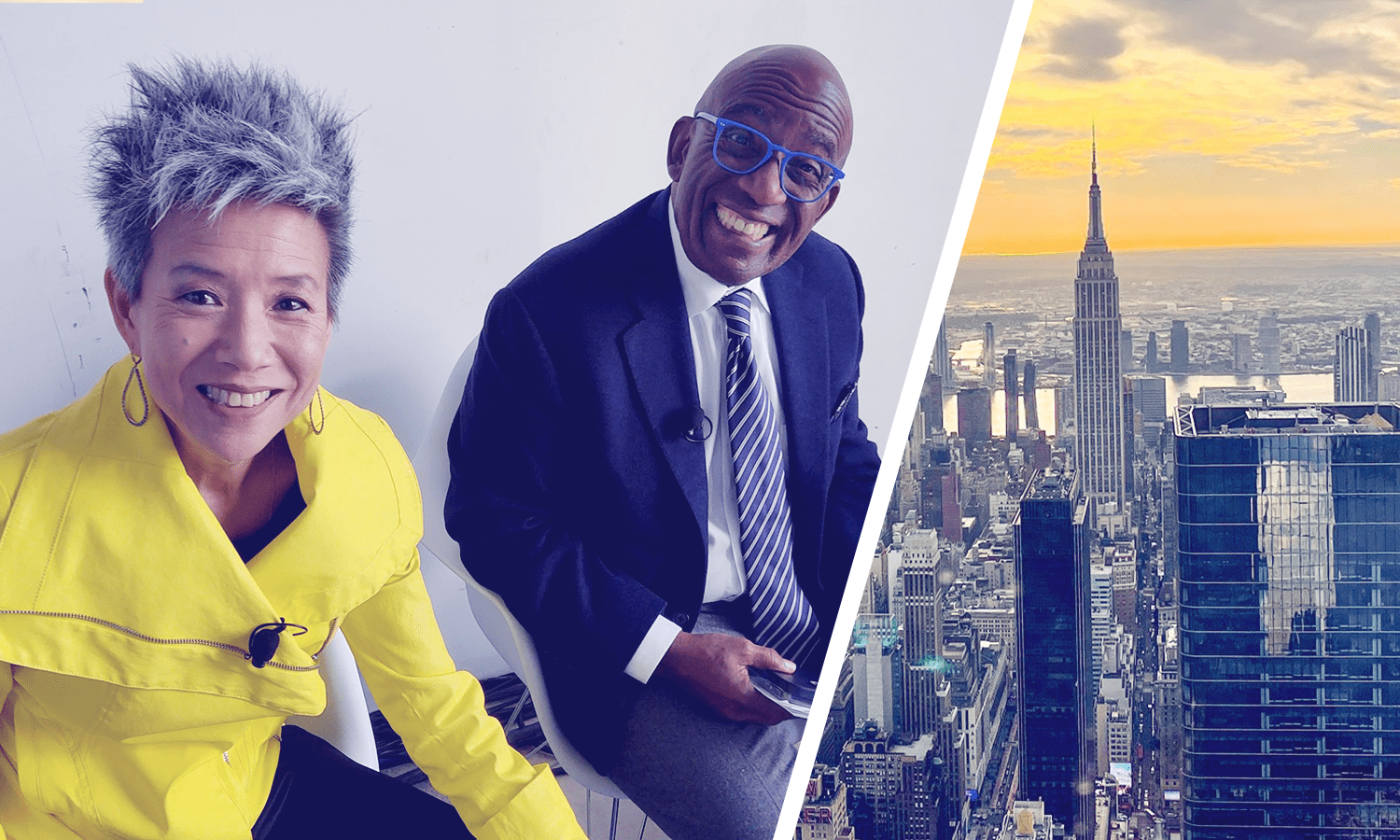 I've spoken at oh, you know, a few conferences now (humblebrag) and while I've always felt that lovely mix of nervousness and excitement before hitting the stage, at last week's Advertising Week New York, I had a whole swath of new anxieties swirling through my mind.
What do I do with my hands? Where do I look? How do I sit? After 18-plus months of leading meetings, panels and webinars from the comfort of my own living room, suddenly the audience was going to see me, all of me, in person again. No more nervously bouncing my legs hidden below the laptop camera or obsessively playing with a paperclip while I sneak another look at my notes. This time, I had to be shoulders back, hands down and eyes focused.
Maybe you can relate? As in-person conferences, expos and summits get their mojo back, many of us are being asked to lead sessions or participate in panels IRL again, and to do that requires a whole different set of muscles than the ones we've been exercising in the pandemic era. And, when we're on the other side of the stage — e.g., the ones putting together these events — we need to be mindful of the fact that our talent may be re-engaging with in-person audiences for the first time in a very long time and work extra hard to make them feel comfortable.
Because I spent the majority of Advertising Week as an attendee, I had the chance to learn from those whose sessions were before mine. And watch how the event producers interacted with, and assisted, the speakers. From my attendee/speaker-perspective, what did the Advertising Week team get right? And, what were the key takeaways as we all look to improve IRL events in this crazy, weird, in-between world we're currently living in?
WHAT WE LIKED
An assortment of influencers on stage: We've dived into the power of influencer marketing before — and Advertising Week understood the assignment. Big names like Matthew McConaughey, Diane Von Furstenberg and Ava DuVernay beamed in virtually. There was plenty of star power on the ground, too, including Al Roker, Christie Brinkley, Don Lemon and Charlamagne tha God.
However, one of my favorite panels featured a group of influencers discussing their lives as influencers. Meta. During "The True Power of Influencer Marketing: DEI," Ashley Rudder, head of creators at Whalar, spoke with photographer Natalia Seth and TikTok content creators Alexia del Valle, Isabella Ferregur, Jesus Zapien, Leo González and Monica Villa. The group dove into diversity, driving business results and the responsibility of brands to ensure Influencers are paid equitably for their craft and impact. Super interesting content for the participants and super interesting content for the audience — a win-win.
Twenty-five minute sessions: As a speaker, I panicked when I first heard the time limit. How were we possibly going to get our full message out in such a short time? How could we make a real impact? It was only as an audience member, in the days leading up to my own session, that I realized what a brilliant idea this was.
Twenty-five minutes is enough time to communicate two-to-three solid takeaways. In an event space as overwhelming as Hudson Yards, and after almost two years away, attendees had little to no attention spans. Reflecting back on the week, I can't imagine sitting for a 45-minute Q&A on the "cookie-less future."
Specialized onsite staff: Each stage at Advertising Week had its own manager. This person's job was to corral speakers 20 minutes before the start of their session, explain how microphones work and that, when wearing one, there's no need to scream (honestly, thank you), and lead a practice walk from backstage to our seats.
Of course, as an experiential marketer, I thought about all the self-control and breathing exercises it takes to explain the same key points to different people dozens of times over the course of a four-day conference. But, as a speaker, I appreciated the attention to detail and that there was one person I could direct all of my compulsive questions toward. ("Are you all supplying branded notecards?" No, reader, they were not.)
WHAT WE WOULD HAVE LIKED TO SEE
Over communication pre-conference: While the onsite team killed it, before I met them, I walked into the venue on Monday morning unsure of the run-of-show. Luckily, I made my way to the speakers lounge about an hour before my session, but once there, it fell on me to text the rest of my group about where to meet and at what time.
I know the final days leading up to an event are absolute chaos. Experiential producers are lucky if they manage to brush their teeth and find matching socks, but taking the time to plan and schedule a series of informational emails to speakers in the days (and hours) leading up to their session goes a long way towards alleviating onsite questions and worries. And don't be afraid to be repetitive because, yes, we already forgot what time to meet.
More IRL audience engagement: While I absolutely stan putting the virtual audience first, there also needs to be space to engage those attending in-person. At Advertising Week, Q&A questions for speakers could only be submitted virtually. If no one watching at home had a question, then no questions were taken at all.
Covid was blamed. According to my stage manager, the producers wanted to keep IRL attendees masked and in their seats, not lining up in the aisles and removing their face coverings to spit all over a hot mic. Q&A's are where the magic happens — speakers answer unrehearsed, real world questions from engaged audience members who have this one shot to ask their super-niche and relevant question to a group of experts. I missed it.
Personalized follow-up post conference: Once my panel was over, it felt like my carriage turned back into a pumpkin. Gone was the speakers' lounge access with its cookies and charging stations. Though I was a civilian again, I wanted to watch my session (Advertising Week recorded all live stream sessions to be accessed on-demand) and, yes fine, send it to my mom.
I waited a couple of days, thinking that eventually, amid the sea of "thanks for attending Advertising Week" emails, there would be one sent to just my panel, thanking us for speaking and sharing a link to our recording. I'm still waiting on that email… While attendees expect generic, post-event blasts, provide a little more personalization for the speakers.
How else have you engaged speakers before, during and after an event? Tweet us at @xpland_news to share your own hits and misses.
Join us in XP Land. A community for experiential creatives and experience-makers, brand leaders and IP-owners, space stewards and venue visionaries — all of those in the business of epic gatherings and live, immersive storytelling.