Are virtual platforms finally catching up to Gen Z creators?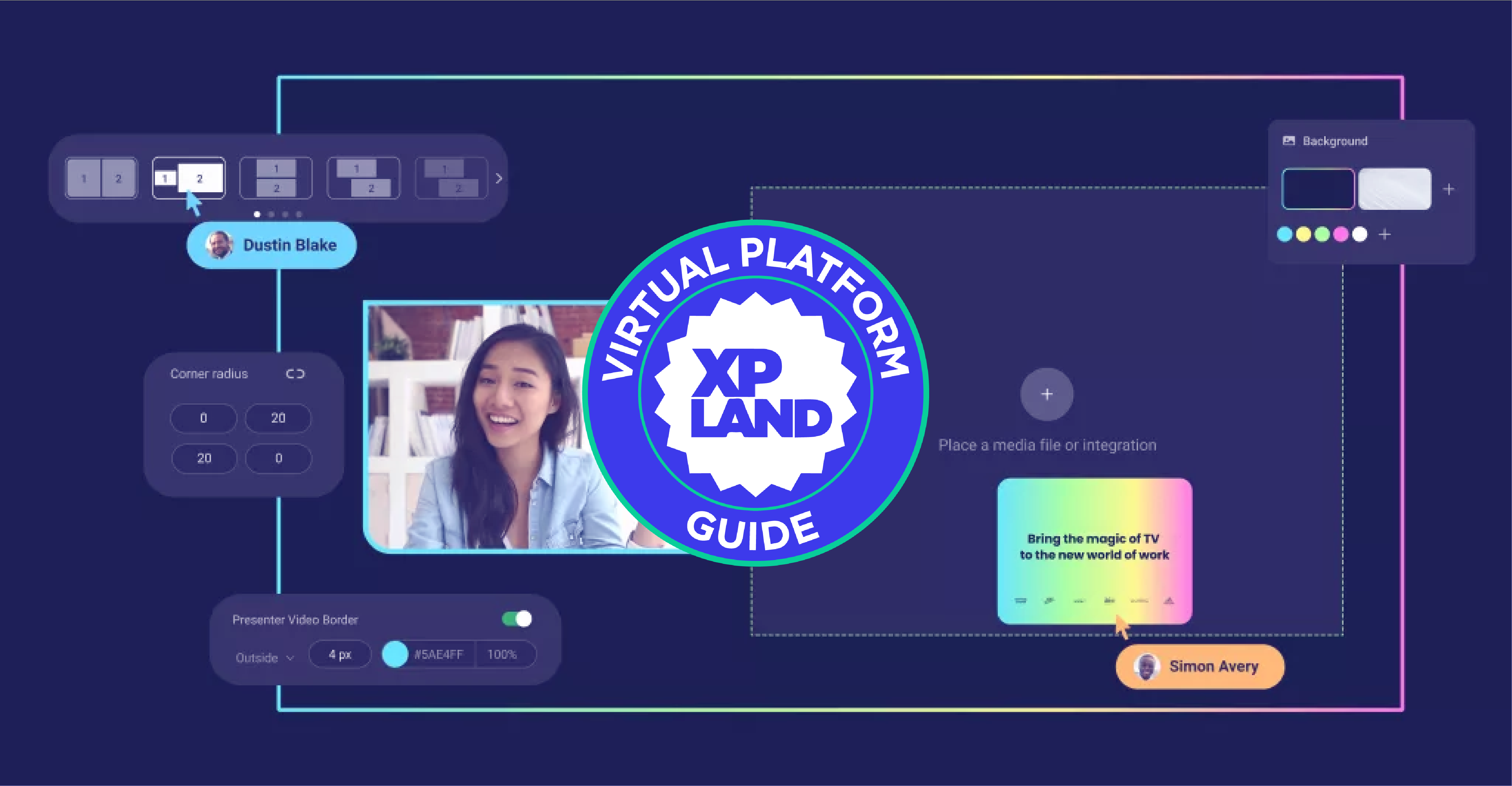 There was a brief period in 2020 where low production value video was deemed acceptable at virtual events — the world was falling apart, so did it really matter that we were having such a rough time of it at online meetings, conferences and quarantine cocktail events?
Well yes, yes it did. The virtual events industry was lagging behind Twitch streamers and YouTubers who had long been taking advantage of live video studio tools that offered them vibrant, professional graphics, smooth transitions, lower thirds and other accoutrements that we pro XPers were missing out on.
That supposed pandemic leeway for virtual events is long gone. If you're planning a virtual or hybrid event, it's imperative that you have professional-looking graphics to complement the video content. There are a number of studio tools out there, including Restream, Streamlabs, Onestream, Dacast, vMix, XSplit, OBS Studio, Switcher Studio, StreamYard (more on that one below) and Wirecast. These combine live video and graphics and output an RTMP (real-time messaging protocol) stream — a high-performance transmission that a platform's server converts into video and streams to viewers. The vast majority of top-tier virtual platforms are able to convert these RTMP streams. Confused? Here's a guide.
Hopin (previously covered here) acquired the studio tool StreamYard in January 2021, allowing organizers to add graphics and do live mixing inside their virtual platform and negating the need for RTMP streams via a 3rd-party product. This completely changed the game for platform-based streaming and continues to contribute to Hopin's popularity.
A number of other platforms have developed their own video studio tools to stay competitive and offer an all-in-one system for delivering highly produced video content inside a virtual event.
We've broken down the best platforms with video studio tools below.
---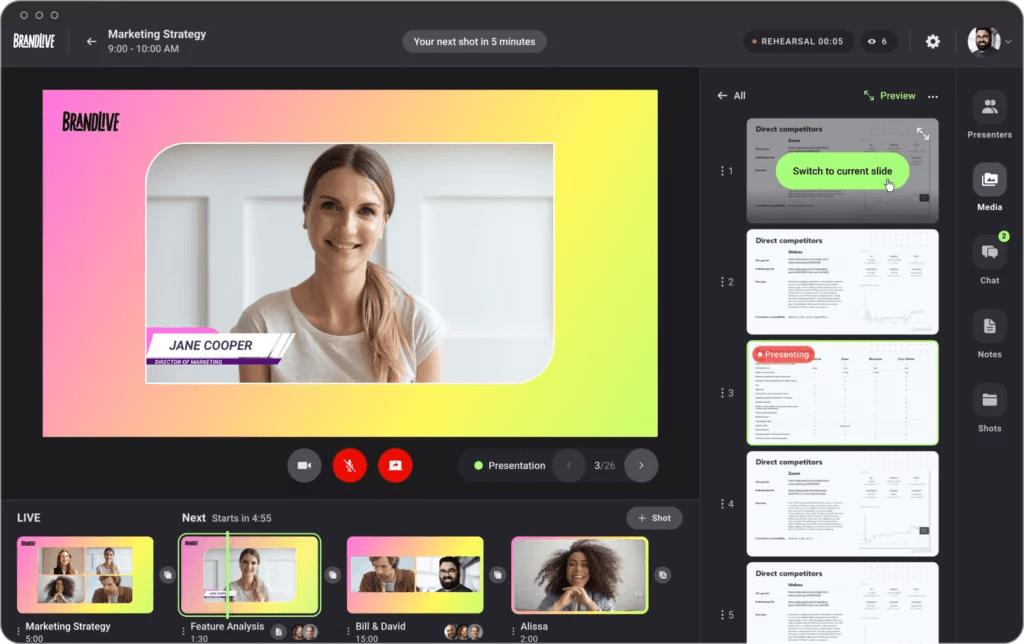 Brandlive
Brandlive recently evolved their modest virtual event pages into a feature-packed suite of robust tools, branching their event offerings into three categories. The Events tool falls in line with other virtual platforms, offering minimal customization options but lots of features for networking, sponsorships and interactive content. The Showrooms tool is similar, but optimized for product launches with branded merch pages and fewer interactive features. Allhands is geared toward internal events and meetings, leaving out many of the frills of an events platform (and therefore priced differently). In addition to their three virtual space options, Brandlive's Greenroom is a newbie-friendly studio tool used to produce TV-quality video content, whether live or pre-recorded. Brandlive comes the closest of any platform to being the one-size-fits-all option, as long as you're ok with limited platform design customizations. And, if you're not, their legacy platform — retired mid-2021 but available by request — allows for fully white-labeled event pages. But note that it lacks many of the interactive features found in Events & Showrooms.
Pros: Visually appealing platform, strong support team, powerful video studio tool, extremely versatile
Cons: Only the legacy platform allows for fully white-labeled spaces
Price/pricing model: Single events range from $3,500 (one session with 500 attendees) to $35,000 (full-on conference with 20k+ attendees). Annual plans start at $15,000 and can significantly lower the cost per event.
Notified (Intrado)
Notified — the artist formerly known as Intrado, West and INXPO — stands out among platforms for its hands-on support team that guides every stage of the virtual event journey. Their team can take charge of asset management, event day support and some project management, leaving organizers in excellent hands, which is a necessity for such a heavily customized platform. Notified has two virtual event products: "Responsive" and "3D." The Responsive option has a modern feel designed to be mobile-friendly, with a white-labeled design and a sleek user interface reminiscent of other platforms. The 3D option is in a category of its own, using rendered 3D "spaces" to house clickable items that give attendees the feel of exploring an actual event space. Notified's third product, Virtual Studio, is a video recording and production tool allowing for pre-recorded sessions to be captured and edited, or live sessions to be pushed directly to the platform alongside visuals.
Pros: Highly integrated support team, white-labeled events in Responsive and 3D, features for registration and attendee outreach, unique "3D" design option with fully customizable spaces
Cons: Relatively high cost, requires a support team to manage adding content to the platform
Price/pricing model: Cost scales with event size and support team size, and also depends on the features and number of sessions being held. Contact Notified for estimated pricing.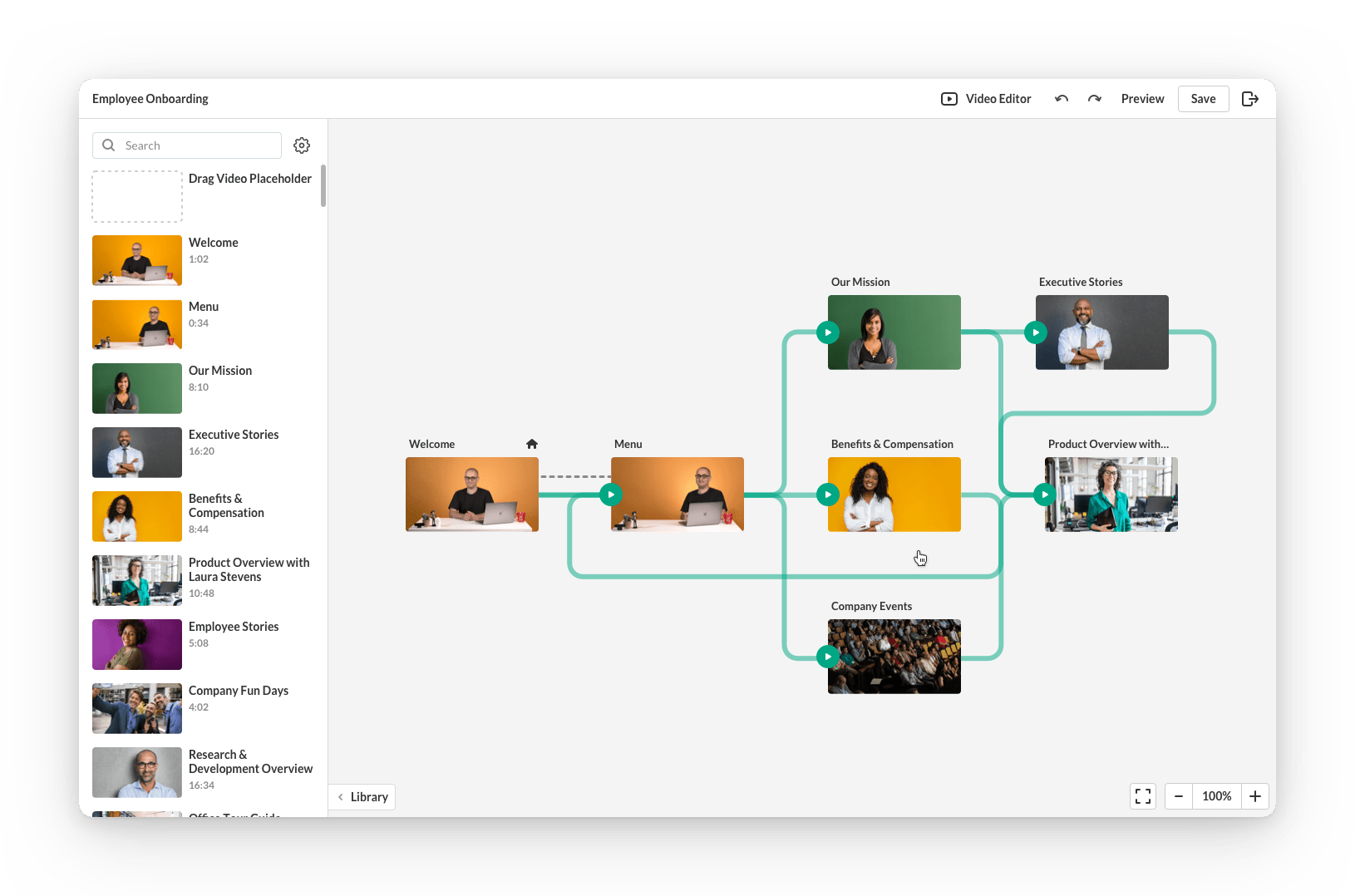 Kaltura
Kaltura's video technology offerings extend far beyond the events space. This allowed them to rapidly develop their virtual event tool over the past two years, taking their full video tech stack and building it directly into the platform. Alongside powerful gamification and sponsor tools, Kaltura is great for anyone looking to have their robust events platform double as a content management system, with the option to store recorded sessions in one event long term. One unique tool the platform has is the ability to build "choose-your-own-adventure" pre-recorded sessions in the Video Portal. During these sessions, users occasionally respond to questions that determine which video clip is played next, tailoring the experience to the user.
Pros: High-quality video and streaming tools, visually appealing sponsor and gamification tools, unique "choose-your-own-adventure" offering
Cons: Limited visual customization options, weak networking tools
Price/pricing model: The Video Portal has a 30-day free trial, and all other virtual event tools come bundled in a variety of packages that their sales team can assist with.
Join us in XP Land. A community for experiential creatives and experience-makers, brand leaders and IP-owners, space stewards and venue visionaries — all of those in the business of epic gatherings and live, immersive storytelling.