Reading the book tour revolution through the XP lens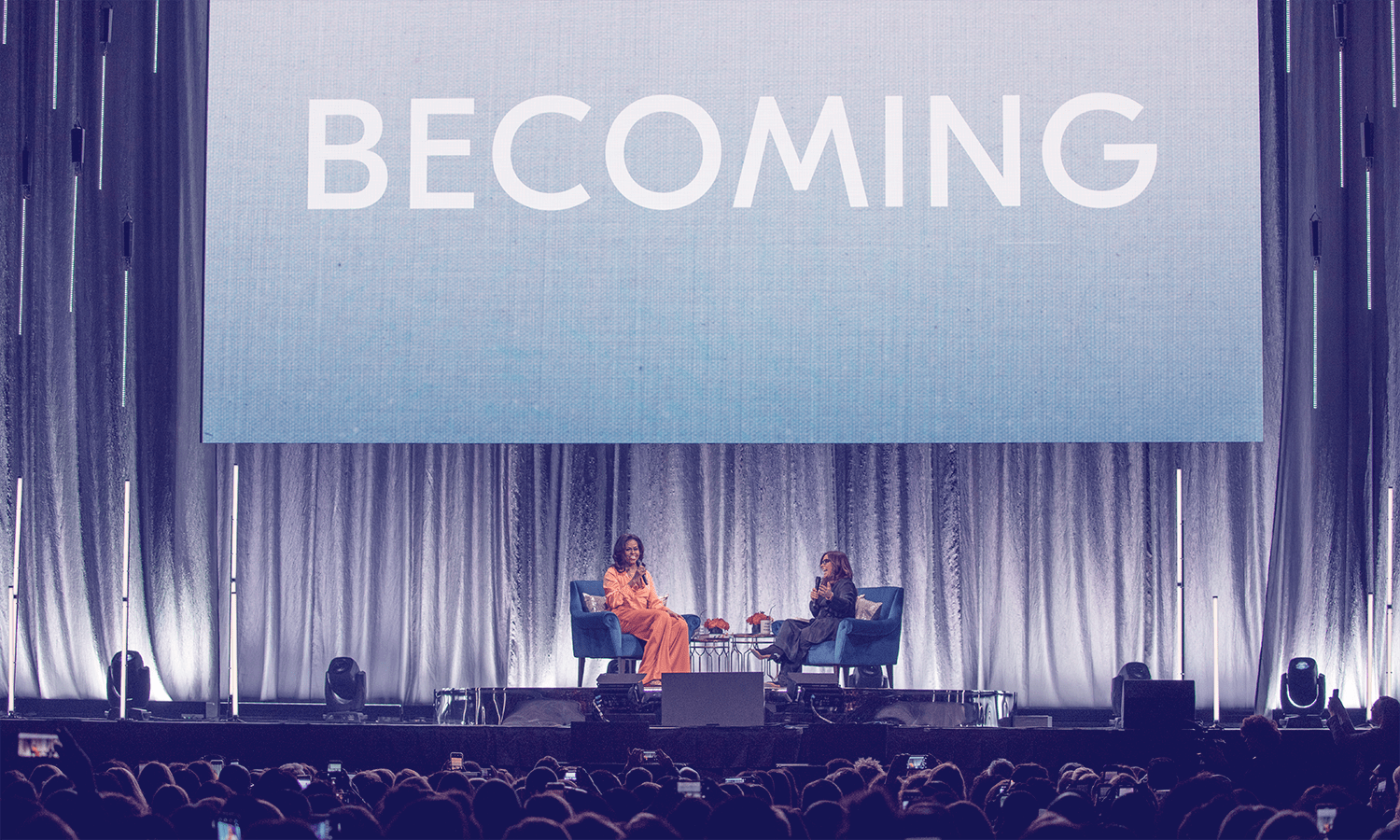 Is this a book tour or a rock concert? Or wait, is this a virtual conference? One could be forgiven for not quite being able to tell the difference. Book tours, a publisher-funded promotional mechanism for new releases, are a bit all over the place in scope these days.
In recent years, the overall number of authors given the opportunity to go on tour has been shrinking, but at the same time, tours for some celebrity-authors have begun to take on the scale and excitement of a Britney show in Vegas. And, of course, with the disruption wrought by COVID-19, publishers and booksellers were forced to reimagine author events for the Zoom age. Like we said, a little all over the place.
Naturally it felt important to turn our XP lens on the category and try to make some sense of it. Below are experiential insights from the best of today's book tours, whether super-sized, virtual-only or somewhere in between.
A little book tour backstory:
People assume that book tours exist to sell books, meaning they'd be financially beneficial for authors, publishers and the bookstores who host them. But as literary agent Kate McKean wrote on her Substack last year, this isn't always the case. She provided one example based on a "successful" book event where a local seller was thrilled to welcome 100 guests and sell a total of 30 books, which resulted in around $75 in royalties for the author; the publisher was left in the red a few hundred bucks after expenses.
What your average book event can do more reliably than drive sales, however, is drive awareness. When an author's tour is planned, each stop in each new city is also an opportunity to promote the book on social media, try for interviews or a review in local news outlets, and generally just put the book and the author on the local radar.
But of course, publishers can't afford to lose money with no end in sight. Like many marketing programs, there is often a balance between the engagements that are worth it for awareness and those that are worth it for the financial returns. Enter: Michelle Obama.
The stadium-sized book tour:
It was a surprise to exactly no one that Michelle Obama's 2018 memoir, "Becoming," was a hit, selling over 10 million copies to date. As the Tampa Bay Times put it, "That level of media attention is typical for a memoir by a former first lady or president… What's utterly new is that book tour."
Live Nation, the entertainment behemoth generally known for producing tours for musicians like Shakira and Kiss, was tapped to produce "that book tour," selling out 20,000-person stadiums with fans clamoring to see Obama interviewed by a lineup of A-list guests, including the likes of Sarah Jessica Parker and Stephen Colbert (with the always-present possibility of a special guest appearance by her husband, who stopped in at her D.C. event). 
A percentage of tickets were given to local community groups and charities for free and the remainder ranged in price from $29 to $3,000, with those packages on the higher end of the cost spectrum including exclusive meet-and-greets. At the events there was a gift shop selling not only copies of the book but T-shirts, candles, and other memorabilia, and the tour's soundtrack was curated by Questlove and made available for streaming on Spotify. But as far as we can tell, that was kind of… it, XP-wise.
As Vox aptly highlighted, "Michelle Obama's superpower is her ability to create intimacy at scale." In other words, people paid for the experience of feeling like they were listening in on a personal conversation — a slightly less-filtered version of the "mom-in-chief" they'd admired from afar for the previous eight years.
And, it turned out, the "Becoming" experience was precedent-setting. Just recently, Live Nation has announced it will also be producing arena-sized book tours for Katie Couric and her new memoir, "Going There," as well as for Jamie Foxx's "Act Like You Got Some Sense." While neither tour will feature quite as many dates or stops in different cities, they are following the Obama-tested approach of tapping special guest interviewers and promoting an intimate experience: Couric will "bring attendees into her personal and professional life;" Foxx will tell you about "the story of being raised by his no-nonsense grandmother, the glamour and pitfalls of life in Hollywood."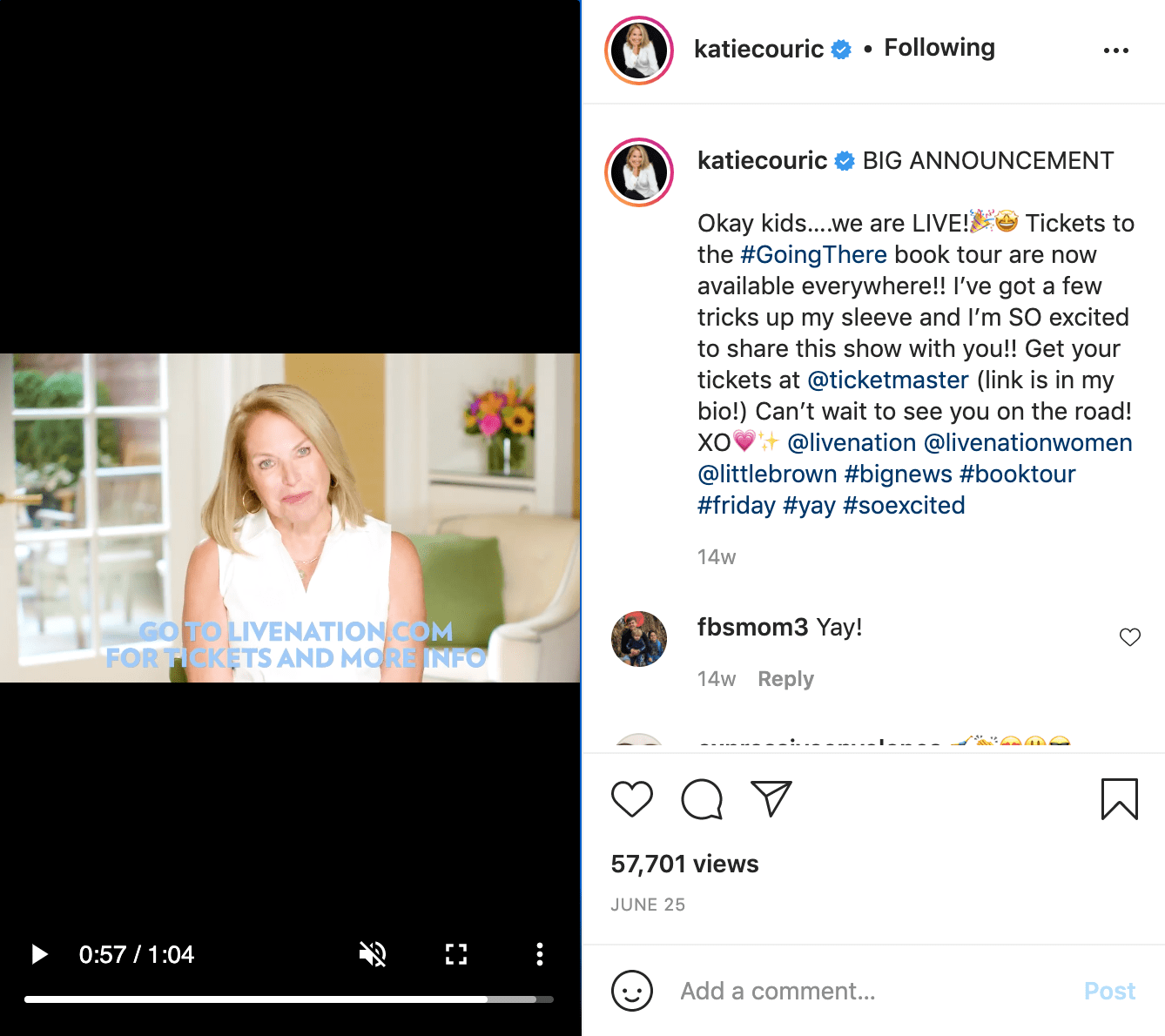 Rock'n'roller Dave Grohl, of Foo Fighters and Nirvana fame, has a slightly more theatrical approach to the tour for his memoir, "The Storyteller." Grohl's stage appears set in vignettes that he uses to bring particular moments from his story to life, whether playing the sofa cushion drums or performing acoustic renditions of his biggest hits. This approach may be a bit less repeatable than the Obama tour, but the goal is still to create a sense of intimacy. ("Join Dave Grohl for an extremely limited run of intimate evenings…" sound familiar?)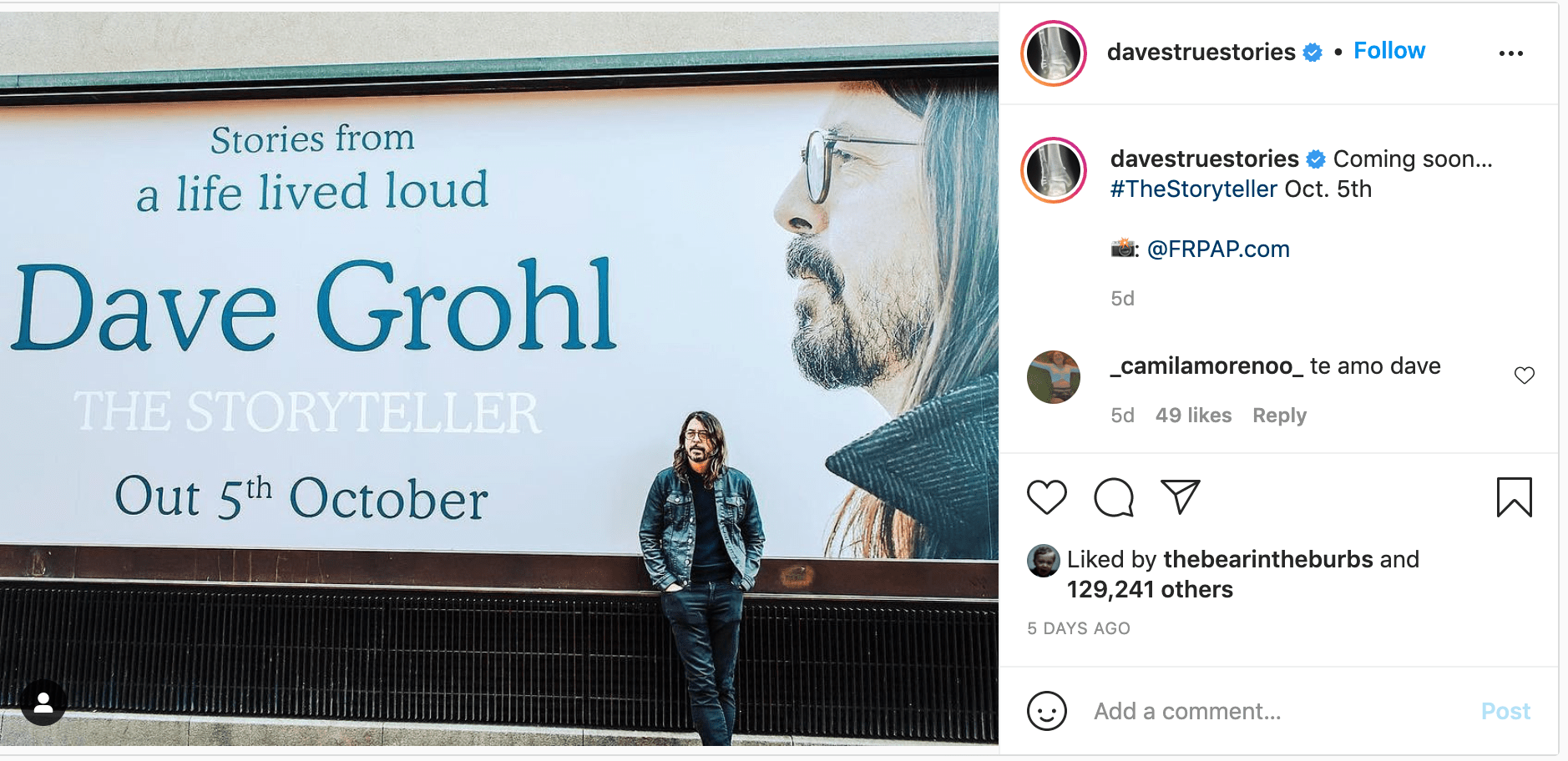 Presumably, the books will tell you the stories of these icons as well. So why the clamor to hear the tales recounted live? It's a great argument in defense of in-person XP: IRL feels more personal. No matter how pre-planned the conversations on stage may be, people feel as though they are getting more out of the author because they can hear the words in their voice, see their gestures as they tell the stories, perhaps even observe a real off-the-cuff moment (or presidential guest appearance). And, with a book included in every ticket purchase for this level of tour, they deliver on the promise of driving sales.
The virtual-only book tour:
This Esquire article offers poignant perspective from authors whose tours were cancelled or driven entirely online due to COVID-19, and you may be surprised to learn that the news is not all disheartening. Some authors found that they had larger audiences online than they typically would with in-person events, and some appreciate having their usual stage fright diminished and an easier opportunity for all in the audience to contribute and ask questions. There were, of course, drawbacks, including that book tours represented a chance for authors to come out of the isolation of writing and to finally have the chance to see and discuss readers' reactions IRL — check out this WIRED piece on the subject.
Getting creative and going beyond a straightforward interview with audience Q&A, while still respecting the limitations of a virtual environment, seem to have made for the most successful experiences over the past year-and-a-half. As Emma Copley Eisenberg, author of "The Third Rainbow Girl," put it: "Whenever I try to make [the virtual book tour] like what it would've been like in person, it feels disappointing, but whenever I try to lean into what a digital platform can offer that an in-person approach can't, it feels really fun."
In terms of inventive ideas, one author mentions an event where the host created custom avatars for the speakers, and another where the content was presented like a game show. For his virtual book tour, Antoni Porowski of Queer Eye fame offered attendees cooking demos and conversations with notable friends like Olympic skater Adam Rippon. In another example, novelist Meg Cabot, who was on tour with her 2019 book "No Offense," used Facebook Rooms to co-host a virtual watch party for "The Princess Diaries" movie, which was based on an early novel of hers. And, how's this for finding some creative inspiration amid constraint: "Meg Cabot was sad COVID canceled book festivals, so she wrote a novel set at one."
In Eisenberg's words, "lean into" what digital offers. Think video and visuals, broad audience reach, instant e-commerce integrations, and unique glimpses into the life of an author (often, literally, their living room or writing room) and more. With a little creativity, the opportunities are endless.
XP takeaways:
With the hybrid approach comes the flexibility to truly optimize your experience for both the talent and the audience. If hosting virtual events enables authors to reach more people, sell more books and feel more comfortable speaking in public, why give it up? If IRL events are beneficial to authors looking for feedback and deeper engagement around their project, you can create a forum for that, too. COVID-era limitations have illuminated the importance of creating experiences that bring out the best in talent and audiences.
Content is king, but how it's delivered is just as important. While Michelle Obama was selling out rockstar-sized arenas, she wasn't filling them with rockstar-like antics. And that's a good thing. The intention of her tour was to give readers a deeper glimpse into her story, not lose the story in some fancy lighting tricks or major stage sets. Too much spectacle would have only detracted from the audience's sense that they were really there with her.
Let "the end" be only the beginning. For as long as books have been around, readers have been excited about getting signed copies. While that's still true today, it's crucial to think about what comes next, after the attendee returns home, closes the book and adds it to their shelf. Is there an additional line of merch related to the author and their book that can be rolled out? Another commemorative book recounting the best moments from the tour? A community that can be built and stay connected to each other online?
Subscribe to the XP Land newsletter. Follow us on LinkedIn, Instagram, Facebook and Twitter.